Resource Documents: Videos (67 items)
Unless indicated otherwise, documents presented here are not the product of nor are they necessarily endorsed by National Wind Watch. These resource documents are shared here to assist anyone wishing to research the issue of industrial wind power and the impacts of its development. The information should be evaluated by each reader to come to their own conclusions about the many areas of debate. • The copyrights reside with the sources indicated. As part of its noncommercial effort to present the environmental, social, scientific, and economic issues of large-scale wind power development to a global audience seeking such information, National Wind Watch endeavors to observe "fair use" as provided for in section 107 of U.S. Copyright Law and similar "fair dealing" provisions of the copyright laws of other nations.
---
Date added:
November 22, 2017
Aesthetics
,
Environment
,
New Hampshire
,
Photos
,
Videos
•
Author: Hemmel, William
Photos by William Hemmel, Aerial Photo NH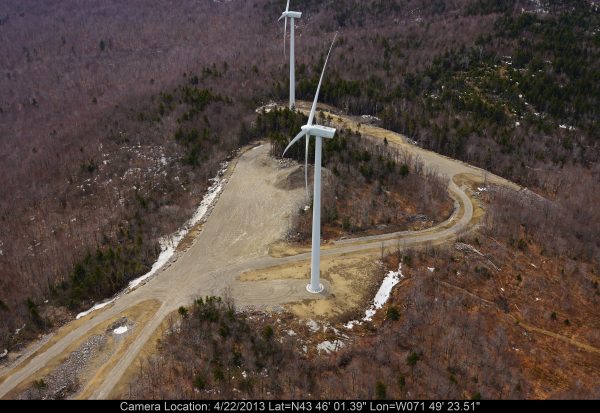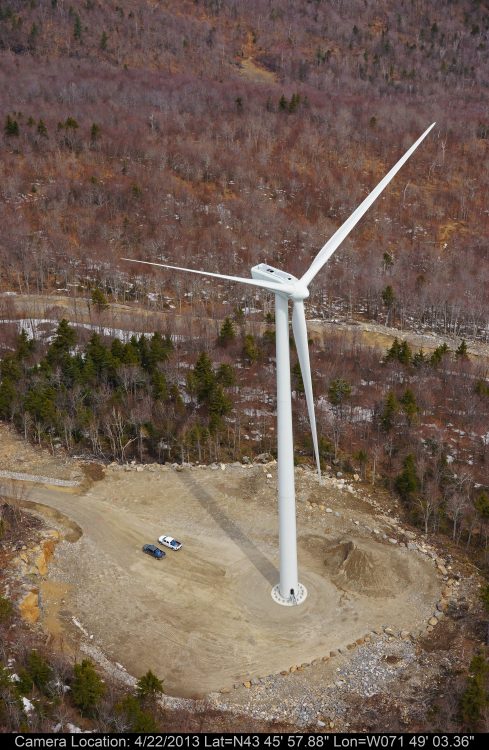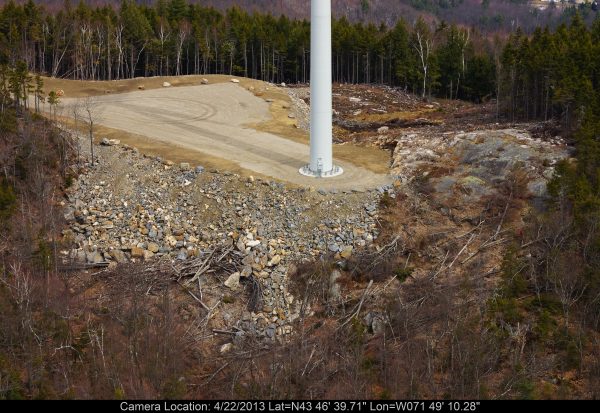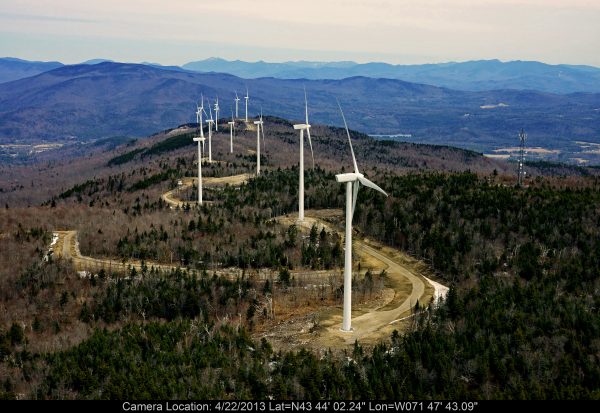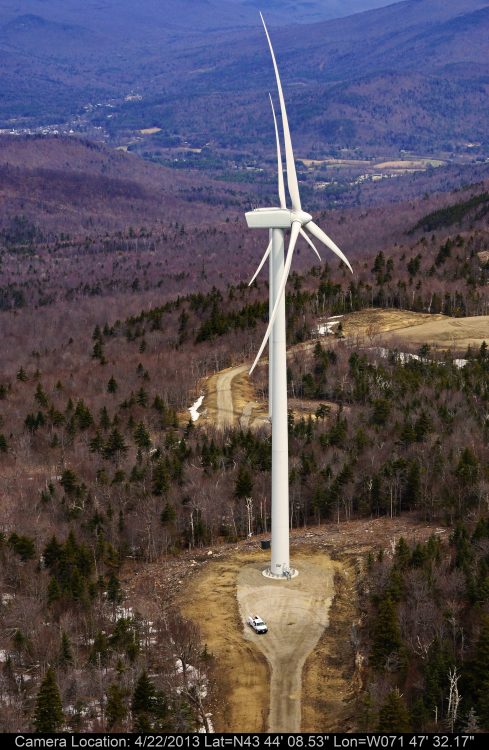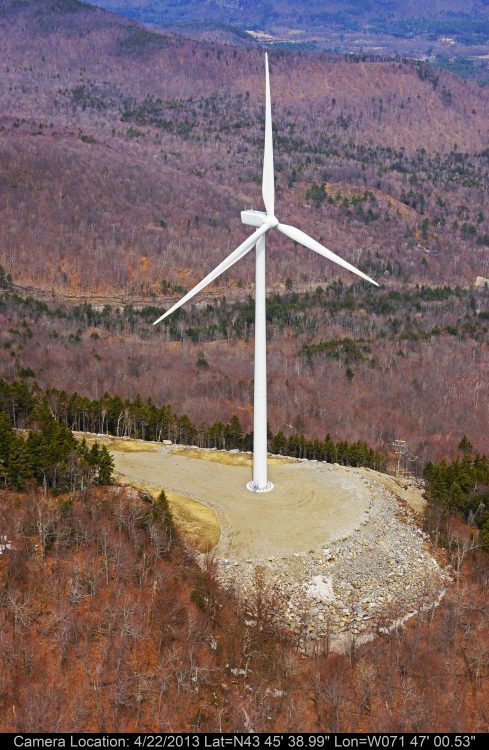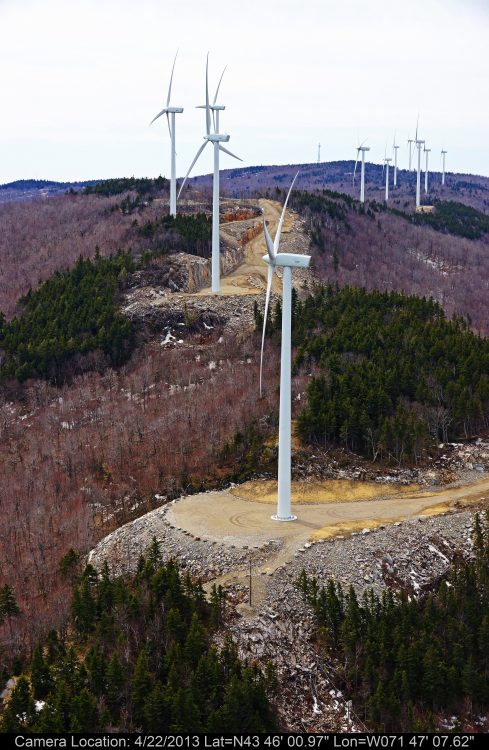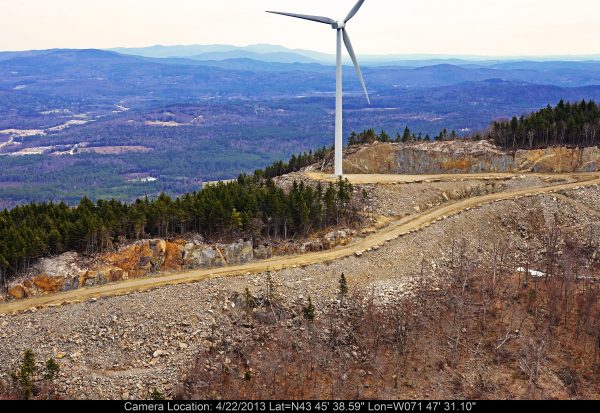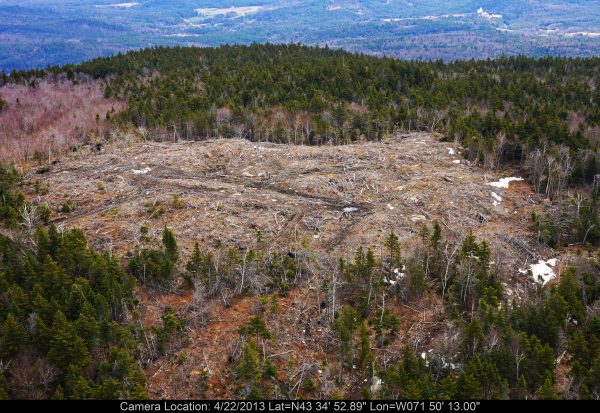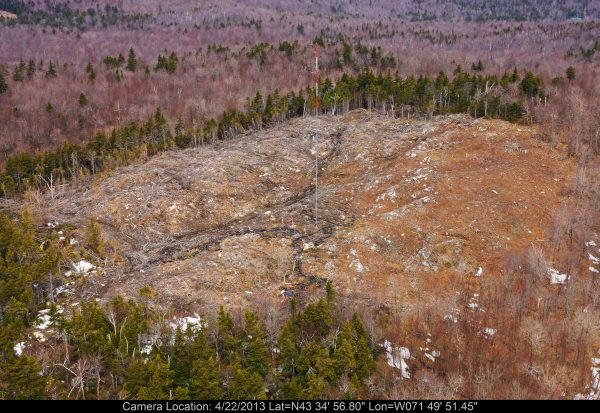 ---
Date added:
September 4, 2017
California
,
Environment
,
Noise
,
Photos
,
Videos
•
Author: Hales, Roy
Ocotillo, in Imperial County, has been inflicted by massive dust storms ever since 112 turbines were built around it. The desert surface was scraped clean of vegetation as a preparation for the project. Now there is nothing to hold the dust down.

That's not the only complaint. Since the project went online, less than two years ago:

3 turbines have had their gear boxes replaced,
9 turbines have had blade replacements
a 173-foot-long-blade flew off one turbine
Ocotillo residents have also documented oil leaks in 40% of the turbines. The Department of Toxic substance control subsequently gave the project a summary of violations.

Two Ocotillo residents, Jim Pelley and Parke Ewing, have documented this project on the web. There are hundreds of videos on Pelley's Youtube site "Save Ocotillo" and Ewing's Facebook page Ocotillo Wind Turbine Destruction is a visual chronicle of this project and related materials.





(October 23, 2014)
The Ocotillo wind farm went online almost five years ago. Were they not documented in such meticulous detail, some of the reports coming from the tiny desert community this project surrounds would be difficult to believe. I once received a constant stream of YouTube videos and reports from this project. It was one of the sites that shaped my perception of the energy sector. To some extent, I've moved on from this story since then, but I always knew I would be revisiting Ocotillo.
Revisiting Ocotillo
Parke Ewing has not been able to move on.
Last May, I asked him for an update.
Ewing replied, "It's about 9:30 – 10:00 o'clock in the morning. Not one wind turbine is spinning. There is no wind. Their capacity factor, since they became operational, is only about 21.3%. Pattern Energy stated the wind farm would be 34% and they also said it would produce 891 gigawatts (GW) per year. So far, the most they've ever generated is 536 GW. So it is substantially less than what they proposed to get approval on this project …"
Update On Mechanical Failures
This is the beginning of a four minute clip, which you can listen to on the podcast. Some of the details include:
"About 70% of the turbines leaked oil. They had a crew out here cleaning all the turbines. They did a lot of them and I am sure they fixed some of the leaks."
On November 21, 2016, turbine #126 crumpled and fell over. "They're in the process of replacing the entire turbine right now. The nacelle came in today and the tower sections and they are unloading those as we speak,"
These are just the latest in a litany of problems.
Six months after the project officially went online, a 173 foot-long-blade flew off one of the turbines.
There was a turbine fire in 2015.
Since this project went online:
10 turbines underwent blade replacements
9 turbines had their gear boxes replaced
2 turbines were replaced
Contacting The Developers
Attempts to contact the turbine manufacturer, developer and local utility have been futile.
Ewing says, "We've tried to talk to Pattern Energy [the developer], of course we always get a generic reply that they're working on this or checking on that, but we never get an answer on the noise, or the lights, or anything. They really just write us off. They don't talk to us. We get an email reply sometimes, that's about it."
I phoned Jeff Grappone, of Siemens USA after the turbine caught fire in 2015. He suggested I send an email. I did this, asking:
Do they know what caused this fire?
How often turbine fires occur? Are they, for example, as common as traffic accidents are for automobile drivers?
What about the oil leaks? the blade replacements? the three replaced yaw gears? Is this normal for a two year old wind farm?
There are also some extreme conditions at Ocotillo. I have seen videos of those incredible dust storms. There are good winds at times, but they are more often 0-4 mph and there are occasionally incredible blow ups. Is this a an exceptionally difficult location?
Grappone never replied.
Maybe I asked too many questions.
Dust Storms
I recently tried a different tactic, when asking Pattern Energy about the dust storms that have plagued Ocotillo since the site was built. I sent them the video you see below and asked for an explanation.
Matt Dallas emailed back, "Ocotillo Wind operates its equipment in accordance with our permits. The dust in the video was created by the wind, not by the turbines. You'll see many of the turbines are not operating in the video because the wind speeds that day were so high they exceeded our maximum operating capacity."
He was not aware that I had previously interviewed a site developer about dust storms on utility scale wind and solar sites.
According to Harvey Stephens, Vice President of Operations at World Wind & Solar, fugitive dust problems are caused by scraping large areas of the desert crust clean of vegetation. This leaves the underlaying soil exposed to the wind. There are remedies, such as planting grasses, windflowers and other materials as a protective blanket to stabilize areas disturbed by grading operations. When developers follow these procedures, the dust storms normally cease after a year or so.
Ocotillo has been inflicted by dust storms since construction began. In the video below, you can see one from August 2012.
I pointed this out to Matt Dallas, who did not reply.
The Noise
Ewing and his wife suspect, but can not prove, that infrasound noise from the turbines might be the reason that are "tired all the time."
He describes the sound made by the turbines, when they are turning, as "… the most irritating sound I have ever heard."
(There is a recording on the podcast.)
"One of Pattern's project managers came by and listened to the sound once and said he would take it back to whoever is in charge. We never heard another word about it," says Ewing.
"We like to be outside. That's why we are here in the desert. We have a fairly nice place here, with a lot of trees and stuff that we need to keep watered. It is difficult to do when they are making noise. It is kind of like a noise trespassing, that really shouldn't be happening on your property."
What's The Problem?
Parke Ewing believes the problem is wind technology.
I agreed with him, until I saw some German sites in 2014. [NWW still agrees with Ewing.]
The problem at Ocotillo does not appear to be so much with the technology, as how it was used. This is not a good location for wind turbines. The site was politically expedient and there were massive tax credits in 2012, but should never have been built. Now the manufacturer and developer have made their money, and people like Parke Ewing are left with the mess.
September 3, 2017, Roy L Hales, theecoreport.com
---
Date added:
January 11, 2017
North Dakota
,
Technology
,
Videos
•
Author: Xcel Energy
Download video (52-MB MP4)
100 Vestas V100 2-MW turbines
Nearly 25,000 acres (101 km²)
22 miles of access roads
Substation transformer: 262,000 pounds
Substation increases voltage for transmission lines
17.1-mile 115-kV overhead transmission line from collection substation to interconnect substation
More than 150 miles of underground cable in 50 miles of trench
Tower base (platform) excavation depth: 9 feet
360 cubic yards of concrete, 28 tons of reinforcing steel
Tower base (bottom third): 96,000 pounds, 128 anchor bolts
Nacelle: 163,650 pounds
Hub height: 262 feet
Turbine blade: length 161 feet, weight 17,000 pounds
Total height: 426 feet
Blade diameter: 328 feet
Blade sweep area: 1.94 acres
---
Author: Cryan, Paul; et al.
Significance:
Bats are dying in unprecedented numbers at wind turbines, but causes of their susceptibility are unknown. Fatalities peak during low-wind conditions in late summer and autumn and primarily involve species that evolved to roost in trees. Common behaviors of "tree bats" might put them at risk, yet the difficulty of observing high-flying nocturnal animals has limited our understanding of their behaviors around tall structures. We used thermal surveillance cameras for, to our knowledge, the first time to observe behaviors of bats at experimentally manipulated wind turbines over several months. We discovered previously undescribed patterns in the ways bats approach and interact with turbines, suggesting behaviors that evolved at tall trees might be the reason why many bats die at wind turbines.
Abstract:
Wind turbines are causing unprecedented numbers of bat fatalities. Many fatalities involve tree-roosting bats, but reasons for this higher susceptibility remain unknown. To better understand behaviors associated with risk, we monitored bats at three experimentally manipulated wind turbines in Indiana, United States, from July 29 to October 1, 2012, using thermal cameras and other methods. We observed bats on 993 occasions and saw many behaviors, including close approaches, flight loops and dives, hovering, and chases. Most bats altered course toward turbines during observation. Based on these new observations, we tested the hypotheses that wind speed and blade rotation speed influenced the way that bats interacted with turbines. We found that bats were detected more frequently at lower wind speeds and typically approached turbines on the leeward (downwind) side. The proportion of leeward approaches increased with wind speed when blades were prevented from turning, yet decreased when blades could turn. Bats were observed more frequently at turbines on moonlit nights. Taken together, these observations suggest that bats may orient toward turbines by sensing air currents and using vision, and that air turbulence caused by fast-moving blades creates conditions that are less attractive to bats passing in close proximity. Tree bats may respond to streams of air flowing downwind from trees at night while searching for roosts, conspecifics, and nocturnal insect prey that could accumulate in such flows. Fatalities of tree bats at turbines may be the consequence of behaviors that evolved to provide selective advantages when elicited by tall trees, but are now maladaptive when elicited by wind turbines.
Paul. M. Cryan
Fort Collins Science Center, United States Geological Survey (USGS), Fort Collins, CO
P. Marcos Gorresen
Hawaii Cooperative Studies Unit, University of Hawaii, Hilo, HI
Cris D. Hein
Michael R. Schirmacher
Bat Conservation International, Austin, TX
Robert H. Diehl
Northern Rocky Mountain Science Center, USGS, Bozeman, MT
Manuela M. Huso
Forest and Rangeland Ecosystem Science Center, USGS, Corvallis, OR
David T. S. Hayman
Department of Biology, Colorado State University, Fort Collins, CO
Department of Biology, University of Florida, Gainesville, FL
Paul D. Fricker
MathWorks, Natick, MA
Frank J. Bonaccorso
Pacific Island Ecosystems Research Center, USGS, Hawaii National Park, HI
Douglas H. Johnson
Northern Prairie Wildlife Research Center, USGS, Saint Paul, MN
Kevin Heist
Conservation Biology Graduate Program, University of Minnesota, Saint Paul, MN 55108
David C. Dalton
Wildlife Engineering, Tucson, AZ 85745
PNAS (Proceedings of the National Academy of Sciences of the United States of America) 2014; published ahead of print September 29, 2014; doi: 10.1073/pnas.1406672111
Download original document: "Behavior of bats at wind turbines"
Download "Supporting Information"

Movie S1. Bat making a single directed approach toward a turbine before changing course and flying away at ∼0530 hours on September 9, 2012. Blade rotation 14 rpm, wind out of the southwest (225°) at 4.4 m/s, and 44% moon illumination.

Movie S2. Bat making repeated looping approaches to leeward side of wind turbine at ∼0109 hours on August 29, 2012. Blade rotation <1 rpm, wind out of the east-northeast (58°) at 5.4 m/s, and 93% moon illumination.
Movie S3. A hoary bat (Lasiurus cinereus; identified acoustically) air-brakes, hovers, and then makes repeated approaches after flying downwind past a wind turbine with curtailed blades at ∼0100 hours on August 25, 2012. Blade rotation <1 rpm, wind out of the southeast (131°) at 7.2 m/s, and no moon illumination.
Movie S4. Near-infrared, close-up video of a bat closely approaching and investigating the upper parts of a turbine at ∼0430 hours on September 19, 2013. Blade rotation <1 rpm, wind out of the west-southwest (257°) at 2.7 m/s, and no moon illumination.
Movie S5. Bat making repeated close approaches to a turbine monopole at ∼2150 hours on August 19, 2012. No blade rotation, wind out of the north-northwest (330°) at 0.4 m/s, and no moon illumination.

Movie S6. Near-infrared, close-up video of a bat closely following a slow moving turbine blade (shadowed on far side of monopole) at ∼0240 hours on July 19, 2013 (before monitoring with thermal cameras began). Blade rotation <1 rpm, wind out of the east-northeast (70°) at 7.5 m/s, and no moon illumination.
Movie S7. Two bats chasing each other near wind turbine at ∼2320 hours on August 5, 2012. No blade rotation, wind out of the north-northwest (321°) at 4.6 m/s, and no moon illumination.

Movie S8. Bat repeatedly returning to turbine after close encounters with spinning blades at ∼0150 hours on August 22, 2012. Blade rotation 14 rpm, wind out of the east (93°) at 8.0 m/s, and no moon illumination.

Movie S9. Bat exhibiting serpentine flight in lee of wind turbine monopole and blades at ∼0500 hours on September 29, 2012. No blade rotation, wind out of the northeast (315°) at 5.8 m/s, and 96% moon illumination.

Movie S10. Two hoary bats (Lasiurus cinereus) interacting in midair on the leeward side of a wind turbine at ∼0200 hours on August 25, 2012. The species identification was made from concurrent acoustic calls recorded from the turbine nacelle, in which navigation and social calls characteristic of this species were heard during the close midair approaches. No blade rotation, wind out of the south-southeast (157°) at 8.3 m/s, and no moon illumination.

Movie S11. Bat flying upwind to investigate leeward areas of a wind turbine with blades rotating at full speed at ∼0350 hours on July 31, 2012. Bat makes several upwind passes through the moving blades of the turbine without clear indication that it perceives and avoids the fast-moving blades before moving through their plane of motion. Blade rotation speed 14 rpm, wind out of the southwest (228°) at 7.2 m/s, and 95% moon illumination.

Movie S12. Bat flying upwind toward moving turbine blades at ∼0600 hours on August 17, 2012 and repeatedly returning to investigate after close encounters with blades. Blade rotation speed 14 rpm, wind out of the north-northwest (324°) at 7.6 m/s, and no moon illumination.

---