Resource Documents: Videos (68 items)
Unless indicated otherwise, documents presented here are not the product of nor are they necessarily endorsed by National Wind Watch. These resource documents are shared here to assist anyone wishing to research the issue of industrial wind power and the impacts of its development. The information should be evaluated by each reader to come to their own conclusions about the many areas of debate. • The copyrights reside with the sources indicated. As part of its noncommercial effort to present the environmental, social, scientific, and economic issues of large-scale wind power development to a global audience seeking such information, National Wind Watch endeavors to observe "fair use" as provided for in section 107 of U.S. Copyright Law and similar "fair dealing" provisions of the copyright laws of other nations.
---
Date added:
October 4, 2019
Aesthetics
,
Human rights
,
Impacts
,
Iowa
,
Michigan
,
Videos
•
Author: Pichan, Stave
Do you hear the sound keeps my kids awake
In fields where peace used to reign?
Notice the horizon, the obstructed view
All I see are those blades
The turning and whirling, the deafening sound
Killin' the birds, spoiling the ground around me

[chorus]
An Iowa farmer has been taken by charmers
Who came waving that green stuff
Took over my land
What did I get from the deal that was made?
When they planted those turbines
Now I live in their shade
An Iowa farmer

The shadow it flickers on the walls and the pictures
What might this do to the mind?
They call it clean, I call it pollution
The man came and sold his big lie
I saw one catch fire but nobody came
All that I had is gone down the drain over time

An Iowa farmer has been taken by charmers
Who came waving that green stuff
Took over my land
What did I get from the deal that was made?
When they planted those turbines
Now they cast a shade
On this Iowa farmer

Maybe it's time to put up a sign
Oh they tell me there's not much demand
For a home that's surrounded by rotating steel
The cause of scars on the land
There'll be no escaping the tortuous sounds
Once silence prevailed in this small rural town
But for now

I'm an just Iowa farmer who was taken by charmers
Who came waving that green stuff
To control all my land
I didn't get much from the deal that was made
But a view of those turbines
How I hate their shade
An Iowa farmer

—Steve Pichan 2019
Singer/songwriter Steve Pichan and his wife often travel through mid-Michigan where massive windfarms have sprouted over the past few years. It wasn't long ago when the farms were in limited concentrated areas, but with each trip to the North Country, Steve noticed more and more turbines, first dotting the skyline and then suddenly polluting the once pristine horizons.
That observation got Pichan to wondering whether or not there were farmers who weren't thrilled with the towering giants right behind barns and ominously rising above homes and fields. A little internet research was all it took for him to learn what farmers and others already knew; wind turbines aren't all they're cracked up to be. Common problems with them involves the thousands of bats and eagles killed by the rotating blades and an effect known as "shadow flicker", caused when rotating wind turbine blades cast shadows through constrained openings such as windows and neighboring properties. Occasionally turbines catch on fire and, due to the average height, most fire departments aren't able to properly extinguish. Property values also take hits when windfarms are nearby. Such examples are just a few of the many complaints Pichan discovered.
So, off to the northern Michigan with guitar in the trunk, Pichan set off to put his thoughts and discoveries into song, one empathizing with the plight of a fictitious farmer in Iowa who lives under the shade of multiple turbines. The farmer knows he got a bum rap when he sold out land to energy corporations that could care less about his scarred land and access roads that once provided fertile soil for profitable crops.
"Iowa Farmer" was written, according to Pichan, to shine a light on the windfarm debacle through art and expose this concerning issue often ignored by media and those profiting from the destruction of once peaceful farms.
---
Date added:
November 22, 2017
Aesthetics
,
Environment
,
New Hampshire
,
Photos
,
Videos
•
Author: Hemmel, William
Photos by William Hemmel, Aerial Photo NH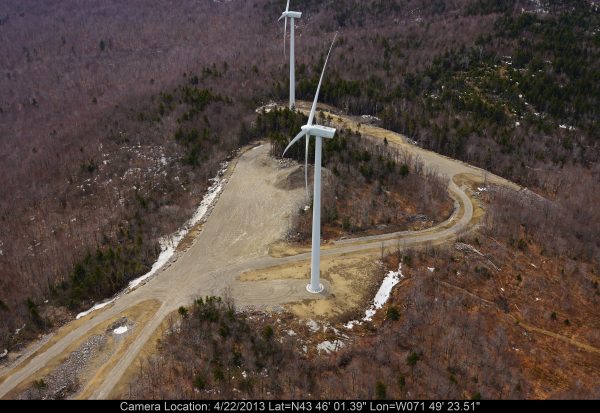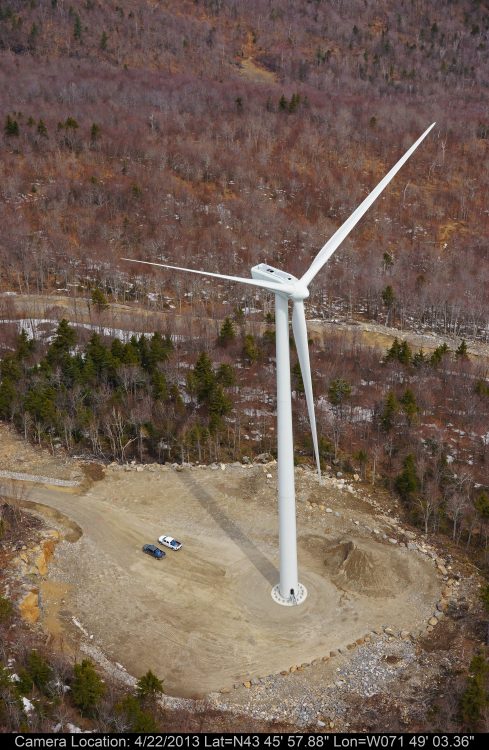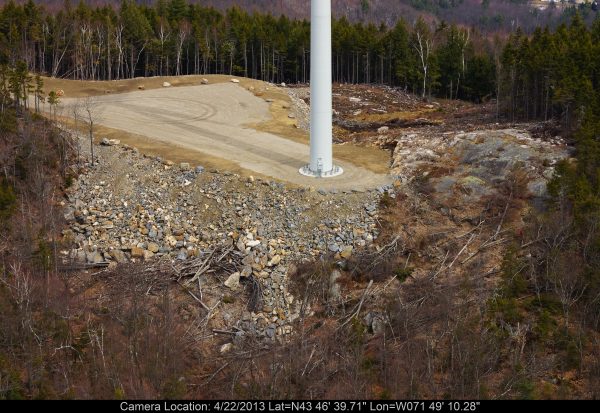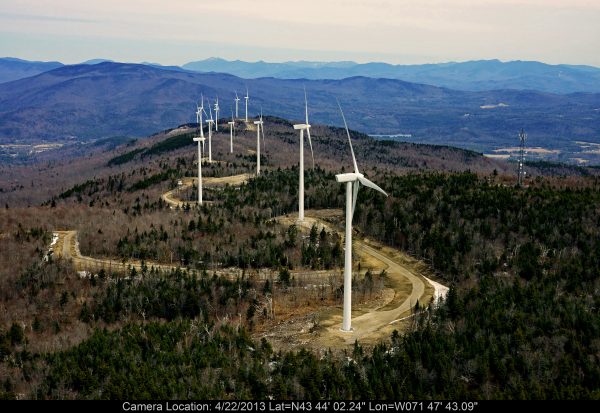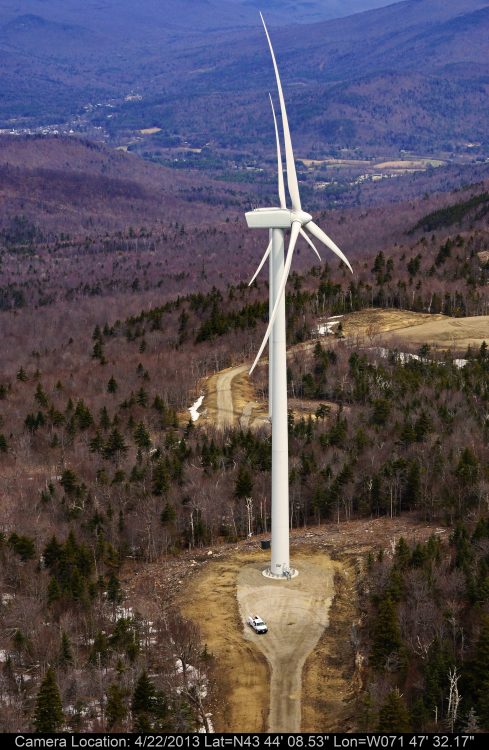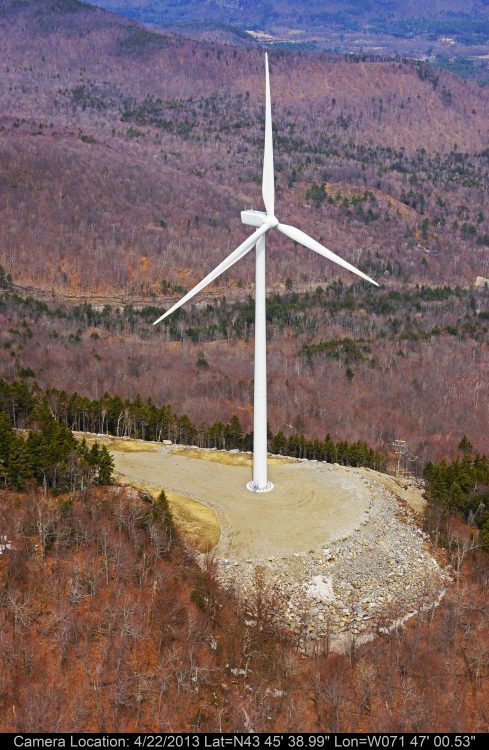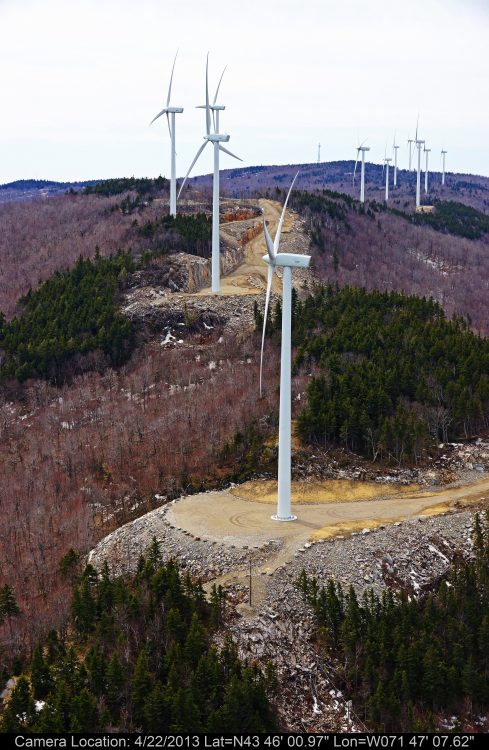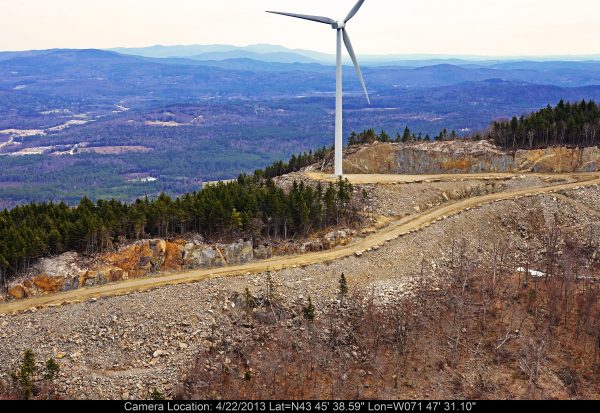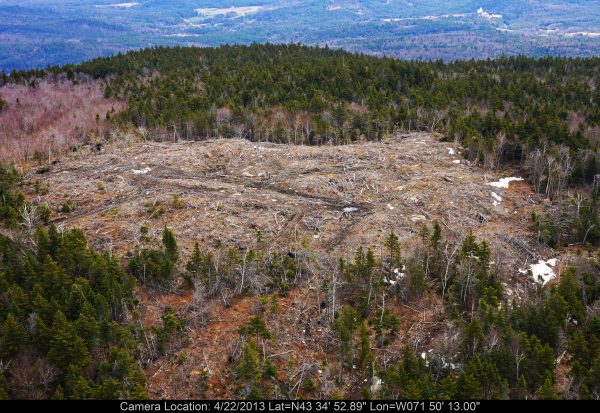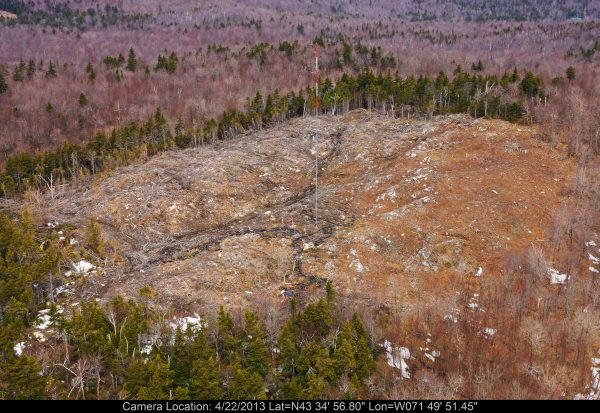 ---
Date added:
September 4, 2017
California
,
Environment
,
Noise
,
Photos
,
Videos
•
Author: Hales, Roy
Ocotillo, in Imperial County, has been inflicted by massive dust storms ever since 112 turbines were built around it. The desert surface was scraped clean of vegetation as a preparation for the project. Now there is nothing to hold the dust down.

That's not the only complaint. Since the project went online, less than two years ago:

3 turbines have had their gear boxes replaced,
9 turbines have had blade replacements
a 173-foot-long-blade flew off one turbine
Ocotillo residents have also documented oil leaks in 40% of the turbines. The Department of Toxic substance control subsequently gave the project a summary of violations.

Two Ocotillo residents, Jim Pelley and Parke Ewing, have documented this project on the web. There are hundreds of videos on Pelley's Youtube site "Save Ocotillo" and Ewing's Facebook page Ocotillo Wind Turbine Destruction is a visual chronicle of this project and related materials.





(October 23, 2014)
The Ocotillo wind farm went online almost five years ago. Were they not documented in such meticulous detail, some of the reports coming from the tiny desert community this project surrounds would be difficult to believe. I once received a constant stream of YouTube videos and reports from this project. It was one of the sites that shaped my perception of the energy sector. To some extent, I've moved on from this story since then, but I always knew I would be revisiting Ocotillo.
Revisiting Ocotillo
Parke Ewing has not been able to move on.
Last May, I asked him for an update.
Ewing replied, "It's about 9:30 – 10:00 o'clock in the morning. Not one wind turbine is spinning. There is no wind. Their capacity factor, since they became operational, is only about 21.3%. Pattern Energy stated the wind farm would be 34% and they also said it would produce 891 gigawatts (GW) per year. So far, the most they've ever generated is 536 GW. So it is substantially less than what they proposed to get approval on this project …"
Update On Mechanical Failures
This is the beginning of a four minute clip, which you can listen to on the podcast. Some of the details include:
"About 70% of the turbines leaked oil. They had a crew out here cleaning all the turbines. They did a lot of them and I am sure they fixed some of the leaks."
On November 21, 2016, turbine #126 crumpled and fell over. "They're in the process of replacing the entire turbine right now. The nacelle came in today and the tower sections and they are unloading those as we speak,"
These are just the latest in a litany of problems.
Six months after the project officially went online, a 173 foot-long-blade flew off one of the turbines.
There was a turbine fire in 2015.
Since this project went online:
10 turbines underwent blade replacements
9 turbines had their gear boxes replaced
2 turbines were replaced
Contacting The Developers
Attempts to contact the turbine manufacturer, developer and local utility have been futile.
Ewing says, "We've tried to talk to Pattern Energy [the developer], of course we always get a generic reply that they're working on this or checking on that, but we never get an answer on the noise, or the lights, or anything. They really just write us off. They don't talk to us. We get an email reply sometimes, that's about it."
I phoned Jeff Grappone, of Siemens USA after the turbine caught fire in 2015. He suggested I send an email. I did this, asking:
Do they know what caused this fire?
How often turbine fires occur? Are they, for example, as common as traffic accidents are for automobile drivers?
What about the oil leaks? the blade replacements? the three replaced yaw gears? Is this normal for a two year old wind farm?
There are also some extreme conditions at Ocotillo. I have seen videos of those incredible dust storms. There are good winds at times, but they are more often 0-4 mph and there are occasionally incredible blow ups. Is this a an exceptionally difficult location?
Grappone never replied.
Maybe I asked too many questions.
Dust Storms
I recently tried a different tactic, when asking Pattern Energy about the dust storms that have plagued Ocotillo since the site was built. I sent them the video you see below and asked for an explanation.
Matt Dallas emailed back, "Ocotillo Wind operates its equipment in accordance with our permits. The dust in the video was created by the wind, not by the turbines. You'll see many of the turbines are not operating in the video because the wind speeds that day were so high they exceeded our maximum operating capacity."
He was not aware that I had previously interviewed a site developer about dust storms on utility scale wind and solar sites.
According to Harvey Stephens, Vice President of Operations at World Wind & Solar, fugitive dust problems are caused by scraping large areas of the desert crust clean of vegetation. This leaves the underlaying soil exposed to the wind. There are remedies, such as planting grasses, windflowers and other materials as a protective blanket to stabilize areas disturbed by grading operations. When developers follow these procedures, the dust storms normally cease after a year or so.
Ocotillo has been inflicted by dust storms since construction began. In the video below, you can see one from August 2012.
I pointed this out to Matt Dallas, who did not reply.
The Noise
Ewing and his wife suspect, but can not prove, that infrasound noise from the turbines might be the reason that are "tired all the time."
He describes the sound made by the turbines, when they are turning, as "… the most irritating sound I have ever heard."
(There is a recording on the podcast.)
"One of Pattern's project managers came by and listened to the sound once and said he would take it back to whoever is in charge. We never heard another word about it," says Ewing.
"We like to be outside. That's why we are here in the desert. We have a fairly nice place here, with a lot of trees and stuff that we need to keep watered. It is difficult to do when they are making noise. It is kind of like a noise trespassing, that really shouldn't be happening on your property."
What's The Problem?
Parke Ewing believes the problem is wind technology.
I agreed with him, until I saw some German sites in 2014. [NWW still agrees with Ewing.]
The problem at Ocotillo does not appear to be so much with the technology, as how it was used. This is not a good location for wind turbines. The site was politically expedient and there were massive tax credits in 2012, but should never have been built. Now the manufacturer and developer have made their money, and people like Parke Ewing are left with the mess.
September 3, 2017, Roy L Hales, theecoreport.com
---
Date added:
January 11, 2017
North Dakota
,
Technology
,
Videos
•
Author: Xcel Energy
Download video (52-MB MP4)
100 Vestas V100 2-MW turbines
Nearly 25,000 acres (101 km²)
22 miles of access roads
Substation transformer: 262,000 pounds
Substation increases voltage for transmission lines
17.1-mile 115-kV overhead transmission line from collection substation to interconnect substation
More than 150 miles of underground cable in 50 miles of trench
Tower base (platform) excavation depth: 9 feet
360 cubic yards of concrete, 28 tons of reinforcing steel
Tower base (bottom third): 96,000 pounds, 128 anchor bolts
Nacelle: 163,650 pounds
Hub height: 262 feet
Turbine blade: length 161 feet, weight 17,000 pounds
Total height: 426 feet
Blade diameter: 328 feet
Blade sweep area: 1.94 acres
---