Resource Documents: Germany (49 items)
Documents presented here are not the product of nor are they necessarily endorsed by National Wind Watch. These resource documents are provided to assist anyone wishing to research the issue of industrial wind power and the impacts of its development. The information should be evaluated by each reader to come to their own conclusions about the many areas of debate.
---
Author: Pohl, Johannes; Gabriel, Joachim; and Hübner, Gundula
To better understand causes and effects of wind turbine (WT) noise, this study combined the methodology of stress psychology with noise measurement to an integrated approach. In this longitudinal study, residents of a wind farm in Lower Saxony were interviewed on two occasions (2012, 2014) and given the opportunity to use audio equipment to record annoying noise. On average, both the wind farm and road traffic were somewhat annoying. More residents complained about physical and psychological symptoms due to traffic noise (16%) than to WT noise (10%, two years later 7%). Noise annoyance was minimally correlated with distance to the closest WT and sound pressure level, but moderately correlated with fair planning. The acoustic analysis identified amplitude-modulated noise as a major cause of the complaints. The planning and construction process has proven to be central − it is recommended to make this process as positive as possible. It is promising to develop the research approach in order to study the psychological and acoustic causes of WT noise annoyance even more closely. To further analysis of amplitude modulation we recommend longitudinal measurements in several wind farms to increase the data base ─ in the sense of "Homo sapiens monitoring".
Johannes Pohl, Joachim Gabriel, and Gundula Hübner
Institute of Psychology (J.P.), Martin-Luther-University Halle-Wittenberg, Halle (Saale); MSH Medical School Hamburg (J.P., G.H.), Hamburg; and UL DEWI (UL International GmbH) (J.G.), Wilhelmshaven, Germany
Energy Policy 112 (2018) 119–128
doi: 10.1016/j.enpol.2017.10.007
Download original document: "Understanding stress effects of wind turbine noise – the integrated approach"
[NWW note: The researchers note that their findings suggest that German emission protection laws are generally effective in establishing adequate setbacks. For "general" residential areas, the noise limit is 40dBA outside at night. For "purely" residential areas, spas, nursing homes, and hospitals it is 35dBA.]
---
Author: Ongena, Jozef; István Markó; Koch, Raymond; and Debeil, Anne
If the aim is to decarbonize the electricity sector and phase out nuclear power, then renewable energy remains as the only source of electricity. As wind and solar photovoltaics (PV) are a major fraction (in Germany about 65% of the total renewable electricity production) one then must cope with strong intermittency. The consequences show up most prominently during dark and cloudy periods without wind.
The reality of this last statement is illustrated in Fig. 1, showing the evolution of the electricity production in Germany for January 2017. Due to lack of wind and sunshine in the second half of January most of the German electricity during that whole period was produced by conventional power sources – lignite, coal, gas and nuclear power. On the morning of the 24th of January 2017 a nearly total collapse of the German electricity supply took place. It could have had consequences throughout Europe and was only avoided by putting into operation all possible fossil power plants in Germany, including the oldest and dirtiest ones.
Fig. 1: Electrical power consumption and production in Germany (in MW) by various sources for January 2017: grid load (brown), sum of onshore and offshore wind (blue), solar PV (yellow), installed iRES [intermittent renewable energy sources] capacity (light green background color). Although the iRES capacity is exceeding the grid load, it could only provide a fraction of the German electrical power needs during this dark period without sufficient wind and most of the power was produced by conventional power sources (fossil and nuclear). Especially the period 16-25 January 2017 demonstrates the need for large additional backup power systems (that are evidently non-renewable) or storage.
This graph also leaves no doubt about the storage problem. During the 10 days between 16 and 25 January, equivalent to 240h, the difference between the iRES produced electrical power and the electrical power needs of Germany varied between 50 and 60GW, i.e. between 12000 and 14400 GWh of electrical energy was missing. German electrical storage systems could not have supplied this large amount of energy, as the total storage capacity in Germany is about 40GWh (mainly hydro). The missing electrical energy represents thus 300-360 times the German electrical storage capacity. Including also the 12 dark and wind still days in December 2016, the missing energy would increase to about 32TWh, i.e. about 800 times the currently existing storage capacity in Germany. Note that such long low iRES power production intervals are not an exception; similarly, long periods of low combined solar PV and wind power production were observed regularly in the past years, not only in Germany but in several EU countries and predominantly simultaneously, see also below. …
The electricity production from renewable systems is characterized by a low capacity factor. In Germany with its large fleet of wind and solar PV systems, this is ~15%, resulting from ~11% for solar PV and ~18% for wind (sum of offshore and onshore wind). The consequences are shown in Fig. 2, documenting the evolution in Germany of the installed capacity and power production from solar PV and wind; also indicated are the minimum and maximum power load of the grid. It is clear (i) that although the iRES installed capacity is huge (exceeding at the moment already the maximum power load on the German grid), its contribution to the German electrical energy needs is limited and (ii) that the peaks of the iRES production increasingly cross the lines of minimum load, thus leading to more and more excess production. For the moment export to neighboring countries is still a solution. But this will have to change when the iRES production in other EU countries also will increase in the near future.
Fig. 2: Electrical power production (in GW) by wind (blue) and the sum of solar PV and wind (red) compared with maximum and miminum grid load. As the installed renewable capacity increases, the minimum grid load is increasingly exceeded, leading to overcapacity and export of surplus energy, often at negative prices. …
Export of electricity is needed not only on days with a large iRES power production, but paradoxically also on days with a minimal iRES power production. Indeed, on such days the backup production is maximal and cannot be easily regulated in the short time intervals, which characterize the intermittency of the renewable power from sun and wind. At low iRES production most of the iRES power serves only to increase the export (in several cases at negative prices) as illustrated in Figs. 4a and b and discussed in detail in D. Ahlborn, H. Jacobi, World of Mining, Surface and Underground 68, 2-6 (2016). Thus it comes as no surprise that there is a clear correlation between iRES power production (low or high) and export of electricity from Germany, as illustrated in Fig. 4b. This power is not totally lost, as it can help other countries to reduce their CO₂ output. However, the German taxpayer pays for this, and such a solution can only be temporary. Contrary to what one would expect, these massive and rather unpredictable imports are not really welcomed in the concerned neighboring countries as (i) local power plants have to reduce or shut down, reducing their profitability, and (ii) it increasingly causes overloads in the national grids of those countries. For such reasons Poland and the Czech Republic are installing phase shift transformers at their borders (paid by Germany) to reflect any dangerously high excess electrical energy imports back to Germany.
Fig. 4a: Example of the time evolution of iRES renewable electricity production during a dark and wind still period and compared to the electricity export for Germany (16-25 Jan 2017)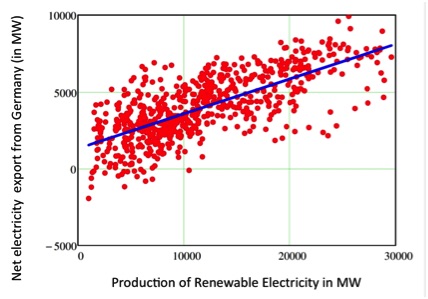 Fig. 4b: Hourly correlation between electricity production from renewable sources (wind + PV) and electricity export in Germany (February 2015)
These exports can only be a temporary solution because the same weather patterns often cover large surfaces of Europe. The consequence thereof is illustrated in Fig. 5, showing a comparison between the instantaneous wind power production from Germany and the sum of the wind production in 15 other EU countries: except for Spain, the correlation in the electricity production between the different countries is clearly visible. Excess wind power in Germany signifies thus also excess wind power in neighbouring countries. The difference in the timing of the maxima and minima in wind production in Spain compared to the rest of Europe, can help to average the fluctuations to a certain, albeit limited extent. One could wonder if the averaging effect of solar photovoltaic power could contribute. In fact, such an effect is nearly absent, as shown by a recent study. The same study shows that if one would use a EU wide 100% iRES electrical network, able to transport excess electrical energy production between the various European countries, typical German grid fluctuations could be reduced by 35% and the maximal storage capacity by 28% (with a 30% fluctuation level on those numbers due the varying weather conditions from year to year). Interconnector lines with a capacity of tens to hundreds of GW will then be needed throughout Europe. The export (and storage) problem can thus indeed be somewhat reduced but they will be far from totally eliminated. Other solutions to avoid the enormous excess energy will have to be found.
Fig. 5: Instantaneous wind power production in MW in Germany (dark blue) compared to the wind power production from 15 EU countries (various colors), illustrating the close correlation between wind power Europe wide. This graph clearly shows consequences for export of excess intermittent electrical power between EU countries in the future, and the very limited extent of possible 'averaging' of excesses throughout Europe. …
A large fraction of the produced iRES power in Germany is exported. The export was nearly stable and negligible in the years before the massive introduction of renewable power and has increased ever since, with a rapid increase in the last 5 years up to about 25% of the produced renewable energy or about 55TWh (Fig. 8). The exported energy matches the yearly produced photovoltaic energy or 2/3 of the produced wind power. However, export of excess energy can only be temporary if renewable energy is to be deployed in all EU countries, given the strong correlation between the weather in neighboring countries as already discussed in Section 2.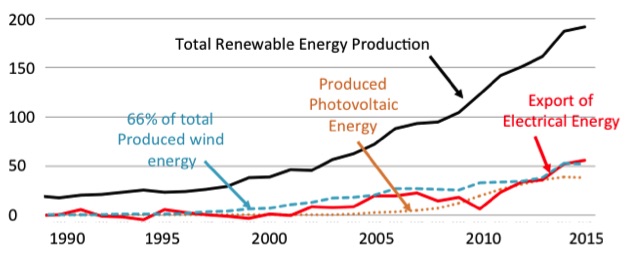 Fig. 8. Evolution of the total iRES electrical energy production and net electrical energy export (in TWh) over the last 26 years in Germany. The total photovoltaic production (dotted orange curve) or 66% of the total wind energy production (dashed blue curve) follows remarkably close the export curve.
Go to original document: "Hidden consequences of intermittent electricity production"
---
Date added:
July 23, 2017
Economics
,
Europe
,
Germany
,
Grid
,
Technology
•
Author: Linnemann, Thomas; and Vallana, Guido
Windenergie in Deutschland und Europa
[Wind energy in Germany and Europe: Status quo, potentials, and challenges in the baseload supply of electricity – Part 1: Developments in Germany since 2010]
English Abstract:
In Germany, the installed nominal capacity of all wind turbines has increased eightfold over the past 16 years to 50,000 megawatts today. In the 18 most important European countries using wind energy today, the nominal capacity rose twelvefold to more than 150,000 megawatts.
One essential physical property of wind energy is its large spatiotemporal variation due to wind speed fluctuations. From a meteorologic point of view, the electrical power output of wind turbines is determined by weather conditions with typical correlation lengths of several hundred kilometres. As a result, the total wind fleet output of 18 European countries extending over several thousand kilometres in both north-south and east-west directions is highly volatile and exhibits a strong intermittent character. An intuitively expected significant smoothing of this wind fleet output to an degree that would allow a reduction of backup power plant capacity, however, does not occur. In contrast, a highly intermittent wind fleet power output showing significant peaks and minima is observed not only for a single country, but also for the whole of the 18 European countries. Wind energy therefore requires a practically 100% backup. As the (also combined) capacities of all known storage technologies are (and increasingly will be) insignificant in comparison to the required demand, backup must be provided by conventional power plants, whose economics are fundamentally impaired in the absence of capacity markets.
Windenergie in Deutschland und Europa: Status quo, Potenziale und Herausforderungen in der Grundversorgung mit Elektrizität – Teil 1: Entwicklungen in Deutschland seit dem Jahr 2010
Thomas Linnemann und Guido S. Vallana
VGB PowerTech, Essen, Deutschland
VGB PowerTech 6 | 2017
Download original document: "Windenergie in Deutschland und Europa"
---
Author: Weichenberger, Markus; et al.
The question, whether infrasound (IS; sound in the very low-frequency range – 1 Hz < frequency < 20 Hz) can pose a threat to physical and mental well-being remains a much debated topic. For decades, it has been a widely held view that IS frequencies are too low to be processed by the auditory system, since the human hearing range is commonly quoted to only span frequencies from about 20 to 20000 Hz. This view was supported by a number of studies conducted in animals as well as in humans demonstrating that the auditory system is equipped with several shunting and attenuation mechanisms, which are already involved in early stages of signal processing and make hearing at low frequencies quite insensitive. However, the notion that IS cannot be processed within the auditory system has been contested by several studies, in which IS-induced changes of cochlear function in animals as well as in normally hearing human participants) have been documented. In fact, it has been shown repeatedly that IS can also be perceived by humans, if administered at very high sound pressure levels (SPLs)). More recently, two fMRI studies also revealed that exposure to a monaurally presented 12-Hz IS tone with SPLs of > 110 dB led to bilateral activation of the superior temporal gyrus (STG), which suggests that the physiological mechanisms underlying IS perception may share similarities with those involved in 'normal hearing', even at the stage of high-level cortical processing.
Meanwhile, there seems to be a growing consensus that humans are indeed receptive to IS and that exposure to low-frequency sounds (including sounds in the IS frequency spectrum) can give rise to high levels of annoyance and distress. However, IS also came under suspicion of promoting the formation of several full-blown medical symptoms ranging from sleep disturbances, headache and dizziness, over tinnitus and hyperacusis, to panic attacks and depression, which have been reported to occur more frequently in people living close to wind parks. While it has been established that noise produced by wind turbines can indeed have a considerable very low-frequency component, IS emission only reaches SPL-maxima of around 80 to 90 dB, which may not be high enough to exceed the threshold for perception. Taking into consideration such results, Leventhall thus concluded that "if you cannot hear a sound and you cannot perceive it in other ways and it does not affect you". Importantly, this view also resonates well with the current position of the World Health Organisation (WHO), according to which "there is no reliable evidence that infrasounds below the hearing threshold produce physiological or psychological effects". However, it appears that the notion, according to which sound needs to be perceived in order to exert relevant effects on the organism, falls short when aiming at an objective risk assessment of IS, especially if one takes into consideration recent advances in research on inner ear physiology as well as on the effects of subliminal auditory stimulation (i.e. stimulation below the threshold of perception). For example, 5-Hz IS exposure presented at SPLs as low as 60–65 dB has been shown to trigger the response of inner ear components such as the outer hair cells in animals and it has been suggested that outer hair cell stimulation may also exert a broader influence on the nervous system via the brainstem. In addition, there is the well documented effect in cognitive science that brain physiology and behavior can be influenced by a wide range of subliminally presented stimuli, including stimuli of the auditory domain.
We therefore set out to address the question, whether IS near the hearing threshold can also exert an influence on global brain activity and whether the effects of stimulation significantly differ from those induced by supra-threshold IS. …
Regional homogeneity analysis: In summary, it could be demonstrated that prolonged supra-threshold IS stimulation clearly perceived by all participants did not result in statistically significant activations anywhere in the brain. In contrast, near-threshold stimulation led to higher local connectivity in multiple brain areas, compared to both the no-tone as well as the supra-threshold condition. …
Independent component analysis: Decreased functional connectivity – as compared to the no-tone condition – was found during resting state with near-threshold tone presentation in the right amygdala (rAmyg) in the sensorimotor network. Resting state sessions with near-threshold tone presentation were associated with increased functional connectivity in the right superior frontal cortex in the left executive control network when compared to the no-tone condition. In addition, there was increased functional connectivity in the lobule IV and V of the left cerebellum in the default mode networks for near-threshold sessions compared to supra-threshold ones. …
The results of the present study can be summed up in the following way: Prolonged IS exposure near the participants' individual hearing threshold led to higher local connectivity in three distinct brain areas – rSTG, anterior cingulate cortex (ACC) and rAmyg – while no such effect was observed for stimulation above the hearing threshold. Our data also show that near-threshold IS was associated with connectivity changes on the network level, emphasizing the role of the rAmyg in IS processing. To our knowledge, this study is the first to demonstrate not only that near-threshold IS produces physiological effects, but that the neural response involves the activation of brain areas that are important [not only] for auditory processing but also for emotional and autonomic control. These findings thus allow us to reflect on how (sub)-liminal IS could give rise to a number of physiological as well as psychological health issues, which until now have only been loosely attributed to noise exposure in the low- and very low-frequency spectrum. …
The ACC is generally regarded as a key player in the monitoring and resolution of cognitive, as well as emotional conflicts. Interestingly, a recent meta-analysis by Meneguzzo et al. also revealed that the ACC reliably exhibits activation in response to both sub- as well as supraliminally presented arousing stimuli, which led the authors to suggest that this brain area may function as a gateway between automatic ('pre-attentive') affective states and higher order cognitive processes, particularly when affect and cognition are in conflict. In addition, the authors explicitly gave credit to the fact that the term 'conflict' may also include unexpected perturbations of the body's physiology in the absence of conscious awareness. Moreover, another line of research also highlights the ACC's involvement in autonomic control via its extensive connections with the insula, prefrontal cortex, amygdala, hypothalamus and the brainstem. ACC activation in response to near-threshold IS stimulation could therefore be interpreted as a conflict signaling registration of the stimulus which, if not resolved, may lead to changes of autonomic function.
Similarly, the amygdala is well know for its involvement in emotional processing, especially with respect to fear conditioning, but also in the broader context of stress- and anxiety-related psychiatric disorders. Several studies have documented activation of the amygdala in response to aversive sensory stimuli across different modalities, such as odorants, tastes, visual stimuli, as well as in response to emotional vocalization and unconditioned sounds that are experienced as aversive. Activation of the rAmyg during near-threshold IS exposure may be of particular interest for a risk assessment regarding IS, because the amygdala is known to be involved in auditory processing and may also play a major role in debilitating tinnitus and hyperacusis. It is a fairly established finding that auditory input can be processed along two separate neural pathways, the classical (lemniscal) and the non-classical (extralemniscal) pathway. While signals travelling along the classical pathway are relayed via ventral thalamic nuclei mostly to the primary auditory cortex, signals traveling along the non-classical pathway are bypassing the primary auditory cortex as dorsal thalamic nuclei project to secondary- and association cortices and also to parts of the limbic structure such as the amygdala. Importantly, the non-classical pathway (frequently called the 'low route') allows for direct subcortical processing of the stimulus in the amygdala, without the involvement of cortical areas and may therefore play a crucial role in the subliminal registration of 'biologically meaningful' stimuli, such as near-threshold IS. In fact, it has been suggested that in certain forms of tinnitus, activation of the non-classical pathway can mediate fear without conscious control and, via its connections to the reticular formation, also exert influences on wakefulness and arousal. … Interestingly, it could be shown that the left amygdala decodes the arousal signaled by the specific stimulus (linked to a conscious fear response), whereas the rAmyg provides a global level of autonomic activation triggered automatically by any arousing stimulus (linked to a subconscious fear response). It is particularly noteworthy that while the rAmyg exhibited increased local connectivity in response to near-threshold IS, independent component analysis revealed a decoupling of the rAmyg from the sensorimotor network in comparison to the no-tone condition. It has been repeatedly argued that decoupling of the amydgala from areas involved in executive control may enable an organism to sustain attention and supports working memory, thus potentially aiding cognitive control processes in the aftermath of stress. Interestingly, the fact that functional connectivity of the rSFG was higher during near-threshold stimulation further substantiates this claim. Again, several studies demonstrate that rSFG and rAmyg share functional connections and that activity between the two regions tends to be negatively correlated. Thus, participants who were left guessing whether stimulation occurred, may have engaged in effortful regulation of affect, trying to minimize the consequences of stress on cognitive control networks.
Finally, our results also allow us to draw some preliminary conclusions on potential long-term health effects associated with (sub-)liminal IS stimulation. It has been reported in several studies that sustained exposure to noise can lead to an increase of catecholamine- and cortisol levels. In addition, changes of bodily functions, such as blood pressure, respiration rate, EEG patterns and heart rate have also been documented in the context of exposure to below- and near-threshold IS. We therefore suggest that several of the above mentioned autonomic reactions could in fact be mediated by the activation of brain areas such as the ACC and the amygdala. While increased local connectivity in ACC and rAmyg may only reflect an initial bodily stress response towards (sub-)liminal IS, we speculate that stimulation over longer periods of time could exert a profound effect on autonomic functions and may eventually lead to the formation of symptoms such as sleep disturbances, panic attacks or depression, especially when additional risk factors, such as an increased sensibility towards noise, or strong expectations about the harmfulness of IS are present.
Markus Weichenberger, Martin Bauer, Robert Kühler, Johannes Hensel, Caroline Garcia Forlim, Albrecht Ihlenfeld, Bernd Ittermann, Jürgen Gallinat, Christian Koch, and Simone Kühn
Department of Psychiatry and Psychotherapy, Charité-Universitätsmedizin Berlin; Physikalisch-Technische Bundesanstalt, Braunschweig and Berlin; and University Clinic Hamburg-Eppendorf, Clinic and Policlinic for Psychiatry and Psychotherapy, Hamburg, Germany
PLoS One. Published: April 12, 2017. doi: 10.1371/journal.pone.0174420
Download original document: "Altered cortical and subcortical connectivity due to infrasound administered near the hearing threshold – Evidence from fMRI"
---