Resource Documents: Germany (58 items)
Unless indicated otherwise, documents presented here are not the product of nor are they necessarily endorsed by National Wind Watch. These resource documents are shared here to assist anyone wishing to research the issue of industrial wind power and the impacts of its development. The information should be evaluated by each reader to come to their own conclusions about the many areas of debate. • The copyrights reside with the sources indicated. As part of its noncommercial effort to present the environmental, social, scientific, and economic issues of large-scale wind power development to a global audience seeking such information, National Wind Watch endeavors to observe "fair use" as provided for in section 107 of U.S. Copyright Law and similar "fair dealing" provisions of the copyright laws of other nations.
---
Author: Higher Regional Court of Munich
'The defendant is ordered to cease operation of the wind power plant erected and operated on Plot no. 146 in the township of Ammerfeld, brand ENERCON E-82n, 2 MW capacity, hub height 138 metres, rotor diameter 82 metres, total height 179 metres, during the period of 22:00 hours to 06:00 hours, at a night emission rate of more than 45 dB(A) that is measurable at the residential building of the plaintiffs in 1) and 2) at 86688 Marxheim, St.-Gertraud-Straße 15.'
Higher Regional Court of Munich, Augsburg, August 14, 2012
Download original document: "Sanders and Rosskopfs versus Bavaria Windpark"
[translated by Simone Gabbay, translator for All Languages, Toronto, Ontario, paid for by a citizen of Ontario]
---
Date added:
December 3, 2018
Aesthetics
,
Environment
,
Germany
,
Property values
•
Author: Sunak, Yasin; and Madlener, Reinhard
[ABSTRACT] Today's investment decisions in large-scale onshore wind projects in Germany are no longer determined only by the investment's economic benefit, but also by concerns associated to social acceptance. Despite a mostly positive attitude towards the expansion of wind power, local public concerns often stem from the belief that the proximity to large-scale wind farms may lead to a decrease in property prices. In particular, the change in landscape caused by the construction of a wind farm may have an adverse impact on the view from some properties, and thus may negatively affect their price. To investigate the potential devaluation of properties in Germany due to wind farms, we use a quasi-experimental technique and apply a spatial difference-in-differences approach to various wind farm sites in the federal state of North Rhine–Westphalia. We adopt a quantitative visual impact assessment approach to account for the adverse environmental effects caused by the wind turbines. To properly account for spatial dependence and unobserved variables biases, we apply augmented spatial econometric models. The estimates indicate that the asking price for properties whose view was strongly affected by the construction of wind turbines decreased by about 9–14%. In contrast, properties with a minor or marginal view on the wind turbines experienced no devaluation.
Yasin Sunak and Reinhard Madlener
Institute for Future Energy Consumer Needs and Behavior, E.ON Energy Research Center, and School of Business and Economics, Aachen University, Aachen, Germany
Energy Economics, Volume 55, March 2016, Pages 79-91
doi: 10.1016/j.eneco.2015.12.025
Download original document: "Sunak-Madlener-2014-wind-farms-property-values"
---
Author: Velasco Garrido, Marcial; Mette, Janika; Mache, Stefanie; Harth, Volker; and Preisser, Alexandra
ABSTRACT
Objectives: To assess the quality of sleep of employees in the German offshore wind industry and to explore factors associated with poor sleep quality.
Design: Web-based cross-sectional survey.
Setting: Offshore companies operating in wind farms within the German exclusive economic zone.
Participants: Workers with regular offshore commitments and at least 28 days spent offshore in the past year (n=268).
Outcome measures: Sleep quality in the past 4 weeks, troubles falling asleep or sleeping through in the past 4 weeks, differences in sleep quality between offshore deployments and onshore leaves.
Results: Having problems with sleep onset was reported by 9.5% of the respondents. 16.5% reported troubles with maintaining sleep three or more times per week. The overall quality of sleep was rated as very bad by only 1.7% of the participants. 47.9% of the workers reported their quality of sleep to be worse during offshore commitments than when being onshore. Higher levels of exposition to noise, vibrations and poor air quality were associated with sleeping troubles and poorer sleep quality. Sharing the sleep cabin with colleagues was associated with troubles sleeping through. No association was found for working in rotating shifts and for regularity of the offshore commitments.
Conclusions: Workers in our study showed frequent sleep problems and poorer sleep quality offshore than onshore. Our results indicate that higher degrees of exposure to noise, vibrations and artificial ventilation are associated with poor sleep quality rather than organisational factors such as shift-work and type of working schedule. In view of the high demands of the offshore workplace and the workers' particular recovery needs, addressing sleep disorders should be part of any health and safety management strategy for this workplace.
Marcial Velasco Garrido, Janika Mette, Stefanie Mache, Volker Harth, Alexandra Marita Preisser
Institute for Occupational and Maritime Medicine (ZfAM), University Medical Center Hamburg-Eppendorf, Hamburg, Germany
BMJ Open 2018;8:e024006. doi:10.1136/bmjopen-2018-024006
Download original document: "Sleep quality of offshore wind farm workers in the German exclusive economic zone: a cross-sectional study"
Download appendix (questionnaire)
---
Author: Linneman, Thomas; and Vallana, Guido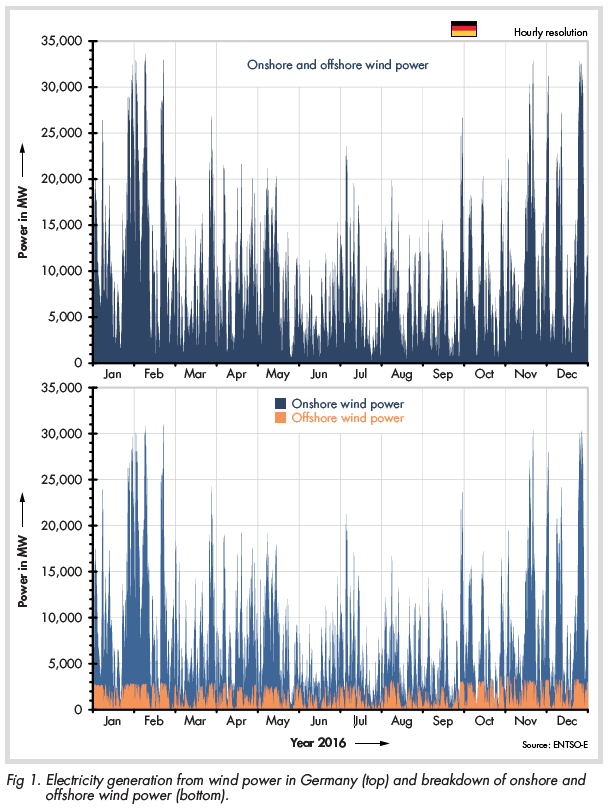 In Germany the installed nominal capacity of all wind turbines has increased eightfold over the last 16 years to 50,000 megawatts today. In the 18 most important European countries using wind energy today, the nominal capacity rose by twelve times to more than 150,000 megawatts. One essential physical property of wind energy is its large spatiotemporal variation due to wind speed fluctuations. From a meteorological point of view, the electrical power output of wind turbines is determined by weather conditions with typical correlation lengths of several hundred kilometres. As a result, the total wind fleet output of 18 European countries extending over several thousand kilometres in north-south and east-west direction is highly volatile and exhibits a strong intermittent character. An intuitively expectable significant smoothing of this wind fleet output to an amount which would allow a reduction of backup power plant capacity, however, does not occur. [emphasis added] In contrast, a highly intermittent wind fleet power output showing significant peaks and minima is observed not only for a single country, but also for the whole of the 18 European countries. Wind energy therefore requires a practically 100% backup. As the (also combined) capacities of all known storage technologies are (and increasingly will be) insignificant in comparison to the required demand, backup must be provided by conventional power plants, with their business cases fundamentally being impaired in the absence of capacity markets.
Windenergie in Deutschland und Europa – Status quo, Potenziale und Herausfor­ derungen in der Grundversorgung mit Elektrizität – Entwicklungen in Deutschlandseit 2010: Die installierte Nennleistung sämtlicher Windenergieanlagen in Deutschland hat sich in den letzten 16 Jahren, von Anfang 2001 bis Ende 2016, auf 50.000 Megawatt (MW) verachtfacht. In 18 betrachteten europäischen Ländern, die Windenergie heute nutzen, erhöhte sich die Nennleistung im gleichen Zeitraum um das Zwölffache auf mehr als 150.000 MW. Eine wesentliche physikalische Eigenschaft der Windenergie ist ihre starke raumzeitliche Variation aufgrund der Fluktuationen der Windgeschwindigkeit. Meteorologisch betrachtet wird die aus Windenergieanlagen eingespeiste elektrische Leistung durch Wetterlagen mit typischen Korrelationslängen von mehreren hundert Kilometern bestimmt. Im Ergebnis ist die aufsummierte eingespeiste Leistung der europaweit über mehrere tausend Kilometer sowohl in Nord-Süd- als auch Ost-West-Richtung verteilten Windenergieanlagen hoch volatil, gekennzeichnet durch ein breites Leistungsspektrum. Die intuitive Erwartung einer deutlichen Glättung der Gesamtleistung in einem Maße, das einen Verzicht auf Backup-Kraftwerksleistung ermöglichen würde, tritt allerdings nicht ein. Das Gegenteil ist der Fall, nicht nur für ein einzelnes Land, sondern auch für die große Leistungsspitzen und -minima zeigende Summenzeitreihe der Windstromproduktion 18 europäischer Länder. Für das Jahr 2016 weist die entsprechende Zeitreihe (Stundenwerte) bei idealisiert verlustfreier Betrach tung einen Mittelwert von 33.000 MW und ein Minimum von weniger als 6.500 MW auf. Dies entspricht trotz der europaweit verteilten Windparkstandorte gerade einmal 4 % der in den betrachteten 18 Ländern insgesamt installierten Nennleistung. Windenergie trägt damit praktisch nicht zur Versorgungssicherheit bei und erfordert 100% planbare Backup-Systeme nach heutigem Stand der Technik. Da das benötigte Speichervolumen aller heute bekannten Speichertechnologien im Vergleich zur Elektrizitätsnachfrage gering ist (auch in Kombination und mit steigender Tendenz bei weiterem Ausbau volatiler, vom Dargebot abhängiger erneuerbarer Energien), müssen konventionelle Kraftwerke diese Backup-Funktion übernehmen. Deren Rentabilität steht ohne Kapazitätsmärkte schon heute in Frage.
Thomas Linnemann and Guido S. Vallana
VGB PowerTech, Essen, Deutschland
June 2017
Download original document in English: "Wind energy in Germany and Europe: Status, potentials and challenges for baseload application"
Auf Deutsch: "Windenergie in Deutschland und Europa: Status quo, Potenziale und Herausfor­ derungen in der Grundversorgung mit Elektrizität"
Präsentation: VGB-Windstudie 2017
---