Resource Documents — latest additions
Documents presented here are not the product of nor are they necessarily endorsed by National Wind Watch. These resource documents are provided to assist anyone wishing to research the issue of industrial wind power and the impacts of its development. The information should be evaluated by each reader to come to their own conclusions about the many areas of debate.
---
Date added:
September 10, 2018
Economics
,
Environment
,
U.S.
•
Author: Stolp, Nils
National Fisherman has been covering the first baby steps being taken by offshore energy producers and their allies/supporters in government and the environmental industry to turn our offshore waters into obstacle courses made up of wind turbines that, in their first stage of development, will rival the Eiffel Tower in height, with blades that sweep almost half a million square feet of air per revolution and with blade tip velocities of up to 200 miles per hour (see Kirk Moore's "Fisheries science needs to catch up with offshore wind power". Whether they are mounted on massive "foundations" on the sea floor or floated in place and moored to the bottom, their construction and their operation is going to have more of an impact on our continental shelf – and on our fisheries – than most of us could imagine just a few years ago. …
Download original document: "Wind turbines and offshore energy development"
---
Author: Sepulveda, Nestor; et al.
Highlights
Firm low-carbon resources [e.g., nuclear, natural gas with carbon capture and sequestration, and bioenergy] consistently lower decarbonized electricity system costs
Availability of firm low-carbon resources reduces costs 10%–62% in zero-CO₂ cases
Without these resources, electricity costs rise rapidly as CO₂ limits near zero
Batteries and demand flexibility do not substitute for firm low-carbon resources
Summary
We investigate the role of firm low-carbon resources in decarbonizing power generation in combination with variable renewable resources, battery energy storage, demand flexibility, and long-distance transmission. We evaluate nearly 1,000 cases covering varying CO₂ limits, technological uncertainties, and geographic differences in demand and renewable resource potential. Availability of firm low-carbon technologies, including nuclear, natural gas with carbon capture and sequestration, and bioenergy, reduces electricity costs by 10%–62% across fully decarbonized cases. Below 50 gCO₂/kWh, these resources lower costs in the vast majority of cases. Additionally, as emissions limits decrease, installed capacity of several resources changes non-monotonically. This underscores the need to evaluate near-term policy and investment decisions based on contributions to long-term decarbonization rather than interim goals. Installed capacity for all resources is also strongly affected by uncertain technology parameters. This emphasizes the importance of a broad research portfolio and flexible policy support that expands rather than constrains future options.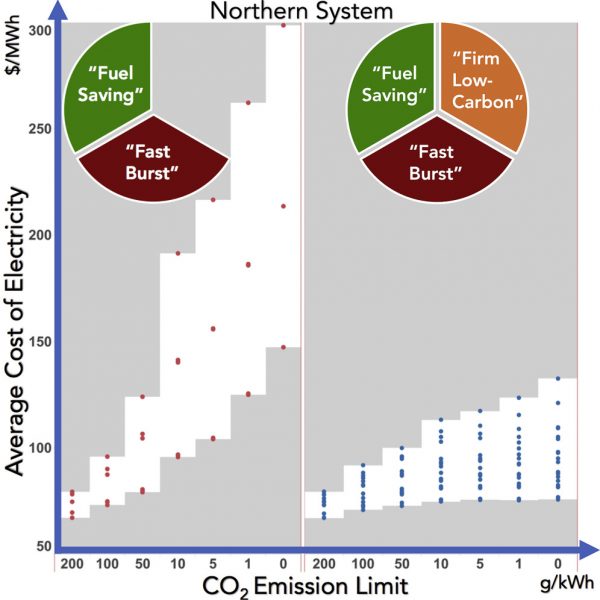 Nestor A. Sepulveda, Department of Nuclear Science and Engineering and Institute for Data, Systems, and Society, Massachusetts Institute of Technology (MIT), Cambridge
Jesse D. Jenkins, Institute for Data, Systems, and Society, MIT
Fernando J. de Sisternes, Center for Energy and Environmental Policy Research, MIT
Richard K. Lester, Department of Nuclear Science and Engineering, MIT
Joule. Published: September 06, 2018
DOI: 10.1016/j.joule.2018.08.006
---
Date added:
August 27, 2018
Wildlife
•
Author: Voight, Christian; et al.
Abstract:
The replacement of conventional lighting with energy‐saving light emitting diodes (LED) is a worldwide trend, yet its consequences for animals and ecosystems are poorly understood. Strictly nocturnal animals such as bats are particularly sensitive to artificial light at night (ALAN). Past studies have shown that bats, in general, respond to ALAN according to the emitted light color and that migratory bats, in particular, exhibit phototaxis in response to green light. As red and white light is frequently used in outdoor lighting, we asked how migratory bats respond to these wavelength spectra. At a major migration corridor, we recorded the presence of migrating bats based on ultrasonic recorders during 10‐min light‐on/light‐off intervals to red or warm‐white LED, interspersed with dark controls. When the red LED was switched on, we observed an increase in flight activity for Pipistrellus pygmaeus and a trend for a higher activity for Pipistrellus nathusii. As the higher flight activity of bats was not associated with increased feeding, we rule out the possibility that bats foraged at the red LED light. Instead, bats may have flown toward the red LED light source. When exposed to warm‐white LED, general flight activity at the light source did not increase, yet we observed an increased foraging activity directly at the light source compared to the dark control. Our findings highlight a response of migratory bats toward LED light that was dependent on light color. The most parsimonious explanation for the response to red LED is phototaxis and for the response to warm‐white LED foraging. Our findings call for caution in the application of red aviation lighting, particularly at wind turbines, as this light color might attract bats, leading eventually to an increased collision risk of migratory bats at wind turbines.
Christian C. Voigt, Katharina Rehnig, Oliver Lindecke, Gunārs Pētersons
Leibniz Institute for Zoo and Wildlife Research, Berlin, Germany (CCV, KR, OL)
Institute of Biology, Freie Universität Berlin, Germany (CCV, OL)
Faculty of Life Science, University of Vienna, Austria (KR)
Faculty of Veterinary Medicine, Latvia University of Life Sciences and Technologies, Jelgava (GP)
Ecology and Evolution. Published online August 25, 2018. doi: 10.1002/ece3.4400
Download original document: "Migratory bats are attracted by red light but not by warm-white light: Implications for the protection of nocturnal migrants"
---
Date added:
August 13, 2018
Health
,
Noise
,
Ontario
,
Prince Edward Island
•
Author: Michaud, David; et al.
Abstract —
Objectives: Noise emissions from wind turbines are one of multiple wind turbine features capable of generating annoyance that ranges in magnitude from not at all annoyed to extremely annoyed. No analysis to date can simultaneously reflect the change in all magnitudes of annoyance toward multiple wind turbine features. The primary objective in this study was to use principal component analysis (PCA) to provide a single construct for overall annoyance to wind turbines based on reactions to noise, blinking lights, shadow flicker, visual impacts, and vibrations evaluated as a function of proximity to wind turbines.
Methods: The analysis was based on data originally collected as part of Health Canada's cross-sectional Community Noise & Health Study (CNHS). One adult participant (18–79 years), randomly selected from dwellings in Ontario (ON) (n = 1011) and Prince Edward Island (PEI) (n = 227), completed an in-person questionnaire. Content relevant to the current analysis included the annoyance responses to wind turbines.
Results: The first construct tested in the PCA explained 58–69% of the variability in total annoyance. Reduced distance to turbines was associated with elevated aggregate annoyance scores among ON and PEI participants. In the ON sample, aggregate annoyance was effectively absent in areas beyond 5 km (mean 0.12; 95% CI 0.00, 1.19), increasing significantly between 2 and 5 km (mean 2.13; 95% CI 0.92, 3.33), remaining elevated, but with no further increase until (0.550–1] km (mean 3.37; 95% CI 3.02, 3.72). At ≤ 0.550 km, the average overall annoyance was 3.36 (95% CI 2.03, 4.69). In PEI, aggregate annoyance was essentially absent beyond 1 km; i.e., (1–2] km (mean 0.21; 95%CI 0.00, 0.88); 2–5 km (mean 0.00; 95%CI 0.00, 1.37); > 5 km (mean 0.00; 95%CI 0.00, 1.58). Annoyance significantly increased in areas between (0.550 and 1] km (mean 1.59; 95%CI 1.02, 2.15) and was highest within 550 m (mean 4.25; 95% CI 3.34, 5.16).
Conclusion: The advantages and disadvantages to an aggregated annoyance analysis, including how it should not yet be considered a substitute for relationships based on changes in high annoyance, are discussed.
David S. Michaud & James McNamee, Non-Ionizing Radiation Health Sciences Division, Consumer and Clinical Radiation Protection Bureau, Environmental and Radiation Health Sciences Directorate, Health Canada
Leonora Marro, Biostatistics Section, Population Studies Division, Environmental Health Science and Research Bureau, Health Canada
Canadian Journal of Public Health (2018) 109:242–251
doi: 10.17269/s41997-018-0040-y
Download original document: "Derivation and application of a composite annoyance reaction construct based on multiple wind turbine features"
---