Resource Documents: U.K. (106 items)
Unless indicated otherwise, documents presented here are not the product of nor are they necessarily endorsed by National Wind Watch. These resource documents are shared here to assist anyone wishing to research the issue of industrial wind power and the impacts of its development. The information should be evaluated by each reader to come to their own conclusions about the many areas of debate. • The copyrights reside with the sources indicated. As part of its noncommercial effort to present the environmental, social, scientific, and economic issues of large-scale wind power development to a global audience seeking such information, National Wind Watch endeavors to observe "fair use" as provided for in section 107 of U.S. Copyright Law and similar "fair dealing" provisions of the copyright laws of other nations.
---
Date added:
March 23, 2023
Environment
,
Europe
,
U.K.
•
Author: Chico, Guaduneth; et al.
Abstract. Peatland environments are the Earth's largest terrestrial carbon store and have the potential to act as carbon sinks. However, the development of windfarms on peatlands is affecting their morphology, hydrology, ground-level climate conditions, carbon functions and vegetation, and long-term consequences still need to be assessed. Blanket bogs are a rare type of ombrotrophic peatland that are typical of oceanic areas with high precipitation and low temperatures. Their distribution has been mapped across Europe, where they are mainly located on hill summits where wind energy potential is higher, making them attractive sites for windfarm developments. The promotion of renewable energy is currently a priority given the environmental and economic drive to increase low-carbon energy production. Establishing windfarms on peatland in pursuit of greener energy, therefore, risks compromising and undermining the green-energy transition. Despite this, the extent of windfarm infrastructures on blanket bogs have not yet been reported at the European scale. This research reports the extent of windfarm infrastructures on recognised blanket bogs, with a geographical focus on Europe, where blanket bogs have been mapped systematically. Under the EU Habitats Directive (92/43/EEC), there are 36 European regions NUTS level 2 with recognised blanket bogs. Of these, 12 have windfarm developments, including 644 wind turbines, 253.4 km of vehicular access tracks and an affected area of 207.6 ha, mainly in Ireland and Scotland where the extent of blanket bogs is also higher. However, despite Spain having under 0.2% of Europe's recognised blanket bogs area, this was the most affected country. In Scotland, a comparison of the recognised blanket bogs under the Habitats Directive (92/43/EEC) with blanket bogs recorded in national inventories indicates that the extent of windfarm developments was higher, with 1,063 wind turbines and 634.5 km of vehicular access tracks. Our results highlight the extent of windfarm developments on blanket bog habitat, both in areas where peatlands are broadly distributed across the landscape, and also in areas where this recognised habitat is particularly rare. There is a pressing need to assess the long-term impacts of windfarms on peatlands to ensure that efforts to meet energy targets result only in carbon sequestration, and do not jeopardise ecosystem services. Blanket bogs represent a particularly vulnerable habitat, the study of which should be prioritised updating national and international inventories to protect and restore this habitat.
Guaduneth Chico, T. Clewer, N.G. Midgley, P. Gallego‑Anex, E. Whayman, S. Goeckeritz, School of Animal, Rural and Environmental Sciences, Nottingham Trent University, Brackenhurst Campus, Southwell, UK
P. Ramil‑Rego, J. Ferreiro, Instituto de Biodiversidade Agraria E Desenvolvemento Rural (IBADER), Universidade de Santiago de Compostela, Campus Terra, Lugo, Spain
T. Stanton, Department of Geography and Environment, Loughborough University, UK
Scientific Reports volume 13, Article number: 3919 (2023)
Download original document: "The extent of windfarm infrastructures on recognised European blanket bogs"
---
Date added:
February 11, 2023
Noise
,
Regulations
,
U.K.
•
Author: WSP
This study aimed to answer the question: in view of government policies on noise and commitments to Net Zero, should the existing ETSU-R-97 noise assessment guidance for wind turbines be updated, and if so, how?
Onshore wind is recognised as one of the lowest-cost sources of renewable electricity generation. A sustained growth in capacity is also seen as a keen enabler of the UK government's commitment to deliver a net zero economy by 2050.
Using our expertise in acoustics, planning and environmental assessments for renewables, we delivered this study on behalf of the UK government Department for Business, Energy & Industrial Strategy (BEIS) to review the UK onshore commercial wind turbine noise assessment guidance (a document known as ETSU-R-97).
Since the ETSU-R-97 guidance was published in 1996, the context has changed:
The need for onshore wind energy is more urgent
Technology has advanced
New research has been undertaken
Understanding of wind turbine sound has progressed, highlighting in particular the potential impact of amplitude modulation (AM, described below)
Our report recommends key areas of the guidance that would benefit from being updated, and provides recommendations for further evidence needed to support updates identified. These include revisiting the framework of noise limits, and establishing new guidance to support assessment and control of the potential impact of AM.
Our recommendations will help to ensure that guidance for local planning authorities, developers and operators is the most relevant and up-to-date possible, supporting robust planning and assessment processes for managing the potential impacts of noise from wind turbines, which in turn will contribute to sustainable delivery of onshore wind energy.
How did we approach the study?
WSP's acoustics team worked closely with a steering group including BEIS, the Department for Environment, Food & Rural Affairs (Defra), the Department for Levelling Up, Housing & Communities, the Scottish Government, the Welsh Government, and the Northern Ireland Executive.
The study comprised three workstreams:
Evidence review
Stakeholder engagement
Field measurements
The evidence review employed two stages of systematic literature search and screening of a wide range of publications identified from peer-reviewed literature databases, scientific conferences, official reports, guidelines and standards. In total, 132 publications were reviewed for evidence relevant to the research.
The stakeholder engagement survey included a questionnaire, and focus interviews with identified key stakeholders. In total 32 organisations responded to the questionnaire and 6 key stakeholders were interviewed.
The field measurement exercise collected a 'snapshot' of wind turbine sound data from seven wind farm sites during conditions thought likely to enable the detection of amplitude modulation at ranges representative of wind farm neighbours.
What is amplitude modulation?
A feature of wind turbine sound commonly known as amplitude modulation (AM). This is a regular fluctuation of the sound level associated with the passage of the blades. It is often described subjectively as a 'swish' or 'whoomph' sound.
Areas for increased focus:
Our analysis indicates that the existing guidance would benefit from updating in two key areas:
Noise limits: The 'noise limits' defined in the ETSU-R-97 guidance are based on information that reflected the state of knowledge and turbine technology at the time. The research indicates that these should be revisited in view of advancements in onshore wind turbine technology, knowledge and scientific evidence of the potential impact of wind turbine noise, and the evolution of government noise policies in each of the devolved administrations of the UK. These developments could be reflected in a new framework for assessment and control of noise impact, in terms of addressing health outcomes and expected behavioural responses associated with wind turbine noise.
Amplitude modulation guidance: The research also indicates that the current ETSU-R-97 guidance does not fully address the potential impact of AM in wind turbine sound. The evidence identified in the study, including indicative information from the field measurements, suggests that the assumptions about AM adopted in ETSU-R-97 do not fully represent the nature of AM as experienced and measured. Existing evidence could be used to help develop suitable guidance on controlling AM, and stakeholder views suggest this would be welcomed.
Our report also includes recommendations on further areas of the guidance likely to benefit from updating to reflect the latest evidence addressing methods of measurement, prediction, data analysis, assessment and control for wind turbine sound and noise.
Recommendations for future studies:
Our report for BEIS identifies further key evidence needed to support some of the recommended updates, and to inform planning and consenting around onshore wind farms in the UK, including:
A systematic review and meta-analysis of evidence on the effects of wind turbine sound exposure on noise annoyance and sleep quality,
A more detailed review of national and regional guidelines applied in overseas territories to manage wind turbine noise,
A study to consider the effectiveness of the current 'relative impact' approach to controlling wind turbine noise based on existing background sound environments,
A study to consider the effectiveness of the 'relative impact' approach to controlling wind turbine noise and identification of effect thresholds.
Attaining suitably robust evidence to support guidance updates is likely to require government, industry, academia and other stakeholder groups to work together to achieve mutual interests in providing local planning authorities, environmental protection departments, developers and operators with the most relevant and up-to-date guidance possible for planning and assessing noise from wind turbines. Achieving this aim will ensure the effective management of the potential impacts of wind farm noise, while supporting government objectives for achieving Net Zero.
The findings of the study must be considered within the context of its strengths and limitations, which are detailed and discussed in the report. The authors would like to stress that this review represents only an initial step in any process of updating the existing guidance that may be decided on in the future; the report itself does not provide new guidance or supersede any parts of the current policy or guidance frameworks in place in any of the devolved administrations.
Download original document: "A review of noise guidance for onshore wind turbines"
---
Date added:
August 3, 2022
Environment
,
Photos
,
Scotland
,
Technology
•
Author: Murform
2016 December 19 – Murform have recently secured this follow on project with RJ McLeod, following our success at Beinneun Wind Farm (which is less than 5 miles away).
Bhlaraidh Wind Farm is a 32 turbine site, situated in the Great Glen, just North West of Loch Ness. Due to its sensitive location, the site has been developed to cause minimal visual impact to the environment to avoid being seen from the main tourist routes and iconic attractions of the Great Glen. The sites remote location also provides it inherent challenges, for the supply of materials and access by labour to each turbine location, which will have to be overcome to achieve the projects required outputs.
Murform will construct the 32 bases, consisting of over 62 tonne of rebar and 580m³ of concrete in each base, with a strong effort to construct as many as possible before the winter weather sets in. To assist in this target, Murform have provided additional resources to the project. RJ McLeod will assist with full time cranes and also on site batching plants and trucks.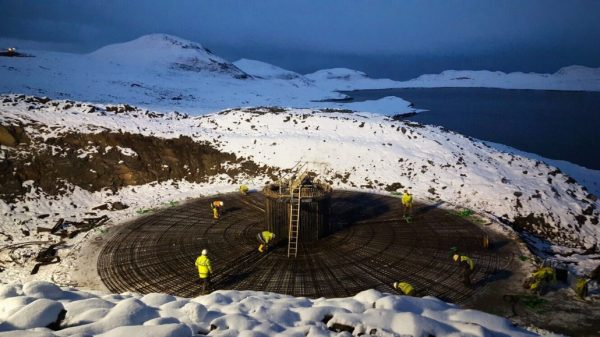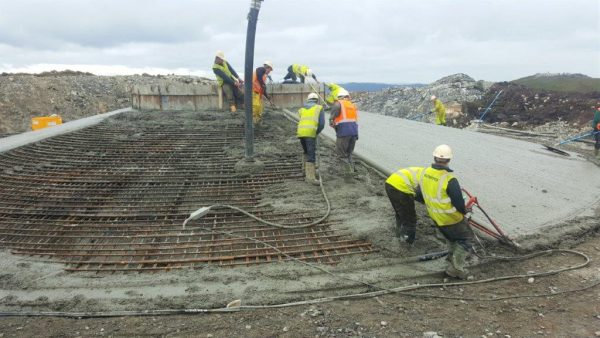 ---
Date added:
July 17, 2022
Emissions
,
Environment
,
Scotland
•
Author: Albanito, Fabrizio; et al.
Highlights
The displacement of terrestrial carbon stocks is crucial to quantifying the environmental impact of onshore wind energy.
Direct and indirect greenhouse gas emissions are quantified spatially based on land cover types and wind farm characteristics.
Emissions of land use change from the construction of 3848 wind turbines across Scotland vary from 16 g CO₂ kWh−1 in shrubland to 1760 g CO₂ kWh−1 in peatland.
Opportunity costs of onshore wind farms range from £0.30 to £65.0 per MWh of electricity generated per year.
Abstract
The development of onshore wind energy impacts the land where it is constructed, together with competition for natural resources between the energy and land sector. The loss of terrestrial carbon stocks and ecosystem services from land use change to wind farms can be interpreted as the opportunity cost that landowners give up by choosing to construct wind farms on their land. Here, we spatially quantify the impact onshore wind farms have on land when we factor in the opportunity carbon (C) costs. We found that the construction of 3848 wind turbines in Scotland generated 4.9 million tonnes of carbon dioxide (CO₂) emissions from land use change. On average the emission intensity of land use change in peatland is 560 g CO₂ kWh−1, in forestry is 88 g CO₂ kWh−1, in cropland is 45 g CO₂ kWh−1, and in pastureland is 30 g CO₂ kWh−1. In the worst land use change scenario, the displacement of Dystrophic basin peat habitats generated 1760 g CO₂ kWh−1, which is comparable to the life cycle emissions of fossil-fuel technologies such as coal and gas-fired electricity generation. In arable land, the loss of harvestable crop to wind power was forfeited for a gain in opportunity costs up to £15.4 million over a 25 year operating life. Considering the short-term value of CO₂ in the trading market, the opportunity carbon costs of onshore wind farms can range from £0.3 to £65.0 per MWh of electricity generated per year. These findings highlight that the preservation of terrestrial carbon stocks and crop production in the land sector require the development of new payment schemes that can compete economically against the monetary benefits that landowners can access from lease agreements agreed with energy companies. This ensures also that wind turbines are geographically placed to protect ecosystem C stocks, and to minimize the carbon intensity of the electricity generated.
Fabrizio Albanito, Anita Shepherd, Astley Hastings, Institute of Biological and Environmental Sciences, University of Aberdeen, 23 St Machar Drive, Aberdeen, Scotland
Sam Roberts, Pryor & Rickett Silviculture, Lugwardine, Hereford, UK
Journal of Cleaner Production
Volume 363, 20 August 2022, 132480
doi:10.1016/j.jclepro.2022.132480
Download original document: "Quantifying the land-based opportunity carbon costs of onshore wind farms"
---