Resource Documents: Europe (32 items)
Documents presented here are not the product of nor are they necessarily endorsed by National Wind Watch. These resource documents are provided to assist anyone wishing to research the issue of industrial wind power and the impacts of its development. The information should be evaluated by each reader to come to their own conclusions about the many areas of debate.
---
Author: Harbo Paulsen, Aslak; et al.
Highlights
We identified all Danes exposed to wind turbine noise (WTN) from 1982 to 2013.
We then identified all live born singletons from mothers in this population.
We investigated preterm birth, low birth weight and small for gestational age.
We found no associations between WTN and the adverse birth outcomes.
Few women had high levels of WTN and independent replication is called for.
Abstract
Noise from wind turbines (WTs) is reported as more annoying than traffic noise at similar levels, raising concerns as to whether WT noise (WTN) may negatively affect health, as reported for traffic noise. We aimed to investigate whether residential WTN is associated with adverse birth outcomes. Based on national registries, we identified all Danish dwellings situated within ≤ 20 wt heights radius and a random selection of 25% of dwellings situated within 20–40 wt heights radius of a WT. We identified 135,795 pregnant women living in the dwellings from 1982 to 2013, and collected information on gestational age and birth weight from a national birth registry. Using data on WT type and simulated hourly wind at each WT, we estimated hourly outdoor and low frequency (LF) indoor WTN at the dwellings of the pregnant women and aggregated as mean nighttime WTN during pregnancy. We used logistic regression with adjustment for individual and area-level covariates for the analyses. We did not find evidence suggesting that mean pregnancy or trimester-specific exposure to outdoor or indoor LF WTN were associated with any of the three adverse birth outcomes investigated: preterm birth (n = 13,003), term small for gestational age (n = 12,220) or term low birth weight (n = 1127). However, the number of cases in the highest exposure categories of ≥  42 dB outdoor WTN or ≥ 15 dB indoor LF WTN were low for all outcomes (n between 0 and 31). The present study does not support an association between nighttime WTN and adverse birth outcomes. However, there were few cases in the high exposure groups and the results call for reproduction.
Aslak Harbo Poulsen
Ole Raaschou-Nielsen
Alfredo Peña
Andrea N. Hahmann
Rikke Baastrup Nordsborg
Matthias Ketzel
Jørgen Brandt
Mette Sørensen

Diet, Genes and Environment (A.H.P., Ol.R.-N., R.B.N., M.S.), Danish Cancer Society Research Center, Copenhagen, Denmark
DTU Wind Energy (A.P., A.N.H.), Technical University of Denmark, Roskilde, Denmark
Department of Environmental Science (O.R.-N., J.B.), Aarhus University, Roskilde, Denmark
Department of Natural Science and Environment (M.S.), Roskilde University, Roskilde, Denmark
Environmental Research, Volume 167, November 2018, Pages 770-775
https://doi.org/10.1016/j.envres.2018.09.011
---
Date added:
October 10, 2018
Europe
,
Health
,
Noise
,
Regulations
•
Author: World Health Organization
Wind Turbine Noise Recommendations
For average noise exposure, the GDG [Guideline Development Group] conditionally recommends reducing noise levels produced by wind turbines to below 45[A] dB Lden* [at the most exposed façade, outdoors], as wind turbine noise above this level is associated with adverse health effects.
To reduce health effects, the GDG conditionally recommends that policy-makers implement suitable measures to reduce noise exposure from wind turbines in the population exposed to levels above the guideline values for average noise exposure. No evidence is available, however, to facilitate the recommendation of one particular type of intervention over another.
Download original document: "Environmental Noise Guidelines for the European Region"
Download the Executive Summary
*ISO 1996-1:2016 Section 3.6: Lden is the average of all (12-15 hours of day, 4 hours of evening [if defined], 8-9 hours of night) levels, with evening and night levels weighted: +5 dB added to the evening levels and +10 dB to the night levels.
See also:
Night Noise Guidelines for Europe
Guidelines for Community Noise
---
Author: Linneman, Thomas; and Vallana, Guido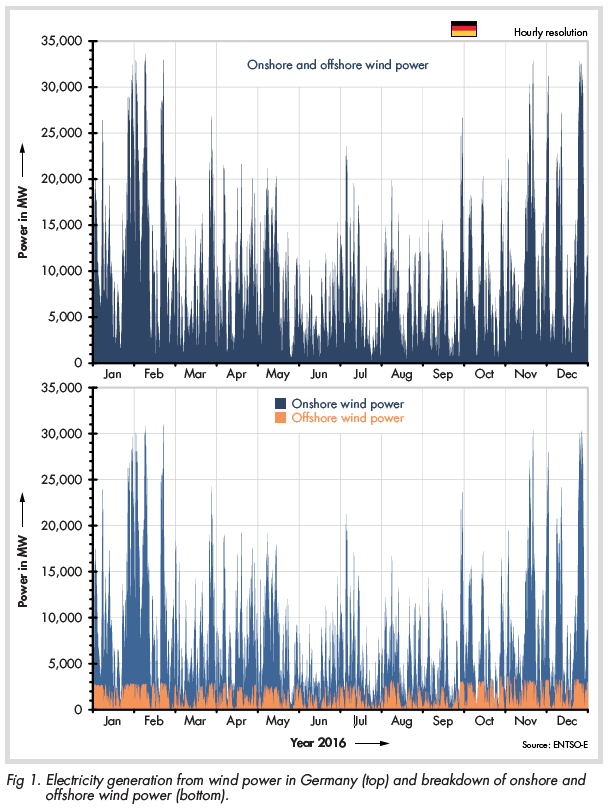 In Germany the installed nominal capacity of all wind turbines has increased eightfold over the last 16 years to 50,000 megawatts today. In the 18 most important European countries using wind energy today, the nominal capacity rose by twelve times to more than 150,000 megawatts. One essential physical property of wind energy is its large spatiotemporal variation due to wind speed fluctuations. From a meteorological point of view, the electrical power output of wind turbines is determined by weather conditions with typical correlation lengths of several hundred kilometres. As a result, the total wind fleet output of 18 European countries extending over several thousand kilometres in north-south and east-west direction is highly volatile and exhibits a strong intermittent character. An intuitively expectable significant smoothing of this wind fleet output to an amount which would allow a reduction of backup power plant capacity, however, does not occur. [emphasis added] In contrast, a highly intermittent wind fleet power output showing significant peaks and minima is observed not only for a single country, but also for the whole of the 18 European countries. Wind energy therefore requires a practically 100% backup. As the (also combined) capacities of all known storage technologies are (and increasingly will be) insignificant in comparison to the required demand, backup must be provided by conventional power plants, with their business cases fundamentally being impaired in the absence of capacity markets.
Windenergie in Deutschland und Europa – Status quo, Potenziale und Herausfor­ derungen in der Grundversorgung mit Elektrizität – Entwicklungen in Deutschlandseit 2010: Die installierte Nennleistung sämtlicher Windenergieanlagen in Deutschland hat sich in den letzten 16 Jahren, von Anfang 2001 bis Ende 2016, auf 50.000 Megawatt (MW) verachtfacht. In 18 betrachteten europäischen Ländern, die Windenergie heute nutzen, erhöhte sich die Nennleistung im gleichen Zeitraum um das Zwölffache auf mehr als 150.000 MW. Eine wesentliche physikalische Eigenschaft der Windenergie ist ihre starke raumzeitliche Variation aufgrund der Fluktuationen der Windgeschwindigkeit. Meteorologisch betrachtet wird die aus Windenergieanlagen eingespeiste elektrische Leistung durch Wetterlagen mit typischen Korrelationslängen von mehreren hundert Kilometern bestimmt. Im Ergebnis ist die aufsummierte eingespeiste Leistung der europaweit über mehrere tausend Kilometer sowohl in Nord-Süd- als auch Ost-West-Richtung verteilten Windenergieanlagen hoch volatil, gekennzeichnet durch ein breites Leistungsspektrum. Die intuitive Erwartung einer deutlichen Glättung der Gesamtleistung in einem Maße, das einen Verzicht auf Backup-Kraftwerksleistung ermöglichen würde, tritt allerdings nicht ein. Das Gegenteil ist der Fall, nicht nur für ein einzelnes Land, sondern auch für die große Leistungsspitzen und -minima zeigende Summenzeitreihe der Windstromproduktion 18 europäischer Länder. Für das Jahr 2016 weist die entsprechende Zeitreihe (Stundenwerte) bei idealisiert verlustfreier Betrach tung einen Mittelwert von 33.000 MW und ein Minimum von weniger als 6.500 MW auf. Dies entspricht trotz der europaweit verteilten Windparkstandorte gerade einmal 4 % der in den betrachteten 18 Ländern insgesamt installierten Nennleistung. Windenergie trägt damit praktisch nicht zur Versorgungssicherheit bei und erfordert 100% planbare Backup-Systeme nach heutigem Stand der Technik. Da das benötigte Speichervolumen aller heute bekannten Speichertechnologien im Vergleich zur Elektrizitätsnachfrage gering ist (auch in Kombination und mit steigender Tendenz bei weiterem Ausbau volatiler, vom Dargebot abhängiger erneuerbarer Energien), müssen konventionelle Kraftwerke diese Backup-Funktion übernehmen. Deren Rentabilität steht ohne Kapazitätsmärkte schon heute in Frage.
Thomas Linnemann and Guido S. Vallana
VGB PowerTech, Essen, Deutschland
June 2017
Download original document in English: "Wind energy in Germany and Europe: Status, potentials and challenges for baseload application"
Auf Deutsch: "Windenergie in Deutschland und Europa: Status quo, Potenziale und Herausfor­ derungen in der Grundversorgung mit Elektrizität"
Präsentation: VGB-Windstudie 2017
---
Author: Jarosińska, Dorota; Héroux, Marie-Ève; et al.
Abstract: Following the Parma Declaration on Environment and Health adopted at the Fifth Ministerial Conference (2010), the Ministers and representatives of Member States in the WHO European Region requested theWorld Health Organization (WHO) to develop updated guidelines on environmental noise, and called upon all stakeholders to reduce children's exposure to noise, including that from personal electronic devices. The WHO Environmental Noise Guidelines for the European Region will provide evidence-based policy guidance to Member States on protecting human health from noise originating from transportation (road traffic, railway and aircraft), wind turbine noise, and leisure noise in settings where people spend the majority of their time. Compared to previous WHO guidelines on noise, the most significant developments include: consideration of new evidence associating environmental noise exposure with health outcomes, such as annoyance, cardiovascular effects, obesity and metabolic effects (such as diabetes), cognitive impairment, sleep disturbance, hearing impairment and tinnitus, adverse birth outcomes, quality of life, mental health, and wellbeing; inclusion of new noise sources to reflect the current noise environment; and the use of a standardized framework (grading of recommendations, assessment, development, and evaluations: GRADE) to assess evidence and develop recommendations. The recommendations in the guidelines are underpinned by systematic reviews of evidence on several health outcomes related to environmental noise as well as evidence on interventions to reduce noise exposure and/or health outcomes. The overall body of evidence is published in this Special Issue.
… Seven systematic reviews of evidence were commissioned by WHO to assess the relationship between environmental noise and the following health outcomes: (1) annoyance; (2) cardiovascular and metabolic effects; (3) cognitive impairment; (4) effects on sleep; (5) hearing impairment and tinnitus; (6) adverse birth outcomes; and (7) quality of life, mental health, and wellbeing. An eighth systematic review was commissioned to assess the effectiveness of environmental noise interventions in reducing exposure and associated impacts on health. The reviews separately assess the environmental noise coming from the following sources, for each relevant health outcome: road traffic, railway, aircraft, wind turbines, and leisure.
Dorota Jarosińska, Marie-Ève Héroux, Poonum Wilkhu, James Creswick, Jördis Wothge, and Elizabet Paunović, World Health Organization (WHO) Regional Office for Europe, European Centre for Environment and Health, Bonn, Germany
Jos Verbeek, Finnish Institute of Occupational Health, Cochrane Work, Kuopio
International Journal of Environmental Research and Public Health 2018, 15, 813
doi: 10.3390/ijerph15040813
Download original document: "Development of the WHO Environmental Noise Guidelines for the European Region: An Introduction"
---