Resource Documents: Scotland (24 items)
Documents presented here are not the product of nor are they necessarily endorsed by National Wind Watch. These resource documents are provided to assist anyone wishing to research the issue of industrial wind power and the impacts of its development. The information should be evaluated by each reader to come to their own conclusions about the many areas of debate.
---
Date added:
November 11, 2017
Aesthetics
,
Economics
,
Scotland
•
Author: Gordon, David
Introduction
1. In the course of public debate on contentious topics, especially when large sums of money and politics are involved, 'evidence' is often collateral damage. Statistics are more often than not used, as the old joke has it, as a drunk uses a lamp-post: for support not for illumination.
2. This paper is the product of frustration and dismay at the misuse of evidence, particularly statistical evidence, by a powerful pro-wind lobby to create a confused, unbalanced and complacent picture of the possible impact of the growth of onshore wind electricity generation in Scotland on tourism and recreation, particularly mountainlinked tourism and recreation. Hyperbole by opponents of wind energy in the face of this well-organised and well-connected lobby is understandable, but equally fails to illuminate.
3. Proponents of wind farms would have us believe that tourism impacts are negligible. Opponents would have us believe that the destruction of tourism in Scotland is nigh. Neither position is at all tenable. The real position is much more subtle and complex. That is an uncomfortable message for all sides in a polarised debate.
4. This paper is an independently-written attempt to assess, as objectively as possible, what is really known about the possible impact of wind farms upon mountain-linked tourism and recreation within Scotland. This is set in the context of tourism in general, not least because there is no data specifically on mountaineering other than that produced by Mountaineering Scotland itself. It is foregrounded by a brief setting out of my personal and Mountaineering Scotland's positions so that readers can judge whether these have biased my interpretation of the available evidence.
The key findings are:
5. There is no simple answer to the question of whether wind farms affect tourism (or recreation). It depends on
the characteristics of the proposed development, both individually and as part of regional and national patterns;
the nature of the local tourism offer and market, and that of competitors; and
the characteristics of local tourists.
6. The hypothesis that best fits the available, far from perfect, data is that wind farms do have an effect on tourism but the effect is experienced predominantly in areas where large built structures are dissonant with expectations of desired attributes such as wildness or panoramic natural vistas, and where a high proportion of visitors come from the 25% of tourists in Scotland who are particularly drawn by the quality of upland and natural landscapes, with mountaineering visitors prominent amongst these. In much of Scotland, and for most tourists, wind farms are no serious threat to tourism: the nature of the local tourism offer, and good siting of wind farms, mean they can co-exist.
7. The main adverse effect of wind farms on tourism, thus far, is displacement within Scotland from areas perceived as 'spoilt' to areas seen as still retaining the desired sense of naturalness. The GCU Moffat Centre study, relied upon by developers and the Scottish Government, estimated the likely level of tourism displacement across Scotland by wind farms to be around 1-2%. The estimates in the present paper range up to 5%. This difference is modest given the five-fold increase in onshore wind farm capacity in Scotland between the data points for the two studies (2007 & 2015).
8. Tourism in Scotland is not thriving, with standard indicators of tourism volume in 2016, the latest available consistent data, still below pre-2008 levels. Positive media coverage of a 'thriving' tourism sector, typically based on statistically selective press releases, is seldom supported by the full figures. In a competitive world, it is foolish to put at risk any segment of Scotland's tourism market.
9. Five per cent of Scottish tourism spend would be £250m. This is well within the range of fluctuation seen in national tourist spend from year to year and therefore undetectable, even if it was all lost to Scotland and not simply displaced within Scotland. Since the true figure could well be smaller, attempting to find evidence in national or regional tourism statistics of the effect of any particular change is almost certainly futile. It is statistically illiterate to think the lack of detection of a modest effect in volatile regional and national tourism statistics is evidence of no effect.
10. But any effect of wind farms will be much less visible in routine statistics because the income is not lost to the national tourism economy but displaced and relocated within Scotland. Even the lowest level estimated – 1% or £35m – would have a marked impact if concentrated in a limited number of places. It is still doubtful if such an effect could be detected in routine statistics since much tourism economic activity does not feature in statistics (e.g. many tourism business are below the VAT registration level) and it is such activity that might be most likely to be affected by a local drop in visitors.
11. BiGGAR Economics has attempted to look at impact in the vicinity of a general cohort of wind farms and has found no effect. Setting aside several methodological concerns about this study, the sample included only one wind farm in an area where a tourism effect would be predicted based on the conclusions of the present paper. The postconstruction outcome data for this wind farm was confounded by continuing wind farm construction locally, making it impossible to separate any tourism effect from the effect of construction worker accommodation and expenditure.
12. The evidence on wind farms and tourism in Scotland relates to the present pattern of development consented under a rigorous planning system. Mountaineering Scotland does not agree with all planning decisions, but the process is certainly exacting. This makes it difficult to assess impact on mountaineering or wild land tourism empirically because few wind farms that might be expected to have an adverse effect have been consented and most are not yet built. Insofar as Mountaineering Scotland objections can be used to identify planning applications in areas important for mountaineering and related tourism, there have been only eight wind farm consents in such areas and only two were operational by 2016. When wind farms are refused planning permission in mountain or wild land areas the reasons given are typically landscape and visual, but an unrecognised side-effect has been to limit potential for tourism impacts.
13. Despite the clearly inadequate nature of the present evidence base on wind farms and tourism, the Scottish Government remains content with reviews of old research with almost no primary research later than 2008, despite the substantially changed context. That the government and its agencies have little interest in commissioning research to better define and understand the interaction between specific segments of the tourism market and wind farms is to be regretted and serves the public interest poorly.
14. Strategic and local planning decisions on the extent and pattern of wind farm development in Scotland should take better account of the potential for adverse impact in areas important for landscape-dependent tourism, and safeguard sufficient such areas in each part of Scotland. It is not enough to protect only those landscapes within the small number of National Parks and National Scenic Areas.
Published by Mountaineering Scotland, November 2017
Download original document: "Wind farms and tourism in Scotland: A review with a focus on mountaineering and landscape"
---
Author: Ward, Lyndsey
The sun always seemed to shine in Giggly Glen and the people were always smiling.
It was a very happy to place to live.
But then something happened that made the people very sad.
This is the tale of Tiny the Turbine who lived in Giggly Glen, on a pretty little farm that was rented by Mr Barley from the rich landowner, Sir Snatchit.
Tiny really was tiny. No-one could see or hear him. He had sat on the roof of the cowshed for many years and was completely hidden by the big trees of Giggly Glen Forest. Hardly anyone knew he was there.
Mr Barley used him in the winter to charge a little battery to light his cowshed where he kept his cows in the cold dark months. Tiny could just about do that but nothing else and spent the summer sunbathing and watching the wildlife all
around him. When the wind didn't blow Mr Barley had to use a torch to tend his animals.
Mr Barley had a son, Ally. He was Tiny's friend and would often go and talk to Tiny. Ally didn't have many friends but Tiny was always there to listen when he had problems at school.
One day a wind developer called Mr McWeasel went to see Sir Snatchit.
He said because Sir Snatchit already had Tiny on his land he could get many more turbines, much much bigger ones. It would be called an extension and the man from the Government would say yes.
Mr McWeasel said if he could have permission to build the other turbines he could make Tiny much bigger and make him work harder and bring in lots more money from the Government. They would both be very rich.
He also said he would give the villagers a very small bit of that money the turbines made. It was the same money that the villagers had to pay to the Government in the first place. So really he was just giving the people their own money back. Mr McWeasel didn't tell anyone that though.
Mr Barley didn't want Tiny made bigger. Tiny did all he needed and didn't bother anyone. The big turbines could be a problem for him and his family as they would be very close to their little house.
But because Sir Snatchit owned all the land and said yes to Mr McWeasel, the building of the turbines began.
Tiny was shocked when he saw Mr McWeasel's men at work. They ripped up all the ground with big diggers, they cut down the trees in Giggly Glen Forest and poured big lorry loads of concrete all over the land. The wild animals ran away and the river turned a dirty brown colour and then … the birds stopped singing, the sun stopped shining and dark clouds spread across the sky.
Mr Barley went to see what was happening and sadly shook his head when he saw the mess and destruction made by Mr McWeasel's men.
There were ten huge turbines. Each one taller than ten big trees standing on top of one another.
The biggest turbine was Trasher – Tiny's very distant cousin – so named because he destroyed everything around him wherever he went.
Trasher was a bully. He was the ringleader of the other turbines. They laughed and jeered at Tiny because he was so tiny and rarely worked even though he did all Mr Barley wanted.
Mr McWeasel went to see Tiny. "You are too small. You don't earn any money. I will order some parts and make you bigger and you will work harder for me."
But then something else happened that really upset Tiny. His friends the birds were being hit by the blades of the big turbines. He told Mr McWeasel that he didn't want to get any bigger and if he made him then he would refuse to work. He would go on strike and his blades would never move. He would not harm the birds.
Mr McWeasel was furious and ordered Tiny off Sir Snatchit's land. "No-one disobeys me," he said. Tiny looked to the other turbines for help but they just all stood and laughed at him.
"Go away," shouted Trasher. "There is no place for someone like you here. You are not even big enough to boil a kettle! We need to earn money for Sir Snatchit and Mr McWeasel and if the birds get in the way then that is their hard luck."
So Tiny left and was found by Ally, sitting crying on one of the trees cut down by Mr McWeasel's men.
He listened to Tiny's sadness about the birds and having to leave his home on the cowshed roof, just like Tiny had listened to him so many times when he had been sad.
Then he told Tiny what was happening to his family because of the turbines. He told him how his mother and father couldn't sleep because of all the noise from Trasher and his friends. His father had crashed his tractor into the hen house the other day when he was so tired and had fallen asleep at the wheel.
Ally said he couldn't sleep either and sometimes felt scared when he heard the thumping and swooshing of the turbine blades in the night.
It felt like the whole house was vibrating. The only time they got any peace from the awful noise was when the wind wasn't blowing and the monster turbines weren't turning. His mother often complained of headaches and never smiled any more. The chickens had stopped laying their eggs since the turbines came. Ross the sheep dog had starting hiding in the barn and wouldn't come out and work the sheep.
Tiny jumped up! "This is not right," he said. "We must stop it. Let's go to the village and tell the people what is happening here."
The village hall was crowded. People were shouting and angry.
"I can't sleep and my visitors can't sleep and now they won't come back. How can I earn any money?" said Mrs Bumbly from Giggly Glen's Guest House.
"My children can't do their homework with that terrible din going on," said Mr MacMillan from the bakery.
"The pupils can't concentrate on their lessons any more with the never-ending noise," said the Headmaster of the local school, Mr Knowall.
"My wife feels poorly all the time now. She says she has buzzing in her ears that never stops – not even when the turbines do," said PC Doyle.
"I saw some bits break off one of the turbines – they flew a long way. They nearly hit me," said Stan the Handyman.
"What if they caught fire?" asked the Fire Chief. "We couldn't put a fire out so high up in the air."
"My cat has left home and I have terrible headaches and feel ill every day," said Mrs Miggins from the Post Office.
"I would sell my home and move away from Giggly Glen and those horrible turbines, but nobody will buy my house," said Mr Donald.
"I saw the helicopter from the coastguard fly too close to the turbines when it was misty. There could be a nasty accident," said Mr Foggarty.
"Enough is enough," shouted Mr Barley. "We cannot live like this!
Mr McWeasel and his monsters cannot be allowed to ruin our lives and make us sick. Let's send them away from Giggly Glen."
"But how?" cried the villagers. "They are so big and frightening and dangerous for us to be near."
Tiny turned to Ally and said, "Take the villagers to the turbines and I will meet you there."
And so all the villagers, led by the now brave and confident Ally, marched up to Sir Snatchit's land where they were met by Mr McWeasel standing in front of Trasher and the other turbines.
"We are here to tell you to go. You are making us ill. Living in Giggly Glen has become a nightmare since you arrived," Ally shouted up to them.
"So what?" snarled Mr McWeasel. "What are you going to do about it, little boy?"
Trasher and the other turbines sneered and laughed at him.
The villagers were scared but then Ally pointed to the lane and yelled, "Look who's with Tiny."
There was Tiny sitting on top of his dear old friend Tuska the retired tank, chugging towards the turbines.
That was enough for Mr McWeasel. "Pack up lads we are off; we hated Giggly Glen anyway; not enough wind and not enough money."
With that, Mr McWeasel, Trasher and his terrible friends were seen running off into the distance and as they did the clouds parted, the sun shone, the birds started singing and the deer and the rabbits came back. The hens started clucking as they looked for somewhere to lay their eggs and Ross the sheep dog came out from the barn wagging his tail.
Tiny looked around, smiled at all the happy villagers, winked at his little friend Ally and went back to the cowshed roof where he settled down for an afternoon snooze in the sunshine.
Peace and happiness had returned to Giggly Glen.
(((( o ))))
Written by Lyndsey Ward, with Cartoons by Josh
Download original document: "Tiny the Turbine"
Tiny the Turbine is available as a PDF to download and you may print for personal use or email as you wish and, if you like what we have done or wish to use it in your own campaigning, please make a donation on Josh's website www.cartoonsbyjosh.co.uk/tiny-the-turbine to help fund this and possible future projects. All contributions, large or small, are gratefully accepted and appreciated.
If you would like to buy a printed copy please contact Josh via his website – www.cartoonsbyjosh.co.uk.
For any commercial resale or reuse please email Lyndsey Ward – subsidy.sam@btinternet.com.
See also: Subsidy Sam the Turbine
---
Date added:
September 15, 2014
Aesthetics
,
Environment
,
Scotland
•
Author: Wildland Research Institute
Report by the Wildland Research Institute for The John Muir Trust, August 2014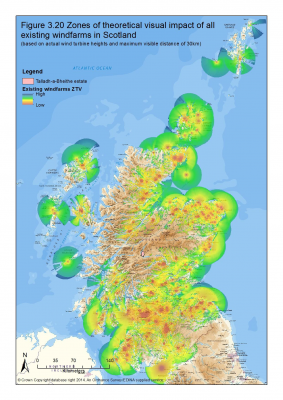 This report has been prepared on behalf of The John Muir Trust by the Wildland Research Institute. The report assesses the potential impacts of the proposed Talladh-a-Bheithe Wind Farm proposal in terms of wild land as defined by Scottish Natural Heritage (SNH) and highlighted in Scottish Planning Policy (SPP2) and the National Planning Framework (NPF3) all as finalised on 22 June 2104. The report additionally addresses the relevant points raised by Pegasus Planning Group acting on behalf of Eventus BV and corrects errors made in their submissions included within the application Environmental Statement
A final map of wild land areas was developed by Scottish Natural Heritage and published in June 2014 along with the SPP2 and NPF3. This map supersedes SNH's earlier maps identifying search areas for wild land in 2002 and core areas of wild land in 2013. The new map has received cross- party and ministerial support and so can be regarded as the final version. A total of 42 wild land areas are identified covering just under 20% of the land area of Scotland.
Although wild land and the areas identified by the SNH mapping is not a statutory designation, Paragraph 200 of the SPP states wild land is "very sensitive to any form of intrusive human activity and have little or no capacity to accept new development" and that "Plans should identify and safeguard the character of areas of wild land".
The proposed Talladh-a-Bheithe wind farm lies inside wild land area number 14 (Rannoch-Nevis-Mamores-Alder) as identified on the SNH 2014 map of wild land areas. Analyses developed as part of this report show that a development of the scale proposed (twenty four 125m high turbines and associated infrastructure) would have a significant adverse impact on the qualities of this area of wild land, with the likely outcome that if the development goes ahead the area of wild land in the vicinity would be reduced by approximately 9,520ha or 8.1%. These analyses are based on the same approach, methods, data and techniques used by SNH in developing the 2014 map of wild land areas.
Additional analyses are carried out to assess the wider national context of the proposal in regard to visibility of wind farms from wild land areas and further reduction of the area of Scotland currently without visual impact from industrial wind turbines. The Rannoch area is one area which is as yet free from visual impact. These analyses show that construction of the Talladh-a-Bheithe wind farm, should it be consented, would impact significantly on this "visual impact free" area and further reduce the "wind farm free" area across Scotland as a whole by 68,686ha or 1.9%.
Download original document: "Talladh-a-Bheithe Wind Farm Proposal: Review of impacts on wild land"
---
Author: Vivers, Andrew
I live at Arniefoul which is 5km East of the Ark Hill wind turbines (8 x 80m Enercon E48 turbines) and 1.6km West of the proposed Govals wind turbines (6 x 87m turbines). The prevailing wind is from the West.
Ark Hill was commissioned on 5 March 2013 and at that time I started to have continuous headaches with some light-headedness and tinnitus. Further to this, I also started to suffer frequent sleep disturbance. When I awoke I could often hear the whooshing of the turbine blades. Assuming it was the audible sound that was disturbing me, I moved my bed further away from the window and slept with the window closed. This made no difference to my sleep deprivation – usually being woken at around 3am until 5am. With the window closed I rarely hear the turbine noise, but I can sometimes feel their rhythm and therefore deduce that it is an inaudible noise (Low Frequency Noise and Infrasound) that is causing the lack of sleep.
In June 2013 I had two dizzy spells when out walking on the hills surrounding Arniefoul. It was at this time I noticed a correlation between the turbines, the wind direction and the above symptoms. My tinnitus became constant and on some nights extremely loud.
My symptoms appear to be worse when there is a Southerly wind. The Ark Hill turbines rotate clockwise and therefore it is probably an emission during the down stroke that creates the harmful effects. This suggests it may have little to do with the supporting structure and therefore an 'upwind' or 'downwind' design of turbine will make little difference.
Surprisingly, the prevailing Westerly wind seems to cause slightly less symptoms than a Southerly wind. Turbine noise, however, is most audible when there is little prevailing wind at ground level and at treetop level, but sufficient wind at turbine blade area to turn the blades at a critical speed. In similar conditions to these, when there is an Easterly wind we can easily hear traffic on the A90, 5km to our East, even though there is the huge bund of the Sidlaw Hills between us.
A North or East wind causes slightly less symptoms again, although should the Govals wind turbines be erected, I expect to suffer greatly from those turbines during these wind directions.
January and February 2014 were particularly bad months with predominately Southerly and Westerly winds causing much sleep deprivation, loud tinnitus, lack of concentration and irritability.
On 9 February 2014, I started recording my blood pressure morning and evening. It fluctuates considerably with a recorded high of 185/105. On 28 March for instance, after several days of Easterly wind, it was at a more 'acceptable' 140/83. There appear to be correlations between wind, atmospheric and weather conditions.
Whilst my body may be building some form of resistance to the turbine noises (audible and inaudible) I also believe it is getting more sensitive in certain ways. I sometimes get my "turbine headache" out to at least 10km from the turbines. Also, I have recently noticed I need to clear my ears more frequently, similar to going up in an airplane or scuba diving.
From 6 to 12 March we stayed near Tarfside, Glen Esk (currently no turbines near there). All my symptoms reduced noticeably, with my blood pressure reaching a low of 136/81.
An obvious option is to sell my property and move (where to?). My work is in the local area and therefore this is not really a business option. Nor is it an emotional option since my family has enjoyed being at Arniefoul for nearly a century.
I have heard of landowners with turbines who now regret having turbines on their land, yet are unable to speak out due to 'non disclosure clauses' in their contracts with developers. Also, I suspect that there are many people living near wind turbines who suffer similar conditions to mine but who remain silent for fear of property devaluation, tenancy or employment concerns, and the like.
I am sure that should the Govals and Frawney (5 x 80m, same make as Ark Hill and West Knock Farm, Buchan) wind turbines be erected, with Forfar and Letham being on the down-wind side, there will be people with similar sensitivity as myself who will suffer. Children are thought to be more sensitive to turbine noises than adults.
PeoplesometimessaythatIlookwellconsideringthesymptomsIdescribe. Iamreluctanttotake drugs/medication, with their own potential side effects, when I do not believe they are treating the root cause. I have always made considerable efforts to maintain a high level of fitness.
I understand that:
Low frequency noise and Infrasound (such as emitted by wind turbines) are sound waves that are felt by the body rather than heard, probably by the utricle. Depending upon the amplitude or intensity, it produces feelings of extreme discomfort, a feeling that the body is vibrating. Depending upon the frequency and intensity, infrasound can keep you awake, or induce sleep. Therefore, it can cause sleep deprivation.
Infrasound induces stress and causes the body to secrete the hormone Cortisol. This effect is a medically recognized danger of long-term infrasound exposure.
Cortisol, plays a vital role in preparing our body for stressful "fight or flight" episodes. It increases blood pressure and blood sugar levels, and has an immunosuppressive action that provides needed alertness and energy during stressful experiences. However, during long term stress, or if Cortisol production is prolonged, its effects on the human body can become severe. A weakened or suppressed immune system will allow existing health problems to accelerate, and make it easier for new ones to be created.
Exposure to infrasound during early sleep hours can be particularly harmful. This is when the body normally produces the lowest levels of Cortisol. This might explain my 3am awakening and subsequent wakefulness. Artificially stimulating Cortisol production during sleep means that the Cortisol is not used and remains in the body, potentially damaging essential body functions.
A sound wave in air is a sequence of pressure changes. A sound wave in a liquid or solid is more like a vibration. This helps explain how Low Frequency Noise and Infrasound travel great distances and easily pass through solid walls, and can set up vibrations or resonances in rooms and body cavities.
There is well-documented and peer-reviewed evidence of the detrimental health effects that turbine emissions have on humans. It is unethical to expose people to something already suspected of being harmful.
Where is the 'Duty of Care'?
Andrew Vivers
Arniefoul, Glamis
4 April 2014
Download original document: "Ark Hill wind turbines 1 year on"
---