Resource Documents: Scotland (31 items)
Unless indicated otherwise, documents presented here are not the product of nor are they necessarily endorsed by National Wind Watch. These resource documents are shared here to assist anyone wishing to research the issue of industrial wind power and the impacts of its development. The information should be evaluated by each reader to come to their own conclusions about the many areas of debate. • The copyrights reside with the sources indicated. As part of its noncommercial effort to present the environmental, social, scientific, and economic issues of large-scale wind power development to a global audience seeking such information, National Wind Watch endeavors to observe "fair use" as provided for in section 107 of U.S. Copyright Law and similar "fair dealing" provisions of the copyright laws of other nations.
---
Date added:
August 3, 2022
Environment
,
Photos
,
Scotland
,
Technology
•
Author: Murform
2016 December 19 – Murform have recently secured this follow on project with RJ McLeod, following our success at Beinneun Wind Farm (which is less than 5 miles away).
Bhlaraidh Wind Farm is a 32 turbine site, situated in the Great Glen, just North West of Loch Ness. Due to its sensitive location, the site has been developed to cause minimal visual impact to the environment to avoid being seen from the main tourist routes and iconic attractions of the Great Glen. The sites remote location also provides it inherent challenges, for the supply of materials and access by labour to each turbine location, which will have to be overcome to achieve the projects required outputs.
Murform will construct the 32 bases, consisting of over 62 tonne of rebar and 580m³ of concrete in each base, with a strong effort to construct as many as possible before the winter weather sets in. To assist in this target, Murform have provided additional resources to the project. RJ McLeod will assist with full time cranes and also on site batching plants and trucks.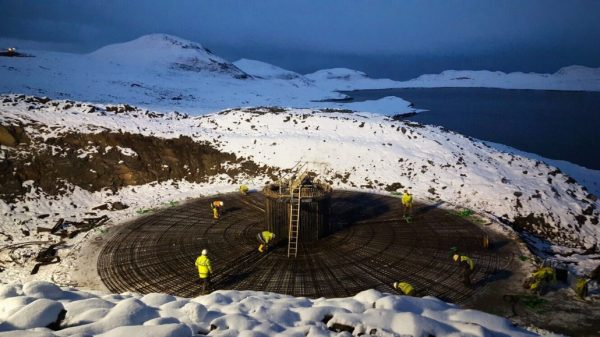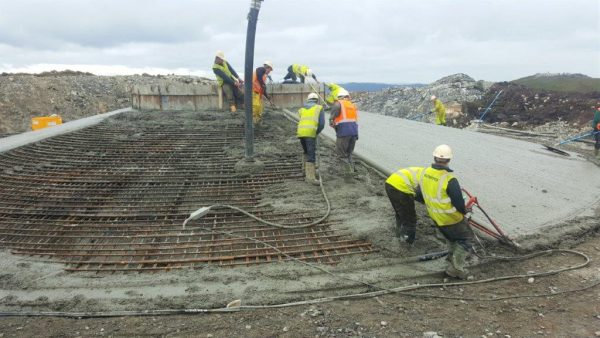 ---
Date added:
July 17, 2022
Emissions
,
Environment
,
Scotland
•
Author: Albanito, Fabrizio; et al.
Highlights
The displacement of terrestrial carbon stocks is crucial to quantifying the environmental impact of onshore wind energy.
Direct and indirect greenhouse gas emissions are quantified spatially based on land cover types and wind farm characteristics.
Emissions of land use change from the construction of 3848 wind turbines across Scotland vary from 16 g CO₂ kWh−1 in shrubland to 1760 g CO₂ kWh−1 in peatland.
Opportunity costs of onshore wind farms range from £0.30 to £65.0 per MWh of electricity generated per year.
Abstract
The development of onshore wind energy impacts the land where it is constructed, together with competition for natural resources between the energy and land sector. The loss of terrestrial carbon stocks and ecosystem services from land use change to wind farms can be interpreted as the opportunity cost that landowners give up by choosing to construct wind farms on their land. Here, we spatially quantify the impact onshore wind farms have on land when we factor in the opportunity carbon (C) costs. We found that the construction of 3848 wind turbines in Scotland generated 4.9 million tonnes of carbon dioxide (CO₂) emissions from land use change. On average the emission intensity of land use change in peatland is 560 g CO₂ kWh−1, in forestry is 88 g CO₂ kWh−1, in cropland is 45 g CO₂ kWh−1, and in pastureland is 30 g CO₂ kWh−1. In the worst land use change scenario, the displacement of Dystrophic basin peat habitats generated 1760 g CO₂ kWh−1, which is comparable to the life cycle emissions of fossil-fuel technologies such as coal and gas-fired electricity generation. In arable land, the loss of harvestable crop to wind power was forfeited for a gain in opportunity costs up to £15.4 million over a 25 year operating life. Considering the short-term value of CO₂ in the trading market, the opportunity carbon costs of onshore wind farms can range from £0.3 to £65.0 per MWh of electricity generated per year. These findings highlight that the preservation of terrestrial carbon stocks and crop production in the land sector require the development of new payment schemes that can compete economically against the monetary benefits that landowners can access from lease agreements agreed with energy companies. This ensures also that wind turbines are geographically placed to protect ecosystem C stocks, and to minimize the carbon intensity of the electricity generated.
Fabrizio Albanito, Anita Shepherd, Astley Hastings, Institute of Biological and Environmental Sciences, University of Aberdeen, 23 St Machar Drive, Aberdeen, Scotland
Sam Roberts, Pryor & Rickett Silviculture, Lugwardine, Hereford, UK
Journal of Cleaner Production
Volume 363, 20 August 2022, 132480
doi:10.1016/j.jclepro.2022.132480
Download original document: "Quantifying the land-based opportunity carbon costs of onshore wind farms"
---
Abstract: Wind farms may have two broad potential adverse effects on birds via antagonistic processes: displacement from the vicinity of turbines (avoidance), or death through collision with rotating turbine blades. Large raptors are often shown or presumed to be vulnerable to collision and are demographically sensitive to additional mortality, as exemplified by several studies of the Golden Eagle Aquila chrysaetos. Previous findings from Scottish Eagles, however, have suggested avoidance as the primary response. Our study used data from 59 GPS-tagged Golden Eagles with 28 284 records during natal dispersal before and after turbine operation &ly; 1 km of 569 turbines at 80 wind farms across Scotland. We tested three hypotheses using measurements of tag records' distance from the hub of turbine locations: (1) avoidance should be evident; (2) older birds should show less avoidance (i.e. habituate to turbines); and (3) rotor diameter should have no influence (smaller diameters are correlated with a turbine's age, in examining possible habituation). Four generalized linear mixed models (GLMMs) were constructed with intrinsic habitat preference of a turbine location using Golden Eagle Topography (GET) model, turbine operation status (before/after), bird age and rotor diameter as fixed factors. The best GLMM was subsequently verified by k-fold cross-validation and involved only GET habitat preference and presence of an operational turbine. Eagles were eight times less likely to be within a rotor diameter's distance of a hub location after turbine operation, and modelled displacement distance was 70 m. Our first hypothesis expecting avoidance was supported. Eagles were closer to turbine locations in preferred habitat but at greater distances after turbine operation. Results on bird age (no influence to 5+ years) rejected hypothesis 2, implying no habituation. Support for hypothesis 3 (no influence of rotor diameter) also tentatively inferred no habituation, but data indicated birds went slightly closer to longer rotor blades although not to the turbine tower. We proffer that understanding why avoidance or collision in large raptors may occur can be conceptually envisaged via variation in fear of humans as the 'super predator' with turbines as cues to this life-threatening agent.
Alan H. Fielding, Natural Research Ltd, Brathens, Aberdeenshire
David Anderson, Forestry and Land Scotland, Aberfoyle
Stuart Benn, RSPB Scotland, Inverness
Roy Dennis, Roy Dennis Wildlife Foundation, Forres
Matthew Geary, Department of Biological Sciences, University of Chester
Ewan Weston, Natural Research Ltd, Brathens, Aberdeenshire
D. Philip Whitfield, Natural Research Ltd, Brathens, Aberdeenshire
Ibis: International Journal of Avian Science
Published on line ahead of print 20 July 2021. doi: 10.1111/ibi.12996
---
Date added:
January 21, 2020
Environment
,
Scotland
•
Author: Scottish Forestry
[A Scottish citizen made a freedom-of-information request, to which Scottish Forestry replied as follows.]
Thank you for your request dated 26 November and received on the 5 December and the clarification dated 19 December 2019 under the Environmental Information (Scotland) Regulations 2004 (EIRs).
You asked for:
a) the number of trees felled for all onshore wind farm development in Scotland to date.
b) the area of felled trees, in hectares, for all onshore wind farm development in Scotland to date.
I enclose some of the information you requested.
Specifically data covering renewable developments on Scotland's national forests and lands, which is managed on behalf of Scottish Ministers by Forestry and Land Scotland. The area of felled trees in hectares, from 2000 (the date when the first scheme was developed, is 6,994 hectares [70 km², 17,283 acres]. Based on the average number of trees per hectare, of 2000, this gives an estimated total of 13.9M.
While our aim is to provide information whenever possible, in this instance the Scottish Government does not have some of the information you have requested. Namely data on renewable developments on privately owned woodlands.
Download original document: "Scottish Forestry information request 19-02646"
---