Resource Documents: Scotland (27 items)
Unless indicated otherwise, documents presented here are not the product of nor are they necessarily endorsed by National Wind Watch. These resource documents are shared here to assist anyone wishing to research the issue of industrial wind power and the impacts of its development. The information should be evaluated by each reader to come to their own conclusions about the many areas of debate. • The copyrights reside with the sources indicated. As part of its noncommercial effort to present the environmental, social, scientific, and economic issues of large-scale wind power development to a global audience seeking such information, National Wind Watch endeavors to observe "fair use" as provided for in section 107 of U.S. Copyright Law and similar "fair dealing" provisions of the copyright laws of other nations.
---
Date added:
November 22, 2014
Emissions
,
Environment
,
Scotland
•
Author: Smith, Jo; Nayak, Dali Rani; and Smith, Pete
Highlights
Future wind farms located on undegraded peats will not reduce carbon emissions.
This is due to projected changes in fossil fuels used to generate electricity.
Future policy should avoid constructing wind farms on undegraded peats.
Abstract
Onshore wind energy is a key component of the renewable energies used by governments to reduce carbon emissions from electricity production, but will carbon emissions be reduced when wind farms are located on carbon-rich peatands? Wind farms are often located in uplands because most are of low agricultural value, are distant from residential areas, and are windy. Many UK uplands are peatlands, with layers of accumulated peat that represent a large stock of soil carbon. When peatlands are drained for construction there is a higher risk of net carbon loss than for mineral soils. Previous work suggests that wind farms sited on peatlands can reduce net carbon emissions if strictly managed for maximum retention of carbon. Here we show that, whereas in 2010, most sites had potential to provide net carbon savings, by 2040 most sites will not reduce carbon emissions even with careful management. This is due to projected changes in the proportion of fossil fuels used to generate electricity. The results suggest future policy should avoid constructing wind farms on undegraded peatlands unless drainage of peat is minimal and the volume excavated in foundations can be significantly reduced compared to energy output.
Jo Smith, Dali Rani Nayak, Pete Smith
Institute of Biological & Environmental Science, University of Aberdeen
Energy Policy Volume 66, March 2014, Pages 585-591
https://doi.org/10.1016/j.enpol.2013.10.066
---
Date added:
September 15, 2014
Aesthetics
,
Environment
,
Scotland
•
Author: Wildland Research Institute
Report by the Wildland Research Institute for The John Muir Trust, August 2014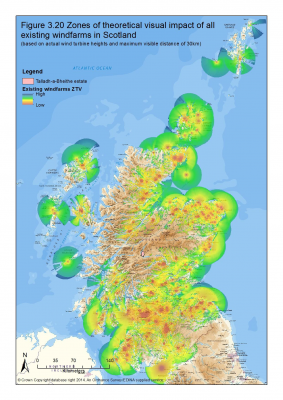 This report has been prepared on behalf of The John Muir Trust by the Wildland Research Institute. The report assesses the potential impacts of the proposed Talladh-a-Bheithe Wind Farm proposal in terms of wild land as defined by Scottish Natural Heritage (SNH) and highlighted in Scottish Planning Policy (SPP2) and the National Planning Framework (NPF3) all as finalised on 22 June 2104. The report additionally addresses the relevant points raised by Pegasus Planning Group acting on behalf of Eventus BV and corrects errors made in their submissions included within the application Environmental Statement
A final map of wild land areas was developed by Scottish Natural Heritage and published in June 2014 along with the SPP2 and NPF3. This map supersedes SNH's earlier maps identifying search areas for wild land in 2002 and core areas of wild land in 2013. The new map has received cross- party and ministerial support and so can be regarded as the final version. A total of 42 wild land areas are identified covering just under 20% of the land area of Scotland.
Although wild land and the areas identified by the SNH mapping is not a statutory designation, Paragraph 200 of the SPP states wild land is "very sensitive to any form of intrusive human activity and have little or no capacity to accept new development" and that "Plans should identify and safeguard the character of areas of wild land".
The proposed Talladh-a-Bheithe wind farm lies inside wild land area number 14 (Rannoch-Nevis-Mamores-Alder) as identified on the SNH 2014 map of wild land areas. Analyses developed as part of this report show that a development of the scale proposed (twenty four 125m high turbines and associated infrastructure) would have a significant adverse impact on the qualities of this area of wild land, with the likely outcome that if the development goes ahead the area of wild land in the vicinity would be reduced by approximately 9,520ha or 8.1%. These analyses are based on the same approach, methods, data and techniques used by SNH in developing the 2014 map of wild land areas.
Additional analyses are carried out to assess the wider national context of the proposal in regard to visibility of wind farms from wild land areas and further reduction of the area of Scotland currently without visual impact from industrial wind turbines. The Rannoch area is one area which is as yet free from visual impact. These analyses show that construction of the Talladh-a-Bheithe wind farm, should it be consented, would impact significantly on this "visual impact free" area and further reduce the "wind farm free" area across Scotland as a whole by 68,686ha or 1.9%.
Download original document: "Talladh-a-Bheithe Wind Farm Proposal: Review of impacts on wild land"
---
Author: Vivers, Andrew
I live at Arniefoul which is 5km East of the Ark Hill wind turbines (8 x 80m Enercon E48 turbines) and 1.6km West of the proposed Govals wind turbines (6 x 87m turbines). The prevailing wind is from the West.
Ark Hill was commissioned on 5 March 2013 and at that time I started to have continuous headaches with some light-headedness and tinnitus. Further to this, I also started to suffer frequent sleep disturbance. When I awoke I could often hear the whooshing of the turbine blades. Assuming it was the audible sound that was disturbing me, I moved my bed further away from the window and slept with the window closed. This made no difference to my sleep deprivation – usually being woken at around 3am until 5am. With the window closed I rarely hear the turbine noise, but I can sometimes feel their rhythm and therefore deduce that it is an inaudible noise (Low Frequency Noise and Infrasound) that is causing the lack of sleep.
In June 2013 I had two dizzy spells when out walking on the hills surrounding Arniefoul. It was at this time I noticed a correlation between the turbines, the wind direction and the above symptoms. My tinnitus became constant and on some nights extremely loud.
My symptoms appear to be worse when there is a Southerly wind. The Ark Hill turbines rotate clockwise and therefore it is probably an emission during the down stroke that creates the harmful effects. This suggests it may have little to do with the supporting structure and therefore an 'upwind' or 'downwind' design of turbine will make little difference.
Surprisingly, the prevailing Westerly wind seems to cause slightly less symptoms than a Southerly wind. Turbine noise, however, is most audible when there is little prevailing wind at ground level and at treetop level, but sufficient wind at turbine blade area to turn the blades at a critical speed. In similar conditions to these, when there is an Easterly wind we can easily hear traffic on the A90, 5km to our East, even though there is the huge bund of the Sidlaw Hills between us.
A North or East wind causes slightly less symptoms again, although should the Govals wind turbines be erected, I expect to suffer greatly from those turbines during these wind directions.
January and February 2014 were particularly bad months with predominately Southerly and Westerly winds causing much sleep deprivation, loud tinnitus, lack of concentration and irritability.
On 9 February 2014, I started recording my blood pressure morning and evening. It fluctuates considerably with a recorded high of 185/105. On 28 March for instance, after several days of Easterly wind, it was at a more 'acceptable' 140/83. There appear to be correlations between wind, atmospheric and weather conditions.
Whilst my body may be building some form of resistance to the turbine noises (audible and inaudible) I also believe it is getting more sensitive in certain ways. I sometimes get my "turbine headache" out to at least 10km from the turbines. Also, I have recently noticed I need to clear my ears more frequently, similar to going up in an airplane or scuba diving.
From 6 to 12 March we stayed near Tarfside, Glen Esk (currently no turbines near there). All my symptoms reduced noticeably, with my blood pressure reaching a low of 136/81.
An obvious option is to sell my property and move (where to?). My work is in the local area and therefore this is not really a business option. Nor is it an emotional option since my family has enjoyed being at Arniefoul for nearly a century.
I have heard of landowners with turbines who now regret having turbines on their land, yet are unable to speak out due to 'non disclosure clauses' in their contracts with developers. Also, I suspect that there are many people living near wind turbines who suffer similar conditions to mine but who remain silent for fear of property devaluation, tenancy or employment concerns, and the like.
I am sure that should the Govals and Frawney (5 x 80m, same make as Ark Hill and West Knock Farm, Buchan) wind turbines be erected, with Forfar and Letham being on the down-wind side, there will be people with similar sensitivity as myself who will suffer. Children are thought to be more sensitive to turbine noises than adults.
PeoplesometimessaythatIlookwellconsideringthesymptomsIdescribe. Iamreluctanttotake drugs/medication, with their own potential side effects, when I do not believe they are treating the root cause. I have always made considerable efforts to maintain a high level of fitness.
I understand that:
Low frequency noise and Infrasound (such as emitted by wind turbines) are sound waves that are felt by the body rather than heard, probably by the utricle. Depending upon the amplitude or intensity, it produces feelings of extreme discomfort, a feeling that the body is vibrating. Depending upon the frequency and intensity, infrasound can keep you awake, or induce sleep. Therefore, it can cause sleep deprivation.
Infrasound induces stress and causes the body to secrete the hormone Cortisol. This effect is a medically recognized danger of long-term infrasound exposure.
Cortisol, plays a vital role in preparing our body for stressful "fight or flight" episodes. It increases blood pressure and blood sugar levels, and has an immunosuppressive action that provides needed alertness and energy during stressful experiences. However, during long term stress, or if Cortisol production is prolonged, its effects on the human body can become severe. A weakened or suppressed immune system will allow existing health problems to accelerate, and make it easier for new ones to be created.
Exposure to infrasound during early sleep hours can be particularly harmful. This is when the body normally produces the lowest levels of Cortisol. This might explain my 3am awakening and subsequent wakefulness. Artificially stimulating Cortisol production during sleep means that the Cortisol is not used and remains in the body, potentially damaging essential body functions.
A sound wave in air is a sequence of pressure changes. A sound wave in a liquid or solid is more like a vibration. This helps explain how Low Frequency Noise and Infrasound travel great distances and easily pass through solid walls, and can set up vibrations or resonances in rooms and body cavities.
There is well-documented and peer-reviewed evidence of the detrimental health effects that turbine emissions have on humans. It is unethical to expose people to something already suspected of being harmful.
Where is the 'Duty of Care'?
Andrew Vivers
Arniefoul, Glamis
4 April 2014
Download original document: "Ark Hill wind turbines 1 year on"
---
Author: James W. Pearce-Higgins, James; Stephen, Leigh; Langston, Rowena; Bainbridge, Ian; and Bullman, Rhys
Summary
1. There is an urgent need for climate change mitigation, of which the promotion of renewable energy, such as from wind farms, is an important component. Birds are expected to be sensitive to wind farms, although effects vary between sites and species. Using data from 12 upland wind farms in the UK, we examine whether there is reduced occurrence of breeding birds close to wind farm infrastructure (turbines, access tracks and overhead transmission lines). To our knowledge, this is the first such multi-site comparison examining wind farm effects on the distribution of breeding birds.
2. Bird distribution was assessed using regular surveys during the breeding season. We took a conservative analytical approach, with bird occurrence modelled as a function of habitat, before examining the additional effects of wind farm proximity.
3. Seven of the 12 species studied exhibited significantly lower frequencies of occurrence close to the turbines, after accounting for habitat variation, with equivocal evidence of turbine avoidance in a further two. No species were more likely to occur close to the turbines. There was no evidence that raptors altered flight height close to turbines. Turbines were avoided more strongly than tracks, whilst there was no evidence for consistent avoidance of overhead transmission lines connecting sites to the national grid.
4. Levels of turbine avoidance suggest breeding bird densities may be reduced within a 500-m buffer of the turbines by 15–53%, with buzzard Buteo buteo, hen harrier Circus cyaneus, golden plover Pluvialis apricaria, snipe Gallinago gallinago, curlew Numenius arquata and wheatear Oenanthe oenanthe most affected.
5. Despite being a correlative study, with potential for Type I error, we failed to detect any systematic bias in our likelihood of detecting significant effects.
6. Synthesis and applications. This provides the first evidence for consistent and significant effects of wind farms on a range of upland bird species, emphasizing the need for a strategic approach to ensure such development avoids areas with high densities of potentially vulnerable species. Our results reduce the uncertainty over the magnitude of such effects, and will improve future environmental impacts assessments.
Journal of Applied Ecology 2009, 46, 1323–1331
doi:10.1111/j.1365-2664.2009.01715.x
Download original document: "The distribution of breeding birds around upland wind farms"
---