Resource Documents: Photos (45 items)
Unless indicated otherwise, documents presented here are not the product of nor are they necessarily endorsed by National Wind Watch. These resource documents are shared here to assist anyone wishing to research the issue of industrial wind power and the impacts of its development. The information should be evaluated by each reader to come to their own conclusions about the many areas of debate. • The copyrights reside with the sources indicated. As part of its noncommercial effort to present the environmental, social, scientific, and economic issues of large-scale wind power development to a global audience seeking such information, National Wind Watch endeavors to observe "fair use" as provided for in section 107 of U.S. Copyright Law and similar "fair dealing" provisions of the copyright laws of other nations.
---
Date added:
February 23, 2013
Aesthetics
,
Environment
,
Oregon
,
Photos
•
Author: Francis, Jamie
Caithness Energy marked the opening of its Shepherd's Flat wind farm near Arlington in September. Billed as one of the world's largest wind farms, the project attracted national attention for stacking federal and state subsidies. Developers subdivided the project to qualify for three $10 million tax credits from Oregon, where regulators approved the final tax credit last month. Photos by Jamie Francis, The Oregonian. Click photos for larger versions.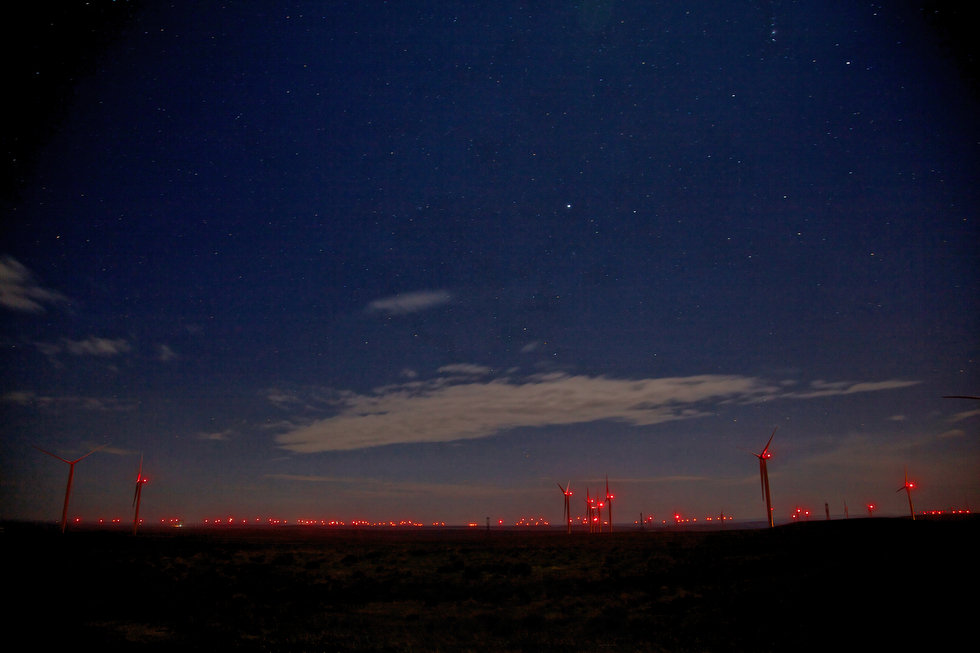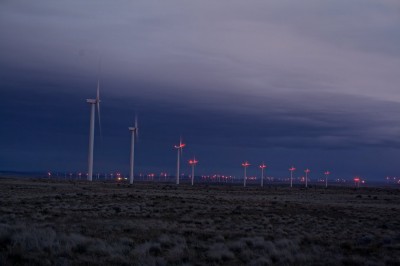 ---
Date added:
July 18, 2012
Aesthetics
,
Environment
,
Photos
,
Vermont
,
Wildlife
•
Author: Vermonters for a Clean Environment
Where once was unbroken high-elevation forest habitat …
More photos at https://picasaweb.google.com/112246232055800335101/Photographs_site_visit_20120714
---
Date added:
July 16, 2012
Aesthetics
,
Alaska
,
Environment
,
Massachusetts
,
New Brunswick
,
New York
,
Oklahoma
,
Pennsylvania
,
Photos
,
Wyoming
•
Author: Tetratech Construction

Altona, NY

Bellmont, NY

Cohocton, NY
access roads, access road entrances, turbine erection areas, crane pads, staging areas, compacted crane paths, drainage improvements, foundation excavation and backfill, erosion and sedimentation control, dust control, and site restoration

Falmouth, MA

Fire Island, AK

Hardscrabble, NY
34.5kV to 115kV Substation
115kV Switchyard

High Sheldon, NY

Howard, NY
10 miles of access roads
10 miles of collection lines

Lameque, NB
Roads and collection systems have to travel through sensative areas such as wetlands and forests on the island

Maple Ridge, NY
Project featured 400 acres of clearing and grubbing, more than 40 miles of access roads and more than 300 acres of restoration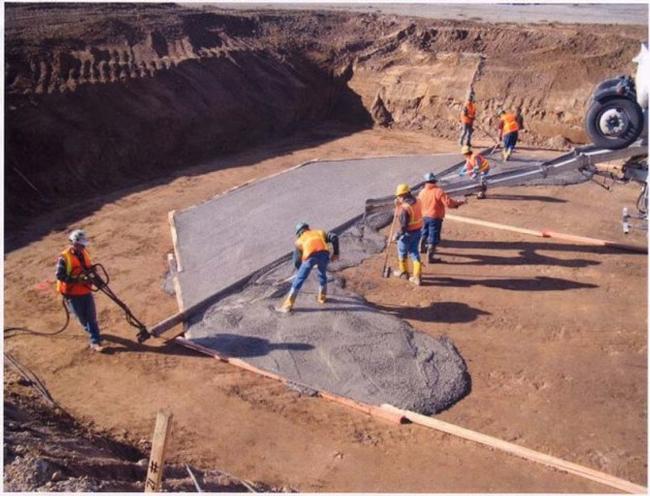 OU Spirit, OK
44 Siemens 2.3 MW Wind Turbine Generators (WTGs)
44 WTG Foundations – Spread-foot type 380+ CYD of 5000 psi concrete and structural steel, epoxy grouting of the WTG base to the foundation pedestal and tensioning/post tensioning anchor bolts
53,000 LF of Access Roads and 4 miles of County Road Upgrades
44 Engineered Crane Pads
88,500 LF of 34.5 Underground Collection System (including 44 pad mounted transformers, fiber optic system, junction boxes and Potential Discharge Testing)
138kV Substation construction and energization 7 miles of 138 kV overhead Transmission Line
80 meter Meteorological Tower
O&M Building – Including parking, storm shelter, shop and office facilities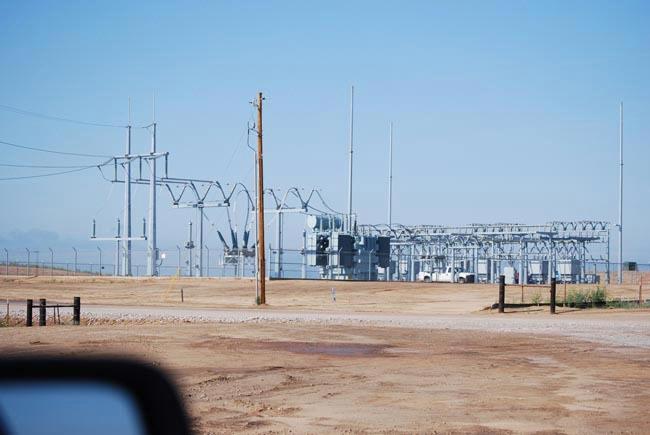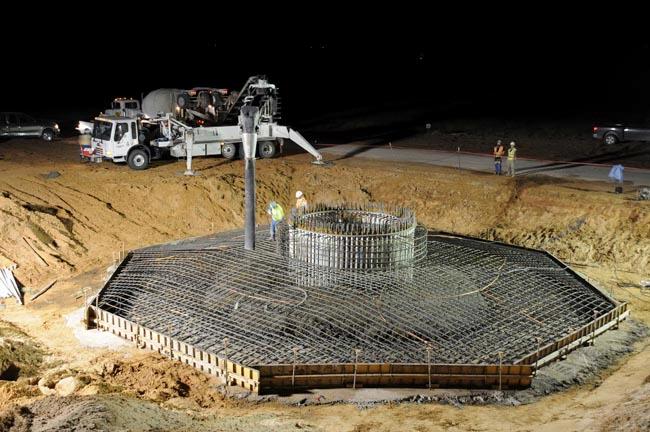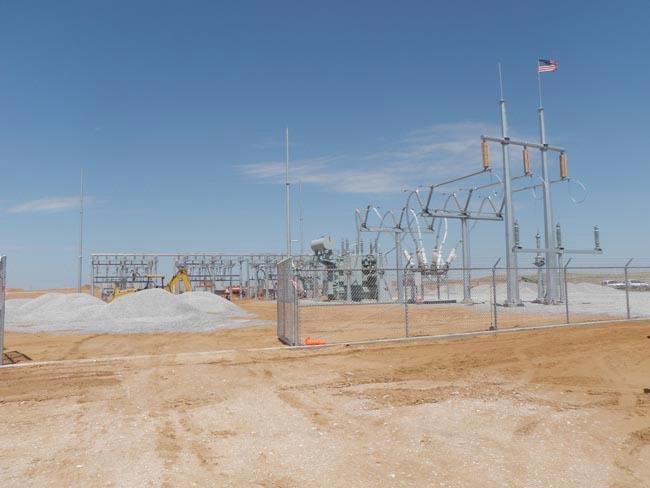 Pillar Mountain, AK
The site was located on a mountain rising 1300 vertical feet on a remote island. The existing gravel road to the top of the mountain passed near various wetlands and waterways and was too narrow and tortuous to facilitate easy access travel. The road required significant rerouting and reconstruction to accommodate transport of the long, heavy construction components and equipment to the site. The road upgrade design required careful consideration of horizontal and vertical allowable radii of curvature coupled with the steep terrain. In places the existing road could be widened and re-graded smooth, but in other locations the road alignment had to be changed to allow passage of vehicles ranging up to 170 feet in length.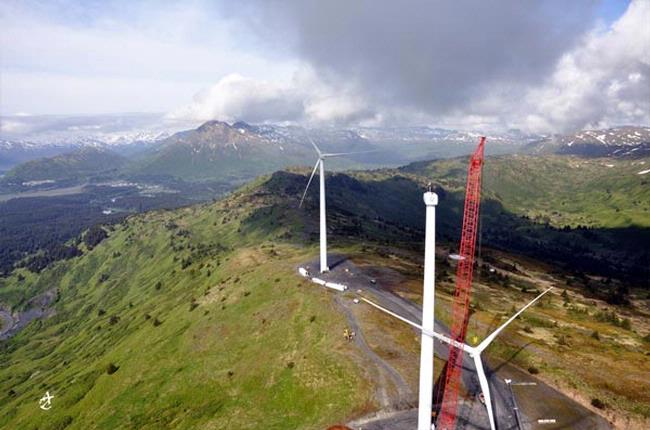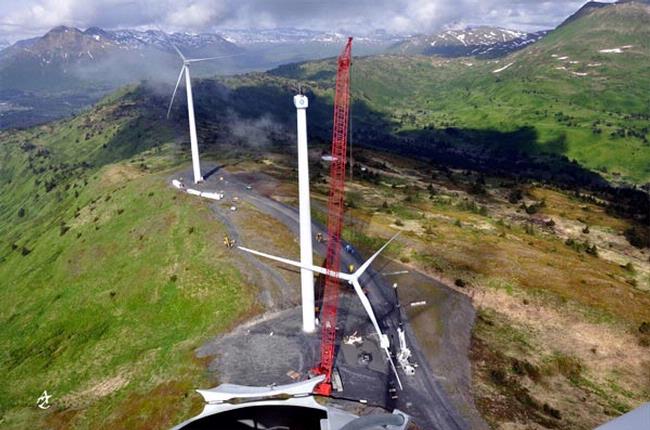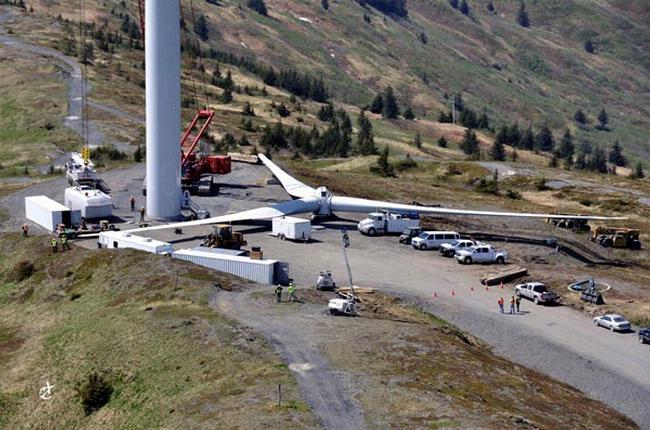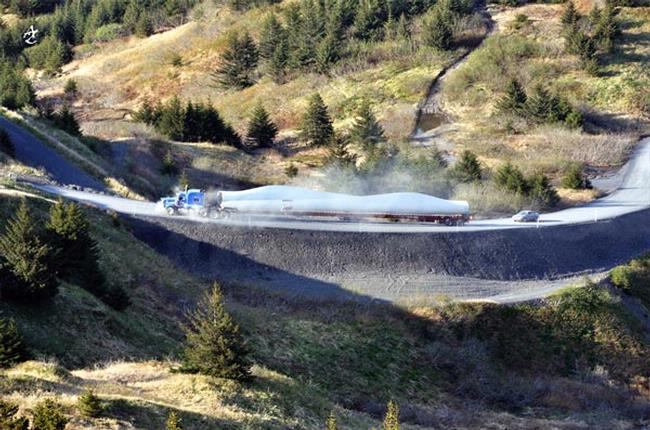 Rolling Hills, Seven Mile Hill, and Glenrock, WY
Erect and install 237 GE 1.5 MW wind turbine generators, their associated underground and overhead collection systems, and six meteorological towers
Construction of approximately 60 miles of access and site roads, laydown areas, and the modification, repair, and maintenance of all existing public roads at project boundary;
Constructed project and interconnection substation facilities, which include an office, warehouse, maintenance, and associated control buildings
Designed and constructed multiple foundations types (Spreadfooting, H-Pile, Micropile, and Deep Dynamic Compaction), structures, and building refurbishment

South Chestnut, PA
Size of foundations range up to 700 cubic yards of concrete

---
Date added:
July 12, 2012
Aesthetics
,
Germany
,
Photos
•
Author: Windwahn.de
Schleswig-Holstein, northern Germany —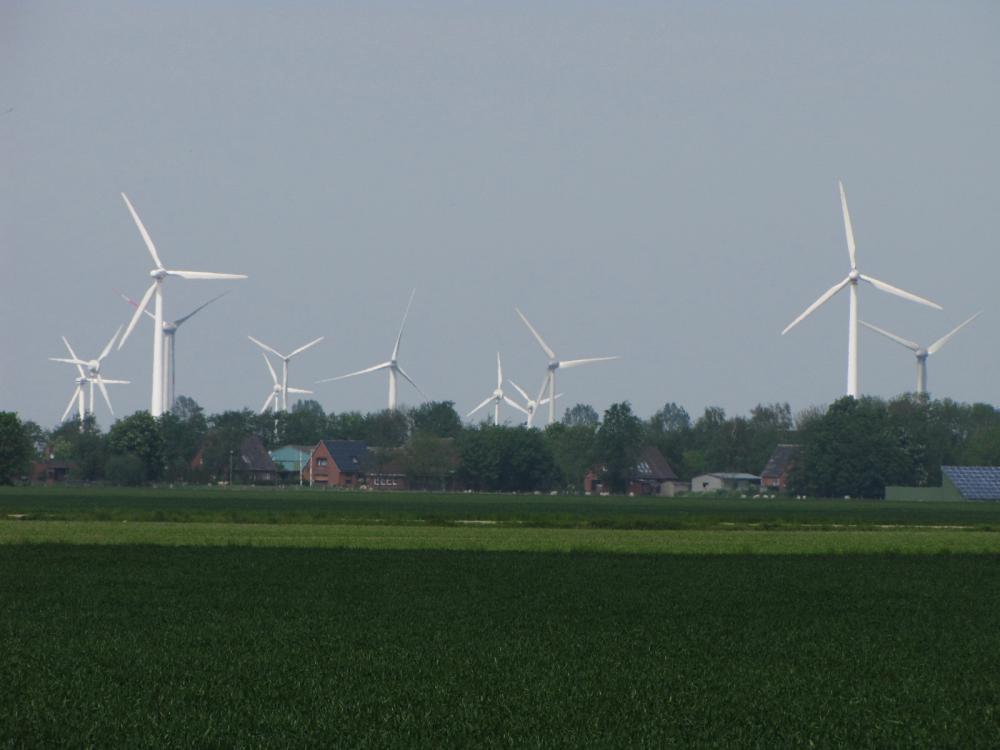 [http://www.windwahn.de/index.php/news/schleswig-holstein-spezial/abgeriegelte-westkueste]
And all over the countryside, he knew, on every crest and hill, where once the hedges had interlaced, and cottages, churches, inns, and farmhouses had nestled among their trees, wind wheels similar to those he saw and bearing like vast advertisements, gaunt and distinctive symbols of the new age, cast their whirling shadows and stored incessantly the energy that flowed away incessantly through all the arteries of the city. … The great circular shapes of complaining wind-wheels blotted out the heavens …
— H.G. Wells, "A Story of the Days To Come" (1897)
---