Resource Documents: Spain (9 items)
Documents presented here are not the product of nor are they necessarily endorsed by National Wind Watch. These resource documents are provided to assist anyone wishing to research the issue of industrial wind power and the impacts of its development. The information should be evaluated by each reader to come to their own conclusions about the many areas of debate.
---
Date added:
May 26, 2014
Photos
,
Spain
,
Technology
•
Author: Miceli, Francesco
The following pictures are from a wind farm where due to the weak conditions of the subsoil a deep foundation with piles has been necessary, using a technique known as continuous flight augering (CFA).
As you can see, with the same machine we drilled and pumped the concrete in the hole.
A dry hole has been made, without the use of bentonite or others drilling fluids to maintain vertical the walls of the hole: the earth is removed using an Archimedes' screw, and than concrete is pumped inside the hole, slowing lifting the tool.
The machine uses a manometer to know the pressure used to inject the concrete in every moment: this way, it is possible to detect if there are holes underground.
Then, the reinforcement bars are lifted using a crane and carefully inserted in the hole. Small plastic wheels are positioned at the sides of the steel structure to make easier to lower it in the hole.
When the concrete hardens, after about a week, the head of the piles is removed using drills, leaving the steel bars clean and ready for the construction of the foundation.
April 26, 2012, www.windfarmbop.com
---
Author: Various
Study of the effects on employment of public aid to renewable energy sources [Spain]
Wind energy: The case of Denmark
Economic impacts from the promotion of renewable energies: The German experience
The economic impact of renewable energy policy in Scotland and the UK
---
Author: International Energy Agency (IEA)
From http://www.iea.org/stats/index.asp, graphs of electricity generation by fuel from 1971 to 2007 in Denmark, Spain, Germany, Great Britain, and the United States: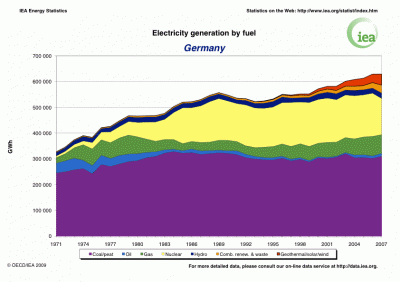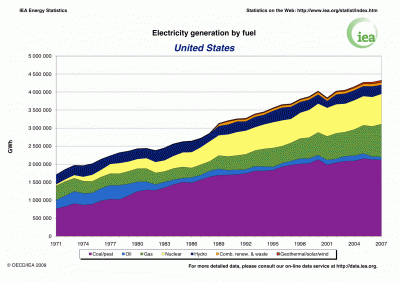 ---
Author: Carrete, Martina; Sánchez-Zapata, José; Benítez, José; Lobón, Manuel; and Donázar, José
A B S T R A C T
Wind-farms receive public and governmental support as an alternative energy source mitigating air pollution. However, they can have adverse effects on wildlife, particularly through collision with turbines. Research on wind-farm effects has focused on estimating mortality rates, behavioural changes or interspecific differences in vulnerability. Studies dealing with their effects on endangered or rare species populations are notably scarce. We tested the hypothesis that wind-farms increase extinction probability of long-lived species through increments in mortality rates. For this purpose, we evaluate potential consequences of wind-farms on the population dynamics of a globally endangered long-lived raptor in an area where the species maintains its greatest stronghold and wind-farms are rapidly increasing. Nearly one-third of all breeding territories of our model species are in wind-farm risk zones. Our intensive survey shows that wind-farms decrease survival rates of this species differently depending on individual breed- ing status. Consistent with population monitoring, population projections showed that all subpopulations and the meta-population are decreasing. However, population sizes and, therefore, time to extinction significantly decreased when wind-farm mortality was included in models. Our results represent a qualitative warning exercise showing how very low reductions in survival of territorial and non-territorial birds associated with wind-farms can strongly impact population viability of long-lived species. This highlights the need for examining long-term impacts of wind-farms rather than focusing on short-term mortality, as is often promoted by power companies and some wildlife agencies. Unlike other non-natural causes of mortality difficult to eradicate or control, wind-farm fatalities can be lowered by powering down or removing risky turbines and/or farms, and by placing them outside areas critical for endangered birds.
Biological Conservation, doi:10.1016/j.biocon.2009.07.027
Martina Carrete and José A. Donázar: Department of Conservation Biology, Estación Biológica de Doñana (CSIC), La Cartuja, Sevilla, Spain; José A. Sánchez-Zapata: Department of Applied Biology, University Miguel Hernández, Orihuela, Alicante, Spain; José R. Benítez and Manuel Lobón: Colectivo Ornitológico Cigüeña Negra, Tarifa, Cádiz, Spain
Download original document: "Large scale risk-assessment of wind-farms on population viability of a globally endangered long-lived raptor"
---