Resource Documents: Spain (10 items)
Documents presented here are not the product of nor are they necessarily endorsed by National Wind Watch. These resource documents are provided to assist anyone wishing to research the issue of industrial wind power and the impacts of its development. The information should be evaluated by each reader to come to their own conclusions about the many areas of debate.
---
Author: Sanz-Aguilar, Ana; et al.
ABSTRACT:
Large body-sized avian scavengers, including the Egyptian vulture (Neophron percnopterus), are globally threatened due to human-related mortality so guidelines quantifying the efficacy of different management approaches are urgently needed. We used 14 years of territory and individual-based data on a small and geographically isolated Spanish population to estimate survival, recruitment and breeding success. We then forecasted their population viability under current vital rates and under management scenarios that mitigated the main sources of non-natural mortality at breeding grounds (fatalities from wind farms and illegal poisoning). Mean breeding success was 0.68 (SD = 0.17) under current conditions. Annual probabilities of survival were 0.72 (SE = 0.06) for fledglings and 2 yr old non-breeders, 0.73 (SE = 0.04) for non-breeders older than 2 yrs old and 0.93 (SE = 0.04) for breeders. Probabilities of recruitment were 0 for birds aged 1–4, 0.10 (SE = 0.06) for birds aged 5 and 0.19 (SE = 0.09) for older birds. Population viability analyses estimated an annual decline of 3–4% of the breeding population under current conditions. Our results indicate that only by combining different management actions in the breeding area, especially by removing the most important causes of human-related mortality (poisoning and collisions on wind farms), will the population grow and persist in the long term. Reinforcement with captive breeding may also have positive effects but only in combination with the reduction in causes of non-natural mortality. These results, although obtained for a focal species, may be applicable to other endangered populations of long-lived avian scavengers inhabiting southern Europe.
Ana Sanz-Aguilar, José Antonio Sánchez-Zapata, Martina Carrete, José Ramón Benítez, Enrique Ávila, Rafael Arenas, José Antonio Donázar
Dept of Conservation Biology, Estación Biológica de Doñana (CSIC), Sevilla; Population Ecology Group, Instituto Mediterráneo de Estudios Avanzados (CSIC-UIB), Islas Baleares; Área de Ecología, University Miguel Hernández, Alicante; Universidad Pablo de Olavide, Sevilla; Línea de Geodiversidad y Biodiversidad, Agencia de Medioambiente y Agua, Junta de Andalucía, Sevilla; and Gestión del Medio Natural, Dirección Provincial de Córdoba, Consejería de Medio Ambiente, Junta de Andalucía, Córdoba, Spain
Biological Conservation 187 (2015) 10–18. doi: 10.1016/j.biocon.2015.03.029
Download original document: "Action on multiple fronts, illegal poisoning and wind farm planning, is required to reverse the decline of the Egyptian vulture in southern Spain"
---
Date added:
May 26, 2014
Photos
,
Spain
,
Technology
•
Author: Miceli, Francesco
The following pictures are from a wind farm where due to the weak conditions of the subsoil a deep foundation with piles has been necessary, using a technique known as continuous flight augering (CFA).
As you can see, with the same machine we drilled and pumped the concrete in the hole.
A dry hole has been made, without the use of bentonite or others drilling fluids to maintain vertical the walls of the hole: the earth is removed using an Archimedes' screw, and than concrete is pumped inside the hole, slowing lifting the tool.
The machine uses a manometer to know the pressure used to inject the concrete in every moment: this way, it is possible to detect if there are holes underground.
Then, the reinforcement bars are lifted using a crane and carefully inserted in the hole. Small plastic wheels are positioned at the sides of the steel structure to make easier to lower it in the hole.
When the concrete hardens, after about a week, the head of the piles is removed using drills, leaving the steel bars clean and ready for the construction of the foundation.
April 26, 2012, www.windfarmbop.com
---
Author: Various
Study of the effects on employment of public aid to renewable energy sources [Spain]
Wind energy: The case of Denmark
Economic impacts from the promotion of renewable energies: The German experience
The economic impact of renewable energy policy in Scotland and the UK
---
Author: International Energy Agency (IEA)
From http://www.iea.org/stats/index.asp, graphs of electricity generation by fuel from 1971 to 2007 in Denmark, Spain, Germany, Great Britain, and the United States: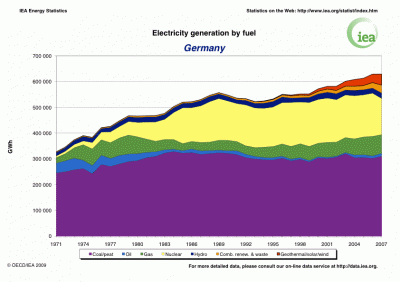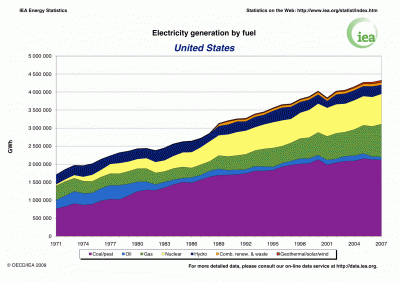 ---