BENEFITS : LOW ↔ IMPACTS : HIGH
Resource Documents: Photos (45 items)
Unless indicated otherwise, documents presented here are not the product of nor are they necessarily endorsed by National Wind Watch. These resource documents are shared here to assist anyone wishing to research the issue of industrial wind power and the impacts of its development. The information should be evaluated by each reader to come to their own conclusions about the many areas of debate. • The copyrights reside with the sources indicated. As part of its noncommercial effort to present the environmental, social, scientific, and economic issues of large-scale wind power development to a global audience seeking such information, National Wind Watch endeavors to observe "fair use" as provided for in section 107 of U.S. Copyright Law and similar "fair dealing" provisions of the copyright laws of other nations.
---
Date added:
March 1, 2012
Emissions
,
Environment
,
General
,
Maine
,
Massachusetts
,
Photos
,
Vermont
•
Author: Luce, Ben
I was a strong advocate of utility-scale wind and other renewables in New Mexico, and expected to support some level of utility scale wind development in the Northeast prior to studying the issue of wind in this region in detail.
I also believe that very aggressive action to reduce emissions and mitigate climate change is needed.
Given that I am a strong advocate of renewables, I will not address the larger debate of renewables versus other non-renewable energy approaches such as nuclear power and clean coal in this presentation.
I will be focusing mainly on wind and solar in this presentation, because I do not believe that small wind, small hydro, or biomass-fired generation represent significant renewable electricity options for the Eastern US, simply because of their very small resource potentials.
Number of "Mountain Systems" Required for 1 GW of Peak Capacity in MA (333 3-MW turbines):
• 5 turbines/mile
• ~70 miles of ridge, not counting access roads
• 10 turbines/project on average:
• ~33 Mountain Systems
Is it worth developing 33 mountain systems in MA to provide just 5% of MA electricity?
– Environmental impacts?
– Impact on people?
– Impacts on the local economy?
– Cost relative to alternatives?
– Despite impacts, would this still be "doing our part" to encourage significant regional wind development?
Note that fairly wide and fully developed road beds and wide, level clearings (of roughly equal area to the swept area of the rotors) are needed for this type of development, due to the enormous weight and length of the trucks and their loads involved. Extensive blasting and bulldozing of the mountaintop is required, which incurs extensive impacts to streams, wetlands, bedrock, and of course plant and animal life.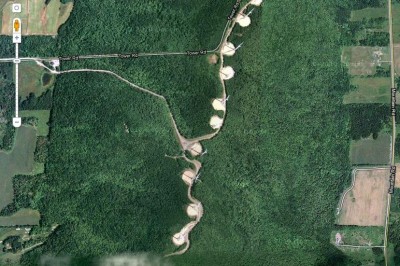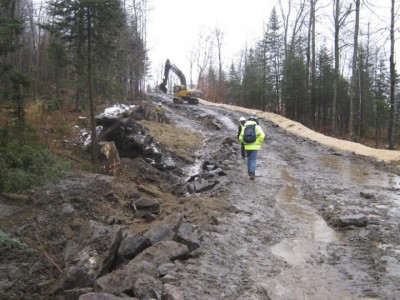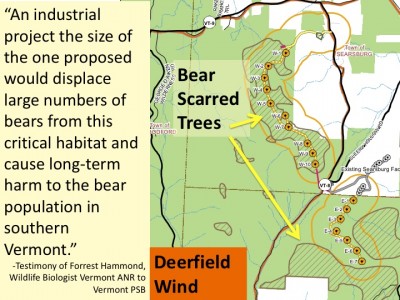 The impacts to ecotourism (meaning economic benefits in general related to the scenic beauty of the area) are potentially endangered by ridgeline wind development.
Many people genuinely feel the experience of seeing a project the first few times to be enjoyable, which is understandable given what these projects represent to them, the sheer scale of the turbines, and the novelty of the experience.
It's a different question entirely whether people will like to vacation or maintain second homes in an area in the long run with extensive ridge line wind development. The study referenced on the following slides shows that, for example, vacationers in Vermont greatly value the unspoiled nature of the state.
Although the impact of low-frequency noise from wind turbines is not fully understood in physiological terms, there is peer-reviewed research indicating that low-frequency noise can couple physically to the cochlea. http://oto2.wustl.edu/cochlea/windmill.html
The following slide shows the "spectrum" of wind turbine noise. The graph shows that wind turbines created prodigious levels of infrasonic (subsonic) noise, which places them in a somewhat different category from many other noise sources.
Unfortunately, set-backs for wind projects today do not yet take into account potential impacts due to infrasonic noise.
There is also a growing body of literature suggesting that impacts to health are occurring, in particular impacts associated with loss of sleep.
Human Hearing is Logarithmic
• Quietest sound we can hear: 1 trillionth of a watt per square meter.
• Our ears are super-sensitive vibration sensors.
• It potentially doesn't take a great deal of noise to create problems.
• Even though many do live in noisy environments already, this does not imply that noise is not a problem, and that it's perfectly ok to increase noise in the few remaining quiet regions left.
There are serious issues with respect to the impact on species such as birds and bats.
While its true that large numbers of birds are killed by other means, this does not imply that killing more with wind turbines is acceptable. Moreover, the number of birds and bats killed by turbines could potentially rise to very significant levels if significant levels of wind generation is eventually installed. The number of birds and bats killed by wind turbines currently may be statistically insignificant, but the amount of wind power generation is also currently essentially statistically insignificant.
What if?
• Some of the billions being invested in wind were invested into weatherization and efficiency? – A true "Manhattan Project" of conservation?
• Some of the billions being invested in wind were used to help bring solar down in price, locating good sites, empowering the public?
It is, in fact, typical for our culture to quickly develop a new energy source (or any new resource for that matter), with little regard for the consequences, and then only later attempt to undo or correct for unforeseen consequences.
With the issue of inappropriate wind development, however, we have a chance this time to avoid the worst, and get renewable energy development focused back on a truly sustainable path towards a bright future.
Download original document: "The Science of Industrial Wind in Massachusetts and the Eastern United States"
---
Date added:
February 23, 2012
Environment
,
Photos
,
Property values
,
Wisconsin
•
Author: Life in a Wisconsin Wind Project
lifeinawisconsinwindproject.tumblr.com
This photo show the large crane lifting the second of three pieces to the turbine tower base. This is in the same Invenergy project I live in.
This photo is also in the Invenergy project that I live in about two miles to the west of my house. You can see how the farmer's fields are being cut up by the access roads to the turbines. What you do not yet see is the wide stripping of the farmer's fields to dig in the electrical lines to connect all the turbines to the substation. Those photos are further down.
What happens when you lease your farmland to a wind developer? This is just a partial view from the air of how a farmer's fields were dug up and compacted by heavy equipment during the construction phase of the Invenergy wind project we live in.
A substation for the this project is located 3300 feet behind my house. From that substation, if you went west for about four miles the ground was disturbed so badly it looked like it had been stripped for a highway.
Two years after the turbine construction was done I could still see where the underground electric lines from the turbines connecting them to the substation are buried.
This is a closer view of what the farm land looked like after the underground wires were installed linking the turbines to the power substation.
This is behind my house. This road-like path cuts west and goes across fields for four miles. Then it goes south to connect other large turbines.
Farmers were told by the wind developers that each turbine would only take up about a quarter acre of their land and they'd be able to farm right up to the base of the turbine. Those who didn't read their contracts didn't understand that once they signed their land over, the wind developer controlled a lot more than a quarter acre.
The developer now controlled pretty much every inch of their land.
The turbine base might only take up a quarter acre but the contract let the developer put the turbine where ever he wanted, it let him strip the farmer's land for access roads, dig up fields to lay underground wires and cables, remove the topsoil and tear up the fields in ways that can't be put right.
Heavy machines compact the soil and crush drain tiles and if the farmer can prove crop loss because of this – well maybe they'll get reimbursed.
Here's a letter from a Wisconsin farmer who found out what his contract said the hard way. He signed on with a wind developer from NextEra – the new name for the wind division of major utility Florida Power and Light [FPL Energy] – and NextEra sold the contract to WeEnergies. Click here to download a copy of a Glacier Hills wind lease.
---
Date added:
November 20, 2011
Aesthetics
,
Environment
,
Photos
,
Vermont
,
Wildlife
•
Author: Mountain Talk
More photos at http://picasaweb.google.com/114098560210816181304/. Via Mountain Talk.
---
Date added:
November 17, 2011
Aesthetics
,
California
,
Environment
,
Photos
,
Wildlife
•
Author: Basin and Range Watch
November 14, 2011 – Photos of construction on large wind projects in the Mojave Desert and Tehachapi Mountains area, Kern County, California. Photos were taken over the period of 2010 to 2011. Photos are by Basin and Range Watch (where more photos are available) unless otherwise labeled.
Mojave Fragmentation
Friends of Mojave took these photos of industrialization of west Mojave ecosystems around the town of Mojave. This area has seen a boom in wind projects on the flat desert and slopes of the Tehachapi Range.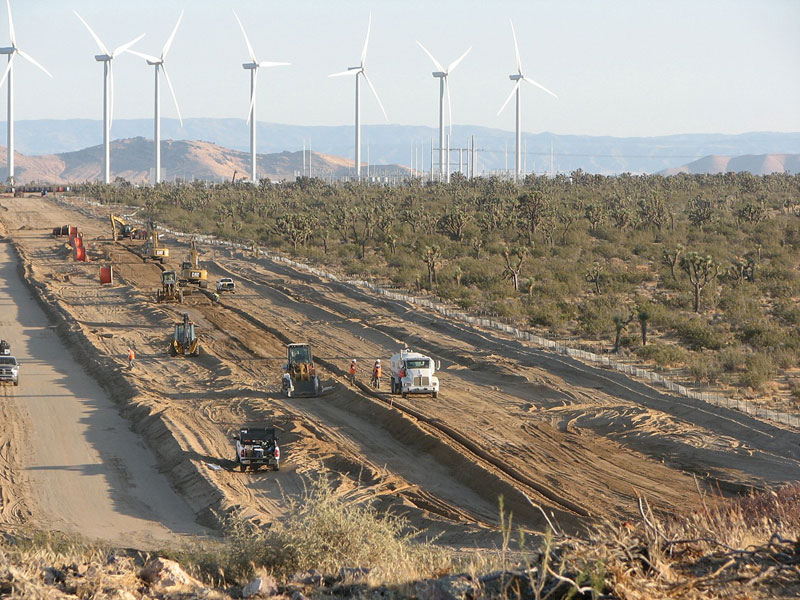 Large swaths of Joshua tree (Yucca brevifolia) woodland and creosote desert are destroyed on a wind project. (Photo: Friends of Mojave)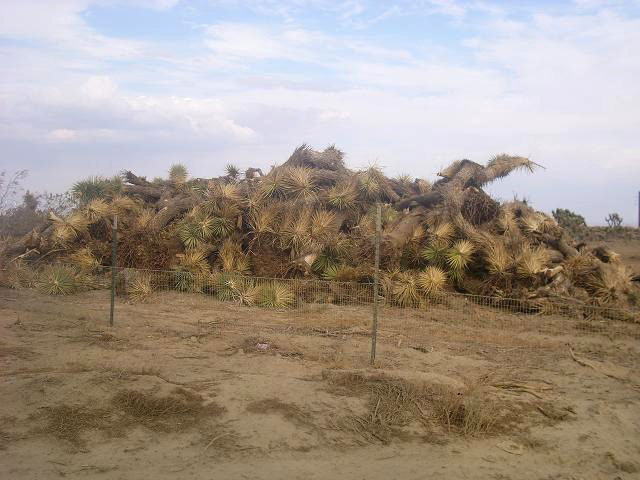 A pile of bulldozed and uprooted Joshua trees ten feet high to make way for wind turbines. (Photo: Friends of Mojave)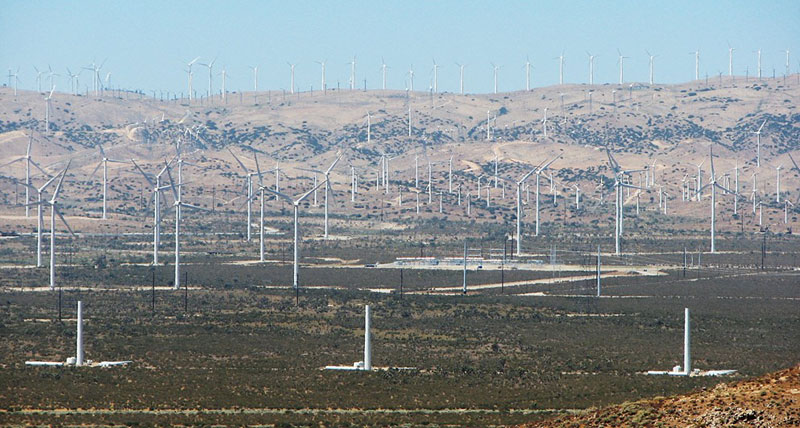 Fragmentation of a Mojave Desert ecosystem at the transition to the Tehachapi Range. (Photo: Friends of Mojave)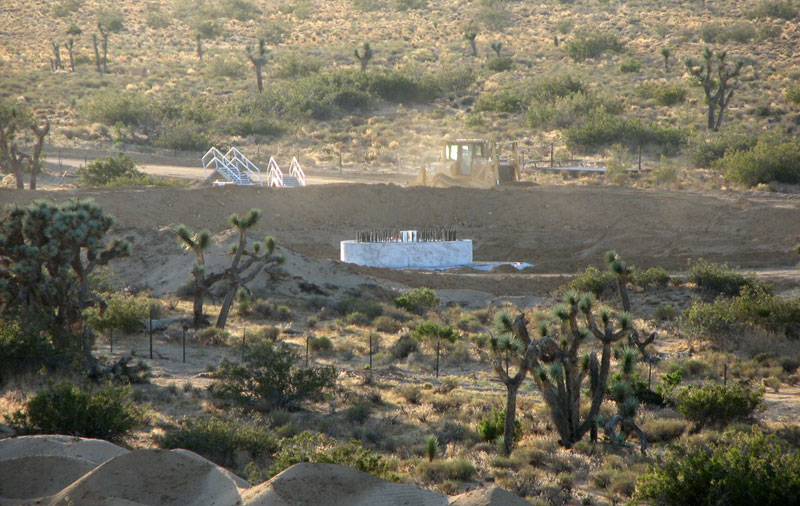 Deep hole and pad for cement foundation for a single turbine. (Photo: Friends of Mojave)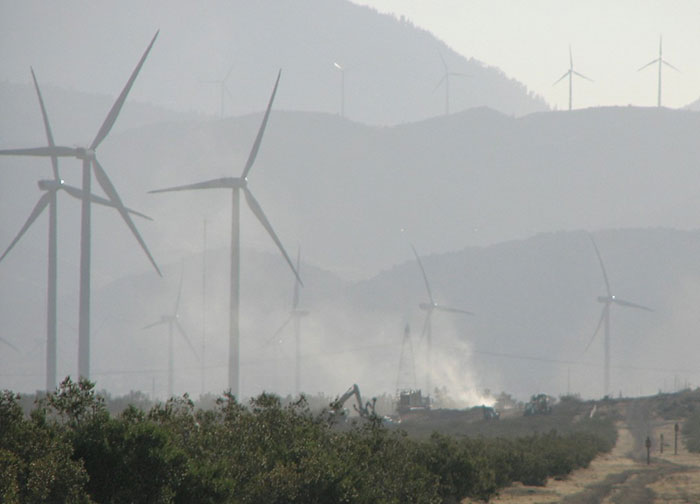 Dust clouds from construction. (Photo: Friends of Mojave)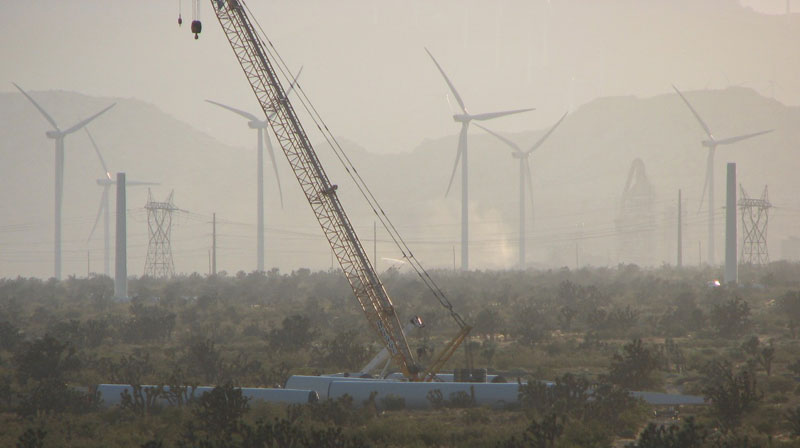 Towers and crane. (Photo: Friends of Mojave)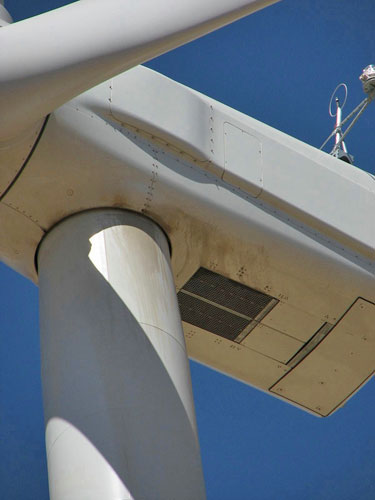 Even when new, oil leaks out of a nacelle. (Photo: Friends of Mojave)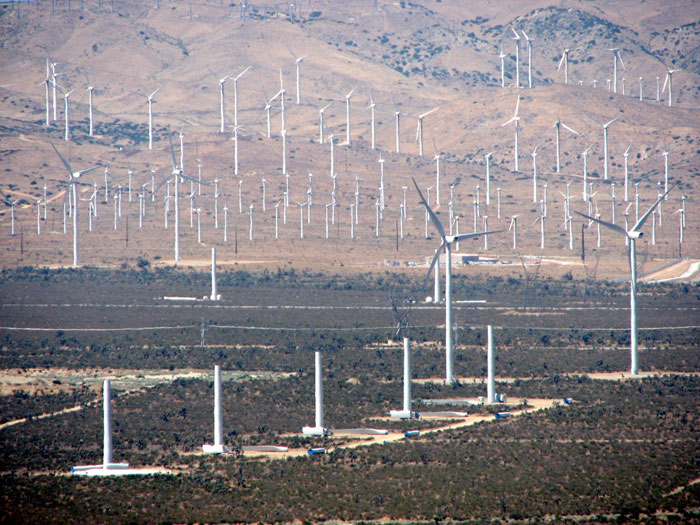 Mojave Desert scrub meets grassland of the Tehachapi Range, now divided up by roads everywhere. (Photo: Friends of Mojave)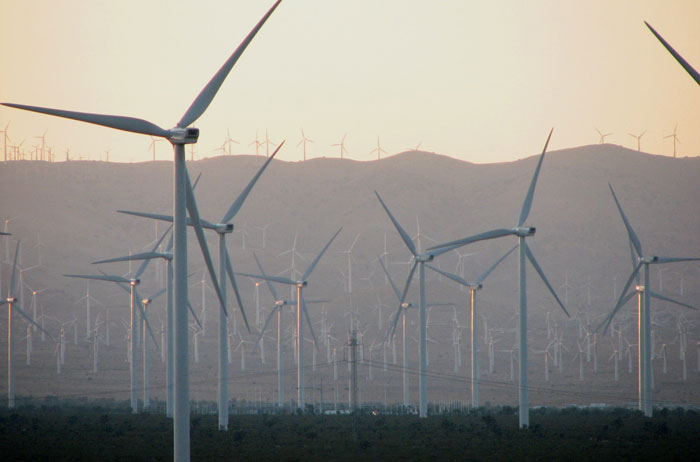 Forest of industrial Wind Turbine Generators. (Photo: Friends of Mojave)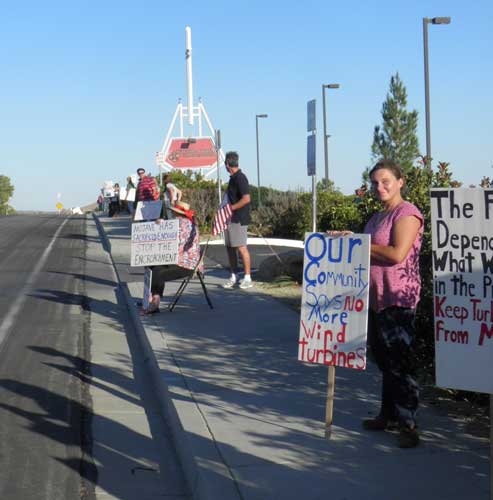 Friends of Mojave go to Bakersfield to protest the wind projects surrounding their town, asking supervisors to stop the industrialization. (Photo: Friends of Mojave)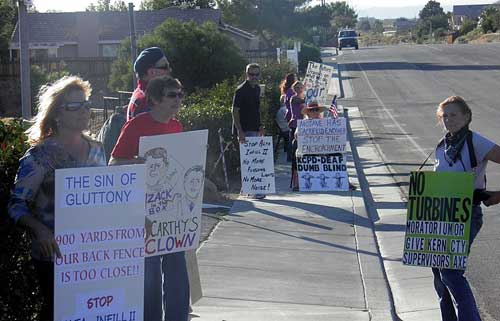 Wind protest, October 2011. (Photo: Friends of Mojave)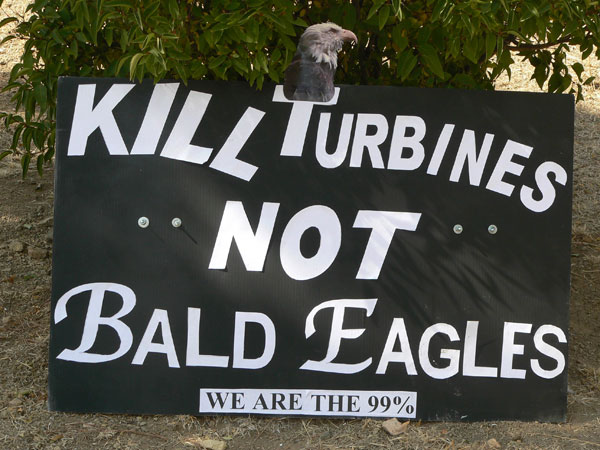 (Photo: Friends of Mojave)
Joshua Tree Destruction
Wind project under construction: new roads and pads graded into the Mojave Desert on a an overcast winter day west of the town of Mojave.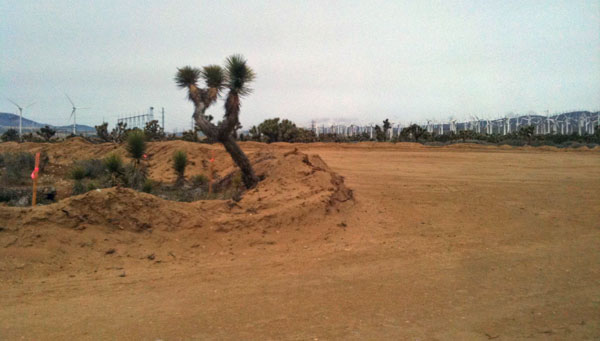 New road and pad for a single wind turbine, in the middle of a Joshua tree woodland.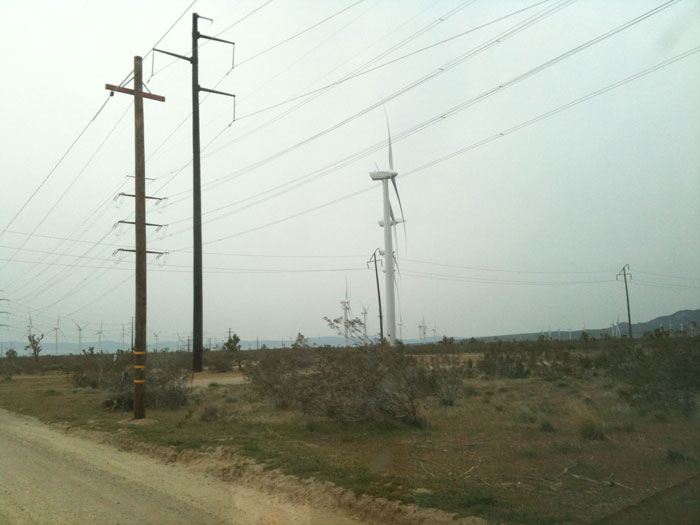 Powerlines feed off wind projects.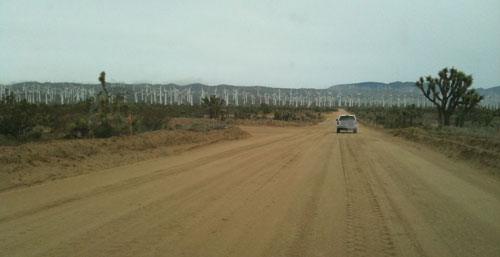 New roads in the desert must be wide to accommodate over-sized trucks.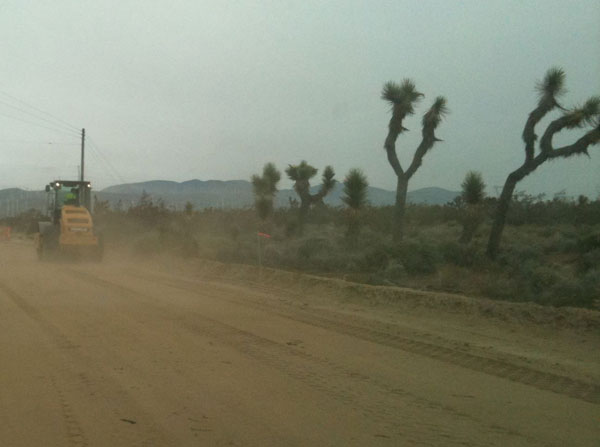 Road grading on a wind project.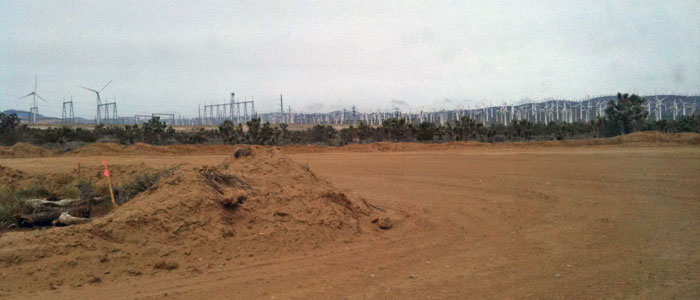 Single wind turbine pad 100 feet across.
Tehachapi Mountains Along the Pacific Crest Trail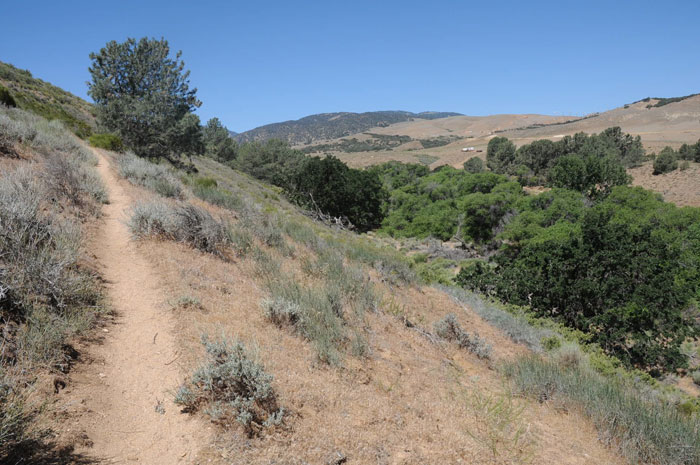 Summer 2010, the Pacific Crest Trail through the Oak Creek area of Tehachapi Mountains. The trail stretches from Mexico to Canada, and dips into lower grassland, oak woodland, and Joshua tree desert in this part of southern California. In the distant upper right hills can be seen a new road and construction machinery for a wind turbine pad.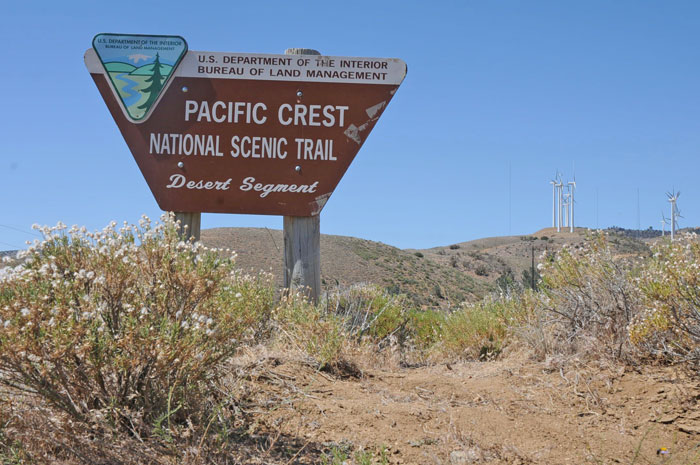 Trail sign at a trailhead.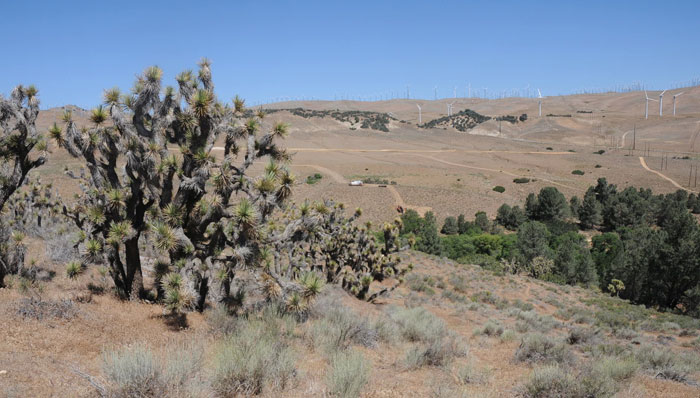 View from the trail: Joshua trees, Gray pines (Pinus sabiniana), and a stream woodland with wind projects on the grasslands.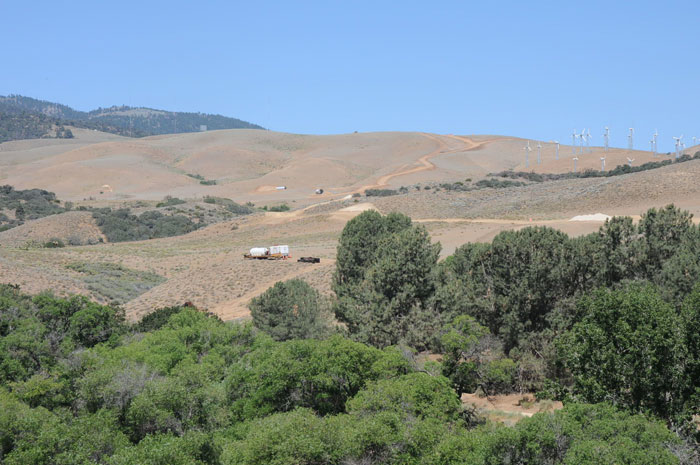 Wind projects encroach into wild grasslands full of wildflowers and rare plants.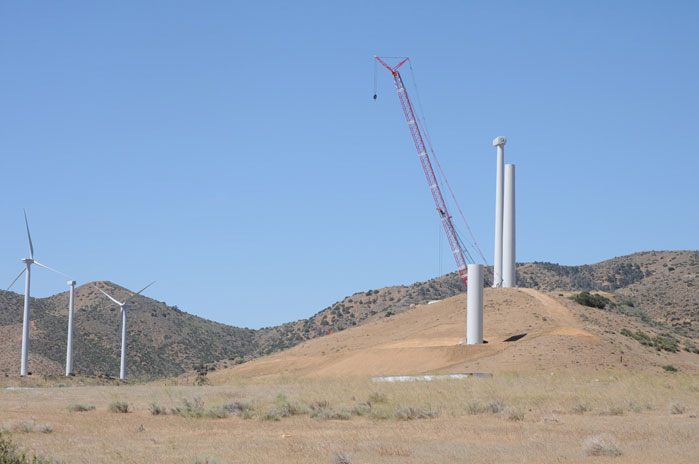 Towers and crane in grassland.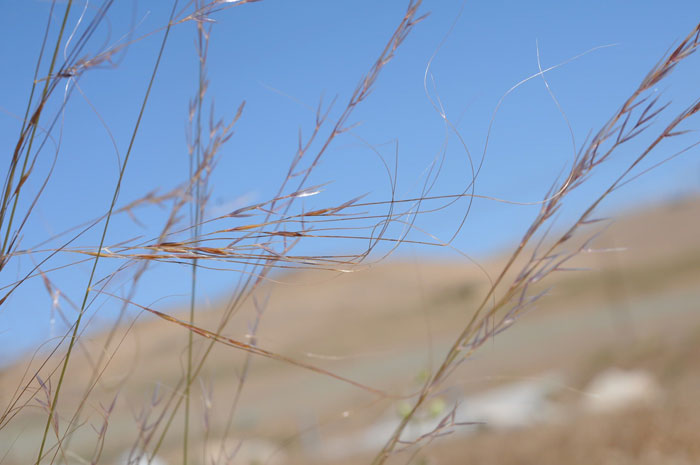 The Tehachapi Mountains have abundant native bunchgrasses such as this Nodding needlegrass (Stipa cernua).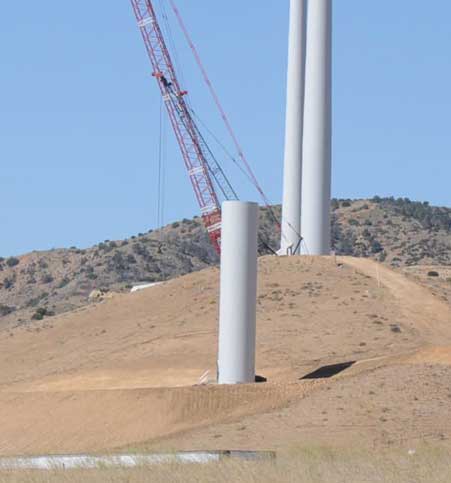 Enormous towers on pads cut into hill slopes.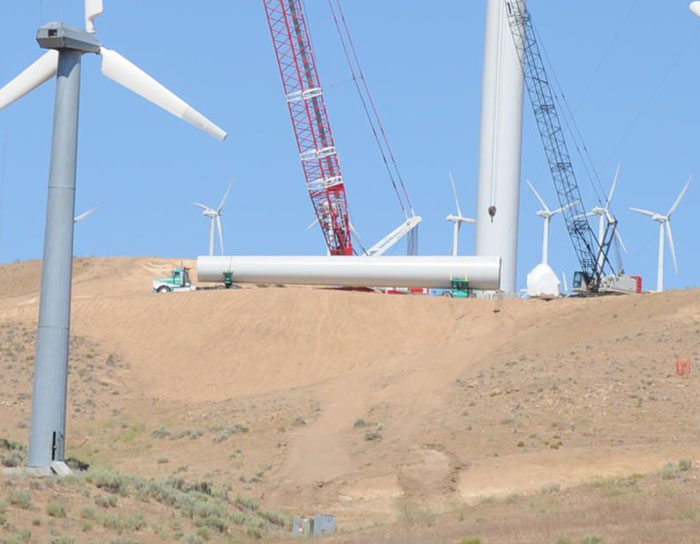 Over-sized truck with tower piece must access the hills.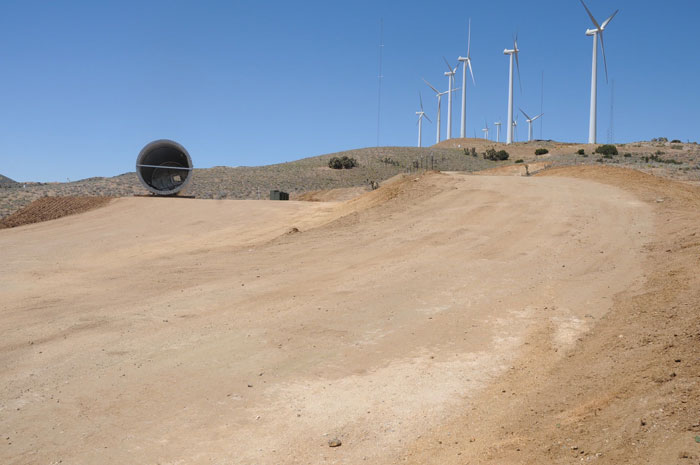 Roads and pads along ridge. The Pacific Crest Trail was diverted from this spot to go around the wind project.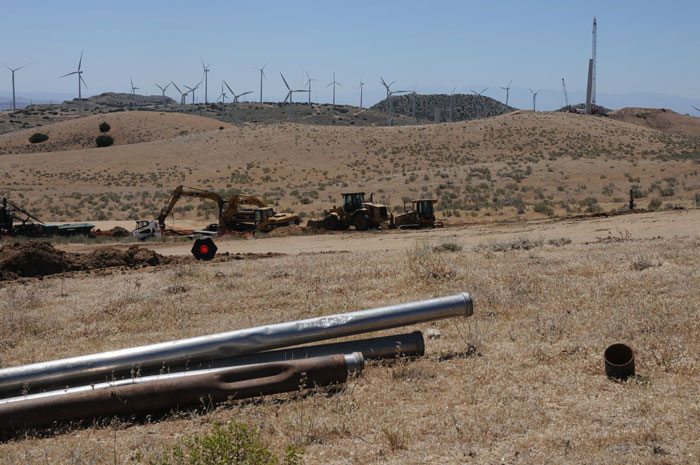 Wind project construction on once wild ridge.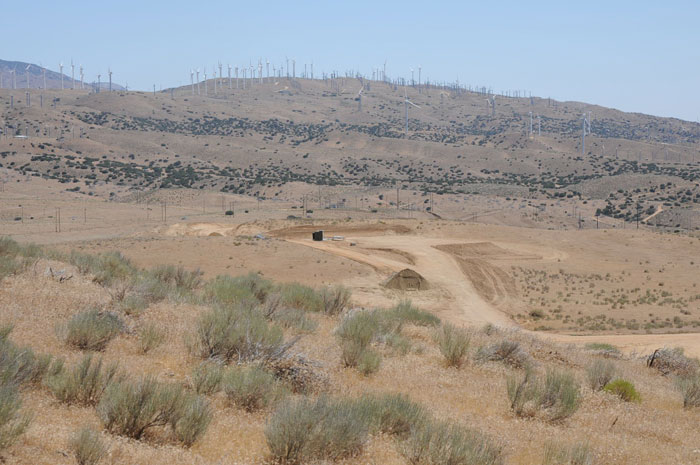 New pad and access road.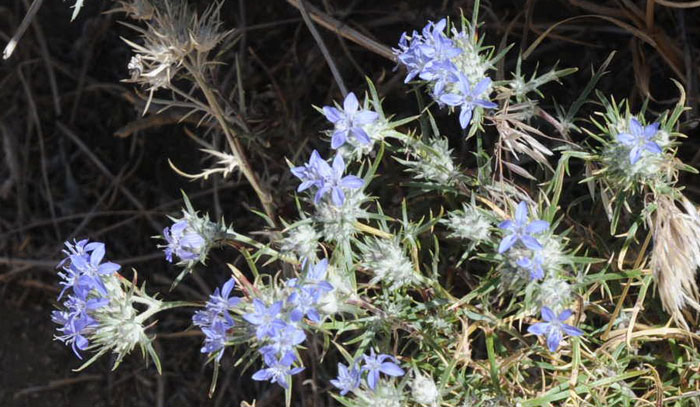 Native wildflowers bloom in summer here: Sapphire flower (Eriastrum eremicum).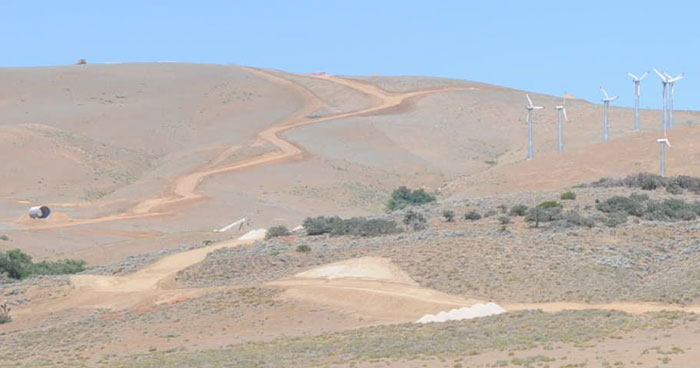 Roads and wind turbine pads scar the mountain and disturb habitat. Pronghorn antelope (Antilocapra americana) have been seen in these grasslands.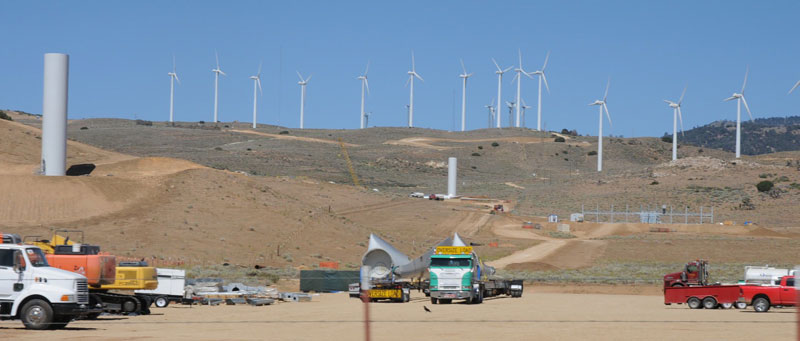 Wind project from central yard. Trucks parked carry single turbine blades.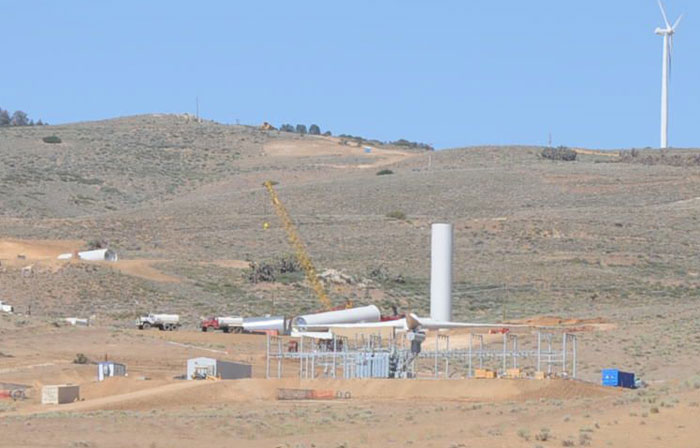 Construction.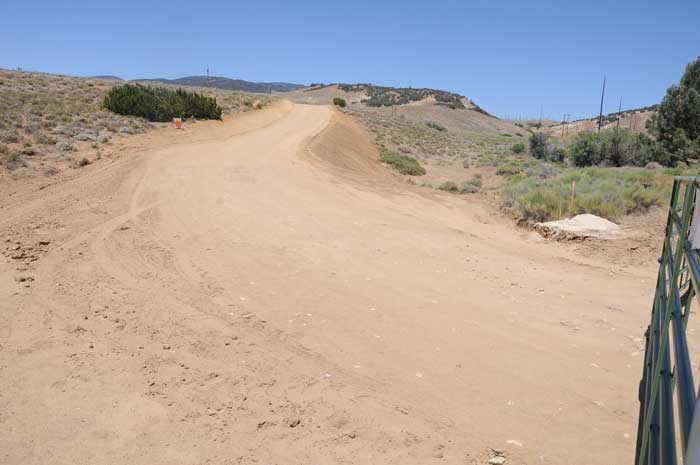 Wide entrance road from the paved highway, into the wind project site.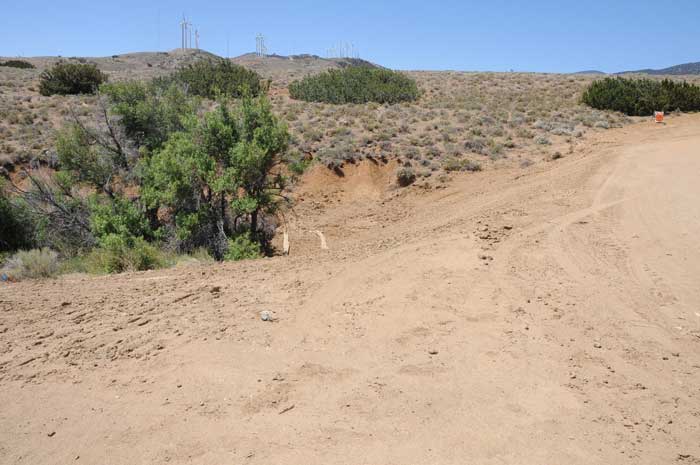 New wide road over a creek, with pipe for the water, and willows torn out.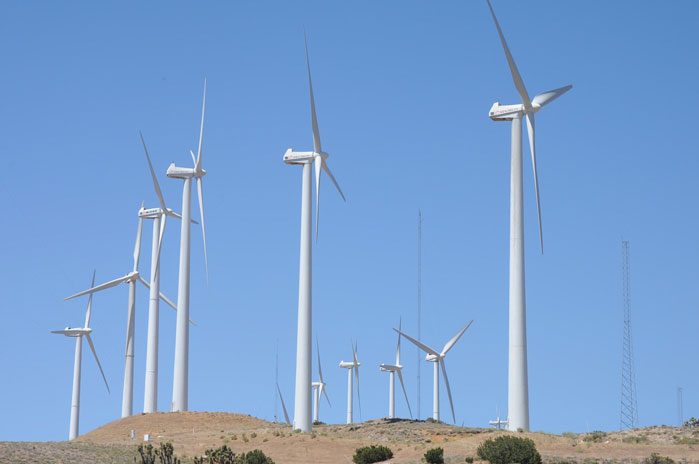 New turbines.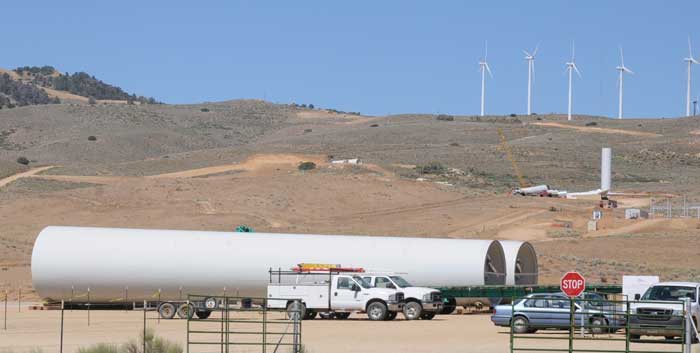 Tower sections in yard.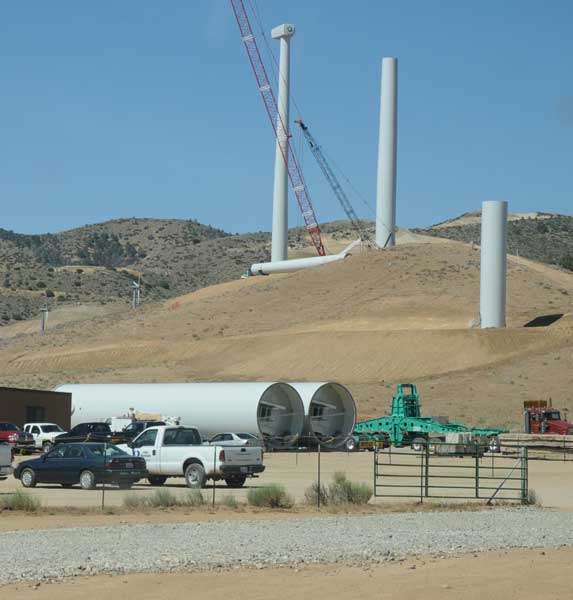 Yard and ongoing construction.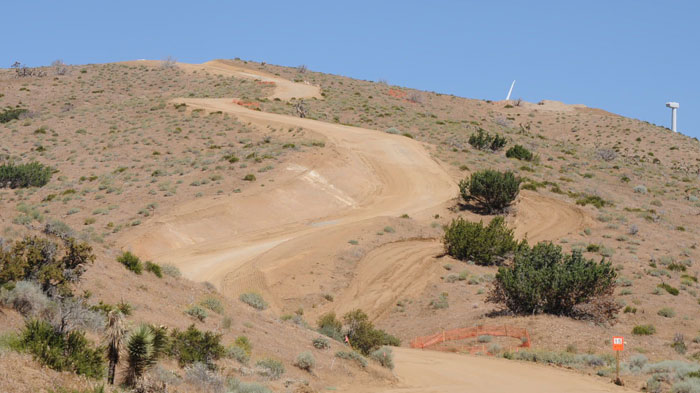 New road bulldozed into a desert grassland with junipers and Joshua trees.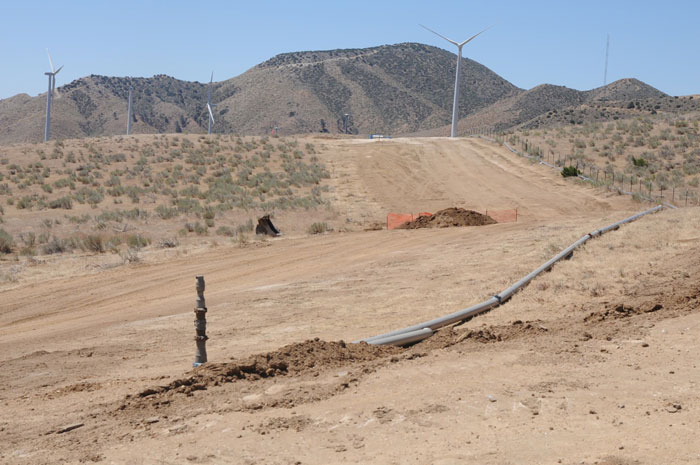 Buried line in the hills.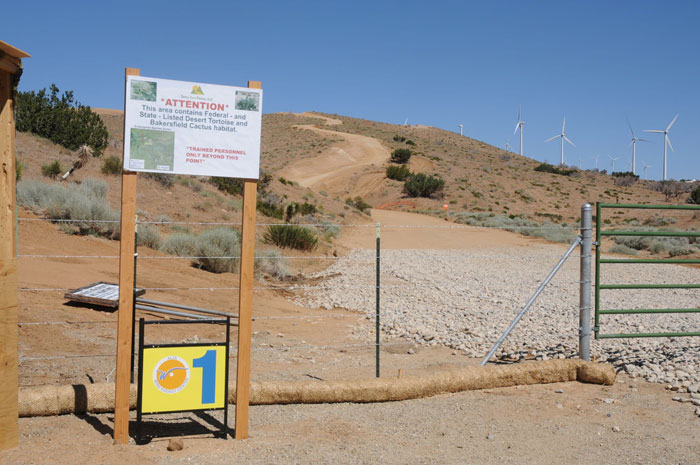 Entrance to wind project access road.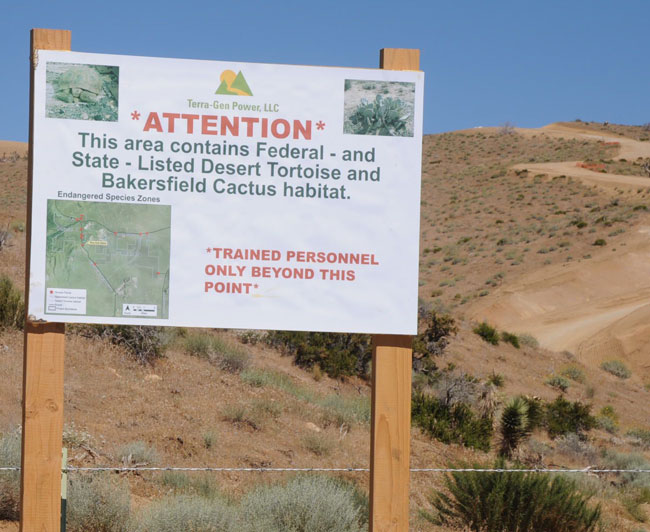 Transport
The wind turbine parts are huge. Over-size trucks need to transport them on wide roads.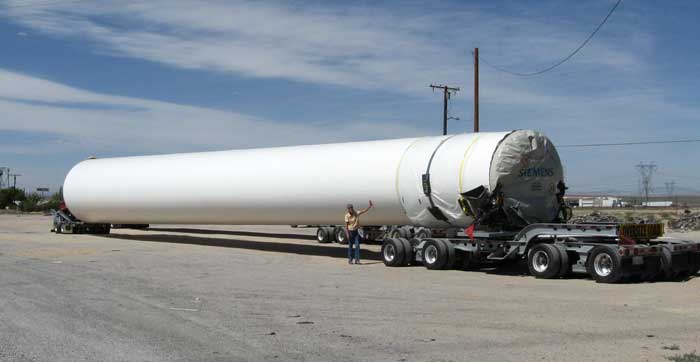 Part of a turbine tower, not the complete tower.
---