Resource Documents: Vermont (37 items)
Documents presented here are not the product of nor are they necessarily endorsed by National Wind Watch. These resource documents are provided to assist anyone wishing to research the issue of industrial wind power and the impacts of its development. The information should be evaluated by each reader to come to their own conclusions about the many areas of debate.
---
Date added:
March 15, 2017
Noise
,
Regulations
,
Vermont
•
Author: Ambrose, Stephen
There is an unsaid purpose and intent for this request [from the Vermont Public Service Board (PSB)]. Might it be an acknowledgement that "Vermont's wind turbine noise rule does not protect neighbors from excessive noise and adverse health impacts"? This is obviously due to persistent complaints, and at least one home abandonment. This solicitation for public comments should not be used to divert-delay-deny public attention. Wind turbine neighbors want the PSB to correct the current flawed regulations based on accepting for regulatory rules those the wind industry recommends. If the PSB sought advice from truly independent sources they would have learned that 45 dBA is only applicable for urban-residential areas and even for those communities is not sufficient to protect people. Ontario, and other Canadian provinces have regulations setting 40 dBA as the not-to-exceed threshold. Yet, recent studies have shown strong evidence that 40 dBA is not preventing adverse health impacts. Even 40 dBA is too loud. Somehow the cautionary warnings of the 1970s about 35 dBA for quiet rural-residential environments have been ignored. Standards such as ISO 1996 and ANSI's S12.9 still support 35 dBA for nighttime noise in quiet rural regions.
The noise rule needs a large scale reduction in its permitted noise limits to protect and minimize noise complaints. Anything less will only continue the endless discussions for equivocating with fudging, quibbling, and evading the need to lower to 35 dBA. Adding superfluous and complicated measurements, procedures or protocols around the 45 dBA will only continue to result in failure. The PSB should understand this after receiving reams of unfathomable data from acousticians closely aligned with developers that has no connection to a human response.
The PSB should seek assistance from independent experts to establish a noise rule that minimizes adverse human responses. This noise limit must be easy to understand and enforce. The PSB should not have to deal with the intricacies of acoustic science, noise sources, propagation, and weather. These are the concerns for the noise consultants who are responsible to their wind developer clients, who need to advise their clients on how not to harm the public. The PSB should focus on public health and enforcing compliance; and not be negotiating mitigating options with developers, operators, or consultants.
The current wind turbine sound rule should be abandoned and replaced with the previous noise limits. The Environmental Board used Lmax for its regulations and that has been upheld by the Vermont Supreme Court (see page 11). The Lmax refers to the instantaneous maximum level (LAmax) relative to the background (LA90). People hear the instantaneous variations above the background and respond accordingly, which cannot be substituted with a time-weighted average. Adverse public reactions are shown to occur when the Lmax exceeds the background L90 by 10 dB.
Answers for most of the questions start on the next page …
Download original document: "Proposal and comments for implementing a rule regarding sound from wind generation projects"
See also: Vermont Public Service Board Sound Rule Workshop
---
Date added:
March 15, 2017
Noise
,
Regulations
,
Vermont
•
Author: Ambrose, Stephen
See also: Proposal and comments for implementing a rule regarding sound from wind generation projects
---
Date added:
August 7, 2016
Environment
,
Vermont
,
Wildlife
•
Author: Vermonters for a Clean Environment
WATER
1. The "wet" ponds are predominantly dry or are not holding the volume of water necessary to provide water quality treatment as required by the VT Stormwater Management Manual. Further, it is highly probable that instead of flowing through the outlet structure, stormwater is simply passing through the rock berms bypassing the water quality and peak flow attenuation necessary. This seepage is also highly likely causing the iron seeps to form (see below).
Stormwater ponds and level spreaders receive sedimentation that is regularly cleaned out and deposited uphill and seeded.
2. The iron seeps that are being found at the project perimeter, and specifically downslope of stormwater management features is being caused by stormwater or intercepted groundwater flowing over sulfide bearing rock and leaching out metals, and in particular iron.
When this occurs, the seep is comprised of a low pH (acid) floc that will both smother vegetation, wetlands and stream substrates, but also create an environment that will preclude vegetative growth. The preclusion of vegetative growth will lead to more soil instability and subsequent erosion.
See the geologic report prepared by a geologist retained by Princeton Hydro in 2011 and a paper on acid mine drainage and sulfide-bearing rock. The extensive and irreversible changes to the surface and groundwater hydrology of the mountain will continue to cause environmental damage well beyond the perimeter of the area of disturbance of this project.
BEFORE AND AFTER PHOTOS
PHOTO BEFORE – MAY 2011
PHOTO AFTER – JULY 2016
The headwaters of this mountain will be irreparably harmed. The monitoring thousands of feet downstream of the project to comply with the Water Quality Certificate will not detect the impacts to the headwater streams.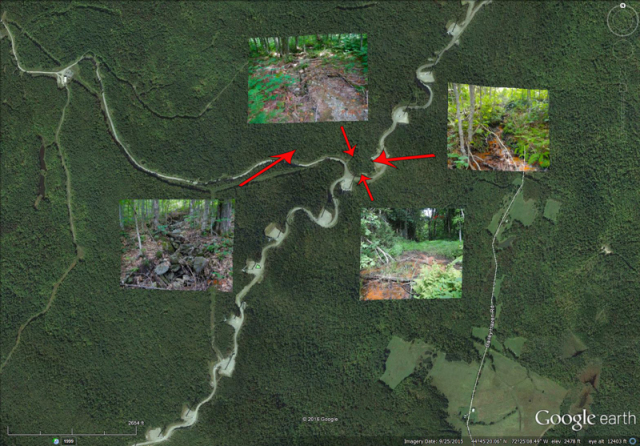 3. The photographs also reveal that the level spreaders and the wet ponds are causing erosion of the hillside and, in particular, the "vegetated buffers" that were claimed by KCW to reduce the flow of stormwater and prevent erosion. In fact, downstream of the level spreaders, the opposite is occurring.
The concentration of water in the vegetated buffers and other mountainside areas is exactly what Princeton Hydro stated would happen, not sheet flow down to the receiving wetlands and streams.
This is important for two primary reasons:
A) The concentrated flow means the stormwater model that KCW used to show that they met the stormwater peak flow attenuation requirements of the VSMM is fatally flawed and is not meeting the standards and is increasing stormwater runoff from the KCW site. The Water Quality Certification monitoring thousands of feet downstream of the project will not detect increases in flood waters that could impact downstream properties.
B) The concentrated flow is clearly eroding the forest floor in the vegetated buffers and mountainside receiving areas. This will continue to degrade the hillside and create larger and larger rills and gullies.
EXISTING STREAM CHANNEL
Existing stream channel is being overwhelmed. Sides are eroding.
WETLANDS
In May and October, 2011 we visited this beautiful wetland near turbine 8 which be seen at the end of Energize Vermont's video.
2011
2016
The wetland is mostly dry now, with a die-back of sphagnum moss. This wetland was very special because it flowed both north and south. While parts of Vermont are in drought, this area is experiencing relatively normal rainfall.
INVASIVE SPECIES
The evidence of the extensive use of herbicides on the site shows that the project is promoting the growth of invasive species of plants, which will likely be required to be eradicated in perpetuity. The project is promoting the growth of such invasives that will eventually spread deep into the prior relatively unfragmented forest.
According to the 2015 Invasive Species Report,
"A total of 51.5 gallons of mixture was applied at the designated sites across the entire KCW invasive plant monitoring area including the restored logging roads (see 2015 Invasive Vegetation Monitoring Maps). A two way mix was used for the application: Milestone VM Plus and Rodeo at 4 percent."
Milestone VM Plus contains chemicals that are moderately toxic to aquatic organisms and have very high potential for mobility in soils.
Rather than promoting environmentally friendly manual removal of invasive species, GMP has chosen to use huge quantities of chemicals, including at the edge of water.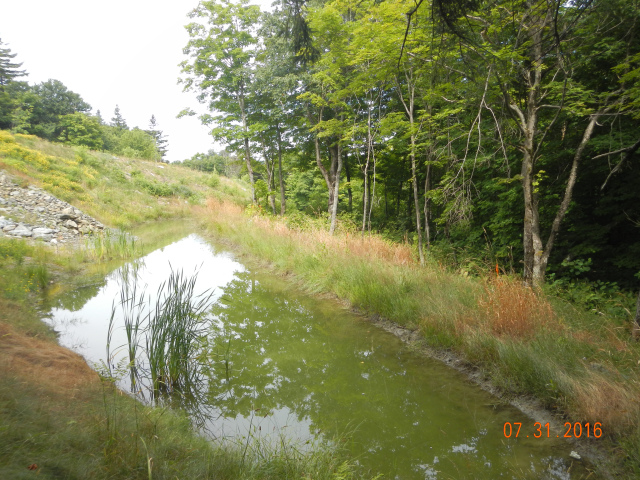 WILDLIFE
Wildlife on the Lowell Mountains are being exposed to wind turbine noise at very high levels. Click on these two images to hear what the wildlife are exposed to now.
FORESTS
The areas shown in these two photos have been completely destroyed.
Montane Yellow Birch forest is now turbine 13
Serpentine boulder is now turbine 18
The forest edges around the roads are dying.
ANR's Eric Sorensen testified to the PSB in the GMP Lowell Wind case:
This project will result in the construction of 6.5 miles of 65 to 205 foot wide, mostly rock- blasted road and turbine pads in mature montane forests along a ridgeline in one of the larger blocks of unfragmented habitat in the region.

At the construction site for this Project there will not merely be a change in vegetation type, but instead there will be a complete conversion from mature montane forests to industrial wind farm.

This area will be permanently altered by removal of soil, bedrock blasting, and regrading. We cannot predict what will grow on this disturbed site after decommissioning, but we can be confident that it will not be the mature Montane Spruce-Fir Forest or Montane Yellow Birch-Red Spruce Forest that occurs there now.
Ecologist Sorensen's testimony is proving to be accurate. The Montane Yellow Birch Forest is experiencing group mortality which is not normal.
From ANR's Eric Sorenson's testimony about the Yellow Bird-Red Spruce Forest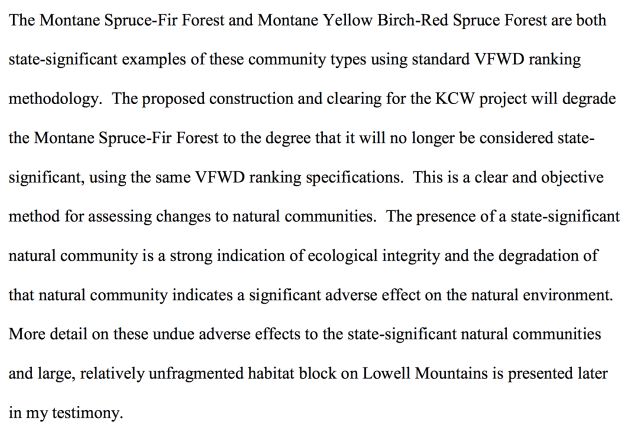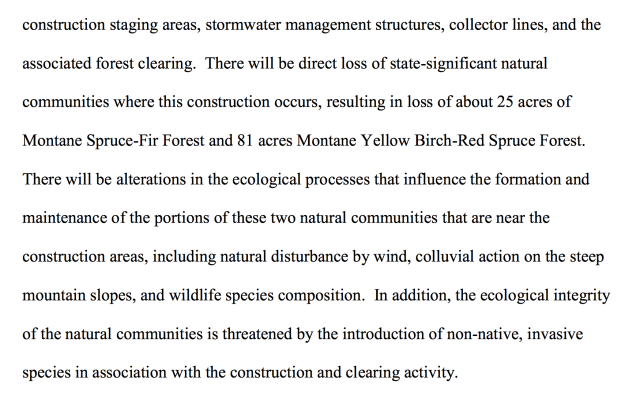 This image from the 2015 invasive species report shows the area of the intersection of the access road with the ridgeline road, along with the chart from the same report that shows that the invasive species are increasing and spreading every year. These invasives will eventually make their way to the interior forest.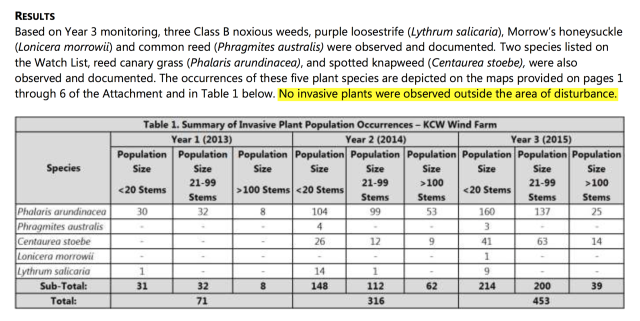 WIND PROJECTS IN VERMONT – OPERATING, PROPOSED, DEFEATED
Key:
Red Square: Operating: Georgia Mountain, four 2.5 MW 440 foot tall, Lowell Mountain, twenty one 3 MW 459 foot tall, Sheffield sixteen 2.5 MW 420 foot tall.
Orange Square: Actively Proposed: Swanton Rocky Ridge seven 2.5 MW 490+ foot tall, Irasburg, two 2.5 MW 490+ foot tall, Holland one 2.5 MW 490+ foot tall, Windham/Grafton twenty eight 3.45 MW 490+ foot tall, Searsburg/Windham fifteen 2.0 MW 417 foot tall.
Green Circle: Successfully Defeated: Glebe Mountain, Little Equinox, Ira, Pittsford Ridge, Northfield Ridge, Derby Line, Newark/Brighton/Ferdinand.
This report was compiled by Annette Smith, Executive Director of Vermonters for a Clean Environment. Most of the narrative was written by Princeton Hydro. Photos are by VCE's field investigator, who will be writing more about his findings. Information is from public records.
About Vermonters for a Clean Eenvironment: VCE's mission is to raise the voices of Vermonters and hold corporations accountable for their impacts on our people, our land, our air and our water. We are united in the belief that Vermont's future lies in conserving its clean, rural, small-town environment. We have joined together to pursue the common goals of encouraging economic development with minimal environmental impacts and preserving Vermont's natural beauty. VCE is committed to providing facts and information so that people can make informed decisions. We encourage your participation.
---
Author: Reider, Sandy
Public Service Board Hearing, July 29, 2014:
Good afternoon. My name is Sandy Reider, I am a primary care physician in Lyndonville, and I have been practicing clinical medicine in Vermont since I received my license in 1971. In the interest of full disclosure, I am not being paid for involvement in this issue, nor did I seek this out; rather, it found me by way of a patient I had known well for several years, and who, in late 2011, suddenly developed severe insomnia, anxiety, headaches, ringing ears, difficulty concentrating, and frequent nausea, seemingly out of the blue. This puzzled us both for a few months before we finally came to understand that he suffered from what was, then, a relatively new clinical entity known as "wind turbine syndrome", related in his particular case to the comparatively small NPS 100 KW turbine that began generating power atop Burke Mountain in the fall of 2011. In the course of the 2012 legislative session, I described this patient in detail in testimony for the Senate Natural Resources and Health Care Committees, as well as the Governor's Siting Commission. Since his symptoms were so typical and similar to those described by thousands of other individuals living too close to large wind turbines all over the globe, I have attached my testimony for the Senate Health Care Committee and encourage you to review it for its very characteristic description of what it is that this board, I trust, hopes to mitigate by recommending more protective sound standards for these industrial wind installations. I should add that I have seen 4 additional patients living close to the large Sheffield and Lowell projects, as well as an individual living near another single NPS 100KW turbine in Vergennes. All presented with similar, though not identical, symptoms to those described in my testimony.
That there have already been so many complaints here in Vermont related to wind turbines suggests that the current noise standards may be inadequate. Either the utilities have been regularly out of compliance with the current existing standards ( Shirley Nelson's detailed daily records suggest this has indeed occurred with some regularity ) and/or that the scientific data and studies upon which the current noise standards are based is incomplete, or possibly just plain wrong.
Over the past 2 years I have reviewed much of the relevant scientific literature, and out of my 42 years of experience and perspective as a clinician, respectfully offer the following observations and comments.
Firstly, I do not doubt at all that these large turbines can and do cause serious health problems in a significant number of persons living nearby, even though the vibrational-acoustic mechanisms behind this harm are not yet completely understood (1,5). Repetitive sleep disruption is the most often cited adverse effect, and disturbed sleep and its resulting stress over time is known to cause or exacerbate cardiovascular illnesses (2), chronic anxiety and depression, as well as worsening of other pre-existing medical problems . This is especially concerning for the most vulnerable among us … children, the elderly, those who are naturally sensitive to sound, or prone to motion sickness or migraine headaches, and, as mentioned, those who are unwell to start with.
The position adopted by developers of large industrial wind projects, and thus far supported by regulatory and health agencies, has been that there is no evidence of a direct effect on health from wind turbines; rather, that the claimed adverse health effects are indirect, due mainly to the individual's negative attitude about the wind turbines ( so-called "nocebo" effect ), and therefore it is their fault, it's all in their heads, and so on. Not only is this incorrect, it is disingenuous. There is simply no clinical justification for ignoring harm being done to individuals and communities, whether direct or indirect, on these grounds… simply put, harm is harm, whatever the mechanism.
However, good evidence for direct adverse effects has existed since the mid-80's when Neil Kelley headed a group of researchers, under the auspices of the US Department of Energy and NASA, and found conclusive evidence that adverse effects, very similar to those that describe "wind turbine syndrome", were due primarily to very low frequency sound and inaudible infrasound (6). This role of infrasound was subsequently confirmed by Kelley's team under controlled laboratory conditions, and resulted in a complete redesign of turbines from the downwind trestle-mounted turbines to today's upwind turbine on a single massive tower. Furthermore, he recommended protective maximum levels of this low frequency sound.
[T]he joint radiation levels (expressed in terms of acoustic intensity and measured external to a structure) in the 8, 16, 31.5 and 63 Hz standard (ISO) octaves should not exceed band intensity threshold limits of 60, 50, 40 and 40 dB (re 1 pWm –2) more than 20% of the time. These figures compare favorably with a summary of low-frequency annoyance situations by Hubbard.
( It is worth noting that very often infrasound levels are higher inside a building than outside, the structure acting as a resonating chamber and amplifying the lower "vibration" frequencies. Thus measurements for low frequency sound should be made inside the structure as well as outside. Also, low frequency sound levels are not only building design and geometry specific, but also site specific, especially in a place like Vermont where the topography and climactic conditions are so variable. There may be unacceptable indoor infrasound levels in one home, while another home over the hill may have undetectable or very low levels. )
The wind industry's assertion that the Kelley study is irrelevant and that infrasound levels are negligible with the current, newer turbine design and may be ignored is unfounded, and more recent evidence confirms this ( 2012 Falmouth study by Ambrose and Rand ( Bob Thorne's excellent quality of life study in 2011 (12); Steven Cooper's preliminary results in Australia, final results due in September 2014 (11); and others ). The aforementioned studies were performed by independent professional acousticians not connected to the wind industry. Incidentally, the severely affected patient described in my 2012 testimony never did perceive any audible noise from the turbine ( and this is quite typical, the sound is more felt than heard ), nor did he harbor any feelings pro or con about the installation when his problems began, though after he understood the source of his ill-health, I have no doubt that the "nocebo" effect may have added to his stress, adding insult to injury. He has since abandoned that home, and is once again sleeping soundly and feeling well.
The current sound standards, based as they are on dBA weighted acoustic measurements, gives particular weight to audible frequencies in the soundscape, but very little or no weight to low sound frequencies and infrasound, particularly below 10 Hz, which comprises a significant proportion of the sound generated by large turbines . People do not hear dBA, they hear qualitatively different sounds, birds, insects, running water, wind in the trees, etc. … basing noise criteria solely on this single number ignores the unique nature of the sound produced by large wind turbines, with its constantly changing loudness, frequency, harmonics, pitch, and impulsive quality. It is precisely these qualities that make the sound feel so intrusive and annoying, especially in quiet rural environments where these projects are usually located (12). Parenthetically, the word "annoying" is somewhat misleading, as it implies a minor, temporary, or occasional nuisance that perhaps might be mostly ignored, rather than what it is: a repetitive stressor that can degrade one's short and long term health and well being, and from which there is no escape over the lifetime of the project short of having to abandon one's home.
It is worth repeating here that the current Public Service Board threshold of 45 dBA of audible sound, averaged over an hour, has never been proven safe or protective, and that most studies agree that audible sound should not exceed 35 dBA, or 5dBA above normal background sound levels. (this is especially important in rural areas where background noise is minimal). The level should be a maximum , not an hourly average. Above 35 dBA there are likely to be significantly more complaints, particularly difficulty sleeping.
Before concluding, I would like to emphasize that the bulk of scientific evidence for adverse health effects due to industrial wind installations comes in the form of thousands of case reports like the patient I described. One or two sporadic anecdotal cases can legitimately be viewed with a wait-and-see skepticism, but not thousands where the symptoms are so similar, along with the ease of observing exposure and measuring outcomes, wherever these projects have been built. I agree with Epidemiologist Carl Phillips, who opined that "these case reports taken together offer the most compelling scientific evidence of serious harm. Just because the prevailing models have failed to explain observed adverse health effects does not mean they do not exist", and, as he succinctly, though in my opinion a bit too harshly, concluded: "The attempts to deny the evidence cannot be seen as honest scientific disagreement and represent either gross incompetence or intentional bias" (13).
I am aware that the members of the PSB bear a heavy responsibility for Vermont's overall energy future and have many other issues on their plate besides this one. Rather than presenting you with a long list of literature references most of which would likely go unread ( but they are included just in case ), I recommend a careful review of just one study in particular: Bob Thorne, a professional acoustician in Australia, presented an excellent and well thought out clinical study to the Australian Senate in 2011 (12). It really does cover the waterfront, including WHO quality of life measures, audible and infrasound measurements, and health measures, in a balanced and scientific way. For your convenience there is a hard copy of this study included with my presentation today.
His comprehensive ( including the full sound spectrum, not only dBA weighted sound ) and protective recommendations for sound criteria are reasonable, and if adopted, would be likely more acceptable to neighboring households and communities. However, given that wind developers are these days building bigger turbines atop taller towers in order to maximize power generation and profits, adoption of these safer limits would necessitate siting the installations farther from dwellings. A 1-2 km setback is not nearly sufficient; significant low frequency sound pressure measurements have been recorded in homes 3-6 miles from large projects in Australia.
The outcomes of the study are concerned with the potential for adverse health effects due to wind farm modified audible and low frequency sound and infrasound. The study confirms that the logging of sound levels without a detailed knowledge of what the sound levels relate to renders the data uncertain in nature and content. Observation is needed to confirm the character of the sound being recorded. Sound recordings are needed to confirm the character of the sound being recorded.
The measures of wind turbine noise exposure that the study has identified as being acoustical markers for excessive noise and known risk of serious harm to health (significant adverse health effects)
1. Criterion: An LAeq or 'F' sound level of 32 dB(A) or above over any 10 minute interval, outside;
2. Criterion: An LAeq or 'F' sound level of 22 dB(A) or above over any 10 minute interval inside a dwelling with windows open or closed.
3. Criterion: Measured sound levels shall not exhibit unreasonable or excessive modulation ('fluctuation').
4. Criterion: An audible sound level is modulating when measured by the A-weighted LAeq or 'F' time-weighting at 8 to 10 discrete samples/second and (a) the amplitude of peak to trough variation or (b) if the third octave or narrow band characteristics exhibit a peak to trough variation that exceeds the following criteria on a regularly varying basis: 2dB exceedance is negligible, 4dB exceedance is unreasonable and 6dB exceedance is excessive.
5. Criterion: A low frequency sound and infrasound is modulating when measured by the Z- weighted LZeq or 'F' time-weighting at 8 to 10 discrete samples/second and (a) the amplitude of peak to trough variation or (b) if the third octave or narrow band characteristics exhibit a peak to trough variation that exceeds the following criteria on a regularly varying basis: 2dB exceedance is negligible, 4dB exceedance is unreasonable and 6dB exceedance is excessive.
6. Definitions: 'LAeq' means the A-weighted equivalent-continuous sound pressure level [18]; 'F' time-weighting has the meaning under IEC 61672-1 and [18]; "regularly varying" is where the sound exceeds the criterion for 10% or more of the measurement time interval [18] of 10 minutes; and Z-weighting has the meaning under AS IEC 61672.1 with a lower limit of 0.5Hz.
7. Approval authorities and regulators should set wind farm noise compliance levels at least 5 dB(A) below the sound levels in criterion (1) and criterion (2) above. The compliance levels then become the criteria for unreasonable noise.
Measures (1-6) above are appropriate for a 'noise' assessment by visual display and level comparison. Investigation of health effects and the complex nature of wind turbine noise require the more detailed perceptual measures of sound character such as audibility, loudness, fluctuation strength, and dissonance.
To exclude careful independent well designed case studies like Thorne's ( and others ) in a review of the scientific literature that purports to be thorough is, I repeat, a serious omission and is not "scientific". Careful consideration of these independent well done studies, if nothing else, should encourage regulatory agencies to adopt a much more precautionary approach to the siting of today's very big industrial wind projects in order to adequately protect public health. For better or worse, in today's "information age" we are perhaps too fascinated by computers and mountains of data, but truth is truth, wherever you find it, even in small places.
Thank you very much for taking the time to address this issue, and for listening.
Respectfully Submitted,
SANDY REIDER MD
PO BOX 10
EAST BURKE, VT 05832
802-626-6007
sandyreider/yahoo.com
Many thanks to Sarah Laurie, CEO of the Waubra Foundation, for her tireless work, and generosity in sharing so much information. www.waubrafoundation.org.au
1. Pierpont, Nina. 2009. From the executive summary of her peer reviewed study. http://waubrafoundation.org.au/resources/wind-turbine-syndrome-executive-summary/
2. Capuccio et al. 2011. Sleep Duration predicts cardiovascular outcomes: a systemic review and meta-analysis of prospective studies. European Heart Journal 32:1484-1492. http://waubrafoundation.org.au/resources/sleep-duration-predicts-cardiovascular-outcomes/
3. Nissenbaum, M, Hanning, C, and Aramini, J. 2012. Effects of industrial wind turbines on sleep and health. Noise and Health, October. https://www.wind-watch.org/documents/effects-of-industrial-wind-turbine-noise-on-sleep-and-health/
4. Shepherd, D, et al. 2011. Evaluating the impact of wind turbine noise on health related quality of life. Noise and Health, October. http://waubrafoundation.org.au/resources/evaluating-impact-wind-turbine-noise-health-related-quality-life/
5. Arra, M, and Lynn, Hazel. 2013. Powerpoint presentation to the Grey Bruce Health Unit, Ontario: Association between wind turbine noise and human distress. http://waubrafoundation.org.au/resources/association-between-wind-turbine-noise-and-human-distress/
6. Kelley, ND, et al. 1985. Acoustic noise associated with Mod 1 turbine, its impact and control. http://waubrafoundation.org.au/resources/kelley-et-al-1985-acoustic-noise-associated-with-mod-1-wind-turbine/
7. James, Richard. 2012. Wind turbine infra and low frequency sound: warning signs that went unheard. Bulletin of Science, Technology and Society 32(2):108-127, accessed via Professor Colin Hansen's submission to the Australian Federal Senate Inquiry Excessive Noise from Windfarms Bill (Renewable Energy Act) November 2012 http://waubrafoundation.org.au/resources/testimony-hansenc-excessive-noise-bill-inquiry-submission/. James references another useful bibliography of references of the early NASA research, compiled by Hubbard & Shepherd, 1988: Wind turbine acoustic research—bibliography with selected annotation; http://waubrafoundation.org.au/resources/hubbard-h-shepherd-k-nasa-wind-turbine-acoustics-research/
8. Hubbard, H. 1982. Noise induced house vibrations and human perception. http://waubrafoundation.org.au/resources/hubbard-h-1982-noise-induced house vibrations-human-perception/
9. Ambrose, Stephen, and Rand, Robert. 2011. Bruce McPherson infrasound and low frequency noise study. http://waubrafoundation.org.au/resources/bruce-mcpherson-infrasound-low-frequency-noise-study/
10. Schomer, Paul, et al. 2013. A proposed theory to explain some adverse physiological effects of the infrasonic emissions at some wind farm sites. http://waubrafoundation.org.au/resources/schomer-et-al-wind-turbine-noise-conference-denver-august-2013/
11. http://waubrafoundation.org.au/2014/pacific-hydro-commended-initiating-wind-turbine-noise-acoustic-survey/
12. http://waubrafoundation.org.au/resources/wind-farm-generated-noise-and-adverse-health-effects/. Also see: Thorne, Bob. 2011. The Problems With "Noise Numbers" for Wind Farm Noise Assessment.
 Bulletin of Science, Technology and Society 31:262. 
DOI: 10.1177/0270467611412557. http://bst.sagepub.com/content/31/4/262
13. Phillips, Carl. 2011. Properly interpreting the Epidemiological evidence about the health effects of Industrial Wind turbines on nearby residents. Bulletin of Science, Technology and Society vol 31 No 4 (August 2011) pp 303-315. http://waubrafoundation.org.au/resources/properly-interpreting-epidemiologic-evidence-about-health-effects/
---