Author: Ambrose, Stephen; and Rand, Robert | Massachusetts, Noise
Notus Wind Turbine: HARM REAL – NOT HIDDEN
Initiated when operation began.
Easily Observed Symptoms:

Physical or mental damage or injury.
Impairs, hurts, devalues, weakens, etc.
Diminished enjoyment for living.
Home abandonment and financial loss.
Rejection by community members.
Question: Is There Public Harm?
Answer: Yes … Public Harm Is Real!
Where Is Harm Hiding?
Wind Shear
Wind Speed
Ambient Background
Power Output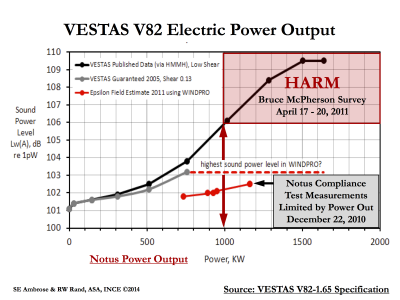 2014 – Harm is … ?
Wind Speed – Misleads
Ambient Background – Hides
Wind Shear – Exacerbates
2014 – Harm Is Power Output!
Must Test Near Full Power Output
Stephen E. Ambrose, ASA, INCE Board Certified
Robert W. Rand, ASA, INCE
Principal Consultants, Acoustics, Environmental Sound & Industrial Noise Control
March 1, 2014
Download original document: "Wind Turbine Harm: Bruce McPherson Study 2014 Epilogue"
Also see: "Bruce McPherson Infrasound and Low Frequency Noise Study"
Presented to Falmouth Zoning Board of Appeals, March 6, 2014, and submitted to MassDEP Wind Turbine and Noise Technical Advisory Group. By courtesy of Wind Wise Massachusetts.
This material is the work of the author(s) indicated. Any opinions expressed in it are not necessarily those of National Wind Watch.

The copyright of this material resides with the author(s). As part of its noncommercial effort to present the environmental, social, scientific, and economic issues of large-scale wind power development to a global audience seeking such information, National Wind Watch endeavors to observe "fair use" as provided for in section 107 of U.S. Copyright Law and similar "fair dealing" provisions of the copyright laws of other nations. Queries e-mail.
Share:
Translate: FROM English | TO English
Translate: FROM English | TO English
Tags: Wind power, Wind energy