Resource Documents: Environment (206 items)
Documents presented here are not the product of nor are they necessarily endorsed by National Wind Watch. These resource documents are provided to assist anyone wishing to research the issue of industrial wind power and the impacts of its development. The information should be evaluated by each reader to come to their own conclusions about the many areas of debate.
---
Date added:
June 5, 2017
Economics
,
Environment
•
Author: Ridley, Matt
The Global Wind Energy Council recently released its latest report, excitedly boasting that 'the proliferation of wind energy into the global power market continues at a furious pace, after it was revealed that more than 54 gigawatts of clean renewable wind power was installed across the global market last year'.
You may have the impression from announcements like that, and from the obligatory pictures of wind turbines in any New York Times story, that wind power is making a big contribution to world energy today.
You would be wrong. Its contribution is still, after decades – nay centuries – of development, trivial to the point of irrelevance. Even after 30 years of huge subsidies, wind power provides only slightly more than zero energy to the world.
Even put together, wind and photovoltaic solar are supplying less than 1 per cent of global energy demand.
From the International Energy Agency's 2016 Key Renewables Trends, we can see that wind provided 0.46 per cent of global energy consumption in 2014, and solar and tide combined provided 0.35 per cent. Remember this is total energy, not just electricity, which is less than a fifth of all final energy, the rest being the solid, gaseous, and liquid fuels that do the heavy lifting for heat, transport and industry.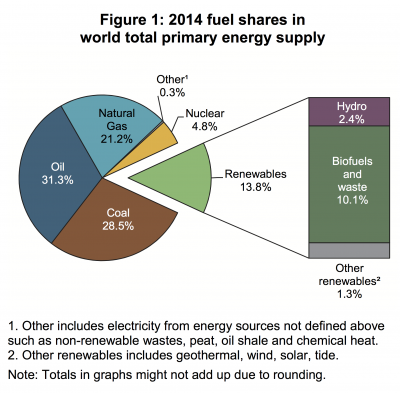 Such numbers are not hard to find, but they don't figure prominently in reports on energy derived from the Unreliables Lobby (solar and wind). Their trick is to hide behind the statement that close to 14 per cent of the world's energy is renewable, with the implication that this is wind and solar.
In fact the vast majority – three quarters – is biomass (mainly wood), and a very large part of that is 'traditional biomass': sticks, logs, charcoal and dung burned by the poor in their homes to cook with. Those people need that energy, but they pay a big price in health problems caused by smoke inhalation.
Even in rich countries playing with subsidized wind and solar, a huge slug of their renewable energy comes from wood and hydro, the reliable renewables.
Meanwhile, world energy demand has been growing at about 2 per cent a year for nearly 40 years. Between 2013 and 2014, again using International Energy Agency data, it grew by just under 2,000 terawatt-hours.
If wind turbines were to supply all of that growth but no more, how many would need to be built each year? The answer is nearly 350,000, since a two-megawatt turbine can produce about 0.005 terawatt-hours per annum. That's one-and-a-half times as many as have been built in the world since governments started pouring taxpayer money into this so-called industry in the early 2000s.
At a density of, very roughly, 50 acres per megawatt, typical for wind farms, that many turbines would require a land area half the size of the British Isles, including Ireland (61,000 sq mi). Every year.
If we kept this up for 50 years, we would have covered every square mile of a land area half the size of Russia with wind farms (3.05 million sq mi).
Remember, this would be just to fulfill the new demand for energy, not to displace the vast existing supply of energy from fossil fuels, which currently supply 80 per cent of global energy needs.
Further, the Unreliables Lobby cannot take refuge in the idea that wind turbines could become more efficient. There is a limit to how much energy you can extract from a moving fluid, the Betz limit, and wind turbines are already close to it.
And more: wind turbine effectiveness (the load factor, to use the engineering term) is determined by the wind that is available, and that varies at its own sweet will from second to second, day to day, year to year.
As machines, wind turbines are pretty good already; the problem is the wind resource itself, and we cannot change that. It's a fluctuating stream of low–density energy. Mankind stopped using it for mission-critical transport and mechanical power long ago, for sound reasons. It's just not very good. How much global cargo is shipped by sailing ships these days?
As for resource consumption and environmental impacts, the direct effects of wind turbines – killing birds and bats, sinking concrete foundations deep into wild lands – is bad enough.
But out of sight and mind is the dirty pollution generated in Inner Mongolia by the mining of rare-earth metals for the magnets in the turbines. This generates toxic and radioactive waste on an epic scale, which is why the phrase 'clean energy' is such a sick joke and greenie politicians should be ashamed every time it passes their lips.
It gets worse.
Wind turbines, apart from the fiberglass blades, are made mostly of steel, with concrete bases. They need about 200 times as much material per unit of capacity as a modern combined cycle gas turbine. Steel is made with coal, not just to provide the heat for smelting ore, but to supply the carbon in the alloy. Cement is also often made using coal. The machinery of 'clean' renewables is the output of the fossil fuel economy, and largely the coal economy.
A two-megawatt wind turbine weighs about 250 metric tons, including the tower, nacelle, rotor and blades. Globally, it takes about half a ton of coal to make a ton of steel. Add another 25 tons of coal for making the cement and you're talking 150 metric tons of coal per turbine.
Now if we are to build 350,000 wind turbines a year (or a smaller number of bigger ones), just to keep up with increasing energy demand, that will require 50 million metric tons of coal a year more than being mined now. That's about half the EU's hard coal–mining output.
The point of running through these numbers is to demonstrate that it is utterly futile, on a priori grounds, even to think that wind power can make any significant contribution to world energy supply, let alone to emissions reductions, without ruining the planet. As the extraordinary polymath Sir David MacKay pointed out, the arithmetic is against such unreliable renewables.
MacKay, former chief scientific adviser to the Department of Energy and Climate Change, said in the final interview before his tragic death last year that the idea that renewable energy could power the UK is an "appalling delusion" – for this reason: that there is not enough land.
The truth is, if you want to power civilization with fewer greenhouse gas emissions, then you should focus on shifting power generation, heat and transport to natural gas, the economically recoverable reserves of which – thanks to horizontal drilling and hydraulic fracturing – are much more abundant than we dreamed they ever could be.
It is also the lowest-emitting of the fossil fuels, so the emissions intensity of our wealth creation can actually fall while our wealth continues to increase.
And let's put some of that burgeoning wealth in nuclear, fission and fusion, so that it can take over from gas in the second half of this century. That is an engineerable, clean future.
Everything else is a political displacement activity, one that is actually counterproductive as a climate policy and, worst of all, shamefully robs the poor to make the taxpayer-subsidized crony-rich even richer.
Matt Ridley
May 2017
Matt Ridley is the author of The Rational Optimist, and as 5th Viscount Ridley is a Member of the British House of Lords. The Utter Complete Total Fraud of Wind Power originally appeared at To The Point News.
(((( o ))))
Additional notes by commenters at http://rodmartin.org/utter-complete-total-fraud-wind-power/
Frank Nova:
[B]ecause a large proportion of the energy coming out of a windmill is coming out in short burst, it requires an inordinately large hook-up power line to be able to carry very high peak capacity while the average capacity is very low. It's akin using a 10 tons truck to go buy a quart of milk. Warmageddonists were the first to rant against using a Hummer as daily transportation. Well, windmills are the Hummers-for-getting-a-quart-of-milk of power generation.
Manley C. Butler Jr.:
AND – it does not even make any allowance for the terrible environmental damage to the sites during construction of each turbine and the continuing eyesore of each power easement.
AND – it makes no allowance for removal of obsolete towers.
BUT – Because the efficiency of any wing device improves with increases in the aspect ratio (L/W) the blades are getting longer and longer. Therefore the use of high-strength, lightweight materials is required; therefore the wind turbine has been a great source money (both R&D and production) for the composites industry.
---
Date added:
May 3, 2017
California
,
Environment
•
Author: Agha, Mickey; et al.
ABSTRACT:
There is little information on predator–prey interactions in wind energy landscapes in North America, especially among terrestrial vertebrates. Here, we evaluated how proximity to roads and wind turbines affect mesocarnivore visitation with desert tortoises (Gopherus agassizii) and their burrows in a wind energy landscape. In 2013, we placed motion-sensor cameras facing the entrances of 46 active desert tortoise burrows in a 5.2-km² wind energy facility near Palm Springs, California, USA. Cameras recorded images of 35 species of reptiles, mammals, and birds. Counts for 4 species of mesocarnivores at desert tortoise burrows increased closer to dirt roads, and decreased closer to wind turbines. Our results suggest that anthropogenic infrastructure associated with wind energy facilities could influence the general behavior of mammalian predators and their prey. Further investigation of proximate mechanisms that underlie road and wind turbine effects (i.e., ground vibrations, sound emission, and traffic volume) and on wind energy facility spatial designs (i.e., road and wind turbine configuration) could prove useful for better understanding wildlife responses to wind energy development.
Mickey Agha, Amanda L. Smith, Jeffrey E. Lovich, David Delaney, Joshua R. Ennen, Jessica Briggs, Leo J. Fleckenstein, Laura A. Tennant, Shellie R. Puffer, Andrew Walde, Terence R. Arundel, Steven J. Price, and Brian D. Todd
Department of Wildlife, Fish, and Conservation Biology, University of California, Davis;
U.S. Geological Survey, Southwest Biological Science Center, Flagstaff, AZ;
U.S. Army Construction Engineering Research Laboratory, Champaign, IL;
Tennessee Aquarium Conservation Institute, Chattanooga;
Colorado State University, Fort Collins;
Department of Forestry, University of Kentucky, Lexington; and
Walde Research and Environmental Consulting, Atascadero, CA
Journal of Wildlife Management
First published: 12 April 2017
DOI: 10.1002/jwmg.21262
Download original document: "Mammalian mesocarnivore visitation at tortoise burrows in a wind farm"
---
Date added:
May 1, 2017
China
,
Economics
,
Environment
•
Author: Tang, Bijian; et al.
Abstract:
Wind farms (WFs) can affect the local climate, and local climate change may influence underlying vegetation. Some studies have shown that WFs affect certain aspects of the regional climate, such as temperature and rainfall. However, there is still no evidence to demonstrate whether WFs can affect local vegetation growth, a significant part of the overall assessment of WF effects. In this research, based on the moderate-resolution imaging spectroradiometer vegetation index, productivity and other remote-sensing data from 2003 to 2014, the effects of WFs in the Bashang area of Northern China on vegetation growth and productivity in the summer (June–August) were analyzed. The results showed that: (1) WFs had a significant inhibiting effect on vegetation growth, as demonstrated by decreases in the leaf area index, the enhanced vegetation index, and the normalized difference vegetation index of approximately 14.5%, 14.8%, and 8.9%, respectively, in the 2003–2014 summers. There was also an inhibiting effect of 8.9% on summer gross primary production and 4.0% on annual net primary production coupled with WFs; and (2) the major impact factors might be the changes in temperature and soil moisture: WFs suppressed soil moisture and enhanced water stress in the study area. This research provides significant observational evidence that WFs can inhibit the growth and productivity of the underlying vegetation.
Bijian Tang, Donghai Wu, Xiang Zhao, Tao Zhou, Wenqian Zhao, and Hong Wei
State Key Laboratory of Remote Sensing Science, Beijing Engineering Research Center for Global Land Remote Sensing, College of Remote Sensing Science and Engineering, Faculty of Geographical Science, Beijing Normal University; Joint Center for Global Change Studies (JCGCS), Beijing; State Key Laboratory of Earth Surface Processes and Resource Ecology, Beijing Normal University;
Key Laboratory of Environmental Change and Natural Disaster, Ministry of Education, Beijing Normal University; and Shaanxi Jinkong Compass Information Service Co., Xi'an, China
Remote Sensing 2017, 9(4), 332; doi: 10.3390/rs9040332
Download original document: "Observed impacts of wind farms on local vegetation growth in northern China"
Download supplemental figures
---
Date added:
March 24, 2017
Environment
,
Maine
,
Wildlife
•
Author: Maine Audubon and National Audubon Society
[To: Diana Heyder, NEPA Division, U.S. Department of Energy]
… First of all, we would like to request a more formal and detailed Environmental Impact Statement (EIS), as was proposed when a similar project was first evaluated in 2012 (Docket No. BOEM-2012-0049; FR Doc. 2012-19592 Filed 8-9-12; 8:45 am; BILLING CODE 4310-VH-P). That project was sited almost 20 miles away from Monhegan Island, which is a vital stopover for migrant landbirds. Based on current knowledge of the environmental issues surrounding this site, concerns about the current proposal (see bottom of page two for a list of specific issues), and the project's proximity to Monhegan Island, we believe the only possible outcome of an EA will be a finding of significant impact on the human environment. The expanded opportunity for public comment on an EIS as well as the more detailed discussions of the affected environment, of the alternatives, and of the environmental impacts and mitigation for such impacts is critical for a project of this scope and nature. Please consider an EIS for this project in place of the EA.
Generating energy from offshore wind is potentially a promising opportunity for Maine and elsewhere in the US, and National and Maine Audubon support developing renewable energy sources as long as they are sited in a way that minimize risks and impacts to wildlife and wildlife habitat. However, we know very little about how wildlife species use Maine's coastal and offshore waters; for example, we do not know the location of foraging sites for most seabird species, including endangered Roseate Terns, bird and bat migration routes, behavioral responses to turbine activities, and the indirect and direct risks posed by offshore wind power development. Even if passing migrants avoid collisions with turbines, as has been observed at some wind sites in Europe, indirect impacts through avoidance behaviors and habitat alterations may cause cumulative damage to sensitive species. It is essential we have a greater understanding of how wildlife uses the area around the test site before permits for any turbines are issued.
Our greatest concerns about possible impacts to wildlife from the turbines include:
Harm to federally protected Roseate Terns and other sensitive seabirds nesting and foraging nearby (collision risk, changes to foraging areas/prey base, increasing energy budgets, etc.)
Harm to Federal and state-listed protected species that breed and pass through the Gulf of Maine, including Piping Plovers, northern right whales, Peregrine Falcons, and Bicknell's Thrush
Harm to concentrations of migrants using Monhegan Island as a critical stopover site, especially in bad weather and poor visibility conditions
Lack of knowledge of bird and bat migration routes through the area
Types of surveying methodology that will be used to document migrants at the test site, particularly mortality and avoidance behavior
Lack of knowledge about if and how migrants may avoid offshore wind farms in the Gulf of Maine and how that affects their overall energetics
Effects on ability of species to properly orient during migration from lighting used during construction, maintenance, and operations
We strongly recommend the following be addressed in the proposed site's EIS or EA:
Research on location of foraging areas used by Roseate Terns and other seabird species nesting nearby
A thorough monitoring of migrants at the proposed site must be conducted, including:

Tracking migratory pathways of birds, bats, and marine mammals during different seasons and weather conditions

Ground-truthing of radar estimates for birds and bats during peak migration hours (overnight and very early morning) and in a variety of weather conditions

Minimum of two years of wildlife surveys

Both boat and aerial surveys

Surveys must extend at least 1 km in all directions around the test site
Impacts from lighting on migratory species and cumulative impacts to migratory wildlife from avoiding multiple off-shore wind turbines
We also have the following specific concerns about this project, giving us further reason to request a full Environmental Impact Statement before determining whether to issue a permit:
The initial assessments regarding potential effect on wildlife (e.g. radar studies of bird and bat use) done for the original proposed deployment at Monhegan are not applicable to the currently proposed work. The initial project was for a single, small (< 100 ft, including rotor swept area above the spar) turbine to be deployed for 4-6 months at a time. The current project proposes two much larger turbines (each with a 495' rotor diameter) to be deployed continuously for up to five years. The current proposal also involves multiple sites for construction of the anchoring/platform system and installation of the 'submarine' cable to the mainland.
Observations from the Maine Department of Fisheries and Wildlife biologists and the local birding community indicate that the area around Monhegan Island is one of Maine's most important high use areas for the state endangered Peregrine Falcon and other raptors during migration. Raptors and falcons in particular are likely extremely susceptible to collision to lighted structures during inclement weather situations (NRC 2007).
Monhegan Island itself is also one of Maine's most critical stopover sites for landbird migrants using coastal waters as a flight route north in the spring, including endangered/threatened species, species of special concern, and boreal species that have been particularly hard hit. Over 250 species have been reported on the island in the last five years, and Monhegan Island has been nominated as an Important Bird Area for Maine. The potential impact to a broad range of migrant songbirds, many of which are already in decline, is a big concern of Audubon organizations both within the state and across the region.
Both the indirect as well as direct effects on habitat and wildlife for all stages of the project, including construction, deployment, operation (maintenance, data collection), and decommissioning are of grave concerns to both National and Maine Audubon. The investment of the cable to the mainland would mark a major commitment and incentive to expand the project in the future. The effects on wildlife and commercial fishing would be greatly increased with an enlarged project.
Construction of the floating platforms at the Hampden site brings increased risk to disturbing an area well known for mercury contamination. This brings increased risk of releasing mercury into the food chain, including threats to Atlantic salmon, alewives, and the marine food web.
Increased boat traffic, barges, etc. may cause habitat displacement for birds and other wildlife throughout the entire project (minimum of 5+ years).
The underwater footprint will have an effect on the ocean floor both in installation and ongoing risk to diving birds such as gannets that may be attracted to schools of fish that use the installation as an underground reef. Migrating whales face similar risk.
Radar work associated with the original proposal for smaller blades showed that significant numbers of birds and bats would be at risk. The new project, with a sweep area of blades nearly five times larger would pose significantly larger risk. The effect of two large blades only 2.5 miles from Monhegan Island we believe poses a significant threat to one of the most important migratory stopover locations on the Atlantic coast for landbirds. Likewise, the sweep elevation clearly makes the blades a threat to seabirds such as gannets and terns. Half of Maine's federally endangered Roseate Terns nest on Eastern Egg Rock, less than eleven miles away- a distance well within the known foraging range of the species.
Finally, the proposal does not include any ongoing monitoring of pollution caused during the construction or follow-up monitoring of incidental kill or even use of the actual project site(s).
Following is some additional background information about the importance of the project area to a suite of wildlife species.
Gulf of Maine Background:
The Gulf of Maine is an internationally significant and essential coastal resource for a variety of wildlife species including federally listed species (Roseate Tern & Piping Plover, northern right whale, humpback whale, finback whale), state listed species (Least Tern, Arctic Tern, Harlequin Duck, Razorbill, Atlantic Puffin, Barrow's Goldeneye, Great Cormorant, Peregrine Falcon) and species of concern or in decline (e.g. Common Tern, Common Murre, Leach's Storm-petrel, Red-necked Phalarope, Semipalmated Sandpiper, Bonaparte's Gull, Laughing Gull). It also is an essential link in the Atlantic migratory pathway, and millions of shorebirds, songbirds, waterfowl, raptors, and other birds pass along the Maine coast and through Gulf of Maine waters during spring and fall migrations.
Unlike many of the areas in Europe with existing offshore wind energy sites, the Gulf of Maine is dotted with thousands of islands along the coast. A total of 377 of Maine's 4,500 islands (8% of all islands in Maine) are considered important habitat for seabird nesting. Forty-seven of these islands have been recognized as Important Bird Areas, part of a global effort to identify the most critical habitats for long-term bird conservation within each state and across the globe. Our coastal waters are the only nesting location in the United States for some of these species. Ten of Maine's coastal islands provide habitat for 94% of all Common and Arctic Terns and 100% of all Roseate Terns nesting in Maine. These islands are intensively managed to provide a system of multiple and alternative nesting sites when adverse conditions are present (e.g. disease, predators etc.) that may drive the birds to breed elsewhere.
Species of Concern:
In addition, Maine coastal islands host 90% of all Common Eiders nesting in the continental United States. Further, hundreds of thousands of migrating shorebirds, songbirds and raptors depend on Maine coastal areas during spring and fall migration, a period that comprises more than half of their life cycle. Many of these species are also federally or state listed as endangered, threatened, or of special concern. Bald Eagles are now prevalent along our coast as well. This species has recovered from endangered status and the coastal population is flourishing, having grown from a core population located in coastal Downeast Maine. Maine's Bald eagles are still under the protection of the Bald and Golden Eagle Protection Act. In addition to eagles, many other raptors, such as the Merlin and Peregrine Falcon, breed as well as migrate along and through the Gulf of Maine.
Current research in avian migration is demonstrating that the Gulf of Maine is a critical pathway in passerine migration, with much higher numbers of migrants passing through in spring and fall than biologists had previously known. Many of these birds, such as Bicknell's Thrush, are of concern and face challenges at both wintering and breeding grounds. Migrating songbirds frequently fly at an altitude of over 1,000 feet in clear weather, easily clearing any rotors from a wind facility. However, in foggy and inclement weather passerines fly lower and potentially within the rotor's zone. Gulf of Maine weather in spring and fall is frequently foggy with poor visibility, and these conditions are the most difficult to survey for wildlife, making monitoring at sites more challenging. Using radar to detect large scale movements of migrants can be very helpful, though NEXRAD radar systems operate at a relatively insensitive scale during inclement weather, and may be missing bands of migrating birds. Radar survey methods must be verified in all weather conditions and at various times of day- notably at night and in the early morning in order to catch migrating birds passing through. We recognize this provides challenges, but it is critical that we gauge the reliability of radar system detections.
The largest colony of federally endangered Roseate Terns in Maine is on Eastern Egg Rock, a seven acre island owned by the Maine Department of Inland Fisheries and Wildlife, less than 20 miles away from the proposed site. Despite decades of research and extensive monitoring, we still do not know foraging sites of these rare birds in Maine. Nesting sites elsewhere have observed Roseate Terns seeking food 20-30+ km from nest sites during the breeding season, and local prey availability can drive terns to forage farther away from nest sites (J. Burger et al., 2011). It is imperative that we have a better understanding of foraging locations of Roseate Terns on Eastern Egg Rock and elsewhere on Maine's islands before infrastructure potentially damages foraging areas, routes to feeding grounds, or migratory pathways.
Beyond birds:
Birds aren't the only migrants flying through the Gulf of Maine. Several bat species cross over the Gulf and some breed on Maine islands. Bat populations have declined dramatically in the region since 2009 due to the spread of white-nose syndrome (WNS), with the loss of at least 5.7 million bats in that time. Although this loss has hit residential cave hibernating bats the hardest, the potential mortality to migratory tree bats at wind farms has been well- documented, particularly in the Appalachian Mountains and the mid-Atlantic states, and concern for this additional mortality is elevated due to the confounding mortality from WNS. Bats seem to be attracted to turbines spinning at lower speeds, and recent terrestrial wind developments in Maine have required cut-in speeds be raised to 5.0 m/sec at dusk and dawn, from April to September, to reduce potential mortality. The US Fish and Wildlife Service is currently considering listing several species of bats that breed and pass through Maine because of these dramatic declines, making them of particular concern.
Closing Comments
The most conspicuous potential risk to wildlife from wind facilities is collision with the rotors and associated structures. However, offshore wind facilities may have harmful effects on wildlife because of avoidance behaviors, barrier effects, and habitat alteration, all of which can be difficult to quantify and assess in the marine environment (Dreweitt and Langston, 2006) but are important considerations for the long-term survival of sea and water birds using the Gulf of Maine. Because these varying effects are difficult to measure, it is absolutely critical that the proposed test site is demonstrated not to be in a major migratory pathway or foraging area, and pre-construction surveys must cover not only the test site, but a wide area (1 km) around the site in order to detect potential displacement (Fox et al, 2006).
Given the extent and complexity of wildlife use in the area and the increase in size and scope of the project from the earlier proposed project at the same site, once again we strongly urge you to require a full EIS rather than the shorter EA to evaluate risks and alternatives.
If construction proceeds, we recommend that Aqua Ventus is cautious with lighting at the site through construction, maintenance, and operating phases. In order to minimize risks to migrating birds, we recommend that lighting is minimal, flashing, and red.
We appreciate the opportunity to provide comments and welcome any questions you may have about our recommendations.
Sincerely,
Andrew Beahm
Interim Executive Director
Maine Audubon
Stephen Kress, Ph.D.
Executive Director, Seabird Restoration Program
National Audubon Society
[March 22, 2017]
Literature Cited
Burger, J., C. Gordon, J Lawrence, J. Newman, G. Forcey, L. Vlietstra. Risk evaluation for federally listed (roseate tern, piping plover) or candidate (red knot) bird species in offshore waters: A first step for managing the potential impacts of wind facility development on the Atlantic Outer Continental Shelf. Renewable Energy 36 (2011) 338-351.
Drewitt A.L. and R.H.W. Langston. Assessing the impacts of wind farms on birds. Ibis 148 (2006) 29-42.
Fox, A.D., M. Desholm, J. Kahlert, T.K. Christensen, I.K. Petersen, Information needs to support environmental impact assessment of the effects of European marine offshore wind farms on birds. Ibis 148 (2006) 129-144.
National Research Council – National Academy of Sciences. Environmental Impacts of Wind Energy Projects. (2007).
Download original document: "Audubon letter re wind turbines (Aqua Ventus I) near Monhegan Island, Maine"
---