Resource Documents: Environment (239 items)
Unless indicated otherwise, documents presented here are not the product of nor are they necessarily endorsed by National Wind Watch. These resource documents are shared here to assist anyone wishing to research the issue of industrial wind power and the impacts of its development. The information should be evaluated by each reader to come to their own conclusions about the many areas of debate. • The copyrights reside with the sources indicated. As part of its noncommercial effort to present the environmental, social, scientific, and economic issues of large-scale wind power development to a global audience seeking such information, National Wind Watch endeavors to observe "fair use" as provided for in section 107 of U.S. Copyright Law and similar "fair dealing" provisions of the copyright laws of other nations.
---
Date added:
February 20, 2021
Economics
,
Environment
,
Technology
,
U.S.
•
Author: Mills, Mark
Good morning. Thank you for the opportunity to testify before this Committee. I'm a Senior Fellow at the Manhattan Institute where I focus on the policy implications of technologies, especially at the intersections with energy, and where I have advocated for years that America's energy policies should emerge from both the realities of the underlying physics of technologies, as well the unavoidable realities of geopolitics.
I am also a Faculty Fellow at the McCormick School of Engineering at Northwestern University where my focus is on the technology and the future of manufacturing. And, for the record, I'm a strategic partner in a venture fund dedicated to startup companies in digital oilfield technologies.
Permit me to start by noting an obvious fact, but one that deserves restating in the context of this hearing. Every product and service that exists requires extracting minerals from the earth. And all those minerals must be refined, transported and converted into materials, then fabricated into products and ultimately disposed of or recycled. All of that activity entails the use of land and energy somewhere. Thus all environmental, economic, social and geopolitical consequences derive from the quantities of materials needed and where it all comes from.
As this committee well knows, the issue of America's strategic dependencies on a small set of "critical minerals" is not a new subject. However, the issue on the table now is the potential for "clean energy" policies to inadvertently create entirely new mineral dependencies.
And, as the Committee also knows, there are advocates who claim that the wind and sun could provide 100% of America's energy needs, compared to today's 3% share. While the credibility of this claim is not our focus today, it bears noting that achieving that goal is simply not possible, any more than it's possible to use airplanes to fly to the moon. And the often-used analogy, that an ostensible energy tech revolution will echo the characteristics and velocity of the information revolution is, to put it diplomatically, fallacious.
Set aside for now whether such a huge jump in the share of wind and solar is desirable or even feasible. The fact is, a more vigorous pursuit of clean energy by the U.S., especially in concert with other nations, would lead to an unprecedented expansion in global mining and chemical processing, and collaterally a radical increase in the quantities and sources of import dependencies and geopolitical risks for the United States – and it would produce astonishing quantities of waste. And this says nothing about the demonstrably destructive economic impacts.
To understand why, we must first dissect two deeply misleading tropes used in our national debate about America's energy future: the idea that wind and solar are "free" and that the machines access those energy sources are "renewable."
There is no such thing as free energy, at least not delivered in a way that matters to survival. The seductive idea that the air and sun are free is no more true than is the case for oil and gas. Mankind had nothing to do with creating either. In order to deliver useful energy to society, all sources require access to and use of land, and all require construction of physical hardware, all of which has costs.
Thus, there's no such thing as a renewable energy machine. All energy machines must be built from non-renewable minerals and all machines wear out and must be disposed of and replaced. This is, not to wax philosophical, society's central Sisyphean struggle.
More practically, these two points are the nub of the challenge for policies that propose to radically increase America's use of energy from wind and solar machines. The clean energy path leads to astounding increases in materials use and dependencies.
These consequences do not derive from design flaws in the green machines, in effect from a failure in human engineering or imagination. The consequences, regardless of policies or aspirations, arise from the inherent nature of the physics of energy in our universe. Per unit of useful energy delivered to society, whether measured in miles of travel, tons of products, or gigabytes of data, the wind and solar path increases both land and material uses by something like 500 to 1,000 percent.
Of course we find elements like iron, chromium, silver and neodymium used to build frack pumps in the shale fields as well as in wind turbines. But the physics difference between the quantities needed is literally visible: A wind or solar farm stretching to the horizon can be replaced by a handful of gas-fired turbines, each no bigger than a tractor-trailer.
For example, to replace the lifetime energy output from a single shale rig producing gas requires building a 6-fold greater quantity of similar-sized wind turbines. Of course, the shale rig 'disappears' from that shale field, and is re-used to produce more energy, while the field of wind turbines stays in sight for decades, until they wear out. And consider, because wind and solar are nearly useless without storage, it takes 60 pounds of battery to store the energy equivalent of just one pound of oil. Such realities are what leads to the 'invisible' amplification in the quantities of materials mined upstream, somewhere.
That amplification is made particularly clear if we examine a few specific examples in terms of total fuel-cycle mineral requirements. The battery for a single electric-car weighs about 1,000 pounds. About 50 pounds of oil can provide the same vehicle range. Fabricating that single battery involves digging up, moving and processing more than 500,000 pounds of raw materials somewhere on the planet. Meanwhile, measured over the lifespan of the battery (seven years), using oil involves one-tenth as much in cumulative material weight extracted from the earth to deliver the same vehicle-miles.
Or consider one more example. Building one wind turbine requires 1,500 tons of iron ore, 2,500 tons of concrete and 45 tons of non-recyclable plastic. For an equal amount of energy production, solar power requires even more cement, steel and glass—not to mention other metals. Increasing the wind and solar share to, say, just a one-third share of America's energy arithmetically requires a 1,000% increase in the materials already consumed to produce such machines.
The resource realities of clean energy have not escaped the attention of international organizations including the World Bank and the International Energy Agency (IEA). But it is remarkable how little attention has been afforded to the implications for U.S. energy policymaking.
It's worth highlighting just some of the conclusions. According to IEA analyses, in order to meet current solar forecasts, for example, global silver and indium mining will jump 250% and 1,200% respectively over the next couple of decades. Similarly, world demand for rare-earth elements—which, I note, aren't rare but are rarely mined in America—would rise 300% to 1,000% by 2050 just to achieve the Paris Accord goals.
Or, as numerous similar analyses have shown, replacing conventional cars with EVs would drive up global demand for cobalt and lithium by more than 2,000%. We'd also see a 200% jump in copper mining, along with at least a 500% rise in graphite demand. EVs, typically, use more aluminum too in order to offset the enormous weight penalty from the battery. And none of this counts the materials demand if batteries are scaled to back up wind and solar grids.
Last year a Dutch government-sponsored study concluded that the green ambitions of the Netherlands alone would consume a major share of global minerals. Considering that the U.S., never mind the world, consumes 30-fold more energy than the Netherlands, it's unsurprising that the study also concluded: "Exponential growth in [global] renewable energy production capacity is not possible with present-day technologies and annual metal production."
Nonetheless, many nations including the U.S. government, and numerous states, are incentivizing, if not requiring, greater use of these co-called clean energy technologies. The implications of all this are obvious in terms of environmental, social justice and geopolitical fallout.
It's not just the need to responsibly address the environmental challenges of mining in and of itself, as you Chairman Murkowski are painfully aware vis-à-vis Alaska's Pebble Mine fiasco. One must also consider the astounding quantity of green machines that will wear out and all that old equipment that must be decommissioned, all generating millions of tons of waste. The IEA has calculated that solar goals for 2050 consistent with the Paris Accords – which it bears remembering are a mere shadow of green ambitions now being proposed – will require disposing of solar panels that will constitute more than double the tonnage of all today's global plastic waste.
There are collateral issues. The Sydney-based Institute for a Sustainable Future, for one, cautions that in a global "gold" rush for clean-energy minerals, mining will be pushed into "some remote wilderness areas [that] have maintained high biodiversity because they haven't yet been disturbed."
Then there's the staggering increase in materials production that will lead, necessarily, to a comparably radical rise in the physical transport of energy materials on global sea-lanes, both increasing and changing the locus of geopolitical supply-chain risks. We note that those who propose to allocate a share of the U.S. Navy's budget to the cost of protecting oil supply-chains should consider a similar calculation for green supply chains.
With respect to America's security and import dependence, it bears noting the U.S. is a minor or non-existent player in most of the materials necessary for clean energy. As this Committee knows, today the U.S. imports over half of more than four-dozen minerals that are commonly used, and 20 of the minerals must be entirely imported.
It is extremely unlikely that any increased mineral production will come from mines in Europe or the U.S. Instead, much of the necessary additional mining will take place in nations with significant geopolitical consequence, and where in many cases labor practices are oppressive and generally not transparent. The Democratic Republic of the Congo produces 70% of the world's raw cobalt, and China controls 90% of cobalt refining.
The desire expressed by many citizens and corporations to ensure ethical supply chains is a particularly thorny one in general, and especially so when it comes to green energy tech. For example, the World Economic Forum's Global Battery Alliance (and numerous pieces of investigative journalism) has observed that the "raw materials needed for batteries are extracted at a high human and environmental toll." The London Metal Exchange proposed last year to ban the sale of "tainted" cobalt. But a broad consortium of NGOs opposed that move, worried that it would simply lead to less transparency and would just increase the amount of trade conducted in "underground" transactions.
The mineral supply chain can sometimes be rendered invisible by other means. Instead of importing minerals, America imports the finished products such as solar panels and batteries. China already has nearly 60 lithium battery manufacturers accounting for over half of the world's production, and is on track to two-thirds dominance by 2030. As a relevant aside, all that production occurs on an electric grid that's nearly two-thirds coal-powered. And, relevant to that fact: it takes the energy-equivalent of 100 barrels of oil to fabricate a battery that can store the energy-equivalent of one barrel.
Setting aside the ethical quagmire of sourcing more of America's, and the world's energy materials from places like China, Bolivia, Russia, and the Congo, one might reasonably observe, as the world bank has, that greater mineral demand would be a huge "opportunity" for citizens in such nations as Chile, Canada, Australia, Brazil, Argentina, and Peru.
But that also presents for the United States at least, another ethical question: Replacing oil, gas and coal with wind, solar and batteries takes jobs and economic output away from our citizens and adds jobs and economic benefits to other nations. Some may see this as a good outcome, but we should be honest about the realities.
More than $300 billion per year of economic output comes from America's oil and gas production. And now our nation is not merely essentially self-sufficient in energy production, but on track to becoming a net overall energy exporter. By contrast, the clean energy materials path both increases the cost of energy and radically increase the share of those costs that comes from imports. And it would of course, reverse the recent historic gains of energy independence.
Some have proposed that the massive gap in materials disparities between hydrocarbons and green energy could be closed by spending more money on improving clean technologies. Of course useful improvements are possible for creating more efficient green machines that thus use fewer materials per unit of energy produced. But we know that those gains are limited by the fact that wind, solar and battery technologies are approaching the physics limits of performance. This means that throwing more money and subsidies at these technologies won't lead to radical improvements in material-use efficiency. Ironically, for hydrocarbon technologies, the distance to physics limits is further away, which means greater efficiency gains are still possible for oil and gas than for green tech.
However, to the extent that 'the train has left the station' and our nation is embarked on a path to expand clean energy, permit me to suggest four actions Congress should consider.
First, Congress should direct an examination and accounting of the full fuel-cycle upstream materials impacts of greater use of clean energy. This will improve the transparency associated with environmental, social, economic and geopolitical impacts.
Second, Congress should direct an examination of the state of recycling clean energy minerals. Notably, only three minerals in general have achieved a 50% level of recycling, according the International Union of Geological Sciences. And rather than institute economically or operationally punitive requirements for greater recycling, efforts should be directed towards research that could yield more economically efficient recycling technologies.
Third, Congress should examine the state of basic research funding associated with the development of both more efficient and new ways to use existing minerals and even the creation of new classes of products that can replace critical minerals. This research should center on the materials genome program that targets the use of supercomputers to invent new classes of alloys that can enhance mineral flexibility and minimize the use of rare elements.
Fourth, and finally, Congress should enact policies that will encourage, not impede, the investment in and development of U.S. mines.
Geological data show that the United States has a vast untapped abundance of mineral wealth. Until engineers invent an element that one might call "unobtanium" – a magical energy-producing element that appears out of nowhere, requires no land, weighs nothing, and emits nothing – we will need more mining. We should do it here if we want to enjoy the benefits and if we want to ensure the most environmentally sound approaches.
Mark P. Mills
September 16, 2019
Mark P. Mills is a senior fellow at the Manhattan Institute, a faculty fellow at Northwestern University's McCormick School of Engineering, and author of the recent report, "The 'New Energy Economy': An Exercise in Magical Thinking." Follow him on Twitter here.
---
Date added:
May 19, 2020
Environment
,
Health
,
Vermont
•
Author: Smith, Annette
Michael Moore's documentary "Planet of the Humans" by Jeff Gibbs and Ozzie Zehner has stirred up a frenzy of criticism from climate change activists, a Rolling Stone rebuttal by 350.org founder Bill McKibben, and demands by filmmaker Josh Fox to take the movie down.
I am motivated to write from the trenches of Vermont, where some of the film's footage is centered, in response to the strident accusations that "Planet of the Humans" is causing tremendous damage to the climate change movement by casting renewables – wind, solar and biomass – in negative terms full of inaccuracies.
"Planet of the Humans" was too kind to renewable energy. It is an ugly business. Greed and political power combine with renewable energy to destroy the environment and the lives of the people who live nearby.
After the video's release, I received a critique originating from Vermont by someone I do not know stating, "My guess is that the group he is walking with in this section is Annette Smith's Vermonters for a Clean Environment, which has done more harm to Vermont's transition off of fossil fuels to renewable energy than everyone else combined." Yes, that's me, the thorn in the side of renewable developers. No, I was not in the film.
In 1999, I founded an organization to fight a natural gas power plant and pipeline project supported by then-Governor Howard Dean. Living off-grid with solar, batteries and a generator, I believed solar was our energy future. With facts, information and grassroots organizing, we ran the gas guys out of the state.
In 2009, an industrial wind project was proposed in my county. Numerous people on both sides reached out asking us to get involved.
To my surprise, wind energy development, especially on top of mountains, raised numerous issues. I had seen the eleven 196' tall 600 kW wind turbines built in 1996 in southern Vermont and thought they were beautiful. I went with a friend whose farm hosted SolarFest to see a New York project with fifty 420' tall 2.5 mW wind turbines. We talked to a farmer who hosted some of the turbines. We talked to neighbors who wished they hadn't signed the lease because the noise was horrible after being told there would be no noise. On the ride home we agreed that what we saw was "very disturbing."
The next ten years blur together as Vermonters elected a governor committed to building as much renewable energy everywhere possible.
Governor Peter Shumlin, Sen. Bernie Sanders, and Bill McKibben shut down conversations about impacts to communities and the natural environment because "we do not have time for that conversation." At a Bernie Sanders press conference, we were compared to creationists. Gov. Shumlin called us "cave people."
Now, thanks to "Planet of the Humans", we are finally having that conversation.
The former state naturalist, a climate change scientist, a wildlife habitat specialist, and a former commissioner of fish and wildlife came together to educate the public about our mountains' values for climate change adaptation, with a series of roundtable discussions called Peak Keepers about the importance of mountains for wildlife, water, and forests.
When the Lowell Mountains were being sacrificed for the wind project developed by Green Mountain Power – subsidiary of Energir, 30% owned by fossil fuel pipeline developer Enbridge – Vermonters hiked up the other side of the mountain to see for themselves what "green energy" looks like.
Don and Shirley Nelson's farm bordered the wind project for a mile and a half. For 50 years, the Nelsons never kept anyone off their ~600 acres. They permitted people to hike up. GMP was not happy. With no notice to the Nelsons, GMP got a Temporary Restraining Order and sued them, prohibiting everyone from going within 1000 feet of the wind project site. Police with dogs patrolled and arrested people, including a reporter. At least 20 people were arrested on different occasions, some intentionally.
A Vermonter invited Bill McKibben to come see for himself. He declined.
After the wind project was built, the Nelsons got sick from the wind project's acoustic emissions and had no choice but to sell to GMP. It came with a gag order so Don and Shirley cannot talk about their experience. They were collateral damage. Many other neighbors of industrial wind projects have shared the same fate.
As more wind projects were proposed in Vermont, I watched people lose their innocence as they, like me, thought wind and solar energy were going to save the planet. The more we learned, the more opposed we became.
The film neglects the societal damage caused by wind energy. Wind developers' playbook requires dividing communities. It is guaranteed that opposition will arise, so they try to create a proponent group to combat the opponents. Even areas where wind projects have failed are left with animosities that will take generations to heal. We have seen companies offer to write letters for proponents to send to the local papers and try to buy votes.
We have grieved the loss of people who have died deaths of despair after the mountains they loved were destroyed or their homes became uninhabitable after the wind projects become operational.
In 2016, I felt the wrath of the wind and solar industry when someone filed a complaint with Vermont's Attorney General alleging I was practicing law without a license by assisting people in participating in the regulatory process for energy projects at the Public Utility Commission. It was a criminal investigation. Newspaper editorials and Green Mountain Power came to my defense. I hired a criminal defense attorney who wrote a letter to the AG pointing out that "the AG's office is not the surrogate of the politically frustrated." The AG dropped it, and an attorney who previously sent a letter telling me he represented a wind and solar developer admitted he filed the complaint, but claimed he did it on his own.
Industrial solar is no better. A wealthy developer seeking to cut more than 100 acres of forest filed lawsuits against a town, neighbors, state agencies, and even the governor while proclaiming he is saving the planet and anyone who stands in his way is "signing the death warrant of many Americans."
This year, biomass plant owner Engie came to the Vermont legislature seeking subsidies to enable continuing burning forests for a small amount of electricity that drives up rates for Vermonters. The state's leading environmental group Vermont Natural Resources Council, with Bill McKibben on their Advisory Committee, supported it. Bill McKibben did not weigh in. Apparently he prefers to maximize his own carbon footprint by traveling the planet lecturing people about how they have to reduce their carbon footprint.
Try to talk to Bill McKibben about solar and wind energy. He treats it as a personal attack as though his feeling are hurt. He can endlessly rattle off statistics about climate change. But, when asked the question about who funds 350.org, he acted stupid, or as though it wasn't relevant.
I looked up 350.org's 990s and learned that in 2017 the organization had $19 million in funding. Over a five year period, the organization's funding was $66 million. It is reasonable to expect Bill McKibben to know its source.
Please do not feel sorry for Bill McKibben. He and his enablers doth protest too much.
Yes, "Planet of the Humans" was too kind to the renewablists. It is all about the money. "Climate emergency" activists and their funders are doing a lot of damage to the planet by focusing only on CO₂, proclaiming wind and solar will save the planet, distracting us from the overarching issues of pollution, population and over-consumption that are killing our planet.
—Annette Smith, May 19, 2020, vermontersforacleanenvironment.wordpress.com
---
Date added:
March 25, 2020
Environment
,
Wildlife
•
Author: Rehbein, Jose; et al.
Abstract—
Transitioning from fossil fuels to renewable energy is fundamental for halting anthropogenic climate change. However, renewable energy facilities can be land‐use intensive and impact conservation areas, and little attention has been given to whether the aggregated effect of energy transitions poses a substantial threat to global biodiversity. Here, we assess the extent of current and likely future renewable energy infrastructure associated with onshore wind, hydropower and solar photovoltaic generation, within three important conservation areas: protected areas (PAs), Key Biodiversity Areas (KBAs) and Earth's remaining wilderness. We identified 2,206 fully operational renewable energy facilities within the boundaries of these conservation areas, with another 922 facilities under development. Combined, these facilities span and are degrading 886 PAs, 749 KBAs and 40 distinct wilderness areas. Two trends are particularly concerning. First, while the majority of historical overlap occurs in Western Europe, the renewable electricity facilities under development increasingly overlap with conservation areas in Southeast Asia, a globally important region for biodiversity. Second, this next wave of renewable energy infrastructure represents a ~30% increase in the number of PAs and KBAs impacted and could increase the number of compromised wilderness areas by ~60%. If the world continues to rapidly transition towards renewable energy these areas will face increasing pressure to allow infrastructure expansion. Coordinated planning of renewable energy expansion and biodiversity conservation is essential to avoid conflicts that compromise their respective objectives.
Jose A. Rehbein, James E.M. Watson, Joe L. Lane, Laura J. Sonter, Oscar Venter, Scott C. Atkinson, James R. Allan
School of Earth and Environmental Sciences, Centre for Biodiversity and Conservation Science, School of Chemical Engineering Dow Centre for Sustainable Engineering Innovation, and School of Biological Sciences, University of Queensland, St. Lucia, Australia
Wildlife Conservation Society, Global Conservation Program, Bronx, New York
Andlinger Center for Energy and the Environment, Princeton University, Princeton, New Jersey
Natural Resource and Environmental Studies Institute, University of Northern British Columbia, Prince George, Canada
United Nations Development Programme, New York
Institute for Biodiversity and Ecosystem Dynamics, University of Amsterdam, The Netherlands
Global Change Biology. Published online ahead of print March 4, 2020. doi: 10.1111/gcb.15067
Download original document: "Renewable energy development threatens many globally important biodiversity areas"
---
Date added:
March 10, 2020
Environment
,
Wildlife
•
Author: Ward, Lyndsey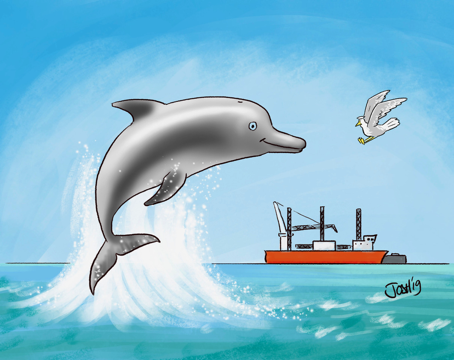 Dixie was a happy creature. She played and swam with her friends in the shimmering silvery blue sea. She loved jumping into the air, flicking her tail in pure joy and diving back down to the watery depths.
Life was good, so very good. The seabirds swooped above her and the seals played chase me under the waves. The sea sparkled with life and happiness. Little boats would come out with tourists waving and taking pictures of Dixie and her family.
Dixie would race the boats, disappearing underneath them and then leaping out of the water to shrieks of delight from the people watching her. She felt so strong and powerful. The sea was her home, and nothing could spoil it. Or could it?
One day a big ship came. A huge ship. It wasn't a fishing boat and it didn't have any passengers looking out to point and marvel at Dixie and her antics. It was very strange. It wasn't passing through like most of the ships Dixie had seen. It had a huge arm on it and seemed to be carrying giant tubes. Dixie was puzzled. It was called The Piledriver.
Suddenly a seagull screeched an alarm above Dixie's family. "Swim, swim as fast as you can. Get as far away from here as you can. I have seen these ships before. The sea is going to explode – you need to get away NOW!"
So they swam in a panic. They weren't sure what was about to happen, but the seagull had never made such a warning before, so they believed him.
Dixie tried to stick as close as she could to her mother as her father led their pod through the sea at what seemed an impossible speed. No jumping and playing now. Everywhere she looked Dixie could see fish swimming away too.
The seagull flew above, encouraging them to swim faster to safety − and then it happened …
BOOM! The ocean shook and Dixie was frightened. Then again … BOOM! And again, and again …
Dixie lost her mother in the chaos. Where was she? She couldn't find her. The sea turned black as the violent waves thundered through the water. She kept swimming. She didn't know where she was or where she was going. She felt so alone in the darkness and very scared. She called out for her father to help her. There was no answer.
The booming noises continued. They were in the distance now, but the shock waves still rattled through the water all around her. She was so frightened. And then suddenly it went quiet and the seas calmed again. She looked around, bewildered and exhausted. She could see the seagull who had warned them floating on the surface. He beckoned her with his wing to follow him.
"Don't swim that way because it gets too shallow. You will get into trouble and may end up stranded on the beach. I am from the Sea Safe campaign. Call me Gully, all my friends do. We look out for sea folk in distress and alert them if we see danger. We've been very busy lately. You are lost. I'll help you find your family."
"Are they safe?" Dixie asked, still trying to catch her breath.
"I think so. We've had scouts out looking along the shoreline to see if any sea folk are stuck on the beach, but they haven't reported back with news of any this time," Gully replied.
"What happened? What were those loud bangs? I have never heard such a thing before. It sort of hurt and I couldn't hear or think properly. I didn't know where I was," said Dixie.
"Wind turbines. Massive wind turbines that are supposed to generate electricity for those on land when the wind blows. The government pays huge sums of money to rich companies to litter our once quiet oceans with them. The booming was the big arm on the ship bashing their bases into the seabed. What we heard was only for one. There will be many more. It isn't safe to go back. Once the turbines have their whirling blades on there will be vibrations through the water whenever they turn. My mates and I have to avoid the places they put them in case we get hit. We call them the Whirly Wing Choppers."
Dixie's eyes were wide with fright. "Don't the people from the land like us? I thought they wanted to see us jump and play and film us?"
Gully shook his head sadly. "They don't understand what happens out here. They can't see what's going on. They don't want the turbines near them because of the harm they can do so some say put them out at sea where they can't hurt anyone.
"The people are told it is important to save our planet but all I see is distress and destruction wherever they are. The government says it knows best, but it listens to the businessmen who just want to make the money. It seems to me they should be the last people to listen to. What I see when I am flying above the oceans is that they are destroying more than they could ever save. Come with me, let us find your family."
Gully flew in front and Dixie followed him. All around were sea creatures looking lost and confused. Some joined in behind Gully hoping he would know where to go. After a while Dixie could hear calling. It was her father trying to find her and she swam faster and faster until she found him and her relieved mother sheltering in a deep cove a long way from their home.
Gully quickly explained to them what was happening and about the wind turbines and how they could never go back to where they used to live.
"Oh no!" came a chorus of tiny voices. The Pearlstones, a family of oysters with twelve children, looked distressed. "We have just moved here from a place that had turbines. We couldn't stay there. The terrible vibrations were making us so sick that we had to leave. What are we to do now? Where can we go that is safe and we can live in peace?" they wailed in unison.
Alarmed, the sea folk gathered round Gully and asked what they could do to stop the turbines being put up.
"Nothing. The ship is too big for us. No-one will listen to reason. It's all about making lots of money and we don't matter. A developer called Mr McWeasel is in charge of installing the turbines. He has put thousands up all over the land but now he makes much more money putting them out at sea. I have seen him on The Piledriver before. He doesn't let anybody, or anything, get in the way of him putting these monsters up."
"What about when they are up and the big ship has gone, can we get rid of them then?" spoke up a gruff deep voice from a rock behind them. All eyes turned and looked at a huge crab with massive pincers. "I mean how are these things fixed to their bases? Can we break them?"
"Bolts. They secure them with big bolts. Who are you?" asked Gully
"Captain Strongclaw from the Crab Core Commandos reporting for duty, sir. There are lots of us and lobsters too. It may take a bit of time, but we could do it. We would need to work on all the turbines at once before this McWeasel character realises what's going on and comes out to stop us."
"My mates and I from the Toolbox Team could help," said Sid the Swordfish. "We've got Hammerhead Hugo and Hannah and the electric eels so we can work in the dark." Slappy the Octopus laughed and waved her eight tentacles. "Don't forget me; I've got four pairs of hands," she giggled. Soon there were offers of help from every part of the cove.
"Ok, everyone. We need to make a plan," said Gully "We will lie low until they have finished and then we will show them what happens when they come where they are not wanted. Sea Safers will fly sorties over the site and report back with progress. We will have to do it before the blades turn, otherwise we are not safe to fly near them and the vibrations through the water will badly affect you all and you won't be
able to do it."
Over the following weeks the sea folk worked out exactly what they were going to do. Gully and the Sea Safers came back each night with a report of how much progress McWeasel had made and tales of swooping down and pinching his lunch out of his hands. "He was so angry he jumped up and down. He was redder than Roxy the Red Snapper," Gully said, and they all laughed and were excited that soon they would be home.
And then it was time. Under cover of darkness they left the cove and made their way to the turbines. The Sea Safers flew low and led the way and those that didn't swim were given a lift on the backs of those that did. They were astonished at what they saw. What seemed like hundreds of ghostly monuments reared out of the water – so high they could see the tops of them only because of their blinking red lights. The enormous blades were still and the seas around them were calm and lapping gently at the towers. It was eerily quiet.
Dixie swam around the towers wondering why anyone would want to put such ugly things into their beautiful ocean. She dived to the seabed and saw how empty and deserted it was. It used to be colourful and teeming with life and now it was just barren and that made her very sad. She desperately hoped the sea folk could do what they planned to do and that eventually their home could recover.
"We'll have to make good time," said Gully. "They are coming to switch them on tomorrow."
The sea folk split into groups. A Sea Safer perched on every turbine keeping watch and they signalled to one another on the progress made by the crabs, lobsters, the Toolbox Team, Slappy and all the other sea creatures willing to help work on the turbines.
The electric eels lit up the dark water as they all set to work. One by one the bolts around the turbines were loosened. It was hard work and they were getting tired. Dawn started to break, and the sun was rising. Gully was on the turbine nearest the shore and he could see the big ship coming with McWeasel standing on the bow as it surged through the water.
"Quick – you must work faster. McWeasel is on his way," he squawked.
Mr McWeasel admired his work as he got closer. He rubbed his hands with greedy glee. Today was pay day and the money would start to roll in from the government, which had taken it from the people to pay him for his vibrating monsters. He would get paid when they made electricity and even more when they had to be switched off to protect the grid network when there was too much power on it. He just couldn't lose!
Gully swooped down and flapped his wings around McWeasel's head, trying to distract and delay him. McWeasel shouted and waved his fist in the air and hoped that the thieving seagull would soon have a close encounter with one of his rotating beauties.
The big ship was getting closer and closer. Suddenly every Sea Safer on each turbine signalled that they were ready. The final bolt on every turbine was loose and the towers were beginning to tremble on their unsteady bases. All the sea folk retreated to a safe distance except just one crab commando who undid the last holding bolt on each tower. It was a sight to see as the giant turbines swayed and rocked from side to side, back and forth, back and forth. Then, one by one, as if in slow motion, they crashed into the sea and started floating away.
McWeasel watched in horror. He couldn't believe what he was seeing. His money-making turbines had been cut loose and were disappearing over the horizon.
Dixie and her family jumped and leapt out of the water with joy. The Sea Safers did aerobatics in the air and the seabed creatures danced with delight. When McWeasel saw them, he realised what had happened. The sea folk had fought back to protect their homes from those who didn't care about them, only the money that could be made.
His face went red and he shouted in rage at them all. Every single turbine was drifting away and taking with them any chance of raking in all that public money. McWeasel screamed at the ship's captain: "Quickly follow those turbines – we must get them back before they sink."
The captain opened up the engines and with a roar and big puffs of black smoke from the exhaust the ship took off after the bobbing towers. Engulfed in a sooty haze it raced as fast as it could but … too late … one at a time the turbines disappeared beneath the waves and into the sea forever.
The sea folk were relieved that their nightmare was finally over. Their watery home wouldn't vibrate, the noise wouldn't scare them and there would be no blades to endanger those who flew in the sky including the Sea Safers, who had warned them against the dangerous turbines and the money grabbing McWeasel.
Dixie jumped high in the air and flicked her tail in defiance in the direction of the big ship.
Against all the odds and by working together they had won a huge battle. They had protected their community and their marine home.
Those of us who love the natural environment owe a big thank you to Dixie and all the sea folk who were so bravely determined to rescue it from those who were intent on plundering and destroying its beauty for their own greedy gain.
As for Mr McWeasel he knew he was beaten. He was ruined. He had lost all his turbines and all his money on this failed windy venture. He returned to the harbour and was never heard of again. His wind developing days were finally over and communities on land and in the sea would never fear his name again.

Lyndsey says:
Following the release of Subsidy Sam and Tiny the Turbine the global shift has been to giant off-shore wind turbines speared into our oceans with no real understanding of the potentially horrific impacts on the marine life and sea birds. Not only are there the vibrating monstrosities themselves with their huge and lethal sweeping blades that may well affect the creatures on the seabed, swimming in the oceans and flying in the skies but there are also the many miles of high voltage cables placed on the sea floor to service them.
Out of sight of the general public we can only imagine what is happening out at sea.
In Dixie the Dolphin the sea creatures and their feathered friends find themselves up against the greedy McWeasel, the ruthless wind developer.
Previously he was content to target rural communities onshore but the pesky folk on land had increased their opposition to his windy antics and made getting planning approval a long and expensive business.
He turned his attentions to the subsidy rich off-shore wind industry in the hope that government permission would be easily granted and that no locals would have the resources to fight his intentions.
He didn't expect the marine community to fight back against his plans quite like they did.
Published by SpinFree Publishing Text copyright © 2020 Lyndsey Ward. All Rights Reserved Pictures copyright © 2019 Cartoons by Josh. All Rights Reserved ISBN 978-0-9956367-4-3
For any commercial resale or reuse please contact: Lyndsey Ward spinfree.publishing@gmail.com
---