Resource Documents: Environment (232 items)
Unless indicated otherwise, documents presented here are not the product of nor are they necessarily endorsed by National Wind Watch. These resource documents are shared here to assist anyone wishing to research the issue of industrial wind power and the impacts of its development. The information should be evaluated by each reader to come to their own conclusions about the many areas of debate. • The copyrights reside with the sources indicated. As part of its noncommercial effort to present the environmental, social, scientific, and economic issues of large-scale wind power development to a global audience seeking such information, National Wind Watch endeavors to observe "fair use" as provided for in section 107 of U.S. Copyright Law and similar "fair dealing" provisions of the copyright laws of other nations.
---
Date added:
December 3, 2018
Aesthetics
,
Environment
,
Germany
,
Property values
•
Author: Sunak, Yasin; and Madlener, Reinhard
[ABSTRACT] Today's investment decisions in large-scale onshore wind projects in Germany are no longer determined only by the investment's economic benefit, but also by concerns associated to social acceptance. Despite a mostly positive attitude towards the expansion of wind power, local public concerns often stem from the belief that the proximity to large-scale wind farms may lead to a decrease in property prices. In particular, the change in landscape caused by the construction of a wind farm may have an adverse impact on the view from some properties, and thus may negatively affect their price. To investigate the potential devaluation of properties in Germany due to wind farms, we use a quasi-experimental technique and apply a spatial difference-in-differences approach to various wind farm sites in the federal state of North Rhine–Westphalia. We adopt a quantitative visual impact assessment approach to account for the adverse environmental effects caused by the wind turbines. To properly account for spatial dependence and unobserved variables biases, we apply augmented spatial econometric models. The estimates indicate that the asking price for properties whose view was strongly affected by the construction of wind turbines decreased by about 9–14%. In contrast, properties with a minor or marginal view on the wind turbines experienced no devaluation.
Yasin Sunak and Reinhard Madlener
Institute for Future Energy Consumer Needs and Behavior, E.ON Energy Research Center, and School of Business and Economics, Aachen University, Aachen, Germany
Energy Economics, Volume 55, March 2016, Pages 79-91
doi: 10.1016/j.eneco.2015.12.025
Download original document: "Sunak-Madlener-2014-wind-farms-property-values"
---
Date added:
December 1, 2018
Australia
,
Environment
•
Author: Faint, John; and Morris, Mary
For the four cropping seasons from 2011- 2014, a majority of farmers in the Marrabel Valley have experienced unprecedented and widespread frost damage of grain crops on sloping paddocks high above the valley floor. Historically these areas have not been affected by frost as the steep slope of the valley sides ensures that cold air flows towards the lower lying areas where it is normal for frost to form.
The onset of these seasons of atypical and the abnormal frosts and frost damage coincides with the commencement of operation of an 18 km long wind farm which is located on a central ridgeline in the clearly defined catchment area. Four contiguous years of significant production losses have prompted this call for an investigation into whether the wind farm is affecting the near surface meteorology of the Marrabel Catchment. This Catchment covers 21,392 hectares and contains some of the most highly productive and high value cropping land in South Australia, consequently further investigation is justified.
[Submitted to the South Australian Grains Industry Trust (SAGIT), February 2015, as part of a researchapplication, which was not funded. Atypical frosts have continued to occur with millions of dollars worth of damage every year.]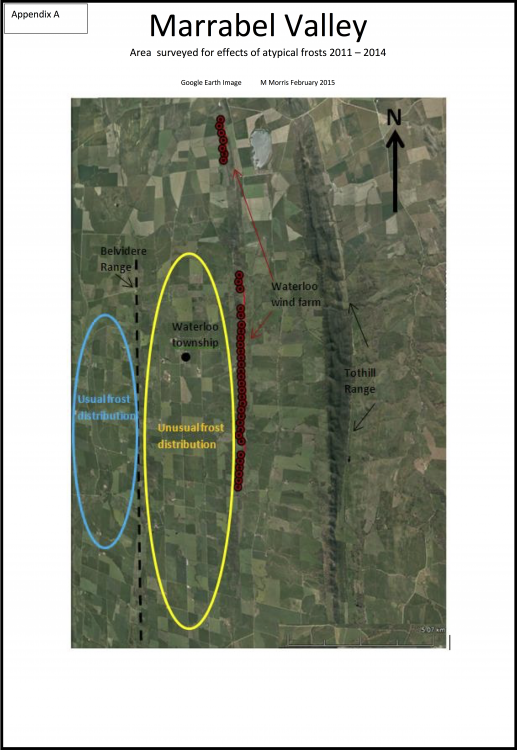 Download original document: "Severe localised grain production losses from atypical frosts in the Marrabel Valley Catchment 2011–2014"
---
Date added:
November 20, 2018
Environment
•
Author: Armstrong, Alona; et al.
Abstract —
The global drive to produce low-carbon energy has resulted in an unprecedented deployment of onshore wind turbines, representing a significant land use change for wind energy generation with uncertain consequences for local climatic conditions and the regulation of ecosystem processes. Here, we present high-resolution data from a wind farm collected during operational and idle periods that shows the wind farm affected several measures of ground-level climate. Specifically, we discovered that operational wind turbines raised air temperature by 0.18°C and absolute humidity (AH) by 0.03 g/m³ during the night, and increased the variability in air, surface and soil temperature throughout the diurnal cycle. Further, the microclimatic influence of turbines on air temperature and AHd ecreased logarithmically with distance from the nearest turbine. These effects on ground-level microclimate, including soil temperature, have uncertain implications for biogeochemical processes and ecosystem carbon cycling, including soil carbon stocks. Consequently, understanding needs to be improved to determine the overall carbon balance of wind energy.
Alona Armstrong, Ralph R. Burton, Susan E. Lee, Stephen Mobbs, Nicholas Ostle, Victoria Smith, Susan Waldron, and Jeanette Whitaker
School of Geographical and Earth Sciences, University of Glasgow
Lancaster Environment Centre and Energy Lancaster, Lancaster University
National Centre for Atmospheric Science, School of Earth and Environment, University of Leeds
Centre for Ecology and Hydrology, Lancaster Environment Centre, Bailrigg
Environmental Research Letters 2016; 11: 044024
doi: 10.1088/1748-9326/11/4/044024
Download original document: "Ground-level climate at a peatland wind farm in Scotland is affected by wind turbine operation"
---
Date added:
November 5, 2018
Environment
,
Wildlife
•
Author: Keehn, Jade; and Feldman, Chris
Context: The global benefits of increased renewable energy production may come at a cost to local biotic communities and even regional ecosystems. Wind energy developments, in particular, are known to cause bird and bat mortalities, and to fragment habitat for terrestrial vertebrates within developed project areas. Effects on species sensitive to wind turbines (and increased prevalence of species tolerant to this disturbance) might alter community-level patterns of occurrence, with potentially detrimental changes to wildlife habitat and ecosystem health.
Aims: The present study assessed whether wind energy developments produced downstream ecological costs. Specifically, community composition and diversity were compared between wind farms and nearby areas without energy development.
Methods: Traditional diversity measures and non-metric multidimensional scaling (NMDS) were used to map ecological dissimilarity across four wind farms and five reference (control) areas in Southern California, USA.
Key results: Wind farms had more noise and road disturbance than sites without turbine installations. Noise and disturbance were correlated with reduced plant richness, particularly for endemic plant species and, conversely, with increased non-native plant richness. Animal communities at wind farms were less diverse, with fewer species and lower evenness relative to reference areas with minor or no disturbances. Wind farms had fewer rare and unique species and, for some species of avian predators, encounter rates were lower at wind farms.
Conclusions: Renewable wind energy may indeed cause shifts in local communities. Although wind farms still supported many of the same species found in natural areas, suggesting that renewable wind energy facilities can provide useable habitat for some wildlife, these communities were also less rich and diverse.
Implications: Non-native species were more prevalent at wind farms, which may then facilitate further invasions into surrounding habitats. In addition, reduced overall plant and predator diversity at wind farms, and lower encounter rates for specific taxa (particular birds), may significantly affect community structure and function.
Jade E. Keehn and Chris R. Feldman
Department of Biology, University of Nevada, Reno
Wildlife Research 2018 45(5) 383-396. doi:10.1071/WR17059
Disturbance affects biotic community composition at desert wind farms
---