BENEFITS : LOW ↔ IMPACTS : HIGH
Resource Documents: Environment (254 items)
Unless indicated otherwise, documents presented here are not the product of nor are they necessarily endorsed by National Wind Watch. These resource documents are shared here to assist anyone wishing to research the issue of industrial wind power and the impacts of its development. The information should be evaluated by each reader to come to their own conclusions about the many areas of debate. • The copyrights reside with the sources indicated. As part of its noncommercial effort to present the environmental, social, scientific, and economic issues of large-scale wind power development to a global audience seeking such information, National Wind Watch endeavors to observe "fair use" as provided for in section 107 of U.S. Copyright Law and similar "fair dealing" provisions of the copyright laws of other nations.
---
Date added:
October 3, 2022
Environment
,
U.S.
•
Author: Diffendorfer, Jay; Vanderhoof, Melanie; and Ancona, Zach
Abstract—Global wind energy has expanded 5-fold since 2010 and is predicted to expand another 8–10-fold over the next 30 years. Wakes generated by wind turbines can alter downwind microclimates and potentially downwind vegetation. However, the design of past studies has made it difficult to isolate the impact of wake effects on vegetation from land cover change. We used hourly wind data to model wake and non-wake zones around 17 wind facilities across the U.S. and compared remotely-sensed vegetation greenness in wake and non-wake zones before and after construction. We located sampling sites only in the dominant vegetation type and in areas that were not disturbed before or after construction. We found evidence for wake effects on vegetation greenness at 10 of 17 facilities for portions of, or the entire growing season. Evidence included statistical significance in Before After Control Impact statistical models, differences >3% between expected and observed values of vegetation greenness, and consistent spatial patterns of anomalies in vegetation greenness relative to turbine locations and wind direction. Wakes induced both increases and decreases in vegetation greenness, which may be difficult to predict prior to construction. The magnitude of wake effects depended primarily on precipitation and to a lesser degree aridity. Wake effects did not show trends over time following construction, suggesting the changes impact vegetation greenness within a growing season, but do not accrue over years. Even small changes in vegetation greenness, similar to those found in this study, have been seen to affect higher trophic levels. Given the rapid global growth of wind energy, and the importance of vegetation condition for agriculture, grazing, wildlife, and carbon storage, understanding how wakes from wind turbines impact vegetation is essential to exploit or ameliorate these effects.
Jay E. Diffendorfer, Melanie K. Vanderhoof, and Zach H. Ancona
Geosciences and Environmental Change Science Center, United States Geological Survey, Denver, Colorado
Published 26 September 2022
Environmental Research Letters, Volume 17, Number 10
Download original document: "Wind turbine wakes can impact down-wind vegetation greenness"
---
Date added:
September 7, 2022
Economics
,
Emissions
,
Environment
,
Health
,
Noise
,
Property values
•
Author: Gitt, Brian
I love the *idea* of wind power. It sounds natural. Clean. Moral. But in reality, wind power harms the environment & people—especially low-income people. The myths about wind power are fueling bad energy policies & poor investments. The facts make it all look ridiculous.
2/ MYTH: wind power helps the environment.
Wind power requires excessive mining & land use. It industrializes coastline & kills wildlife.
Nuclear & natural gas power plants reduce CO₂ emissions more effectively.
U.S. Energy Information Administration: "Electric power sector CO2 emissions drop as generation mix shifts from coal to natural gas"
3/ Wind turbines are made from minerals, petrochemicals, & fossil fuels.
Building a single 2 MW windmill uses 187 tons of coal—the equivalent of 125 pickup trucks full of coal.
Vaclav Smil: "What I See When I See a Wind Turbine"
4/ Building a 100 MW wind farm requires 30,000 tons of iron ore, 50,000 tons of concrete & 900 tons of non-recyclable plastics for the blades—all mined, transported & produced with hydrocarbons.
5/ Wind farms need 360× more land to produce the same amount of energy as a nuclear power plant.
A 200 MW wind farm spans 13+ sq miles (36 sq km). A natural-gas power plant with the same generating capacity could fit onto a single city block.
Dave Merrill, Bloomberg: "The U.S. Will Need a Lot of Land for a Zero-Carbon Economy"
6/ Wind turbines threaten endangered whales & fisheries, & kill hundreds of thousands of birds every year.
Robert Bryce, Real Clear Energy: "The Sierra Club Loves Wind Turbines, Not Whales"
7/ Each wind turbine blade is over 165 feet (50 meters) long & is made from toxic materials that can't be recycled & that are getting dumped in landfills.
Tens of thousands of these blades will eventually enter the waste stream.
Chris Martin, Bloomberg: "Wind Turbine Blades Can't Be Recycled, So They're Piling Up in Landfills"
8/ There are better ways of reducing climate risk.
The carbon footprint of an offshore wind farm is 3 times larger than the carbon footprint of a nuclear plant.
Building wind farms channels resources away from better ways of reducing climate risk like nuclear power.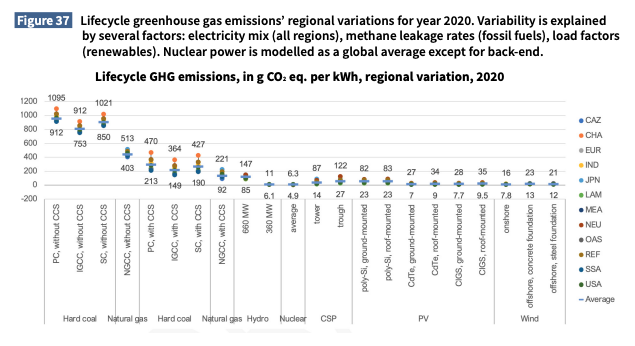 9/ MYTH: Wind power helps people.
Households pay more for electricity where there are wind & solar mandates:
German households saw their energy bills increase by 34% between 2010-2020.
American households in CA pay 80% more, & 11% more in 28 other states with mandates.
10/ Lower-income people subsidize wind-power tax credits for the wealthy.
"We get a tax credit if we build a lot of wind farms. That's the only reason to build them. They don't make sense without the tax credit." —Warren Buffett
11/ The wind industry still needs subsidies even after billions in public handouts.
The US Treasury estimates the wind production tax credit will cost taxpayers ~$34 billion from 2020 to 2029. It's by far the most expensive energy subsidy.
12/ People who live near wind farms report sleep disturbances, headaches, dizziness, vertigo, nausea, blurry vision, irritability, & problems with concentration & memory.
Jeffery, Krogh, and Horner, Canadian Family Physician: "Adverse health effects of industrial wind turbines"
13/ China takes up 7 spots among the world's top 10 wind turbine manufacturers—where weak environmental regulations prevail & lower production costs are fueled by coal & cheap labor.
14/ Goldwind (2nd largest wind manufacturer in the world) has factories in China's Xinjiang province, where hundreds of thousands of Uyghurs are working in slave labor conditions.
Jacob Fromer and Cissy Zhou, South China Morning Post: "As US moves to renewable energy, wind turbines from Xinjiang may get caught in political tempest"
15/ MYTH – We can build enough wind farms to meet our energy needs.
People hate living near wind farms.
The farms are loud & large (each is 400-700 ft tall (122-213 m).
They destroy views & hurt property values.
Robert Bryce, Center of the American Experiment: "Not in Our Backyard: Rural America is fighting back against large-scale renewable energy projects"
16/ Public backlash against wind farms is growing in the US & Europe.
Local governments have rejected over 317 US wind projects since 2015.
Renewable Energy Rejection Database, American Experiment: "US Governmental Entities That Moved to Reject or Restrict Wind Projects"
17/ Offshore wind farms sidestep some community conflicts but have other problems.
Building offshore farms is 3× more expensive than onshore.
They threaten endangered whales, fisheries, ocean views & industrialize the coastline.
18/ Wind turbines generate electricity only ~30% of the time because the wind doesn't always blow.
Every megawatt of wind needs a megawatt of fossil fuel power (usually natural gas) as a backup.
19/ MYTH – Better tech will solve problems with wind power.
The Betz limit in physics caps the maximum efficiency for a wind turbine. At most, only 60% of the kinetic energy from wind can be used to spin the turbine & generate electricity.
20/ Not all tech innovation makes things cheaper.
Offshore wind is getting more expensive. The cost has been increasing by 15% whenever capacity doubles.
Renewable Energy Foundation: "Wind Power Economics – Rhetoric and Reality"
21/ Some people think we'll be able to store surplus wind energy in batteries. But the world's largest battery factory (Tesla's Gigafactory) would need 1,000 years to make enough batteries for 2 days' worth of US electricity demand. And batteries cost 200× more than natural gas.
22/ Wind farms break down often & don't last long.
Equipment failures & declining performance make the cost of operating a 16+ yr old wind turbine prohibitive.
Onshore turbines lose 37% output & offshore turbines lose 50% output at 16 yrs.
Gordon Hughes, Renewable Energy Foundation: "Costs, Performance and Investment Returns for Wind Power"
23/ Myths about wind power are driving bad investments & policy decisions.
Dollars spent on them cause harm & suffering to the poorest among us–a high cost for false moral comfort.
Let's build an energy system that maximizes human flourishing & minimizes environmental harm.
24/ What We Need To Do:
End subsidies & incentives for wind & solar.
Retire the dirtiest coal power plants.
Build new efficient natural gas power plants (and hydro and geothermal where possible).
Reform regulations & build nuclear power plants.
Invest in energy R&D.
Brian Gitt
Feb 15, 2022, Twitter (@BrianGitt)
---
Date added:
August 3, 2022
Environment
,
Photos
,
Scotland
,
Technology
•
Author: Murform
2016 December 19 – Murform have recently secured this follow on project with RJ McLeod, following our success at Beinneun Wind Farm (which is less than 5 miles away).
Bhlaraidh Wind Farm is a 32 turbine site, situated in the Great Glen, just North West of Loch Ness. Due to its sensitive location, the site has been developed to cause minimal visual impact to the environment to avoid being seen from the main tourist routes and iconic attractions of the Great Glen. The sites remote location also provides it inherent challenges, for the supply of materials and access by labour to each turbine location, which will have to be overcome to achieve the projects required outputs.
Murform will construct the 32 bases, consisting of over 62 tonne of rebar and 580m³ of concrete in each base, with a strong effort to construct as many as possible before the winter weather sets in. To assist in this target, Murform have provided additional resources to the project. RJ McLeod will assist with full time cranes and also on site batching plants and trucks.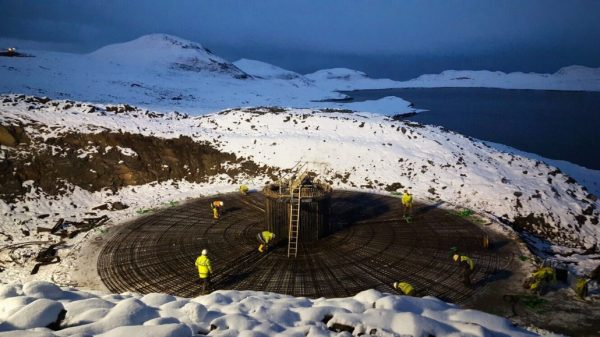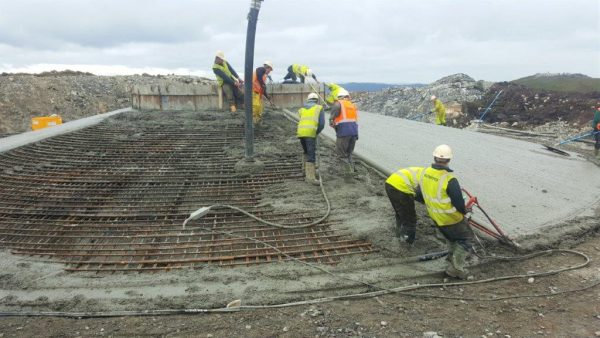 ---
Date added:
August 3, 2022
Environment
,
Photos
,
Poland
,
Technology
•
Author: CTE Wind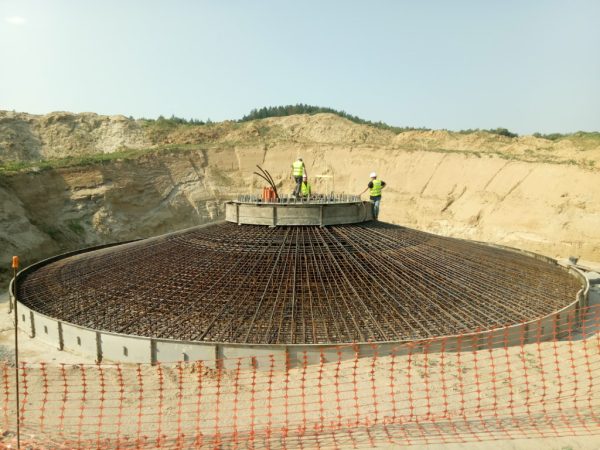 ---