Resource Documents: Environment (213 items)
Documents presented here are not the product of nor are they necessarily endorsed by National Wind Watch. These resource documents are provided to assist anyone wishing to research the issue of industrial wind power and the impacts of its development. The information should be evaluated by each reader to come to their own conclusions about the many areas of debate.
---
Date added:
August 26, 2017
Environment
,
Northern Ireland
,
Photos
•
Author: Northern Ireland Environment Agency
What impact can a wind farm have on groundwater?
The development of a wind farm has the potential to impact on groundwater quality, groundwater quantity and/or the established groundwater flow regime. Figure 1 shows the scale and extent of the foundation of a single wind turbine which could potentially impact on the aquatic environment. Changes to the local water environment can affect receptors such as wells/boreholes, springs, wetlands and waterways, and can also have implications for groundwater dependent ecology and/or land stability.
The key impacts to groundwater that can result from the construction, operational and decommissioning stages of wind farms are summarised in Table 1 below.
Table 1: Potential impacts on groundwater from wind farms
Construction Phase
Operational Phase
Decommissioning Phase
Groundwater Flow Regime
Earthworks and site drainage:
• Reduction in water table if dewatering is required for turbine foundation construction or borrow pits;
• Changes to groundwater distribution and flow.
Physical presence of turbines and tracks:
• Possible changes to groundwater distribution;
• Reduction in groundwater storage.
Reduction of forestry in site area:
• Changes to infiltration and surface runoff patterns, thereby influencing groundwater flow and distribution.
Physical presence of former turbines and tracks:
• Possible changes to groundwater distribution;
• Reduction in groundwater storage.
Groundwater Quality
Earthworks:
• Disturbance of contaminated soil and subsequent groundwater pollution.
Materials Management:
• Pollution from spills or leaks of fuel, oil and building materials.
Materials Management:
• Pollution from spills or leaks of fuel or oil.
Use of vehicles and machinery to remove infrastructure:
• Pollution from spills or leaks of fuel or oil.
Download original document: "Wind farms and groundwater impacts"
---
Date added:
July 31, 2017
Environment
,
Health
,
New York
,
Noise
•
Author: Pease, Janice
I want to start off by saying I support green energy and the move towards ending our dependence on fossil fuels as well as nuclear.
Clearly we need clean energy, as quickly as possible.
However, something needs to change in how we think about these goals and the routes we take to achieve them.
In rural areas around the country, industrial wind farms are cropping up, seemingly over night, invading the skyline of our most pristine and beautiful locations. These turbines are now tending toward the heights of 500 to 600 feet from base to the blade tip.
Locally, in Hopkinton and Parishville we are being threatened with 40 industrial turbines, 500 feet tall potentially within 2,500 feet of home.
There is a lack of ethics in how the companies operate and approach the communities. In 2009 the first lease was signed in Hopkinton, but many of us did not find out about this project until about 2 years ago. There was no notification through our local government, the secrecy was in part achieved through agreements that the company made within the project zone.
Because of this lack of community awareness, our town was not properly prepared as far as zoning including a wind law. Over the past couple of years our towns have been working to build up the wind laws to protect ourselves. However, there has been great pushback by Avangrid/Iberdrola and leaseholders.
Because of the lack of transparency and scientific knowledge, our wind laws may still not protect the towns from what could happen if the turbines come in.
In their relatively short life spans, the turbines damage things that aren't replaceable, such as water quality. In Scotland at the Whitelee Wind Farm, Scottish Power (a subsidiary of Iberdrola) knew of contamination in private water supplies to homes. This contamination included E. Coli and other coliform bacteria which resulted in illness. Test results obtained by Dr. Rachel Connor showed high levels of trihalomethane, which research has linked to cancers, stillbirths, and miscarriages. Scottish Power Renewables admitted not notifying the appropriate authorities of the water contamination for 7 years, until it came to light following investigation by local residents. During the pile driving, other chemicals from manufacturing contaminate water supplies.
This is just one aspect of the health issues relating to industrial turbine farms.
A more controversial issue is the noise output of industrial-scale turbines, which produce not only audible noise but the more concerning inaudible low frequencies and infrasound.
Over the past year and a half I have read everything I could about wind turbines and their relationship to sound. It is more complex than the industry would have you believe. The sound produced by turbines is defined as the amplitude modulation of broadband aerodynamic noise created by the blades at the blade-passing frequency. This acoustic signal has both a high-frequency broadband character and low-frequency amplitude modulation. This is in part why the sound character overshadows the existing noise profile of these rural areas.
Being that most noise standards are set using the dBA scale (which deals mainly with human conscious threshold of hearing), sounds that are inaudible but otherwise sensed are not being measured or acknowledged.
Many scientists and experts, including Dr. Nina Pierpont, the author of Wind Turbine Syndrome, A Report on a Natural Experiment, has documented case reports of patients suffering from what has now been coined wind turbine syndrome. This syndrome produces several symptoms related to the vestibular system's organs – such as disturbed sleep, headaches, tinnitus, a sense of quivering or vibration, nervousness, rapid heartbeat, nausea, difficulty with concentration, memory loss, and irritability.
During my research, I have come to a deeper understanding of the complexity of these health affects and the connection between wind turbine syndrome and vibroaccoustic disease. I have been in contact with Dr. Mariana Alves-Pereira in Portugal, who holds degrees in physics, biomedical engineering, and environmental science. She and her team have been researching vibroacoustic disease since 1980.
Quoting from The Clinical Stages of Vibroacoustic Disease, by Nuno Castelo Branco:
This disease is an effect of exposure to low-frequency noise and infrasound.

Stage I, mild signs (behavioral and mood associated with repeated infections of the respiratory tract, example – bronchitis
Stage II, moderate signs (depression and aggressiveness, pericardial thickening and other extra-cellular matrix changes, light to moderate hearing impairment, and discrete neurovascular disorders)
Stage III, severe signs (myocardial infarction, stroke, malignancy, epilepsy, and suicide).
Now, in the Guidelines for Community Noise, the World Health Organization includes advice on noise levels in hospitals and suggests that, because patients are less able to cope with the increased stress levels generated by excess environmental noise, the sound level in hospitals should not exceed 35 dBA for areas where patients are treated or observed, with a corresponding max of 40 dBA [4]. The WHO guidelines for community noise recommend less than 30 A-weighted decibels (dBA) in bedrooms during the night for sleep quality and less than 35 dB(A) in classrooms to allow good teaching and learning conditions.
The background rural ambient noise is around 20-25 dBA. An increase of 3 dBA is noticeable and an increase of 10 dBA is perceived as a doubling in loudness.
To put this in context: Currently our town is reviewing the Wind Advisory Board's recommendations of 35-40 dBA at night.
Some of our town board members have pushed for 45 dBA night and day. With the knowledge that 25 to 45 dBA is a quadrupling of our ambient nightime noise we can conclude that 45 dBA will lead to lack of seep and potentially adverse health affects.
People in other towns have had to abandon their homes to escape these noise effects of turbines.
Earlier this year, I heard testimony from Kevin Segourney, a science teacher from Chateaugay. He lived 1,800 to 2,600 feet from 482-foot turbines in the Jericho Wind Farm. He was living with sound levels above the allowable 50 dBA (which the town of Chateaugay had deemed to be acceptable and legal). However, the low frequencies and infrasound were not taken into account.
In 2014 Steve and Luann Therrien abandoned their home of two decades because of the sound and vibrations from the power plant in Sheffield, Vt. The whole family developed problems sleeping and other health ailments.
After the property went up for tax sale, Energize Vermont payed off the family's back taxes with an agreement to use the property as the Vermont Center for Turbine Impact Studies. They will be conducting research on the effects that the wind turbines have on the environment, wildlife, and the residents. The research teams will also assess the performance of state regulators in their efforts to monitor and enforce wind turbine standards.
In 2014, the Board of Health in Brown County, Wisconsin declared a local industrial wind plant to be a health hazard in a unanimous vote. This ruling was based on a year-long survey with documented health complaints and demonstrated that low-frequency noise and infrasound were emanating from the turbines and detectable inside homes within a 6.2-mile radius of the industrial wind plant.
Industrial wind turbines are causing complaints worldwide, and the documentation is growing. Part of the reason for the lag in recognition is due to the lax monitoring. Basically the companies monitor themselves. There is no real way to ensure they are in compliance with the wind laws and sound limits. There is no entity to protect us when the company is out of compliance, as they have been in many other wind farms across the country.
The companies would like you to believe this is all debatable, but as someone who has read hundreds of papers, articles, peer-reviewed scientific data, and reports on the effects of wind turbines on human and animal health, I can say that this needs to be acknowledged by government agencies and reported on by the media.
Clearly there is an issue here, yet it is not being discussed openly. There is a NIMBY (not in back yard) stigma attached to anyone who dares reject the idea of a having a power plant in their back yard. When discussing this with people in the communities surrounding the project, there is a disbelief and skepticism that is coupled with judgment.
Our communities need the help of surrounding towns to support them through this project to ensure the right thing happens.
There are children who will live less than a half-mile from these turbines. Parents deserve the right to question the ethics and morality of this project.
These things are being diminished under the guise of the greater good. I argue that it is not for the greater good to implement projects that might harm the very nature and people we are trying to protect. There have been studies on the adverse health affects experienced by badgers, geese, minks, and other animals living within close proximity to turbines – who will protect them?
So is it ethical to keep covering every sacred space with these turbines for power production? Knowing they could actually set us back environmentally while simultaneous accumulating casualties.
I personally believe in the precautionary principle which is defined as:
When human activities may lead to morally unacceptable harm that is scientifically plausible but uncertain, actions shall be taken to avoid or diminish that harm.
I think if we brought this principle into the planning process of every aspect of our economy, our environment would be in better shape. I am hoping to shed light on this local issue so people will demand protection for our towns and help us avoid the problems reported in other towns with industrial turbines.
I am asking North Country Public Radio to investigate this issue and help us prevent the loss of habitat, the loss of quiet spaces, and the slew of potential adverse health effects.
Thank you.
Janice Pease
July 28, 2017
[Pease presented a 5-minute version of this appeal in person at an NCPR Executive Session and provided this write-up to their investigative reporter.]
---
Date added:
June 5, 2017
Economics
,
Environment
•
Author: Ridley, Matt
The Global Wind Energy Council recently released its latest report, excitedly boasting that 'the proliferation of wind energy into the global power market continues at a furious pace, after it was revealed that more than 54 gigawatts of clean renewable wind power was installed across the global market last year'.
You may have the impression from announcements like that, and from the obligatory pictures of wind turbines in any New York Times story, that wind power is making a big contribution to world energy today.
You would be wrong. Its contribution is still, after decades – nay centuries – of development, trivial to the point of irrelevance. Even after 30 years of huge subsidies, wind power provides only slightly more than zero energy to the world.
Even put together, wind and photovoltaic solar are supplying less than 1 per cent of global energy demand.
From the International Energy Agency's 2016 Key Renewables Trends, we can see that wind provided 0.46 per cent of global energy consumption in 2014, and solar and tide combined provided 0.35 per cent. Remember this is total energy, not just electricity, which is less than a fifth of all final energy, the rest being the solid, gaseous, and liquid fuels that do the heavy lifting for heat, transport and industry.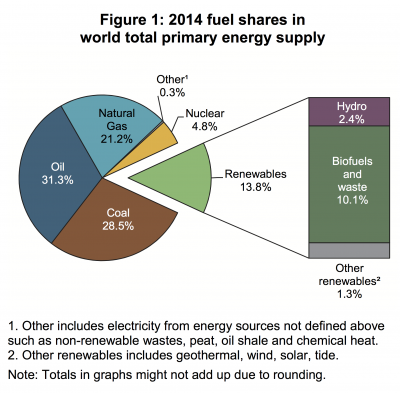 Such numbers are not hard to find, but they don't figure prominently in reports on energy derived from the Unreliables Lobby (solar and wind). Their trick is to hide behind the statement that close to 14 per cent of the world's energy is renewable, with the implication that this is wind and solar.
In fact the vast majority – three quarters – is biomass (mainly wood), and a very large part of that is 'traditional biomass': sticks, logs, charcoal and dung burned by the poor in their homes to cook with. Those people need that energy, but they pay a big price in health problems caused by smoke inhalation.
Even in rich countries playing with subsidized wind and solar, a huge slug of their renewable energy comes from wood and hydro, the reliable renewables.
Meanwhile, world energy demand has been growing at about 2 per cent a year for nearly 40 years. Between 2013 and 2014, again using International Energy Agency data, it grew by just under 2,000 terawatt-hours.
If wind turbines were to supply all of that growth but no more, how many would need to be built each year? The answer is nearly 350,000, since a two-megawatt turbine can produce about 0.005 terawatt-hours per annum. That's one-and-a-half times as many as have been built in the world since governments started pouring taxpayer money into this so-called industry in the early 2000s.
At a density of, very roughly, 50 acres per megawatt, typical for wind farms, that many turbines would require a land area half the size of the British Isles, including Ireland (61,000 sq mi). Every year.
If we kept this up for 50 years, we would have covered every square mile of a land area half the size of Russia with wind farms (3.05 million sq mi).
Remember, this would be just to fulfill the new demand for energy, not to displace the vast existing supply of energy from fossil fuels, which currently supply 80 per cent of global energy needs.
Further, the Unreliables Lobby cannot take refuge in the idea that wind turbines could become more efficient. There is a limit to how much energy you can extract from a moving fluid, the Betz limit, and wind turbines are already close to it.
And more: wind turbine effectiveness (the load factor, to use the engineering term) is determined by the wind that is available, and that varies at its own sweet will from second to second, day to day, year to year.
As machines, wind turbines are pretty good already; the problem is the wind resource itself, and we cannot change that. It's a fluctuating stream of low–density energy. Mankind stopped using it for mission-critical transport and mechanical power long ago, for sound reasons. It's just not very good. How much global cargo is shipped by sailing ships these days?
As for resource consumption and environmental impacts, the direct effects of wind turbines – killing birds and bats, sinking concrete foundations deep into wild lands – is bad enough.
But out of sight and mind is the dirty pollution generated in Inner Mongolia by the mining of rare-earth metals for the magnets in the turbines. This generates toxic and radioactive waste on an epic scale, which is why the phrase 'clean energy' is such a sick joke and greenie politicians should be ashamed every time it passes their lips.
It gets worse.
Wind turbines, apart from the fiberglass blades, are made mostly of steel, with concrete bases. They need about 200 times as much material per unit of capacity as a modern combined cycle gas turbine. Steel is made with coal, not just to provide the heat for smelting ore, but to supply the carbon in the alloy. Cement is also often made using coal. The machinery of 'clean' renewables is the output of the fossil fuel economy, and largely the coal economy.
A two-megawatt wind turbine weighs about 250 metric tons, including the tower, nacelle, rotor and blades. Globally, it takes about half a ton of coal to make a ton of steel. Add another 25 tons of coal for making the cement and you're talking 150 metric tons of coal per turbine.
Now if we are to build 350,000 wind turbines a year (or a smaller number of bigger ones), just to keep up with increasing energy demand, that will require 50 million metric tons of coal a year more than being mined now. That's about half the EU's hard coal–mining output.
The point of running through these numbers is to demonstrate that it is utterly futile, on a priori grounds, even to think that wind power can make any significant contribution to world energy supply, let alone to emissions reductions, without ruining the planet. As the extraordinary polymath Sir David MacKay pointed out, the arithmetic is against such unreliable renewables.
MacKay, former chief scientific adviser to the Department of Energy and Climate Change, said in the final interview before his tragic death last year that the idea that renewable energy could power the UK is an "appalling delusion" – for this reason: that there is not enough land.
The truth is, if you want to power civilization with fewer greenhouse gas emissions, then you should focus on shifting power generation, heat and transport to natural gas, the economically recoverable reserves of which – thanks to horizontal drilling and hydraulic fracturing – are much more abundant than we dreamed they ever could be.
It is also the lowest-emitting of the fossil fuels, so the emissions intensity of our wealth creation can actually fall while our wealth continues to increase.
And let's put some of that burgeoning wealth in nuclear, fission and fusion, so that it can take over from gas in the second half of this century. That is an engineerable, clean future.
Everything else is a political displacement activity, one that is actually counterproductive as a climate policy and, worst of all, shamefully robs the poor to make the taxpayer-subsidized crony-rich even richer.
Matt Ridley
May 2017
Matt Ridley is the author of The Rational Optimist, and as 5th Viscount Ridley is a Member of the British House of Lords. The Utter Complete Total Fraud of Wind Power originally appeared at To The Point News.
(((( o ))))
Additional notes by commenters at http://rodmartin.org/utter-complete-total-fraud-wind-power/
Frank Nova:
[B]ecause a large proportion of the energy coming out of a windmill is coming out in short burst, it requires an inordinately large hook-up power line to be able to carry very high peak capacity while the average capacity is very low. It's akin using a 10 tons truck to go buy a quart of milk. Warmageddonists were the first to rant against using a Hummer as daily transportation. Well, windmills are the Hummers-for-getting-a-quart-of-milk of power generation.
Manley C. Butler Jr.:
AND – it does not even make any allowance for the terrible environmental damage to the sites during construction of each turbine and the continuing eyesore of each power easement.
AND – it makes no allowance for removal of obsolete towers.
BUT – Because the efficiency of any wing device improves with increases in the aspect ratio (L/W) the blades are getting longer and longer. Therefore the use of high-strength, lightweight materials is required; therefore the wind turbine has been a great source money (both R&D and production) for the composites industry.
---
Date added:
May 3, 2017
California
,
Environment
•
Author: Agha, Mickey; et al.
ABSTRACT:
There is little information on predator–prey interactions in wind energy landscapes in North America, especially among terrestrial vertebrates. Here, we evaluated how proximity to roads and wind turbines affect mesocarnivore visitation with desert tortoises (Gopherus agassizii) and their burrows in a wind energy landscape. In 2013, we placed motion-sensor cameras facing the entrances of 46 active desert tortoise burrows in a 5.2-km² wind energy facility near Palm Springs, California, USA. Cameras recorded images of 35 species of reptiles, mammals, and birds. Counts for 4 species of mesocarnivores at desert tortoise burrows increased closer to dirt roads, and decreased closer to wind turbines. Our results suggest that anthropogenic infrastructure associated with wind energy facilities could influence the general behavior of mammalian predators and their prey. Further investigation of proximate mechanisms that underlie road and wind turbine effects (i.e., ground vibrations, sound emission, and traffic volume) and on wind energy facility spatial designs (i.e., road and wind turbine configuration) could prove useful for better understanding wildlife responses to wind energy development.
Mickey Agha, Amanda L. Smith, Jeffrey E. Lovich, David Delaney, Joshua R. Ennen, Jessica Briggs, Leo J. Fleckenstein, Laura A. Tennant, Shellie R. Puffer, Andrew Walde, Terence R. Arundel, Steven J. Price, and Brian D. Todd
Department of Wildlife, Fish, and Conservation Biology, University of California, Davis;
U.S. Geological Survey, Southwest Biological Science Center, Flagstaff, AZ;
U.S. Army Construction Engineering Research Laboratory, Champaign, IL;
Tennessee Aquarium Conservation Institute, Chattanooga;
Colorado State University, Fort Collins;
Department of Forestry, University of Kentucky, Lexington; and
Walde Research and Environmental Consulting, Atascadero, CA
Journal of Wildlife Management
First published: 12 April 2017
DOI: 10.1002/jwmg.21262
Download original document: "Mammalian mesocarnivore visitation at tortoise burrows in a wind farm"
---