Resource Documents — latest additions
Documents presented here are not the product of nor are they necessarily endorsed by National Wind Watch. These resource documents are provided to assist anyone wishing to research the issue of industrial wind power and the impacts of its development. The information should be evaluated by each reader to come to their own conclusions about the many areas of debate.
---
Date added:
September 21, 2016
General
•
Executive summary of main points—
The reasons that Biggar Economics' methodology is inappropriate are:
a. It focuses only on the correlation between wind farm construction and operation with employment trends – ignoring other major influences such as currency fluctuations or post 2007/8 recovery;
b. It uses a short and selective timeframe, ending in 2013 though official figures are available for 2014. If 2009 to 2014 had been used instead, stated employment growth across Scotland would have been much lower than the 2009-2013 figures, so it would not demonstrate a significant trend;
c. It includes spending by local and business people in hotels, restaurants and other sectors which is classed as 'tourism-characteristic' activities, though statistics professionals agree this 'non-visitor' spend will be at least 50% of the total;
d. It includes the large urban tourism sector in the all-Scotland figures when the contentious issue is impacts on nature and landscape tourism in rural and remote areas;
e. There is a circularity in including wind farm construction workers' direct impacts on spending and employment multipliers (often cited by developers as a significant boost in its own right to local employment) as part of "tourism" figures;
f. Biggar Economics ignores the ONS caveats and methodological advice on small-scale studies ('Measuring Tourism Locally' Guidance Notes 1&2), especially the unreliability caused in small studies by using rounded ONS national survey figures inappropriately.
Douglas Wynn BSc (Soc) MSc (Econ)
An opinion for the John Muir Trust
Download original document: "Critical appraisal of the Biggar Economics research report 'Wind farms and tourism trends in Scotland'"
---
Author: Jalali, Leila; Bigelow, Philip; et al.
Introduction:
'Sleep, a natural behavioral state and a vital part of every individual's life, involves distinct characteristics and many vital physiological changes in the body's organs that are fundamental for physical and mental health. The physiological processes involve protein biosynthesis, excretion of specific hormones, and memory consolidation, all of which prepare the individual for the next wake period. Fragmented and insufficient sleep can adversely affect general health impacting daytime alertness and performance, quality of life, and health, and potentially lead to serious long-term health effects.
'Sleep disturbance is considered the most serious nonauditory effect of environmental noise exposure. Harnessing wind energy has resulted in a new source of environmental noise, and wind is one of the fastest growing forms of electricity production worldwide. Canada's current installed capacity is over 10,000 MW, with an anticipated minimum of 55,000 MW by 2025. This growth in wind energy development is not without controversy, as health effects such as noise annoyance and sleep disturbance have been reported by residents living close to wind developments. Such reports are increasing in Canada and worldwide, despite the adoption of setbacks and other measures that have been effective for other sources of noise pollution. …'
Significant findings reported:
'[R]eported quality of sleep significantly declined after exposure (P = 0.008). Participants also reported higher levels of stress before bedtime (P = 0.039) and in the morning (P = 0.064), and also reported feeling more sleepy (P = 0.013) in the morning and throughout the day (P = 0.014) after exposure. …
'Noise difference [between preoperation and operation of turbines] correlated with the difference in the number of awakenings (r = 0.605, P = 0.001), SSC [sleep stage changes to a lighter stage] difference (r = 0.600, P = 0.001), arousal difference (r = 0.551, P = 0.004), and percentage of S2 [stage 2 sleep] difference (r = −0.499, P = 0.009).'
Leila Jalali, Philip Bigelow, Mahmood Gohari, Diane Williams, and Steve McColl, School of Public Health and Health Systems, and Mohammad-Reza Nezhad-Ahmadi, Department of Electrical and Computer Engineering, University of Waterloo, Waterloo, Ontario, Canada
Noise & Health 2016;18:194-205
---
Author: Foo, Cecily
[Abstract] Although the ultimate causes of high tree bat fatalities at wind farms are not well understood, several lines of evidence suggest that bats are attracted to wind turbines. One such hypothesis is that bats could be attracted to turbines as a foraging resource if insects that bats prey upon are commonly found on and around turbines. To investigate the foraging attraction hypothesis, we conducted a series of surveys at a wind farm in north‐central Texas from 2012‐2015 to determine if eastern red (Lasiurus borealis) and hoary (Lasiurus cinereus) bats forage on insects near wind turbines. First, we conducted light trapping surveys to characterize the insect community. Second, we assessed bat diets using DNA barcoding of the stomach contents of 45 eastern red and 24 hoary bat carcasses collected in fatality searches. Third, we compared the turbine insect community to the diet analysis results. The insects present at wind turbines were similar to what we found in the bat stomach contents, and those same insects were abundant at turbines throughout the survey period. Together these results provide support for the foraging attraction hypothesis.
Thesis by Cecily Fraser Foo, MS 2016, Department of Biology, Texas Christian University
Download original document: "Are Tree Bats Foraging at Wind Turbines in the Southern Great Plains?"
---
Author: Clean Energy Wire; National Wind Watch
The following graphs show: 1) Installed net power generation capacity in Germany 2002–2016; 2) Gross power production in Germany 1990–2015 by source; and 3) German power import/export 1990–2015.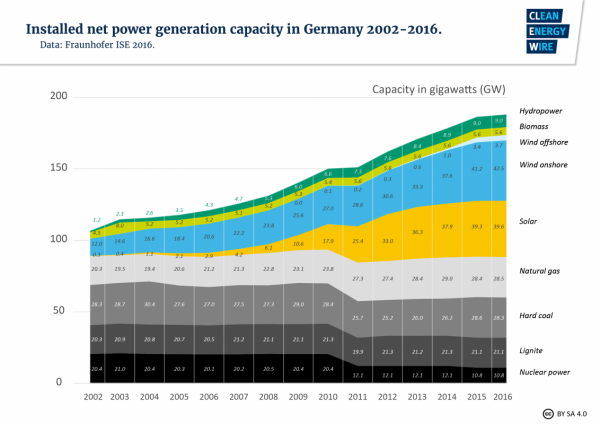 Note that since 2011, the capacity of nonrenewable sources has not decreased. The slight decrease in nuclear was made up for by an increase in coal.
Electricity production from coal and natural gas has hardly decreased, even with the substantial increase of production from renewables.
Since 2002, when the share of electricity production from renewables approached 10%, overproduction steadily increased. In other words, electricity production from renewables – which does not follow actual demand and in the case of wind is highly variable – was mostly exported into the larger regional grid when it could no longer be absorbed by the domestic grid.
---