Resource Documents — latest additions
Documents presented here are not the product of nor are they necessarily endorsed by National Wind Watch. These resource documents are provided to assist anyone wishing to research the issue of industrial wind power and the impacts of its development. The information should be evaluated by each reader to come to their own conclusions about the many areas of debate.
---
Date added:
December 1, 2018
Australia
,
Environment
•
Author: Faint, John; and Morris, Mary
For the four cropping seasons from 2011- 2014, a majority of farmers in the Marrabel Valley have experienced unprecedented and widespread frost damage of grain crops on sloping paddocks high above the valley floor. Historically these areas have not been affected by frost as the steep slope of the valley sides ensures that cold air flows towards the lower lying areas where it is normal for frost to form.
The onset of these seasons of atypical and the abnormal frosts and frost damage coincides with the commencement of operation of an 18 km long wind farm which is located on a central ridgeline in the clearly defined catchment area. Four contiguous years of significant production losses have prompted this call for an investigation into whether the wind farm is affecting the near surface meteorology of the Marrabel Catchment. This Catchment covers 21,392 hectares and contains some of the most highly productive and high value cropping land in South Australia, consequently further investigation is justified.
[Submitted to the South Australian Grains Industry Trust (SAGIT), February 2015, as part of a researchapplication, which was not funded. Atypical frosts have continued to occur with millions of dollars worth of damage every year.]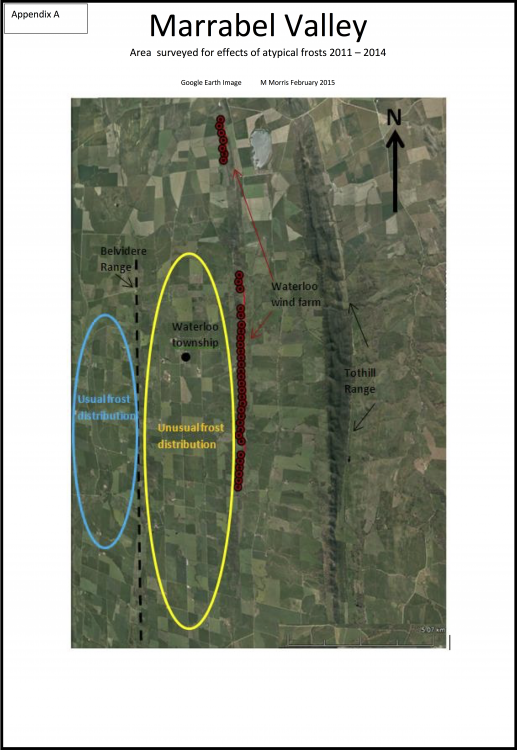 Download original document: "Severe localised grain production losses from atypical frosts in the Marrabel Valley Catchment 2011–2014"
---
Author: Velasco Garrido, Marcial; Mette, Janika; Mache, Stefanie; Harth, Volker; and Preisser, Alexandra
ABSTRACT
Objectives: To assess the quality of sleep of employees in the German offshore wind industry and to explore factors associated with poor sleep quality.
Design: Web-based cross-sectional survey.
Setting: Offshore companies operating in wind farms within the German exclusive economic zone.
Participants: Workers with regular offshore commitments and at least 28 days spent offshore in the past year (n=268).
Outcome measures: Sleep quality in the past 4 weeks, troubles falling asleep or sleeping through in the past 4 weeks, differences in sleep quality between offshore deployments and onshore leaves.
Results: Having problems with sleep onset was reported by 9.5% of the respondents. 16.5% reported troubles with maintaining sleep three or more times per week. The overall quality of sleep was rated as very bad by only 1.7% of the participants. 47.9% of the workers reported their quality of sleep to be worse during offshore commitments than when being onshore. Higher levels of exposition to noise, vibrations and poor air quality were associated with sleeping troubles and poorer sleep quality. Sharing the sleep cabin with colleagues was associated with troubles sleeping through. No association was found for working in rotating shifts and for regularity of the offshore commitments.
Conclusions: Workers in our study showed frequent sleep problems and poorer sleep quality offshore than onshore. Our results indicate that higher degrees of exposure to noise, vibrations and artificial ventilation are associated with poor sleep quality rather than organisational factors such as shift-work and type of working schedule. In view of the high demands of the offshore workplace and the workers' particular recovery needs, addressing sleep disorders should be part of any health and safety management strategy for this workplace.
Marcial Velasco Garrido, Janika Mette, Stefanie Mache, Volker Harth, Alexandra Marita Preisser
Institute for Occupational and Maritime Medicine (ZfAM), University Medical Center Hamburg-Eppendorf, Hamburg, Germany
BMJ Open 2018;8:e024006. doi:10.1136/bmjopen-2018-024006
Download original document: "Sleep quality of offshore wind farm workers in the German exclusive economic zone: a cross-sectional study"
Download appendix (questionnaire)
---
Author: Ageborg Morsing, Julia; Smith, Michael; Ögren, Mikael; Thorsson, Pontus; Pedersen, Eja; Forssén, Jens; and Persson Waye, Kerstin
Abstract:
The number of onshore wind turbines in Europe has greatly increased over recent years, a trend which can be expected to continue. However, the effects of wind turbine noise on long-term health outcomes for residents living near wind farms is largely unknown, although sleep disturbance may be a cause for particular concern. Presented here are two pilot studies with the aim of examining the acoustical properties of wind turbine noise that might be of special relevance regarding effects on sleep. In both pilots, six participants spent five consecutive nights in a sound environment laboratory. During three of the nights, participants were exposed to wind turbine noise with variations in sound pressure level, amplitude modulation strength and frequency, spectral content, turbine rotational frequency and beating behaviour. The impact of noise on sleep was measured using polysomnography and questionnaires. During nights with wind turbine noise there was more frequent awakening, less deep sleep, less continuous N2 sleep and increased subjective disturbance compared to control nights. The findings indicated that amplitude modulation strength, spectral frequency and the presence of strong beats might be of particular importance for adverse sleep effects. The findings will be used in the development of experimental exposures for use in future, larger studies.
Julia Ageborg Morsing, Mikael Ögren, Kerstin Persson Waye
Department of Occupational and Environmental Medicine, Institute of Medicine, University of Gothenburg, Sweden
Michael G. Smith
Unit for Experimental Psychiatry, Division of Sleep and Chronobiology, University of Pennsylvania Perelman School of Medicine, Philadelphia
Pontus Thorsson, Jens Forssén
Division of Applied Acoustics, Department of Civil and Environmental Engineering, Chalmers University of Technology, Gothenburg, Sweden
Eja Pedersen
Department of Architecture and the Built Environment, Lund University, Sweden
International Journal of Environmental Research and Public Health. 2018 Nov 17;15(11), E2573. doi: 10.3390/ijerph15112573.
Download original document: "Wind Turbine Noise and Sleep: Pilot Studies on the Influence of Noise Characteristics"
Download the supplemental material (morning questionnaire and noise spectra for the experimental wind turbine noise)
---
Date added:
November 20, 2018
Environment
•
Author: Armstrong, Alona; et al.
Abstract —
The global drive to produce low-carbon energy has resulted in an unprecedented deployment of onshore wind turbines, representing a significant land use change for wind energy generation with uncertain consequences for local climatic conditions and the regulation of ecosystem processes. Here, we present high-resolution data from a wind farm collected during operational and idle periods that shows the wind farm affected several measures of ground-level climate. Specifically, we discovered that operational wind turbines raised air temperature by 0.18°C and absolute humidity (AH) by 0.03 g/m³ during the night, and increased the variability in air, surface and soil temperature throughout the diurnal cycle. Further, the microclimatic influence of turbines on air temperature and AHd ecreased logarithmically with distance from the nearest turbine. These effects on ground-level microclimate, including soil temperature, have uncertain implications for biogeochemical processes and ecosystem carbon cycling, including soil carbon stocks. Consequently, understanding needs to be improved to determine the overall carbon balance of wind energy.
Alona Armstrong, Ralph R. Burton, Susan E. Lee, Stephen Mobbs, Nicholas Ostle, Victoria Smith, Susan Waldron, and Jeanette Whitaker
School of Geographical and Earth Sciences, University of Glasgow
Lancaster Environment Centre and Energy Lancaster, Lancaster University
National Centre for Atmospheric Science, School of Earth and Environment, University of Leeds
Centre for Ecology and Hydrology, Lancaster Environment Centre, Bailrigg
Environmental Research Letters 2016; 11: 044024
doi: 10.1088/1748-9326/11/4/044024
Download original document: "Ground-level climate at a peatland wind farm in Scotland is affected by wind turbine operation"
---