Author: Wildland Research Institute | Aesthetics, Environment, Scotland
Report by the Wildland Research Institute for The John Muir Trust, August 2014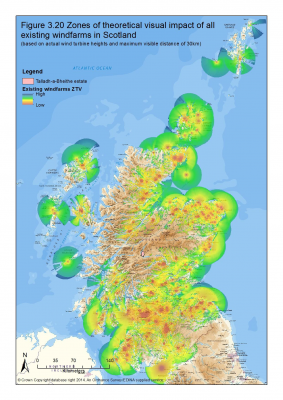 This report has been prepared on behalf of The John Muir Trust by the Wildland Research Institute. The report assesses the potential impacts of the proposed Talladh-a-Bheithe Wind Farm proposal in terms of wild land as defined by Scottish Natural Heritage (SNH) and highlighted in Scottish Planning Policy (SPP2) and the National Planning Framework (NPF3) all as finalised on 22 June 2104. The report additionally addresses the relevant points raised by Pegasus Planning Group acting on behalf of Eventus BV and corrects errors made in their submissions included within the application Environmental Statement
A final map of wild land areas was developed by Scottish Natural Heritage and published in June 2014 along with the SPP2 and NPF3. This map supersedes SNH's earlier maps identifying search areas for wild land in 2002 and core areas of wild land in 2013. The new map has received cross- party and ministerial support and so can be regarded as the final version. A total of 42 wild land areas are identified covering just under 20% of the land area of Scotland.
Although wild land and the areas identified by the SNH mapping is not a statutory designation, Paragraph 200 of the SPP states wild land is "very sensitive to any form of intrusive human activity and have little or no capacity to accept new development" and that "Plans should identify and safeguard the character of areas of wild land".
The proposed Talladh-a-Bheithe wind farm lies inside wild land area number 14 (Rannoch-Nevis-Mamores-Alder) as identified on the SNH 2014 map of wild land areas. Analyses developed as part of this report show that a development of the scale proposed (twenty four 125m high turbines and associated infrastructure) would have a significant adverse impact on the qualities of this area of wild land, with the likely outcome that if the development goes ahead the area of wild land in the vicinity would be reduced by approximately 9,520ha or 8.1%. These analyses are based on the same approach, methods, data and techniques used by SNH in developing the 2014 map of wild land areas.
Additional analyses are carried out to assess the wider national context of the proposal in regard to visibility of wind farms from wild land areas and further reduction of the area of Scotland currently without visual impact from industrial wind turbines. The Rannoch area is one area which is as yet free from visual impact. These analyses show that construction of the Talladh-a-Bheithe wind farm, should it be consented, would impact significantly on this "visual impact free" area and further reduce the "wind farm free" area across Scotland as a whole by 68,686ha or 1.9%.
Download original document: "Talladh-a-Bheithe Wind Farm Proposal: Review of impacts on wild land"
This material is the work of the author(s) indicated. Any opinions expressed in it are not necessarily those of National Wind Watch.

The copyright of this material resides with the author(s). As part of its noncommercial effort to present the environmental, social, scientific, and economic issues of large-scale wind power development to a global audience seeking such information, National Wind Watch endeavors to observe "fair use" as provided for in section 107 of U.S. Copyright Law and similar "fair dealing" provisions of the copyright laws of other nations. Queries e-mail.
Share:
Translate: FROM English | TO English
Translate: FROM English | TO English
Tags: Wind power, Wind energy