Resource Documents: U.S. (141 items)
Documents presented here are not the product of nor are they necessarily endorsed by National Wind Watch. These resource documents are provided to assist anyone wishing to research the issue of industrial wind power and the impacts of its development. The information should be evaluated by each reader to come to their own conclusions about the many areas of debate.
---
Date added:
June 13, 2018
Environment
,
New York
•
Author: Newman, David; and Fisher, Brian
Abstract: Atlantic Wind, LLC, a subsidiary of the renewable energy company Avangrid Renewables of Portland Oregon, is proposing to construct a state-of-the-art large-scale wind turbine energy farm (LSWF) of approximately 88 Gamesa G-132 wind turbines in the heart of the rural Tug Hill region at the intersection of Jefferson, Lewis and Oswego counties in upstate New York. The proposal, entitled the "Mad River Wind Farm," would have a nameplate capacity generate [electricity at a rate of] up to 350 MW (megawatts, or million watts), enough to provide power for 60,000 typical households over the course of the 20-30 year life span of the project (however, the actual power produced may be substantially less). The project is to be sited under a new, unified review and approval process for electrical facilities generating in excess of 25 MW, according to provisions of Art. 10 of the NYS Public Service Law. Traditionally, forested landscapes were considered as "no-go" locations for siting LSWFs, [owing] to their inaccessibility and problems with airflow turbulence in potentially uneven forested canopies. However, as technology has improved and turbines have increased in height (400 to 600+ feet), forests are receiving new attention as large-scale landscapes to site wind farms. Only a handful of LSWFs have been constructed in forested landscapes in the US. While wind farms are often considered as beneficial, renewable forms of "green energy" and are increasingly favored by the environmental community for their important contributions to sustainable energy development and reductions in greenhouse gas emissions, they may not always have benign impacts to the environment where they are sited. This white paper, prepared for the Tug Hill Tomorrow Land Trust, examines the potential ecological and environmental impacts from the proposed Mad River project, and focuses on direct and indirect impacts from both the construction and operational phases of the project.
The bio-physical ecological impacts addressed include:
soils;
micro-climate and air quality;
noise and visual impacts;
riparian water quality and palustrine wetlands;
timber stand dynamics and the potential for forest fragmentation;
invasive species;
bat and bird mortality;
recreational impacts;
transportation, road building, and ancillary energy facilities construction;
the potential impact on DOD radar and electronic facilities;
safety and security issues; and
connectivity issues related to the existing structure and assimilative capacity of the electric grid network of the region,
among others.
Prepared for Tug Hill Tomorrow Land Trust by Dr. David H. Newman (Principal Investigator), and Prof. Brian L. Fisher, M.S. (PhD Student; Primary Author), Department of Forest and Natural Resources Management, College of Environmental Science and Forestry, State University of New York, Syracuse, April 2018
Download original document: "Mad River Wind Farm Impact Assessment Study in the Tug Hill Region of New York State"
---
Date added:
May 4, 2018
New York
•
Author: National Weather ServiceNational Weather Service
There are 4 National Weather Service (NWS) offices that use the Fort Drum KTYX radar to accomplish their mission of protection of life and property in the nearby counties. These offices are: NWS Albany, NWS Buffalo, NWS Binghamton, NWS Burlington.
NWS Albany Impacts:
The turbines can cause beam blockage and under-sampling of the radar echoes downstream (25-30 nautical miles) into northern Herkimer County.
Precipitation underestimate is likely (warm and cool season) in lake effect and widespread precipitation events.
Turbines can also cause partial beam blockage impacting dual polarization data, and display large amounts of erroneous data.
Downstream turbine clutter can impact precipitation data by over/ underestimation, incorrect wind speed data, and false storm identification and tracking over Lewis County before moving into northern Herkimer County.
In the winter, lake effect snow features could be masked or underestimated, negatively impacting warnings and advisories.
During severe weather, erroneous data (especially wind velocities) can impact early detection and warnings of high winds, hail, and tornadoes.
NWS Buffalo Impacts:
The height of existing turbine towers and turbines' spinning blades are causing beam blockage and under-sampling of the radar echoes downstream for Jefferson, Lewis, and Oswego counties.
Resulting precipitation estimates in the vicinity of turbines are not useable, while precipitation estimates downstream have been degraded.
Turbines are causing partial beam blockage impacting dual polarization products. This results in large amounts of erroneous data.
Additional turbine installations will nearly surround the radar, further exacerbating these issues and will make radar interpretation and the detection of severe weather increasingly difficult.
Wind turbine clutter has a negative impact on several radar capabilities:

Precipitation estimation algorithms produce false estimates.
Velocity products are often not useable near the turbines, particularly during severe weather.
This can cause false and/or missed detection of tornadoes by radar algorithms and forecasters.
Thunderstorm or winter storm characteristics will be further masked or misinterpreted, reducing warning effectiveness in the vicinity of and downrange of existing and future wind turbines.
False signatures contaminating Doppler velocity data will further reduce forecasters' situational awareness, especially during hazardous weather events.
Potential radar relocation, particularly east or northeast from the current location will further reduce radar coverage south of Lake Ontario from Monroe, Wayne and Cayuga counties, with completely unseen lake effect events by radar. In any move, beam blockage will continue to be an issue near and over the Tug Hill Plateau.
NWS Binghamton Impacts:
Thunderstorm or winter storm characteristics will be further masked or misinterpreted, reducing warning effectiveness in the vicinity of and downrange of existing and future wind turbines.
False signatures contaminating Doppler velocity data will further reduce forecasters' situational awareness, especially during hazardous weather events.
The beam blockage will hamper our abilities to detect thunderstorm circulations in Oneida/Madison Counties and hence tornado warnings could be delayed. It is important that we have good radar coverage in Oneida/Madison Counties because there is a local maximum in tornadoes in these areas since the Mohawk Valley will often skew winds to the southeast leading to increased atmospheric rotation.
The beam blockage could also significantly hamper our ability to forecast and detect lake effect snow. Oneida County (especially northern Oneida County) sees more than 200″ of snow per year on average and is one of the snowiest places east of the Rockies. The beam blockage could affect our ability to detect lake effect snow along the NY State Thruway between Syracuse and Utica of which is a major travel corridor. Our office provides almost daily briefings to the NYS Thruway Authority when a lake effect snow pattern is present. Significant beam blockage could erode our ability to time and track heavy lake effect snow bands that severely impact travel which would lead to less accurate decision support to the Thruway Authority.
Oneida and Madison Counties have a history of severe local flash flooding and beam blockage will hamper our ability to accurately estimate rainfall in these counties which would negatively impact the timeliness of flash flood warnings.
NWS Burlington Impacts:
Wind turbines close to the radar close to the radar cause some uncertainty/confusion about actual storm characteristics while monitoring storms that are moving north or northeast. This can delay warnings, resulting in a lower lead time prior to the storm reaching St. Lawrence or Franklin Counties.
The wind turbines "look" like precipitation, even on a clear day. This can cause confusion to users of the data, including the media, pilots, and general public.
If the radar is forced to be relocated because of wind turbines, concerns would be magnified. Any move to the east or south of the current location would result reduced radar coverage over St. Lawrence and Franklin Counties. This would mean poorer detection of lake effect snow and low level severe weather features, such as tornadoes, high winds, and hail.
---
Author: Thind, Maninder; et al.
Abstract.
Environmental consequences of electricity generation are often determined using average emission factors. However, as different interventions are incrementally pursued in electricity systems, the resulting marginal change in emissions may differ from what one would predict based on system-average conditions. Here, we estimate average emission factors and marginal emission factors for CO₂, SO₂, and NOx from fossil and nonfossil generators in the Midcontinent Independent System Operator (MISO) region during years 2007–2016. We analyze multiple spatial scales (all MISO; each of the 11 MISO states; each utility; each generator) and use MISO data to characterize differences between the two emission factors (average; marginal). We also explore temporal trends in emissions factors by hour, day, month, and year, as well as the differences that arise from including only fossil generators versus total generation. We find, for example, that marginal emission factors are generally higher during late-night and early morning compared to afternoons. Overall, in MISO, average emission factors are generally higher than marginal estimates (typical difference: ∼20%). This means that the true environmental benefit of an energy efficiency program may be ∼20% smaller than anticipated if one were to use average emissions factors. Our analysis can usefully be extended to other regions to support effective near-term technical, policy and investment decisions based on marginal rather than only average emission factors.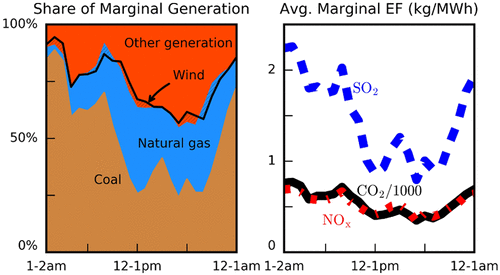 Maninder P. S. Thind and Julian D. Marshall, Department of Civil and Environmental Engineering, University of Washington, Seattle, Washington
Elizabeth J. Wilson, Humphrey School of Public Affairs, University of Minnesota, Minneapolis, and Environmental Studies, Dartmouth College, Hanover, New Hampshire
Inês L. Azevedo, Department of Engineering and Public Policy, Carnegie Mellon University, Pittsburgh, Pennsylvania
Environmental Science and Technology, 2017, 51 (24), pp 14445–14452
DOI: 10.1021/acs.est.7b03047
Download original document: "Marginal Emissions Factors for Electricity Generation in the Midcontinent ISO"
---
Author: Hittinger, Eric; and Azevedo, Inês
Abstract.
Bulk energy storage is generally considered an important contributor for the transition toward a more flexible and sustainable electricity system. Although economically valuable, storage is not fundamentally a "green" technology, leading to reductions in emissions. We model the economic and emissions effects of bulk energy storage providing an energy arbitrage service. We calculate the profits under two scenarios (perfect and imperfect information about future electricity prices), and estimate the effect of bulk storage on net emissions of CO₂, SO₂, and NOx for 20 eGRID subregions in the United States. We find that net system CO₂ emissions resulting from storage operation are nontrivial when compared to the emissions from electricity generation, ranging from 104 to 407 kg/MWh of delivered energy depending on location, storage operation mode, and assumptions regarding carbon intensity. Net NOx emissions range from −0.16 (i.e., producing net savings) to 0.49 kg/MWh, and are generally small when compared to average generation-related emissions. Net SO₂ emissions from storage operation range from −0.01 to 1.7 kg/MWh, depending on location and storage operation mode.
Eric S. Hittinger, Department of Public Policy, Rochester Institute of Technology, Rochester, New York
Inês M. L. Azevedo, Department of Engineering and Public Policy, Carnegie Mellon University, Pittsburgh, Pennsylvania
Environmental Science and Technology, 2015, 49 (5), pp 3203–3210
DOI: 10.1021/es505027p
Download original document: "Bulk Energy Storage Increases United States Electricity System Emissions"
---