Resource Documents: Property values (103 items)
Unless indicated otherwise, documents presented here are not the product of nor are they necessarily endorsed by National Wind Watch. These resource documents are shared here to assist anyone wishing to research the issue of industrial wind power and the impacts of its development. The information should be evaluated by each reader to come to their own conclusions about the many areas of debate. • The copyrights reside with the sources indicated. As part of its noncommercial effort to present the environmental, social, scientific, and economic issues of large-scale wind power development to a global audience seeking such information, National Wind Watch endeavors to observe "fair use" as provided for in section 107 of U.S. Copyright Law and similar "fair dealing" provisions of the copyright laws of other nations.
---
Date added:
September 7, 2022
Economics
,
Emissions
,
Environment
,
Health
,
Noise
,
Property values
•
Author: Gitt, Brian
I love the *idea* of wind power. It sounds natural. Clean. Moral. But in reality, wind power harms the environment & people—especially low-income people. The myths about wind power are fueling bad energy policies & poor investments. The facts make it all look ridiculous.
2/ MYTH: wind power helps the environment.
Wind power requires excessive mining & land use. It industrializes coastline & kills wildlife.
Nuclear & natural gas power plants reduce CO₂ emissions more effectively.
U.S. Energy Information Administration: "Electric power sector CO2 emissions drop as generation mix shifts from coal to natural gas"
3/ Wind turbines are made from minerals, petrochemicals, & fossil fuels.
Building a single 2 MW windmill uses 187 tons of coal—the equivalent of 125 pickup trucks full of coal.
Vaclav Smil: "What I See When I See a Wind Turbine"
4/ Building a 100 MW wind farm requires 30,000 tons of iron ore, 50,000 tons of concrete & 900 tons of non-recyclable plastics for the blades—all mined, transported & produced with hydrocarbons.
5/ Wind farms need 360× more land to produce the same amount of energy as a nuclear power plant.
A 200 MW wind farm spans 13+ sq miles (36 sq km). A natural-gas power plant with the same generating capacity could fit onto a single city block.
Dave Merrill, Bloomberg: "The U.S. Will Need a Lot of Land for a Zero-Carbon Economy"
6/ Wind turbines threaten endangered whales & fisheries, & kill hundreds of thousands of birds every year.
Robert Bryce, Real Clear Energy: "The Sierra Club Loves Wind Turbines, Not Whales"
7/ Each wind turbine blade is over 165 feet (50 meters) long & is made from toxic materials that can't be recycled & that are getting dumped in landfills.
Tens of thousands of these blades will eventually enter the waste stream.
Chris Martin, Bloomberg: "Wind Turbine Blades Can't Be Recycled, So They're Piling Up in Landfills"
8/ There are better ways of reducing climate risk.
The carbon footprint of an offshore wind farm is 3 times larger than the carbon footprint of a nuclear plant.
Building wind farms channels resources away from better ways of reducing climate risk like nuclear power.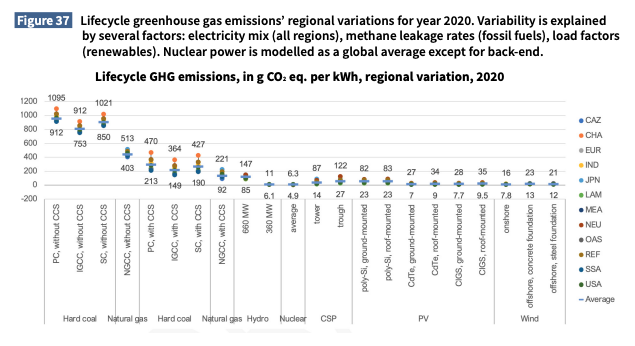 9/ MYTH: Wind power helps people.
Households pay more for electricity where there are wind & solar mandates:
German households saw their energy bills increase by 34% between 2010-2020.
American households in CA pay 80% more, & 11% more in 28 other states with mandates.
10/ Lower-income people subsidize wind-power tax credits for the wealthy.
"We get a tax credit if we build a lot of wind farms. That's the only reason to build them. They don't make sense without the tax credit." —Warren Buffett
11/ The wind industry still needs subsidies even after billions in public handouts.
The US Treasury estimates the wind production tax credit will cost taxpayers ~$34 billion from 2020 to 2029. It's by far the most expensive energy subsidy.
12/ People who live near wind farms report sleep disturbances, headaches, dizziness, vertigo, nausea, blurry vision, irritability, & problems with concentration & memory.
Jeffery, Krogh, and Horner, Canadian Family Physician: "Adverse health effects of industrial wind turbines"
13/ China takes up 7 spots among the world's top 10 wind turbine manufacturers—where weak environmental regulations prevail & lower production costs are fueled by coal & cheap labor.
14/ Goldwind (2nd largest wind manufacturer in the world) has factories in China's Xinjiang province, where hundreds of thousands of Uyghurs are working in slave labor conditions.
Jacob Fromer and Cissy Zhou, South China Morning Post: "As US moves to renewable energy, wind turbines from Xinjiang may get caught in political tempest"
15/ MYTH – We can build enough wind farms to meet our energy needs.
People hate living near wind farms.
The farms are loud & large (each is 400-700 ft tall (122-213 m).
They destroy views & hurt property values.
Robert Bryce, Center of the American Experiment: "Not in Our Backyard: Rural America is fighting back against large-scale renewable energy projects"
16/ Public backlash against wind farms is growing in the US & Europe.
Local governments have rejected over 317 US wind projects since 2015.
Renewable Energy Rejection Database, American Experiment: "US Governmental Entities That Moved to Reject or Restrict Wind Projects"
17/ Offshore wind farms sidestep some community conflicts but have other problems.
Building offshore farms is 3× more expensive than onshore.
They threaten endangered whales, fisheries, ocean views & industrialize the coastline.
18/ Wind turbines generate electricity only ~30% of the time because the wind doesn't always blow.
Every megawatt of wind needs a megawatt of fossil fuel power (usually natural gas) as a backup.
19/ MYTH – Better tech will solve problems with wind power.
The Betz limit in physics caps the maximum efficiency for a wind turbine. At most, only 60% of the kinetic energy from wind can be used to spin the turbine & generate electricity.
20/ Not all tech innovation makes things cheaper.
Offshore wind is getting more expensive. The cost has been increasing by 15% whenever capacity doubles.
Renewable Energy Foundation: "Wind Power Economics – Rhetoric and Reality"
21/ Some people think we'll be able to store surplus wind energy in batteries. But the world's largest battery factory (Tesla's Gigafactory) would need 1,000 years to make enough batteries for 2 days' worth of US electricity demand. And batteries cost 200× more than natural gas.
22/ Wind farms break down often & don't last long.
Equipment failures & declining performance make the cost of operating a 16+ yr old wind turbine prohibitive.
Onshore turbines lose 37% output & offshore turbines lose 50% output at 16 yrs.
Gordon Hughes, Renewable Energy Foundation: "Costs, Performance and Investment Returns for Wind Power"
23/ Myths about wind power are driving bad investments & policy decisions.
Dollars spent on them cause harm & suffering to the poorest among us–a high cost for false moral comfort.
Let's build an energy system that maximizes human flourishing & minimizes environmental harm.
24/ What We Need To Do:
End subsidies & incentives for wind & solar.
Retire the dirtiest coal power plants.
Build new efficient natural gas power plants (and hydro and geothermal where possible).
Reform regulations & build nuclear power plants.
Invest in energy R&D.
Brian Gitt
Feb 15, 2022, Twitter (@BrianGitt)
---
Date added:
September 21, 2020
Netherlands
,
Property values
•
Author: Koster, Hans; and Dröes, Martijn
Countries that invest in renewable energy production face frequent opposition from local homeowners. Using a detailed housing transactions dataset covering the whole of the Netherlands since 1985, this column compares the overall impact that wind turbines and solar farms have on housing prices. It finds that tall wind turbines (over 150 metres) have a negative effect, and solar farms generate losses as well (2-3% for homeowners within a 1km orbit). This evidence should be factored into finding the optimal allocation of renewable energy production facilities.
Renewable energy is on the rise (Newbery 2018). While global demand is still strongly increasing amidst the Covid-19 pandemic, the demand for fossil fuels has steeply declined (IEA 2020). Wind turbines are an important source of renewable energy, with 30% of total capacity located in Europe and 17% in the US in 2018. China has invested especially heavily in wind energy, overtaking the EU in 2015 as the largest producer of wind energy. Currently, 36% of worldwide capacity is located in China (GWEC 2019). Wind turbines have become taller over time: turbines in the 1980s were still around 30 metres, while the newest generation of wind turbines are well above 100 metres.
A related trend is the commercial production of renewable energy via solar farms. The first solar farm was constructed in 1982 in California. Yet, with advances in technology, the commercial exploitation of solar farms has only become attractive in the last decade or so (Heal 2009). These solar farms have also become bigger over time; the largest solar farm currently is 40km2 and located in Bhadla, India.
Even though wind turbines comprise a larger part of renewable energy production, last year's growth in solar photovoltaics capacity was about twice that of wind turbines (REN21 2020). Whether the current surge in the construction of tall wind turbines and large solar farms will continue remains to be seen, but some countries have already suggested that the economic recovery after Covid-19 should be a green one (Jordans 2020).
Wind turbines make noise, cast shadows, cause flickering, and visually pollute the landscape, typically leading to substantial opposition from the local population, including homeowners. A similar story applies for ground-mounted solar panels, as they reflect ambient sound, sunlight, create a buzzing sound, and are also not so great to look at. In line with a large literature on hedonic pricing, we would expect that such 'external effects' capitalise into local house prices. Increasing our understanding of these external effects is important to gaining insight into the optimal allocation of renewable energy production facilities.
In a recent study (Dröes and Koster 2020), we examine the effects of tall wind turbines and solar farms on residential property values. Using a detailed housing transactions dataset covering the whole of the Netherlands since 1985, and a difference-in-differences regression methodology, we compare changes to house prices in areas that will receive a turbine in the future to areas in which a turbine already has been built, taking into account a host of other factors determining house prices such as location, general economic trends, and housing quality. In this way, we ensure that we compare apples with apples (i.e. houses in areas that have a turbine compared to houses in near-identical areas without a turbine), rather than apples with oranges. A comparable approach is used to measure the effects of solar farms.
In Figures 1a and 1b, we plot the spatial distribution of (respectively) wind turbines and solar farms across the Netherlands. It is easy to observe that turbines are more common than solar farms.
Most solar farms have been built in recent years. Turbines are particularly common in coastal areas where wind is ubiquitous. Solar farms are mainly built in the northwest of the Netherlands, as more space is available to facilitate large solar farms.
With regard to the empirical results for wind turbines, residential property values are negatively impacted when properties are in close proximity to a wind turbine. In particular, the house prices of properties within a 2km radius decrease on average by 2% relative to comparable properties with no wind turbines nearby. However, we find considerable heterogeneity in the effect of turbines on house prices (see Figure 2). For example, a tall wind turbine (>150m tip height) generates a negative price effect of about 5% within 2km, while we do not find a significant effect for turbines below 50m. We show that our results are robust when (i) we allow for changes in perception to wind turbines, (ii) we look at removals of turbines rather than placements, and (iii) we allow for the effects of multiple turbines. Regarding the latter, we find that only the first turbine within 2km has an effect on property prices. From a policy standpoint, this suggest that it is preferable to cluster wind turbines into large wind farms. We also show that the impact area of turbines is essentially the same for turbines taller than 50m, while the effects are more localised for turbines under 50m.
Taking the empirical results at face value, we calculate the overall loss in housing wealth as a result of wind turbines and solar farms. It appears that just 25 turbines account for almost 50% of the total loss, which shows that it is very important to build turbines not too close to residential properties. Indeed, the median loss per turbine is much lower and about €166,000, or about €89 per megawatt hour (MWh). Given the construction costs of about €1.27 million per MW, and the median installed capacity of 3MW, the median loss in housing values is about 4.4% of the median construction costs. Interestingly, the median loss per MWh varies considerably across turbines of different heights. For example, because tall turbines generate more power, the median loss per MWh is about €10, while it is €844 for small turbines. Hence, despite the smaller effects of small turbines on house prices, the lower power output means it is not more efficient to build small turbines.
For solar farms the results are less convincing because the number of solar farms is much lower, making the estimated coefficients less precise. Still, we find evidence suggesting that solar farms lead to a house price decrease of about 2-3%. Unsurprisingly, the effect is more localized than the effect of turbines and confined to 1km. Because fewer solar farms are constructed, the total loss is just over €84 million. Here it also seems more informative to look at the median loss of a solar farm, which amounts to about €0.5 million – somewhat larger than the median loss for one turbine. However, this is mainly because solar farms are generally larger and generate more electricity. The median loss per MWh is €63, which is in the same order of magnitude as the median loss per MWh for wind turbines (i.e. €89 per MWh).
Producing energy in a sustainable way is an important step towards a climate-neutral economy with net-zero greenhouse gas emissions (Castle and Hendry 2020). Wind and solar energy are important sources of renewable energy. However, while reductions in CO₂ emissions benefits the whole population, external effects are borne only by households living close to production sites. Hence, insights into these external effects is paramount, as the size of external effects directly informs the local support for the opening of production sites, such as wind turbines and solar farms. Our study shows that the location of production sites of renewable energy matters, as a few sites cause the lion's share of losses in housing values in the Netherlands. The results also highlight that when building tall turbines in the right locations, reductions in housing values are a relatively small share (<5%) of the total construction costs of turbines.
Hans Koster, Professor of Urban Economics and Real Estate, Vrije Universiteit Amsterdam
Martijn Dröes, Assistant Professor of Real Estate Finance, University of Amsterdam
20 September 2020
References
Jordans, F (2020), "Germany, Britain call for 'green recovery' from pandemic", Associated Press Berlin, 27 April.
Castle, J and D Hendry (2020), "Decarbonising the Future UK Economy", VoxEU.org, 4 June.
Dröes, M and H Koster (2020), "Wind turbines, solar farms, and house prices", CEPR Discussion Paper 15023.
GWEC (2019), Global Wind Report 2018, Global Wind Energy Council.
Heal, G (2009), "Can Renewable Energy Save the World?" VoxEU.org, 29 October.
IEA (2020), Global energy review 2020.
Newbery, D (2018), "Evaluating the Case for Supporting Renewable Electricity", VoxEU.org, 20 July.
REN21 (2020), Renewables 2020 Global Status Report.
---
Date added:
January 14, 2020
Aesthetics
,
Economics
,
Environment
,
General
,
Property values
,
Siting
,
Technology
,
U.S.
,
Wildlife
•
Author: Gross, Samantha; and Brookings Institution
Decreasing greenhouse gas emissions in the electricity sector is crucial to avoiding the worst impacts of climate change. The American public overwhelmingly favors renewable power, and the costs of wind and solar power have declined rapidly in recent years. However, inherent attributes of wind and solar generation make conflicts over land use and project siting more likely. Power plants and transmission lines will be located in areas not accustomed to industrial development, potentially creating opposition.
Wind and solar generation require at least 10 times as much land per unit of power produced than coal- or natural gas-fired power plants, including land disturbed to produce and transport the fossil fuels. Additionally, wind and solar generation are located where the resource availability is best instead of where is most convenient for people and infrastructure, since their "fuel" can't be transported like fossil fuels. Siting of wind facilities is especially challenging. Modern wind turbines are huge; most new turbines being installed in the United States today are the height of a 35-story building. Wind resources are best in open plains and on ridgetops, locations where the turbines can be seen for long distances.
Even though people like wind and solar power in the abstract, some object to large projects near their homes, especially if they don't financially benefit from the project. Transmission for renewable power can also be unpopular, and even more difficult to site when the power is just passing through an area, rather than directly benefiting local residents. This is an issue today building transmission to move wind power from the Great Plains and Upper Midwest states to cities in the east.
Technological and policy solutions can lessen the land use impact of renewable power and the resulting public opposition. Offshore wind eliminates land use, but it raises opposition among those concerned with the impact on the environment and scenic views. Building on previously disturbed land and combining renewable power with other land uses, like agriculture or building solar on rooftops, can minimize land use conflicts. Community involvement in project planning and regulations for land use and zoning can help to alleviate concerns. Nevertheless, there is no perfect way to produce electricity on an industrial scale. Policymakers must recognize these challenges and face them head-on as the nation transitions to a lower-carbon energy system.
Download original document: "Renewables, land use, and local opposition in the United States"
---
Date added:
March 5, 2019
Economics
,
Filings
,
Florida
,
Health
,
Nebraska
,
Noise
,
Property values
,
U.S.
•
Author: Kohmetscher, Kevin; Healy, David; and McGuire, Myles
IN THE UNITED STATES DISTRICT COURT FOR THE SOUTHERN DISTRICT OF FLORIDA
Plaintiff, Kevin Kohmetscher, brings this Class Action Complaint & Demand for Jury Trial against Defendant, NextEra Energy, Inc. ("NextEra" or "Defendant"), to stop Defendant from operating wind turbines near residential communities in a way that causes a nuisance and interferes with homeowners' use and enjoyment of their property. Plaintiff alleges as follows based on personal knowledge as to himself and his own acts and experiences …
NATURE OF THE ACTION
1. Defendant is one of the largest electric utility companies in the country, and the largest generator of wind energy in the world.
2. To generate wind energy, Defendant has constructed numerous "wind farms" across the United States. A wind farm is an array of wind turbines. Each turbine sits high in the air atop a tower and consists of a large rotor with three blades that spin as wind passes over the blades. Defendant's wind farms often consist of dozens of turbines and stretch for miles across open terrain.
3. Although wind farms can supply renewable energy, they can also pose a number of hazards when built too close to homes and residential communities.
4. For instance, a turbine's spinning blades create flickering shadows that pass over nearby land. For those in the path of a wind turbine's shadows, the "shadow flicker" effect is similar to a constant strobe light. Those who experience prolonged shadow flicker often complain of severe headaches, nausea, difficulty concentrating, and in some cases seizures.
5. Turbines are also very noisy. The spinning blades create a deep thumping noise that sounds similar to a distant helicopter or train. This constant sound can travel for miles depending on weather conditions, and results in a decreased quality of life for those within a certain radius of the wind turbines due to stress, loss of sleep, and anxiety.
6. Rather than constructing its wind farms away from residential areas to prevent interfering with homeowners' use and enjoyment of their land, Defendant has instead sited many of its wind farms in the middle of farm fields, near houses, and next to important roads.
7. Although Defendant's chosen wind farm locations may be optimal for wind energy generation, the turbines' proximity to residential areas can be devastating to those living in the surrounding community. The turbines drive people from their homes due to the unreasonable inconvenience, interference, annoyance, and adverse health effects caused by the turbines. Wind farms also destroy the scenic beauty of rural areas, cluttering the horizon with conspicuous towers and spinning blades.
8. Those who attempt to sell their homes and move away from Defendant's wind farms are often unable to do so because the value of land near turbines plummets.
9. Accordingly, Plaintiff brings this action on his own behalf and on behalf of similarly situated individuals to obtain redress and injunctive relief for those who have suffered harm as a result of Defendant's substantial and unreasonable interference with their use and enjoyment of their property.
10. On his own behalf and on behalf of a proposed class defined below, Plaintiff seeks an award of damages compensating him and the putative class members for the negative effects that Defendant's turbines have had on their health and well-being, use and enjoyment of their property, and diminution in value of their property due to Defendant's turbines. Plaintiff also seeks a permanent injunction barring Defendant from continuing to unreasonably interfere with his and the putative class members' use and enjoyment of their property.
ALLEGATIONS OF FACT COMMON TO ALL COUNTS
Background
16. Wind energy is produced through the use of wind turbines. Turbines generally consist of three spinning blades connected to a rotor and a generator that sit atop a tower. As wind passes over the blades, the blades rotate and spin the generator to convert the wind's kinetic energy into electrical energy.
17. Towers range in size up to 500 feet high, and blades can be more than 260 feet long. Due to their size, wind turbine towers require a large foundation to stay upright. Turbines are generally painted white to make them visible to aircraft.
18. When used to generate energy for commercial applications, large numbers of wind turbines are grouped together for efficiency in arrays known as wind farms.
19. Wind farms require use and control of extensive land area in order to optimize the spacing between turbines and minimize turbulence at downwind turbines.
20. Wind farms are typically sited in wide-open, rural areas. As such, the turbines often disrupt the natural scenic beauty of the land where they are placed. Wind farms also pose a risk of mortality to migratory birds whose flight paths pass through wind farms.
21. Many industrial wind turbine manufacturers recommend that turbines be at least 1,500 feet from any residence—a minimum setback—to provide a safety zone in the event of catastrophic failure (e.g. a blade breaks and flies off, or the turbine flings shards of ice that have accumulated along the blades during winter).
22. As a result, there is typically a "no-build" zone in a 1,500 feet radius surrounding any turbine. In many instances, however, this "no-build" zone overlaps with the property of landowners.
23. More importantly, wind turbines often interfere with residents' use and enjoyment of their property even where they live beyond the recommended minimum setback.
24. For instance, the rotation of turbine blades causes a rhythmic flickering of sunlight, commonly called "shadow flicker."
25. Shadow flicker can be especially noticeable in the mornings and evenings, when the sun appears close to the horizon. During such times, turbine blades can cast intermittent shadows that completely obscure sunlight each time a blade passes in front of the sun, causing a strobe-like effect. Shadow flicker can be an issue both indoors and outdoors when the sun is low in the sky.
26. Prolonged exposure to the strobe-like effect of shadow flicker is not only distracting and annoying, it also causes headaches, nausea, and has been reported to cause seizures in certain individuals.
27. Wind turbines can also be very noisy, exceeding prescribed decibel limits in many residential areas.
28. In addition to the noise made by the mechanical equipment inside turbine towers, turbines also cause aerodynamic noise. Aerodynamic noise is created by wind passing over the blades of a wind turbine. The tip of a 40-50 meter blade can travel at speeds of over 140 miles per hour under normal operating conditions. As the wind passes over the moving blade, the blade interrupts the laminar flow of air, causing turbulence and noise. Although current blade designs attempt to minimize the amount of turbulence and noise caused by wind, it is not possible to completely eliminate turbulence or noise from turbines.
29. Those who live near wind turbines have described the noise that turbines make as a rhythmical beating that sounds like "like a train that never gets there," a "distant helicopter," "thumping," "thudding," "pulsating," and "beating."
30. In addition to this audible thumping, turbines also emit inaudible low frequency sound waves known as infrasound. Although these sound waves are below the range of sound audible to humans, prolonged exposure can disturb sleep and impair mental health. Infrasound has been linked to increased instances of insomnia, stress, stroke, heart failure, immune system problems, dizziness, vertigo, nausea, ringing in the ears, breathing problems, abdominal and chest pain, urinary problems, effects on speech, and headaches. Further, high noise environments negatively impact learning in young children, making it hard to concentrate and communicate with others.
31. Health effects related to noise emissions from wind turbines have been observed in individuals living up to three miles from turbines, with the effects being greatest for those within one mile.
32. Individuals who live near Defendant's wind farms usually decide to move away from the farms shortly after their installation due to the various ways that turbines interfere with their use and enjoyment of their property, including issues stemming from shadow flicker, noise emissions, and related health issues. However, many who reside near Defendant's wind farms are unable to move due to the financial strain caused by the decreased value of their property and the inability to find a buyer willing to live near a wind farm.
Facts Specific to Plaintiff
33. Plaintiff owns a plot of land located at 2034 Rd. 1900, Blue Hill, Webster County, Nebraska. Plaintiff's plot is approximately 11 acres in size, and Plaintiff currently resides in a single-family dwelling located on his land.
34. Plaintiff's plot has been in his family for decades. Plaintiff grew up on his land, and he purchased it from his father.
35. Plaintiff's property is adjacent to the Cottonwood Wind Farm, a wind turbine farm owned and operated by Defendant. Defendant began constructing the Cottonwood Wind Farm in or about mid 2017, and the turbines began commercial operation in or about November 2017.
36. The Cottonwood Wind Farm is miles-long and consists of more than 40 wind turbines built and maintained by Defendant.
37. The rear of Plaintiff's residence faces the Cottonwood Wind Farm. In relation to Plaintiff's property, the turbines are located to the east, south, and west of Plaintiff's residence. The nearest turbine is located approximately 1,300 feet from Plaintiff's property line.
38. Since the turbines near Plaintiff's property began operating, the turbines have negatively affected, invaded upon, and interfered with the Plaintiff's use and enjoyment of his property by:
a. creating sustained, incessant, cyclical, and highly disturbing and annoying audible noise created by and emitted from the turbines, often described as sounding like an airplane flying overhead that never flies away;
b. creating vibrations or amplitude modulation of sound pressures or a pulse sensation when the rotating blades of the turbines pass by the turbine pedestal;
c. creating a shadow flicker/strobe light effect that often covers all of Plaintiff's property and intrudes into Plaintiff's home when the rotating blades of the turbines pass in front of the sun;
d. disrupting and/or preventing Plaintiffs' ability to entertain guests or relatives, who are unable to visit for extended periods of time due to headaches and sleep disruption caused by the turbines;
e. creating highly visible glare or glint which emanates from the turbines when they reflect sunlight;
f. disrupting and obscuring Plaintiff's views and vistas with turning blades, where such vistas were previously unobstructed;
g. preventing Plaintiff from enjoying normal outdoor family activities on his property such as barbeques, and other recreational activities;
h. Preventing Plaintiff from keeping his windows open due to persistent noise.
39. As a direct and proximate result of Defendant's ongoing interference with Plaintiff's use and enjoyment of his property, Plaintiff has suffered and continues to suffer:
a. an inability to sleep, repeated awakening during sleep, and sleep deprivation;
b. headaches;
c. vertigo and/or dizziness;
d. nausea;
e. stress and tension;
f. fatigue;
g. and anxiety and emotional distress.
40. The Cottonwood Wind Farm and the impact it has had on Plaintiff's property has thus substantially and unreasonably interfered with Plaintiff's use and enjoyment of his property. On information and belief, Plaintiff's property has decreased and will continue to decrease in value due to its proximity to Defendant's wind turbines, and Plaintiff will be unable to lease or sell his property for its fair market value prior to installation of the turbines.
COUNT I: Private Nuisance …
COUNT II: Negligence …
Dated: March 1, 2019
Download original document: "Kohmetscher v. Nextera"
---