Resource Documents: Colorado (5 items)
Unless indicated otherwise, documents presented here are not the product of nor are they necessarily endorsed by National Wind Watch. These resource documents are shared here to assist anyone wishing to research the issue of industrial wind power and the impacts of its development. The information should be evaluated by each reader to come to their own conclusions about the many areas of debate. • The copyrights reside with the sources indicated. As part of its noncommercial effort to present the environmental, social, scientific, and economic issues of large-scale wind power development to a global audience seeking such information, National Wind Watch endeavors to observe "fair use" as provided for in section 107 of U.S. Copyright Law and similar "fair dealing" provisions of the copyright laws of other nations.
---
Author: Nextera Energy
"Next Era Energy has destroyed our lives and has caused the death of 26 of our animals since Sept. 17, 2015 (when these blades started turning). Now something must happen as all we have seen is death. We are struggling to live here in our beautiful home. Sleep deprivation is killing us. We hope you can use these documents. We got them from our county government."
Option for Transmission Easement Agreement and Transmission Easement (pages 2-11)
Wind Project Neighbor Easement Agreement (pages 12-23)
Grant of Electrical Line, Communication Line, Road and Wind Rights Easements (pages 24-42)
Grant of Road Easement and Easement Agreement (pages 43-55)
Road and Transmission Line Easement Agreement (pages 56-74)
Windpark Easement Agreement (pages 75-97)
Download original document: "Sample Lease Documents, Golden West Wind Energy Project, El Paso Country, Colorado"
---
Date added:
April 1, 2017
Colorado
,
Noise
,
Regulations
•
Author: Rand, Robert
Summary:
Differential acoustic pressure measurements were acquired and logged at three homes in the vicinity of the Golden West Wind Facility in El Paso County, Colorado during December 2015 and January 2016. A week of data was analyzed for each of the three homes and daily spectrograms produced which are attached. Each day's data consisted of approximately 4.3 million differential pressure samples with a week comprised of some 30.5 million samples.
Preliminary investigation confirmed the presence of recurring acoustic pressure oscillations at 0.2 to 0.85 Hz (the "blade pass frequency" or BPF) which are associated to the Golden West wind turbine rotations. At times multiple oscillation frequencies were observed, consistent with multiple turbines operating at different rotation rates. Oscillations appeared to be more pronounced when the turbines are more upwind rather than downwind. Neighbors reported they are mostly downwind due to turbine location relative to home location and for the prevailing winds in the region.
Typical BPF total acoustic power were computed for example portions of the differential pressure data sets. Crest factors (the ratio of RMS to peak levels) were also computed for segments dominated by wind turbine rotation and uncontaminated by other noise, with typical crest factors of 13-19 dB. Totalized BPF RMS levels ranged from 56 to 70 dB re 20uPA, with peak levels from 71 to 89 dB. The RMS and peak levels are similar to those found at other sites with appeals to stop the noise, legal action, and homes abandoned.
It is understood from neighbors that they have experienced disturbance since the turbines started operating whereas prior to turbine operation there was no similar disturbance. It is understood that neighbors report improvement when turbines are shut down (not rotating) or when they remove themselves physically away from the Facility a distance of several miles.
El Paso County noise regulations define "Sound" as oscillations in pressure (or other physical parameter) at any frequency, and, prohibits noise disturbance due to acoustic oscillations.
The analysis is far from complete in that numerous segments of each day at each monitoring location could be analyzed and associated to journal entries and/or medical data. The reported association of proximity to the operating facility to disturbance in health and quality of life appears supported by the acoustic data acquired for this preliminary investigation. These preliminary investigations suggest that there is a condition of noise disturbance due to very low frequency acoustic pressure oscillations in the vicinity of the Golden West Wind Facility when it is operating, with more severe impacts downwind.
Download original document: "Independent Infrasonic Investigations: Golden West Wind Facility, El Paso County, CO"

[NWW thanks Friends Against Wind for providing the video.]
---
Date added:
March 30, 2011
Colorado
,
Impacts
,
Iowa
,
Montana
,
North Dakota
,
Photos
,
South Dakota
,
Texas
,
Wyoming
•
Author: Wanzek Construction
Top of the World Wind Farm, Glenrock, WY, Duke Energy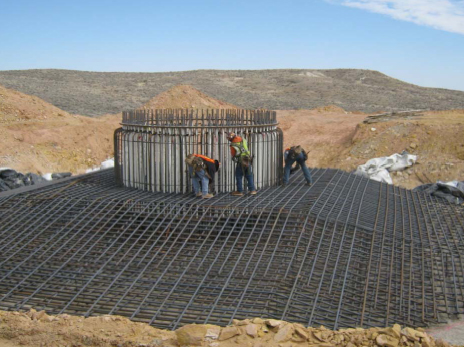 Top of Iowa Wind, Kensett, IA, Madison Gas & Electric

Three Buttes Wind, Glenrock, WY-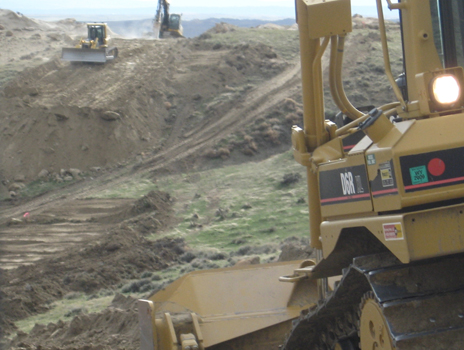 Oliver County Wind, Center, ND, FPL/Next Era Energy Resources

NoTrees Wind, Odessa, TX, Duke-Energy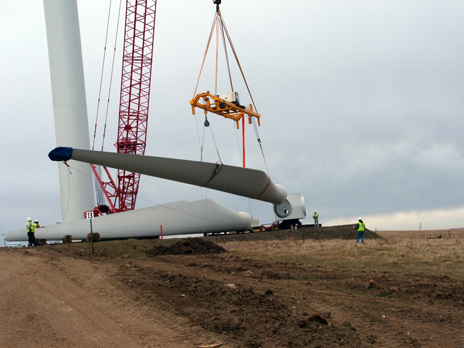 Langdon Wind, Langdon, ND, FPL/Next Era Energy Resources

Kit Carson Wind Farm, Burlington, CO, Duke Energy

Goat Mountain Wind, Robert Lee, TX, Edison Mission Energy

Endeavor Wind, Harris, IA, FPL/Next Era Energy Resources

Charles City Wind, Charles City, IA, MidAmerican Energy

Cedro Hill Wind Farm, Bruni, TX, Edison Mission Energy

Cedar Hills and Diamond Willow Wind Farms, Rhame, ND and Baker, MT, MDU Resources

Burleigh County Wind, Wilton, ND, FPL/Next Era Energy-Resources

Buffalo Ridge Wind Farm, White, SD, Iberdrola Renewables

Barton Wind, Barton, IA, Iberdrola Renewables

---
Date added:
October 11, 2010
Colorado
,
Noise
,
Regulations
•
Author: Engineering Dynamics
This draft regulation references many ordinances laws and regulations in effect by many cities and counties in the U. S. and other countries. Also, referenced are technical papers, reports and nationally recognized standards relating to wind turbines. …
Wind Farm Noise Emissions
Noise emission from the site shall not be greater than the dB(A) slow and dB(C) slow, one-hour energy equivalent exceedance levels:

Exceedance Value – %
Hourly Exceedance Level Turbine Noise
dB(A) Slow – Leq
dB(C) Slow – Leq
1
60
75
5
55
70
10
50
65
50
45
60
90
40
55
99
35
50
Pure Tones
Pure tones shall be defined using un-weighted one-third octave level as existing when the one-third octave band levels adjacent to the one-third octave band containing the tone are 5 dB or more less at frequencies greater than 500 Hz. Below 500 Hz, the differences must be 8 dB for center frequencies, 160, 200, 250. For center frequencies of 125 Hz and lower the differences must be 10 dB. If there are pure tones present as described in this section, then the audible noise standard shall be reduced by 5 dB.
Low Frequency Noise or Infrasound Noise
No low frequency noise or infrasound noise from wind turbine operations shall be created which causes the noise level at the project boundary or at a one-mile radius beyond the closest turbine, which ever is greater to exceed the following limits:
| | |
| --- | --- |
| 1/3 Octave Band Center Frequency (Hz) | Sound Pressure Level (Leq) |
| 5 | 70 |
| 6.3 | 70 |
| 8 | 70 |
| 10 | 70 |
| 12 | 70 |
| 16 | 69 |
| 20 | 68 |
| 25 | 67 |
| 31.5 | 65 |
| 40 | 62 |
| 50 | 60 |
| 63 | 57 |
| 80 | 55 |
| 100 | 52 |
Impulsivity
No impulsive noise from wind turbine operations shall be created which causes the noise level at the project boundary or at a one-mile radius beyond the project boundary or noise setback boundary that exceeds the following limits as measured by either of the two following methods.
Method 1
A qualification of impulsivity can be obtained from the average of several measurements of the difference between the C-weighted "impulse hold" and maximum C-weighted "slow" sound pressure levels. The difference between the two shall be less than 20 dB.
Method 2
The impulsive character can also be displayed as a time history of the acoustical signal which has been filtered through an octave band filter set at 31.5 Hz center frequency. The filtered octave band signal shall then be converted to a root-mean-square (RMS) value, slow response, and log converted to dB. The display can be either analogue or digital. The average difference between the maximum and minimum value shall be less than 20 dB when computed as the arithmetic average of 100 differences.
Vibration
Clear Creek County Planning Department may require seismic (ground vibration) measurements at selected locations, when the site is in operation.
Download original document: "Draft wind turbine noise regulation"
---