Resource Documents: Colorado (6 items)
Unless indicated otherwise, documents presented here are not the product of nor are they necessarily endorsed by National Wind Watch. These resource documents are shared here to assist anyone wishing to research the issue of industrial wind power and the impacts of its development. The information should be evaluated by each reader to come to their own conclusions about the many areas of debate. • The copyrights reside with the sources indicated. As part of its noncommercial effort to present the environmental, social, scientific, and economic issues of large-scale wind power development to a global audience seeking such information, National Wind Watch endeavors to observe "fair use" as provided for in section 107 of U.S. Copyright Law and similar "fair dealing" provisions of the copyright laws of other nations.
---
Author: Goldenberg, Shifra; Cryan, Paul; Gorresen, Paulo; and Fingersh, Lee
Abstract: Bat fatalities at wind energy facilities in North America are predominantly comprised of migratory, tree‐dependent species, but it is unclear why these bats are at higher risk. Factors influencing bat susceptibility to wind turbines might be revealed by temporal patterns in their behaviors around these dynamic landscape structures. In northern temperate zones, fatalities occur mostly from July through October, but whether this reflects seasonally variable behaviors, passage of migrants, or some combination of factors remains unknown. In this study, we examined video imagery spanning one year in the state of Colorado in the United States, to characterize patterns of seasonal and nightly variability in bat behavior at a wind turbine. We detected bats on 177 of 306 nights representing approximately 3,800 hr of video and > 2,000 discrete bat events. We observed bats approaching the turbine throughout the night across all months during which bats were observed. Two distinct seasonal peaks of bat activity occurred in July and September, representing 30% and 42% increases in discrete bat events from the preceding months June and August, respectively. Bats exhibited behaviors around the turbine that increased in both diversity and duration in July and September. The peaks in bat events were reflected in chasing and turbine approach behaviors. Many of the bat events involved multiple approaches to the turbine, including when bats were displaced through the air by moving blades. The seasonal and nightly patterns we observed were consistent with the possibility that wind turbines invoke investigative behaviors in bats in late summer and autumn coincident with migration and that bats may return and fly close to wind turbines even after experiencing potentially disruptive stimuli like moving blades. Our results point to the need for a deeper understanding of the seasonality, drivers, and characteristics of bat movement across spatial scales.
Shifra Z. Goldenberg, Conservation Ecology Center, Smithsonian Conservation Biology Institute, Front Royal, VA; Institute for Conservation Research, San Diego Zoo Global, Escondido, CA
Paul M. Cryan, US Geological Survey (USGS), Fort Collins, CO
Paulo Marcos Gorresen, University of Hawaii at Hilo, HI; US Geological Survey Pacific Island Ecosystems Science Center, Hawaii Volcanoes National Park
Lee Jay Fingersh, US Department of Energy, National Renewable Energy Laboratory, National Wind Technology Center, Boulder, CO
Ecology and Evolution, 18 March 2021
doi: 10.1002/ece3.7388
Download original document: "Behavioral patterns of bats at a wind turbine confirm seasonality of fatality risk"
---
Author: Nextera Energy
"Next Era Energy has destroyed our lives and has caused the death of 26 of our animals since Sept. 17, 2015 (when these blades started turning). Now something must happen as all we have seen is death. We are struggling to live here in our beautiful home. Sleep deprivation is killing us. We hope you can use these documents. We got them from our county government."
Option for Transmission Easement Agreement and Transmission Easement (pages 2-11)
Wind Project Neighbor Easement Agreement (pages 12-23)
Grant of Electrical Line, Communication Line, Road and Wind Rights Easements (pages 24-42)
Grant of Road Easement and Easement Agreement (pages 43-55)
Road and Transmission Line Easement Agreement (pages 56-74)
Windpark Easement Agreement (pages 75-97)
Download original document: "Sample Lease Documents, Golden West Wind Energy Project, El Paso Country, Colorado"
---
Date added:
April 1, 2017
Colorado
,
Noise
,
Regulations
•
Author: Rand, Robert
Summary:
Differential acoustic pressure measurements were acquired and logged at three homes in the vicinity of the Golden West Wind Facility in El Paso County, Colorado during December 2015 and January 2016. A week of data was analyzed for each of the three homes and daily spectrograms produced which are attached. Each day's data consisted of approximately 4.3 million differential pressure samples with a week comprised of some 30.5 million samples.
Preliminary investigation confirmed the presence of recurring acoustic pressure oscillations at 0.2 to 0.85 Hz (the "blade pass frequency" or BPF) which are associated to the Golden West wind turbine rotations. At times multiple oscillation frequencies were observed, consistent with multiple turbines operating at different rotation rates. Oscillations appeared to be more pronounced when the turbines are more upwind rather than downwind. Neighbors reported they are mostly downwind due to turbine location relative to home location and for the prevailing winds in the region.
Typical BPF total acoustic power were computed for example portions of the differential pressure data sets. Crest factors (the ratio of RMS to peak levels) were also computed for segments dominated by wind turbine rotation and uncontaminated by other noise, with typical crest factors of 13-19 dB. Totalized BPF RMS levels ranged from 56 to 70 dB re 20uPA, with peak levels from 71 to 89 dB. The RMS and peak levels are similar to those found at other sites with appeals to stop the noise, legal action, and homes abandoned.
It is understood from neighbors that they have experienced disturbance since the turbines started operating whereas prior to turbine operation there was no similar disturbance. It is understood that neighbors report improvement when turbines are shut down (not rotating) or when they remove themselves physically away from the Facility a distance of several miles.
El Paso County noise regulations define "Sound" as oscillations in pressure (or other physical parameter) at any frequency, and, prohibits noise disturbance due to acoustic oscillations.
The analysis is far from complete in that numerous segments of each day at each monitoring location could be analyzed and associated to journal entries and/or medical data. The reported association of proximity to the operating facility to disturbance in health and quality of life appears supported by the acoustic data acquired for this preliminary investigation. These preliminary investigations suggest that there is a condition of noise disturbance due to very low frequency acoustic pressure oscillations in the vicinity of the Golden West Wind Facility when it is operating, with more severe impacts downwind.
Download original document: "Independent Infrasonic Investigations: Golden West Wind Facility, El Paso County, CO"

[NWW thanks Friends Against Wind for providing the video.]
---
Date added:
March 30, 2011
Colorado
,
Impacts
,
Iowa
,
Montana
,
North Dakota
,
Photos
,
South Dakota
,
Texas
,
Wyoming
•
Author: Wanzek Construction
Top of the World Wind Farm, Glenrock, WY, Duke Energy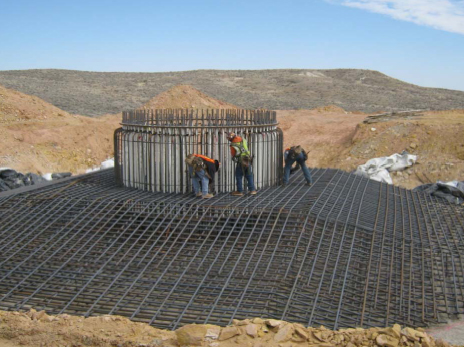 Top of Iowa Wind, Kensett, IA, Madison Gas & Electric

Three Buttes Wind, Glenrock, WY-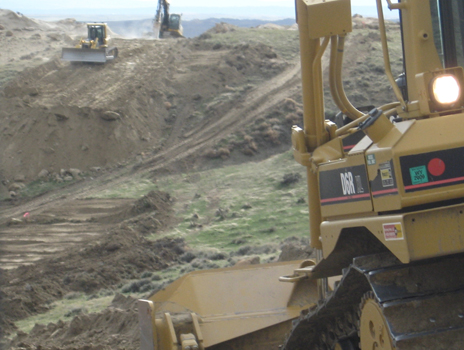 Oliver County Wind, Center, ND, FPL/Next Era Energy Resources

NoTrees Wind, Odessa, TX, Duke-Energy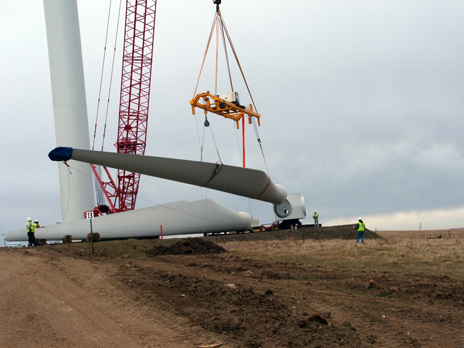 Langdon Wind, Langdon, ND, FPL/Next Era Energy Resources

Kit Carson Wind Farm, Burlington, CO, Duke Energy

Goat Mountain Wind, Robert Lee, TX, Edison Mission Energy

Endeavor Wind, Harris, IA, FPL/Next Era Energy Resources

Charles City Wind, Charles City, IA, MidAmerican Energy

Cedro Hill Wind Farm, Bruni, TX, Edison Mission Energy

Cedar Hills and Diamond Willow Wind Farms, Rhame, ND and Baker, MT, MDU Resources

Burleigh County Wind, Wilton, ND, FPL/Next Era Energy-Resources

Buffalo Ridge Wind Farm, White, SD, Iberdrola Renewables

Barton Wind, Barton, IA, Iberdrola Renewables

---