Resource Documents: Economics (187 items)
Documents presented here are not the product of nor are they necessarily endorsed by National Wind Watch. These resource documents are provided to assist anyone wishing to research the issue of industrial wind power and the impacts of its development. The information should be evaluated by each reader to come to their own conclusions about the many areas of debate.
---
Author: Hayward, Steven; and Nelson, Peter
Some observers suggest that the United States can source 100 percent of its electricity from renewable sources by the year 2050, and can easily replace not only coal but also nuclear power plants and even natural gas plants with renewable energy alone. The most frequently cited analysis in support of this proposition comes from Stanford University's Mark Jacobson, who has published a series of papers that purport to establish the feasibility of 100 percent renewable power. This is the kind of work that generates enthusiastic headlines and news stories, and becomes a rote talking point for environmental advocacy and special interest lobbies. A closer look shows the superficiality of this claim. Twenty-one prominent academic energy experts, all of whom generally support renewable energy, recently published (doi: 10.1073/pnas.1610381114) a harsh critique of Jacobson's influential work in the Proceedings of the National Academy of Sciences, concluding that:
'[Jacobson's] work used invalid modeling tools, contained modeling errors, and made implausible and inadequately supported assumptions. Policy makers should treat with caution any visions of a rapid, reliable, and low-cost transition to entire energy systems that relies almost exclusively on wind, solar, and hydroelectric power. … If one reaches a new conclusion by not addressing factors considered by others, making a large set of unsupported assumptions, using simpler models that do not consider important features, and then performing an analysis that contains critical mistakes, the anomalous conclusion cannot be heralded as a new discovery. The conclusions reached by the study about the performance and cost of a system of "100% penetration of intermittent wind, water and solar for all purposes" are not supported by adequate and realistic analysis and do not provide a reliable guide to whether and at what cost such a transition might be achieved. … A policy prescription that overpromises on the benefits of relying on a narrower portfolio of technologies options could be counterproductive.'
How much more expensive and counterproductive? A recent study (doi: 10.1016/j.tej.2016.03.001) in The Electricity Journal of decarbonization through reliance on renewables in Germany, California, and Wisconsin (a state closely analogous to Minnesota in many ways) would require an investment in wind and solar power much larger than in conventional energy supplies, chiefly because the intermittency of the wind and solar power would require massive amounts of surplus capacity. A power mix in Wisconsin that retained nuclear and natural gas electricity would achieve a 15 percent greater reduction in greenhouse gas emissions than a system with 80 percent wind and solar power, and at less than half the cost. As Brick and Thernstrom note:
'[T]he intermittency of wind and solar PV [photovoltaics] means that systems that are heavily reliant on them must be significantly larger than conventional systems; this increases their cost and capital requirements dramatically. … Efforts to promote an all- (or nearly all-) renewables future are, in effect, a commitment to building the largest electric power system possible. It might be better to start from the presumption that the smallest power system that meets our needs is likely to be the most efficient, and have the least social and environmental impact.'
The study does not attempt to estimate the land area requirements for such an extensive renewable energy system, but given the examples contained in Figure 14, they are likely to be substantial. Minnesota's government ought to do a credible estimate of future land area needs for its renewable targets.
---
Author: Hayward, Steven; and Nelson, Peter
Executive Summary:
In recent years, the state of Minnesota has pursued a series of increasingly aggressive renewable energy and "clean energy" policies that cost electricity consumers billions of dollars, without achieving its ambitious environmental protection goals.
Minnesota law sets out ambitious state energy policy goals. The primary goal would have the state reduce greenhouse gas emissions 15 percent below 2005 levels by 2015, 30 percent by 2025, and 80 percent by 2050. State law incorporates a number of additional energy policy goals aimed largely at supporting these greenhouse gas reduction targets. In particular, the state's renewable energy standard requires utilities to generate a substantial portion (25 to 30 percent) of electricity from renewable sources, mostly wind.
Historically, Minnesota enjoyed the advantage of relatively cheap electricity, with rates typically 18 percent less than the national average. However, since spending an estimated $10 billion on building wind farms and billions more on new and upgraded transmission lines, Minnesota has lost this competitive advantage with little to show for it, except higher electric bills. As electricity generation from carbon free wind approaches 20 percent of total generation, Minnesota has not experienced any appreciable reduction in greenhouse gas emissions relative to the U.S. average.
This report evaluates Minnesota's energy policy and reaches five main findings that buttress one conclusion: Minnesota's aspirational energy policy is a grand exercise in virtue signaling that does little to reduce either conventional pollution or greenhouse gas emissions.
Minnesota has lost its advantage on electricity pricing. Between 1990 and 2009, the retail price of electricity in Minnesota was, on average, 18.2 percent lower than the national average. However, in just seven years, this price advantage has completely disappeared. February 2017 marked the first month the average retail price of electricity in Minnesota rose above the U.S. price. (Data are available dating back to 1990.) If in the past seven years Minnesota would have maintained its historic price advantage versus the rest of the country, the state's consumers would have paid nearly $4.4 billion less than what the actual cost of electricity turned out to be.
Minnesota's energy policy primarily promotes wind power. Minnesota's energy policy emphasizing renewable energy is mostly an electricity policy, which represents only about 40 percent of the state's total energy consumption. Because Minnesota's geography is not suitable for large-scale solar power, it aims, to date, for only modest increases in solar. As such, Minnesota's energy policy is primarily a wind-energy policy.
Minnesota's energy policy is failing on its own terms, as it has not achieved a significant reduction in CO2 emissions. While Minnesota was losing its advantage on electricity pricing, it did not see any significant decreases in CO2 emissions. CO2 emissions in Minnesota declined by 6.6 percent from 2005 (the peak year for CO2 emissions in both the U.S. and Minnesota) to 2014 (before starting to rise again). This decline is one-third less than the decline experienced by the nation as a whole, which saw greenhouse gas emissions drop 9.3 percent during the same time period. Looking at just emissions from the electric power sector, emissions in Minnesota dropped by slightly more than the U.S. However, since 2009, the state has made little to no progress on emissions even as electricity generation by wind increased by 92 percent.
To satisfy Minnesota's renewable energy standard, an estimated $10 billion dollars has been spent on building wind farms and billions more on transmission. In the past five years, Minnesota utilities have reported using wind power from wind farms totaling 5,000 megawatts of nameplate capacity to meet the requirements of the state's renewable energy standard. Based on industry cost estimates for building new generating capacity, ratepayers are committed to covering an estimated $10 billion for constructing these wind farms and billions more for the transmission needed to move this new power to market. On top of these upfront costs, ratepayers are on the hook for ongoing wind energy maintenance costs, property taxes, and replacement power needed when the wind doesn't blow.
October 2017
Steven F. Hayward, Ph.D., senior resident scholar, Institute of Governmental Studies, University
of California at Berkeley, and author of the 2011 Almanac of Environmental Trends.
Peter J. Nelson, J.D., vice president and senior policy fellow, Center of the American Experiment
Download original document: "Energy Policy in Minnesota: The High Cost of Failure"
---
Author: Ongena, Jozef; István Markó; Koch, Raymond; and Debeil, Anne
If the aim is to decarbonize the electricity sector and phase out nuclear power, then renewable energy remains as the only source of electricity. As wind and solar photovoltaics (PV) are a major fraction (in Germany about 65% of the total renewable electricity production) one then must cope with strong intermittency. The consequences show up most prominently during dark and cloudy periods without wind.
The reality of this last statement is illustrated in Fig. 1, showing the evolution of the electricity production in Germany for January 2017. Due to lack of wind and sunshine in the second half of January most of the German electricity during that whole period was produced by conventional power sources – lignite, coal, gas and nuclear power. On the morning of the 24th of January 2017 a nearly total collapse of the German electricity supply took place. It could have had consequences throughout Europe and was only avoided by putting into operation all possible fossil power plants in Germany, including the oldest and dirtiest ones.
Fig. 1: Electrical power consumption and production in Germany (in MW) by various sources for January 2017: grid load (brown), sum of onshore and offshore wind (blue), solar PV (yellow), installed iRES [intermittent renewable energy sources] capacity (light green background color). Although the iRES capacity is exceeding the grid load, it could only provide a fraction of the German electrical power needs during this dark period without sufficient wind and most of the power was produced by conventional power sources (fossil and nuclear). Especially the period 16-25 January 2017 demonstrates the need for large additional backup power systems (that are evidently non-renewable) or storage.
This graph also leaves no doubt about the storage problem. During the 10 days between 16 and 25 January, equivalent to 240h, the difference between the iRES produced electrical power and the electrical power needs of Germany varied between 50 and 60GW, i.e. between 12000 and 14400 GWh of electrical energy was missing. German electrical storage systems could not have supplied this large amount of energy, as the total storage capacity in Germany is about 40GWh (mainly hydro). The missing electrical energy represents thus 300-360 times the German electrical storage capacity. Including also the 12 dark and wind still days in December 2016, the missing energy would increase to about 32TWh, i.e. about 800 times the currently existing storage capacity in Germany. Note that such long low iRES power production intervals are not an exception; similarly, long periods of low combined solar PV and wind power production were observed regularly in the past years, not only in Germany but in several EU countries and predominantly simultaneously, see also below. …
The electricity production from renewable systems is characterized by a low capacity factor. In Germany with its large fleet of wind and solar PV systems, this is ~15%, resulting from ~11% for solar PV and ~18% for wind (sum of offshore and onshore wind). The consequences are shown in Fig. 2, documenting the evolution in Germany of the installed capacity and power production from solar PV and wind; also indicated are the minimum and maximum power load of the grid. It is clear (i) that although the iRES installed capacity is huge (exceeding at the moment already the maximum power load on the German grid), its contribution to the German electrical energy needs is limited and (ii) that the peaks of the iRES production increasingly cross the lines of minimum load, thus leading to more and more excess production. For the moment export to neighboring countries is still a solution. But this will have to change when the iRES production in other EU countries also will increase in the near future.
Fig. 2: Electrical power production (in GW) by wind (blue) and the sum of solar PV and wind (red) compared with maximum and miminum grid load. As the installed renewable capacity increases, the minimum grid load is increasingly exceeded, leading to overcapacity and export of surplus energy, often at negative prices. …
Export of electricity is needed not only on days with a large iRES power production, but paradoxically also on days with a minimal iRES power production. Indeed, on such days the backup production is maximal and cannot be easily regulated in the short time intervals, which characterize the intermittency of the renewable power from sun and wind. At low iRES production most of the iRES power serves only to increase the export (in several cases at negative prices) as illustrated in Figs. 4a and b and discussed in detail in D. Ahlborn, H. Jacobi, World of Mining, Surface and Underground 68, 2-6 (2016). Thus it comes as no surprise that there is a clear correlation between iRES power production (low or high) and export of electricity from Germany, as illustrated in Fig. 4b. This power is not totally lost, as it can help other countries to reduce their CO₂ output. However, the German taxpayer pays for this, and such a solution can only be temporary. Contrary to what one would expect, these massive and rather unpredictable imports are not really welcomed in the concerned neighboring countries as (i) local power plants have to reduce or shut down, reducing their profitability, and (ii) it increasingly causes overloads in the national grids of those countries. For such reasons Poland and the Czech Republic are installing phase shift transformers at their borders (paid by Germany) to reflect any dangerously high excess electrical energy imports back to Germany.
Fig. 4a: Example of the time evolution of iRES renewable electricity production during a dark and wind still period and compared to the electricity export for Germany (16-25 Jan 2017)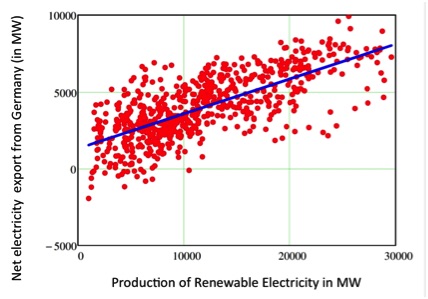 Fig. 4b: Hourly correlation between electricity production from renewable sources (wind + PV) and electricity export in Germany (February 2015)
These exports can only be a temporary solution because the same weather patterns often cover large surfaces of Europe. The consequence thereof is illustrated in Fig. 5, showing a comparison between the instantaneous wind power production from Germany and the sum of the wind production in 15 other EU countries: except for Spain, the correlation in the electricity production between the different countries is clearly visible. Excess wind power in Germany signifies thus also excess wind power in neighbouring countries. The difference in the timing of the maxima and minima in wind production in Spain compared to the rest of Europe, can help to average the fluctuations to a certain, albeit limited extent. One could wonder if the averaging effect of solar photovoltaic power could contribute. In fact, such an effect is nearly absent, as shown by a recent study. The same study shows that if one would use a EU wide 100% iRES electrical network, able to transport excess electrical energy production between the various European countries, typical German grid fluctuations could be reduced by 35% and the maximal storage capacity by 28% (with a 30% fluctuation level on those numbers due the varying weather conditions from year to year). Interconnector lines with a capacity of tens to hundreds of GW will then be needed throughout Europe. The export (and storage) problem can thus indeed be somewhat reduced but they will be far from totally eliminated. Other solutions to avoid the enormous excess energy will have to be found.
Fig. 5: Instantaneous wind power production in MW in Germany (dark blue) compared to the wind power production from 15 EU countries (various colors), illustrating the close correlation between wind power Europe wide. This graph clearly shows consequences for export of excess intermittent electrical power between EU countries in the future, and the very limited extent of possible 'averaging' of excesses throughout Europe. …
A large fraction of the produced iRES power in Germany is exported. The export was nearly stable and negligible in the years before the massive introduction of renewable power and has increased ever since, with a rapid increase in the last 5 years up to about 25% of the produced renewable energy or about 55TWh (Fig. 8). The exported energy matches the yearly produced photovoltaic energy or 2/3 of the produced wind power. However, export of excess energy can only be temporary if renewable energy is to be deployed in all EU countries, given the strong correlation between the weather in neighboring countries as already discussed in Section 2.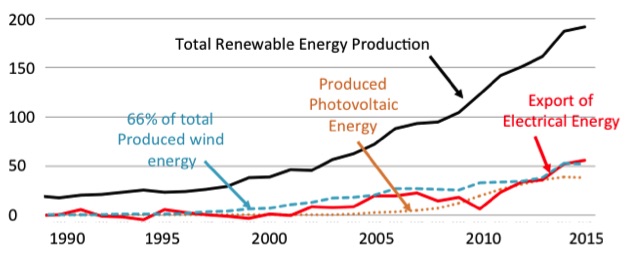 Fig. 8. Evolution of the total iRES electrical energy production and net electrical energy export (in TWh) over the last 26 years in Germany. The total photovoltaic production (dotted orange curve) or 66% of the total wind energy production (dashed blue curve) follows remarkably close the export curve.
Go to original document: "Hidden consequences of intermittent electricity production"
---
Date added:
September 7, 2017
Connecticut
,
Delaware
,
Economics
,
Emissions
,
Maine
,
Maryland
,
Massachusetts
,
New Hampshire
,
New Jersey
,
New York
,
Rhode Island
,
Vermont
•
Author: Stevenson, David
The nearly decade-old Regional Greenhouse Gas Initiative (RGGI) was always meant to be a model for a national program to reduce power plant carbon dioxide (CO₂) emissions. The Environmental Protection Agency (EPA) explicitly cited it in this fashion in its now-stayed Clean Power Plan. Although the RGGI is often called a "cap and trade" program, its effect is the same as a direct tax or fee on emissions because RGGI allowance costs are passed on from electric generators to distribution companies to consumers. More recently, an influential group of former cabinet officials, known as the "Climate Leadership Council," has recommended a direct tax on CO₂; emissions (Shultz and Summers 2017).
Positive RGGI program reviews have been from RGGI, Inc. (the program administrator) and the Acadia Center, which advocates for reduced emissions (see Stutt, Shattuck, and Kumar 2015). In this article, I investigate whether reported reductions in CO₂ emissions from electric power plants, along with associated gains in health benefits and other claims, were actually achieved by the RGGI program. Based on my findings, any form of carbon tax is not the policy to accomplish emission reductions. The key results are:
There were no added emissions reductions or associated health benefits from the RGGI program.
Spending of RGGI revenue on energy efficiency, wind, solar power, and low-income fuel assistance had minimal impact.
RGGI allowance costs added to already high regional electric bills. The combined pricing impact resulted in a 13 percent drop in goods production and a 35 percent drop in the production of energy intensive goods. Comparison states increased goods production by 15 percent and only lost 4 percent of energy intensive manufacturing. Power imports from other states increased from 8 percent to 17 percent.
David Stevenson is Director of the Center for Energy Competitiveness at the Caesar Rodney Institute. He prepared this working paper for Cato's Center for the Study of Science.
Download original document: "A Review of the Regional Greenhouse Gas Initiative"
---