Resource Documents: Economics (192 items)
Documents presented here are not the product of nor are they necessarily endorsed by National Wind Watch. These resource documents are provided to assist anyone wishing to research the issue of industrial wind power and the impacts of its development. The information should be evaluated by each reader to come to their own conclusions about the many areas of debate.
---
Date added:
October 5, 2018
Economics
,
Environment
,
Health
,
Iowa
,
Wildlife
•
Author: Swanson, Janna
MidAmerican Energy and all wind companies operating in the state of Iowa are and have been avoiding the regulation of the Iowa Utilities Board. That point of law is being argued in court so I will not address it here. If wind installations did go through the proper approval process of the IUB I do not believe they would be allowed. We are commenting on this docket to have our objection on record.
Proving need
The entire idea that we need industrial wind is political. No one in Iowa is without electricity yet we are covering our state with a vast infrastructure that has little to no regulation. Since the general idea is avoiding CO2 the wind companies should be required to provide a comprehensive overview of how they are accomplishing that. According to Stastista.com mankind globally emits between 35-40 billion tons of CO2 each year. In 2016 the American Wind Energy Association boasted that turbines avoid 159 million metric tons which is far less than 1% of the CO2 emitted by man globally. Weighed against the negative impacts and vast cost of industrial wind this only seems to make sense if you ignore these facts. (I use the word fact loosely when considering AWEA's numbers because they do not explain how they arrived at their numbers.)
The Midcontinent Independent Systems Operator MISO has reported that reducing CO2 with wind energy costs $237/ton.
Wind turbines cannot supply base load and reliability. We still have all the traditional power plants and transmission lines that we need at any given moment that wind energy is not available. Wind turbines only add power plants, add transmission, add negative impacts and add cost.
Environmental Impact Studies
The issue of environmental impacts has been glazed over because people believe that wind turbines are somehow mitigating Climate Change in such a great way that they are allowed to do anything.
MidAmerican is applying for their first endangered bat and bald eagle take permit in 20 years of having wind turbines. They are saying that they can somehow mitigate the impact of covering 519,937 acres of Iowa land with industrial wind turbines. If MidAmerican is allowed to double to number of turbines and we add the other turbines in Iowa, what the wind industry is asking is to cover at least a 1,500,000 acres of Iowa land in turbines. 1,500,000 acres of Iowa land is equal to 4 full Iowa counties. 4 whole counties worth of land that are no longer safe for birds and bats (or people). MidAmerican downplays the impact by saying that their 21 projects are only estimated to kill 10 bald eagles each year. If they doubled their projects, that is 20 found and documented eagles. If each of those eagles are part of a nesting pair that is now 40-60 eaglets that are at risk of not being born out of the 1700 eaglets reported born in 2016.
Add in the impact of the turbines not owned by MidAmerican and that number can easily be increased to 80-120 bald eagles each and every year from industrial wind alone.
Wind companies like to say that they choose their project areas by careful siting but it is interesting that the "proper" areas and where they have easements always seem to be in the same areas. In this map of a proposed installation in Palo Alto you will see that Invenergy has sited their project at the end of a glacial lake in the Prairie Pothole Region. It is the complete antithesis of "proper siting".
Bats are also a very important part of our environment. They eat many of our pests that impact our largest economy, farming. A study was done on this subject by the U.S Geological Survey. This chart lists the economic impact on farming from the loss of bats all across the U.S. compiled by the USGS for that same study.
There are places in Iowa where landowners have been told that they cannot have a wind turbine because they have bat habitat so the landowner removes the habitat. Is MidAmerican reporting these landowners or are they just happily building their wind turbines now that the pesky habitat has been removed? This charge can be verified by location if need be.
We must also consider that farm land that is being taken out of production. The state and separate counties have always maintained that we should not take non-renewable farmland out of production for industrial pursuits. Our world class farm ground is irreplaceable. It takes 100's of years to make even one inch of topsoil. Farm land is ranked by CSR or Corn Suitability Rating. Most wind turbines are situated on land with a high CSR. Turbine construction, crane routes between turbines and access roads all cause compaction that cannot be mitigated by deep ripping. This compaction can easily impact up to 5 acres per turbine. While crops can be grown on compacted soil the yields are reduced dramatically. If Iowa allows 8,000 (doubling the amount we have and bringing us to MidAmerican's goals) turbines that is 40,000 acres of world class soil irreparably damaged which equals almost the entire footprint of Des Moines. This only does not seem worrisome to people who have never been hungry.
A lawsuit has been filed in Black Hawk County regarding this matter. Case No. CVCV134946 This suit is based on Iowa Code 335.
Turbine blades weighing up to 50,000 pounds per blade are also made out of non-recyclable toxic fiberglass. What landfill will these thousands and thousands of blades end up in?
Informing the people
The Iowa Utilities Board has allowed companies seeking to build wind projects like MidAmerican to take over this role of informing the public of their projects. Industrial wind turbines expect a community to put up with certain negative impacts. Some are spelled out in their own contracts, called Neighbor Agreements they offer to every residence within ½ mile of a wind turbine. One contract reads "to permit Generating Units or other wind energy conversion systems on adjacent property or elsewhere to cast shadows or flicker onto the Owner's Property; impact view or visual effects from the Owner's Property; and cause or emit noise, vibration, air turbulence, wake, and electromagnetic and frequency interference"- Invenergy neighbor agreement 2015. I would like them to explain in detail what they mean for the words "vibration, air turbulence and wake". Some people have fled their homes because of the health impacts industrial wind can have. Big Wind has many studies that say that no one is hurt by industrial wind but Big Tobacco also was supported by many such studies. People need unbiased information or at least both sides much sooner in the process of siting an industrial wind energy installation.
A letter that was written by a colleague to the Minnesota's Public Utilities Commission talks about the health impacts of those living with industrial wind all over the world. I both know people that wind turbines do not impact and those that they do. We must consider the documentation of those affected.
A docket for objections
The people should have a proper place to voice their objections.
A place for the people to defend themselves
The people should also be afforded the right to defend ourselves, our families, our future generations, our homes, our businesses, our wildlife and our economy. We believe that if we were able to take this to a court of law that we would win overwhelmingly.
In 2016 a group of landowners hired lawyers and expert witnesses in Clinton County Missouri to go head to head with NextEra and all of their lawyers and expert witnesses not in a court of law but using court rules. They agreed on and argued 9 of the 13 easement effects attributed to industrial wind. After 55 hours of testimony the Clinton County 9 member Planning and Zoning Commission unanimously banned industrial wind. This scenario has been played out in different counties across the US.
It is my belief that this is why the wind companies want to avoid the Iowa Utilities Board approval process.
Ratemaking
Iowa's Rural Electric Co-ops have stated that they will not be building any more industrial wind turbines because the cost is too high. Iowa's RECs are tax-exempt therefore the tax credits mean nothing to them. The turbines that they have were paid for, 100%, by the people through our taxes.
Only because of the generous subsidies and tax abatements is industrial wind energy viable. Warren Buffett has said it and MidAmerican has even said it in their own applications for ratemaking. Even within this application they talk about using "safe harbor" which will guarantee them 100% of the tax credits if they can show that they have expended 5% of any proposed project's cost. These loopholes allow MidAmerican to build projects for a continued 4 years with 100% of the 10 year tax credit.
In Oklahoma Invenergy's Windcatcher Project was rejected by the Texas PUC because they could not prove need and because their bid made assumptions about the future pricing of fuels that could not be supported. MidAmerican's projects are similar because much of the energy will have to be shipped out of state to make the project work for them.
The only reason that our rates now have not skyrocketed is the $10 Billion in tax credits MidAmerican has freely admitted that they will receive over the average life of their industrial wind energy endeavor. This averages out to roughly $5 million per turbine. They will use our taxpayer money to "generously" not raise our bills. Iowa will be backed into a corner once these tax credits are gone and wind energy becomes once again burdensomely expensive.
MidAmerican has said that these wind turbines will last 30-40 years even though they can show no such proof. That number is pure conjecture. Even now we see that they are repowering machines barely a decade old.
The other expense that we wonder about is the expense of decommissioning. Even if the American people footed the bill on another round of industrial wind we know that existing wind turbines will have to be taken down. Expert engineers such as Tom Wind of Wind Utility Consulting, PC and Tom Hewson, Principal at Energy Ventures Analysis have set that cost at roughly $200,000-$232,207.80 per turbine.
The turbines in Fairbanks, Iowa that have been court ordered to be removed were supposed to have bonds of $150,000 per turbine for decommissioning. MidAmerican has only set aside either nothing (Worth County), about $30,000 per turbine for Palo Alto or $13,000 for Boone County. They say they will sell scrap or parts to offset decommissioning costs but there is no way to know what these prices will be and the report attached takes this into consideration.
I could write a whole other report on the community's cost for increased transmission. The Rock Island Clean Line (that was also flatly refused by landowners all across the state) would've had more transmission poles than the amount of turbines it would've serviced. Again, increased transmission equals more damaged tiles, more compacted soil, declines in property values, more eyesores, more threats to wildlife and further decreased efficiency on farms.
MidAmerican also does not take into consideration the cost on the businesses and homes within rural communities. Reports by the wind industry show that property values do not decline but independent reports show that property values (homes and acreages) certainly decline in value. Across the US it is known that people do not wish to live within industrial wind installations. According to Invenergy in the proposed Palo Alto wind installation only 24 homes even participated by accepting a contract and money out of the 268 homes that would be directly impacted. This clearly shows that most people do not want the wind installation. This feeling is what impacts property values. In Apex's installation in Clay County only 54 of 244 homes directly impacted accepted a contract. In fact the landowners tried to stage a land blockade much like landowners have done in O'Brien County. Most of the people who sign wind turbine contracts will not live next to a wind turbine. Only 5-15% of the people in an area will sign a wind turbine contract. Ida County has a petition of 600 names against adding more turbines. In Richland Township of Sac County the residents report that 87% of the people who have signed wind contracts do not live there. I have spoken to other industrial wind opposition activists, across the globe this formula follows. Ask the wind companies to provide these numbers to you since they are the ones who have it all documented.
Our businesses are suffering as their construction tears up our roads, crushes our tiles and makes aerial spraying inefficient or impossible. So far 519,937 acres of Iowa land have been impacted in this manner by MidAmerican alone.
Most of our Supervisors are NOT listening to the people, they are voting for the money. Their constituents fill their meetings begging them not to allow this like they do in communities across the US and around the world yet NOT ONE Iowa County has adequately protected their citizens.
In Michigan's Thumb region they are allowed a referendum vote. 18 votes out of 18 votes the people have refused industrial wind. Iowa would be the same if we were allowed a voice.
Vermont has required that wind turbines be no louder than 39 dBA at night, 100 feet from any residence.
Many, many counties in Indiana, Illinois, Minnesota, Missouri, North Dakota, South Dakota, Wisconsin and Nebraska have restricted or outright banned industrial wind. When communities protect their people, wind companies move on.
A widespread ad was narrated by Oklahoma's Ex-Governor Frank Keating. Gov. Keating allowed the turbines in his state now laments how much of the money that could be used for schools, used for roads is instead going to the wind industry, an industry many of our lawmakers know as a sham industry.
Monopoly
MidAmerican and Alliant have a great deal of political power in Iowa. I have heard this from our legislators, other power companies, from the DOT and even from the Iowa Utilities Board in Sheila Tipton's open letter to Gov. Branstad. These companies are running roughshod over our communities, over our governments and over our laws. They have not been voted in and they cannot be voted out. They do not have to adhere to the checks and balances that our governments must adhere to.
Even when communities seek to protect themselves MidAmerican has denied them that protection by holding the tax money out like a carrot to local government. This letter from MidAmerican/Invenergy to the Palo Alto Supervisors shows how our Planning and Zoning Board was ignored in favor of protecting MidAmerican's bottom line. In Kossuth County the newspaper did a poll asking the people if they thought that the Supervisors made the wind ordinance for the people or the wind companies. 90% said the ordinance was made for the wind companies.
Industrial wind is being forced on thousands and thousands of Iowans. We have no power of recall, no power of referendum and even the IUB process has been taken from us. We are having this forced on us because those who don't have to live with it have been lulled by the propaganda, lulled by the idea that industrial wind is green and free, that landowners "love the payments".
Iowans have collected together across the state to form the Coalition for Rural Property Rights. We have called legislators, spoken with Gov. Reynolds, met at Senator Ernst's office from all across the state, filed lawsuits, written letters, put up signs, placed radio ads and placed newspaper ads. We have a comprehensive Facebook page and have held statewide meetings. We are not only connected across the state but across the US and around the world. Even with our vast numbers it is almost impossible to fight against the money behind Warren Buffett, but we are doing it.
We are conservationists and business owners. We are Republican and Democrats. We are Iowa's rural residents, we are landowners and many of us are farmers. It is difficult by demographic alone for us to fight so we are joining as one voice across Iowa. Most farmers have to rent some if not all of their ground in order to make a living. Some of the absentee landowners who have signed wind easement contracts and have threatened to take their ground from us if we speak up.
We are not against renewable energy or even wind energy. Like everyone else we thought that the concept was stellar until we finally learned what the full price is. We care about OUR environment and these industrial wind turbines are ruining our environment in more way than one.
Across the state people that have spoken up with problems from the turbines are often silenced with settlements or cannot win a lawsuit because they have signed a contract. Our utility companies seek to silence people so that they do not warn other communities.
That is why we demand our day in court. Industrial wind avoids court for a reason.
Conclusion
The wind industry calls us a "vocal minority" but we know our communities. We are the large majority of our rural communities. Industrial wind seeks to ruin the peace of our homes, the beauty of our countryside, our world-class farm ground, the efficiency of our businesses and our wildlife. These projects tear apart our communities and will stunt our economy because it is true that industrial wind does not make money. As Warren Buffett has famously said, "I will do anything that is basically covered >by the law to reduce Berkshire's tax rate," Buffet told an audience in Omaha, Nebraska recently. "For example, on wind energy, we get a tax credit if we build a lot of wind farms. That's the only reason to build them. They don't make sense without the tax credit."
All of these impacts must be considered at the same time. We must not make the decisions based on flimsy polls and MidAmerican's bottom line. We believe that most people would not support industrial wind if they knew what the thousands and thousands of people within the industrial installations know but many people have been "educated" solely by the wind industry's political machine.
The future funds that MidAmerican and other utilities have been promised could go to fund a million different good causes but big business is preying on the guilt and the fears of the people to funnel money into their own accounts and we all know it, all to reduce manmade CO2 by less than 1%.
Please deny MidAmerican and the wind industry's bid to continue the onslaught of rural Iowa.
Thank you for your time.
On behalf of the Coalition for Rural Property Rights, Janna Swanson
October 5, 2018
Ayrshire, Iowa
Coalition for Rural Property Rights board president National Wind Watch board member
Preservation of Rural Iowa Alliance member
Download original document: "MidAmerican's bid to IUB for ratemaking on Wind XII comment"
---
Date added:
September 10, 2018
Economics
,
Environment
,
U.S.
•
Author: Stolp, Nils
National Fisherman has been covering the first baby steps being taken by offshore energy producers and their allies/supporters in government and the environmental industry to turn our offshore waters into obstacle courses made up of wind turbines that, in their first stage of development, will rival the Eiffel Tower in height, with blades that sweep almost half a million square feet of air per revolution and with blade tip velocities of up to 200 miles per hour (see Kirk Moore's "Fisheries science needs to catch up with offshore wind power". Whether they are mounted on massive "foundations" on the sea floor or floated in place and moored to the bottom, their construction and their operation is going to have more of an impact on our continental shelf – and on our fisheries – than most of us could imagine just a few years ago. …
Download original document: "Wind turbines and offshore energy development"
---
Author: Sepulveda, Nestor; et al.
Highlights
Firm low-carbon resources [e.g., nuclear, natural gas with carbon capture and sequestration, and bioenergy] consistently lower decarbonized electricity system costs
Availability of firm low-carbon resources reduces costs 10%–62% in zero-CO₂ cases
Without these resources, electricity costs rise rapidly as CO₂ limits near zero
Batteries and demand flexibility do not substitute for firm low-carbon resources
Summary
We investigate the role of firm low-carbon resources in decarbonizing power generation in combination with variable renewable resources, battery energy storage, demand flexibility, and long-distance transmission. We evaluate nearly 1,000 cases covering varying CO₂ limits, technological uncertainties, and geographic differences in demand and renewable resource potential. Availability of firm low-carbon technologies, including nuclear, natural gas with carbon capture and sequestration, and bioenergy, reduces electricity costs by 10%–62% across fully decarbonized cases. Below 50 gCO₂/kWh, these resources lower costs in the vast majority of cases. Additionally, as emissions limits decrease, installed capacity of several resources changes non-monotonically. This underscores the need to evaluate near-term policy and investment decisions based on contributions to long-term decarbonization rather than interim goals. Installed capacity for all resources is also strongly affected by uncertain technology parameters. This emphasizes the importance of a broad research portfolio and flexible policy support that expands rather than constrains future options.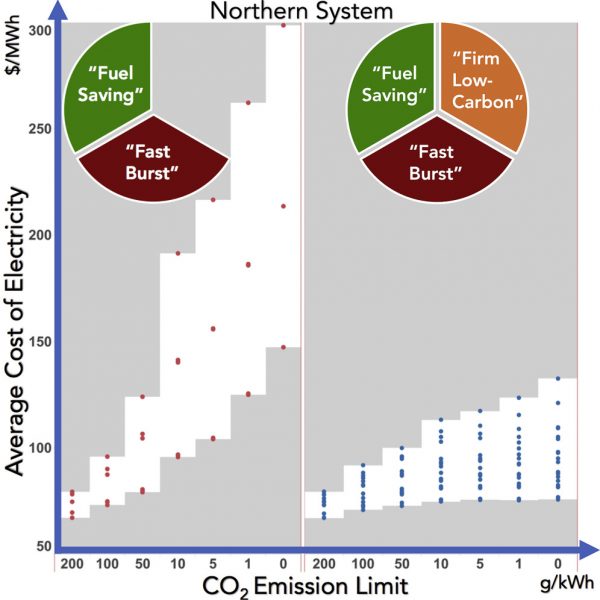 Nestor A. Sepulveda, Department of Nuclear Science and Engineering and Institute for Data, Systems, and Society, Massachusetts Institute of Technology (MIT), Cambridge
Jesse D. Jenkins, Institute for Data, Systems, and Society, MIT
Fernando J. de Sisternes, Center for Energy and Environmental Policy Research, MIT
Richard K. Lester, Department of Nuclear Science and Engineering, MIT
Joule. Published: September 06, 2018
DOI: 10.1016/j.joule.2018.08.006
---
Date added:
August 4, 2018
California
,
Economics
,
Technology
•
Author: Temple, James
A pair of 500-foot smokestacks rise from a natural-gas power plant on the harbor of Moss Landing, California, casting an industrial pall over the pretty seaside town.
If state regulators sign off, however, it could be the site of the world's largest lithium-ion battery project by late 2020, helping to balance fluctuating wind and solar energy on the California grid.
The 300-megawatt facility is one of four giant lithium-ion storage projects that Pacific Gas and Electric, California's largest utility, asked the California Public Utilities Commission to approve in late June. Collectively, they would add enough storage capacity to the grid to supply about 2,700 homes for a month (or to store about 0.0009 percent of the electricity the state uses each year).
The California projects are among a growing number of efforts around the world, including Tesla's 100-megawatt battery array in South Australia, to build ever larger lithium-ion storage systems as prices decline and renewable generation increases. They're fueling growing optimism that these giant batteries will allow wind and solar power to displace a growing share of fossil-fuel plants.
But there's a problem with this rosy scenario. These batteries are far too expensive and don't last nearly long enough, limiting the role they can play on the grid, experts say. If we plan to rely on them for massive amounts of storage as more renewables come online—rather than turning to a broader mix of low-carbon sources like nuclear and natural gas with carbon capture technology—we could be headed down a dangerously unaffordable path.
Small doses
Today's battery storage technology works best in a limited role, as a substitute for "peaking" power plants, according to a 2016 analysis by researchers at MIT and Argonne National Lab. These are smaller facilities, frequently fueled by natural gas today, that can afford to operate infrequently, firing up quickly when prices and demand are high.
Lithium-ion batteries could compete economically with these natural-gas peakers within the next five years, says Marco Ferrara, a cofounder of Form Energy, an MIT spinout developing grid storage batteries.
"The gas peaker business is pretty close to ending, and lithium-ion is a great replacement," he says.
This peaker role is precisely the one that most of the new and forthcoming lithium-ion battery projects are designed to fill. Indeed, the California storage projects could eventually replace three natural-gas facilities in the region, two of which are peaker plants.
But much beyond this role, batteries run into real problems. The authors of the 2016 study found steeply diminishing returns when a lot of battery storage is added to the grid. They concluded that coupling battery storage with renewable plants is a "weak substitute" for large, flexible coal or natural-gas combined-cycle plants, the type that can be tapped at any time, run continuously, and vary output levels to meet shifting demand throughout the day.
Not only is lithium-ion technology too expensive for this role, but limited battery life means it's not well suited to filling gaps during the days, weeks, and even months when wind and solar generation flags.
This problem is particularly acute in California, where both wind and solar fall off precipitously during the fall and winter months. Here's what the seasonal pattern looks like:
This leads to a critical problem: when renewables reach high levels on the grid, you need far, far more wind and solar plants to crank out enough excess power during peak times to keep the grid operating through those long seasonal dips, says Jesse Jenkins, a coauthor of the study and an energy systems researcher. That, in turn, requires banks upon banks of batteries that can store it all away until it's needed.
And that ends up being astronomically expensive.
California dreaming
There are issues California can't afford to ignore for long. The state is already on track to get 50 percent of its electricity from clean sources by 2020, and the legislature is once again considering a bill that would require it to reach 100 percent by 2045. To complicate things, regulators voted in January to close the state's last nuclear plant, a carbon-free source that provides 24 percent of PG&E's energy. That will leave California heavily reliant on renewable sources to meet its goals.
The Clean Air Task Force, a Boston-based energy policy think tank, recently found that reaching the 80 percent mark for renewables in California would mean massive amounts of surplus generation during the summer months, requiring 9.6 million megawatt-hours of energy storage. Achieving 100 percent would require 36.3 million.
The state currently has 150,000 megawatt-hours of energy storage in total. (That's mainly pumped hydroelectric storage, with a small share of batteries.)
Building the level of renewable generation and storage necessary to reach the state's goals would drive up costs exponentially, from $49 per megawatt-hour of generation at 50 percent to $1,612 at 100 percent.
And that's assuming lithium-ion batteries will cost roughly a third what they do now.
"The system becomes completely dominated by the cost of storage," says Steve Brick, a senior advisor for the Clean Air Task Force. "You build this enormous storage machine that you fill up by midyear and then just dissipate it. It's a massive capital investment that gets utilized very little."
These forces would dramatically increase electricity costs for consumers.
"You have to pause and ask yourself: 'Is there any way the public would stand for that?'" Brick says.
Similarly, a study earlier this year in Energy & Environmental Science found that meeting 80 percent of US electricity demand with wind and solar would require either a nationwide high-speed transmission system, which can balance renewable generation over hundreds of miles, or 12 hours of electricity storage for the whole system (see "Relying on renewables alone significantly inflates the cost of overhauling energy").
At current prices, a battery storage system of that size would cost more than $2.5 trillion.
A scary price tag
Of course, cheaper and better grid storage is possible, and researchers and startups are exploring various possibilities. Form Energy, which recently secured funding from Bill Gates's Breakthrough Energy Ventures, is trying to develop aqueous sulfur flow batteries with far longer duration, at a fifth the cost where lithium-ion batteries are likely to land.
Ferrara's modeling has found that such a battery could make it possible for renewables to provide 90 percent of electricity needs for most grids, for just marginally higher costs than today's.
But it's dangerous to bank on those kinds of battery breakthroughs—and even if Form Energy or some other company does pull it off, costs would still rise exponentially beyond the 90 percent threshold, Ferrara says.
"The risk," Jenkins says, "is we drive up the cost of deep decarbonization in the power sector to the point where the public decides it's simply unaffordable to continue toward zero carbon."
James Temple, Senior Editor, Energy
MIT Technology Review, July 27, 2018
I am the senior editor for energy at MIT Technology Review. I'm focused on renewable energy and the use of technology to combat climate change. Previously, I was a senior director at the Verge, deputy managing editor at Recode, and columnist at the San Francisco Chronicle. When I'm not writing about energy and climate change, I'm often hiking with my dog or shooting video of California landscapes.
---