Resource Documents: Economics (191 items)
Documents presented here are not the product of nor are they necessarily endorsed by National Wind Watch. These resource documents are provided to assist anyone wishing to research the issue of industrial wind power and the impacts of its development. The information should be evaluated by each reader to come to their own conclusions about the many areas of debate.
---
Date added:
September 10, 2018
Economics
,
Environment
,
U.S.
•
Author: Stolp, Nils
National Fisherman has been covering the first baby steps being taken by offshore energy producers and their allies/supporters in government and the environmental industry to turn our offshore waters into obstacle courses made up of wind turbines that, in their first stage of development, will rival the Eiffel Tower in height, with blades that sweep almost half a million square feet of air per revolution and with blade tip velocities of up to 200 miles per hour (see Kirk Moore's "Fisheries science needs to catch up with offshore wind power". Whether they are mounted on massive "foundations" on the sea floor or floated in place and moored to the bottom, their construction and their operation is going to have more of an impact on our continental shelf – and on our fisheries – than most of us could imagine just a few years ago. …
Download original document: "Wind turbines and offshore energy development"
---
Author: Sepulveda, Nestor; et al.
Highlights
Firm low-carbon resources [e.g., nuclear, natural gas with carbon capture and sequestration, and bioenergy] consistently lower decarbonized electricity system costs
Availability of firm low-carbon resources reduces costs 10%–62% in zero-CO₂ cases
Without these resources, electricity costs rise rapidly as CO₂ limits near zero
Batteries and demand flexibility do not substitute for firm low-carbon resources
Summary
We investigate the role of firm low-carbon resources in decarbonizing power generation in combination with variable renewable resources, battery energy storage, demand flexibility, and long-distance transmission. We evaluate nearly 1,000 cases covering varying CO₂ limits, technological uncertainties, and geographic differences in demand and renewable resource potential. Availability of firm low-carbon technologies, including nuclear, natural gas with carbon capture and sequestration, and bioenergy, reduces electricity costs by 10%–62% across fully decarbonized cases. Below 50 gCO₂/kWh, these resources lower costs in the vast majority of cases. Additionally, as emissions limits decrease, installed capacity of several resources changes non-monotonically. This underscores the need to evaluate near-term policy and investment decisions based on contributions to long-term decarbonization rather than interim goals. Installed capacity for all resources is also strongly affected by uncertain technology parameters. This emphasizes the importance of a broad research portfolio and flexible policy support that expands rather than constrains future options.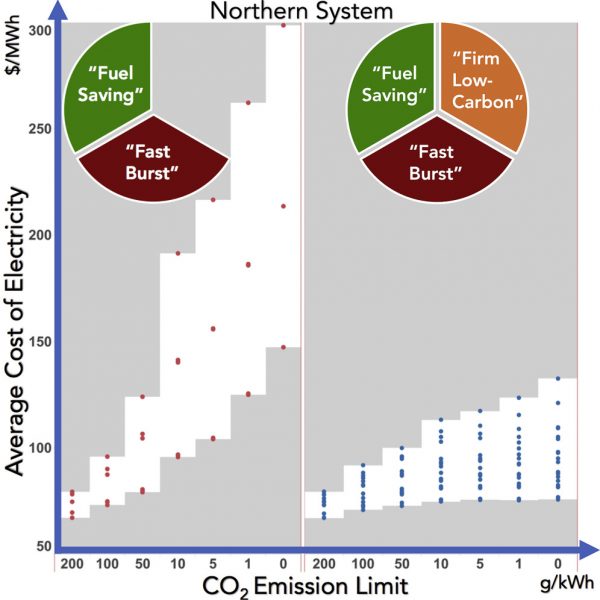 Nestor A. Sepulveda, Department of Nuclear Science and Engineering and Institute for Data, Systems, and Society, Massachusetts Institute of Technology (MIT), Cambridge
Jesse D. Jenkins, Institute for Data, Systems, and Society, MIT
Fernando J. de Sisternes, Center for Energy and Environmental Policy Research, MIT
Richard K. Lester, Department of Nuclear Science and Engineering, MIT
Joule. Published: September 06, 2018
DOI: 10.1016/j.joule.2018.08.006
---
Date added:
August 4, 2018
California
,
Economics
,
Technology
•
Author: Temple, James
A pair of 500-foot smokestacks rise from a natural-gas power plant on the harbor of Moss Landing, California, casting an industrial pall over the pretty seaside town.
If state regulators sign off, however, it could be the site of the world's largest lithium-ion battery project by late 2020, helping to balance fluctuating wind and solar energy on the California grid.
The 300-megawatt facility is one of four giant lithium-ion storage projects that Pacific Gas and Electric, California's largest utility, asked the California Public Utilities Commission to approve in late June. Collectively, they would add enough storage capacity to the grid to supply about 2,700 homes for a month (or to store about 0.0009 percent of the electricity the state uses each year).
The California projects are among a growing number of efforts around the world, including Tesla's 100-megawatt battery array in South Australia, to build ever larger lithium-ion storage systems as prices decline and renewable generation increases. They're fueling growing optimism that these giant batteries will allow wind and solar power to displace a growing share of fossil-fuel plants.
But there's a problem with this rosy scenario. These batteries are far too expensive and don't last nearly long enough, limiting the role they can play on the grid, experts say. If we plan to rely on them for massive amounts of storage as more renewables come online—rather than turning to a broader mix of low-carbon sources like nuclear and natural gas with carbon capture technology—we could be headed down a dangerously unaffordable path.
Small doses
Today's battery storage technology works best in a limited role, as a substitute for "peaking" power plants, according to a 2016 analysis by researchers at MIT and Argonne National Lab. These are smaller facilities, frequently fueled by natural gas today, that can afford to operate infrequently, firing up quickly when prices and demand are high.
Lithium-ion batteries could compete economically with these natural-gas peakers within the next five years, says Marco Ferrara, a cofounder of Form Energy, an MIT spinout developing grid storage batteries.
"The gas peaker business is pretty close to ending, and lithium-ion is a great replacement," he says.
This peaker role is precisely the one that most of the new and forthcoming lithium-ion battery projects are designed to fill. Indeed, the California storage projects could eventually replace three natural-gas facilities in the region, two of which are peaker plants.
But much beyond this role, batteries run into real problems. The authors of the 2016 study found steeply diminishing returns when a lot of battery storage is added to the grid. They concluded that coupling battery storage with renewable plants is a "weak substitute" for large, flexible coal or natural-gas combined-cycle plants, the type that can be tapped at any time, run continuously, and vary output levels to meet shifting demand throughout the day.
Not only is lithium-ion technology too expensive for this role, but limited battery life means it's not well suited to filling gaps during the days, weeks, and even months when wind and solar generation flags.
This problem is particularly acute in California, where both wind and solar fall off precipitously during the fall and winter months. Here's what the seasonal pattern looks like:
This leads to a critical problem: when renewables reach high levels on the grid, you need far, far more wind and solar plants to crank out enough excess power during peak times to keep the grid operating through those long seasonal dips, says Jesse Jenkins, a coauthor of the study and an energy systems researcher. That, in turn, requires banks upon banks of batteries that can store it all away until it's needed.
And that ends up being astronomically expensive.
California dreaming
There are issues California can't afford to ignore for long. The state is already on track to get 50 percent of its electricity from clean sources by 2020, and the legislature is once again considering a bill that would require it to reach 100 percent by 2045. To complicate things, regulators voted in January to close the state's last nuclear plant, a carbon-free source that provides 24 percent of PG&E's energy. That will leave California heavily reliant on renewable sources to meet its goals.
The Clean Air Task Force, a Boston-based energy policy think tank, recently found that reaching the 80 percent mark for renewables in California would mean massive amounts of surplus generation during the summer months, requiring 9.6 million megawatt-hours of energy storage. Achieving 100 percent would require 36.3 million.
The state currently has 150,000 megawatt-hours of energy storage in total. (That's mainly pumped hydroelectric storage, with a small share of batteries.)
Building the level of renewable generation and storage necessary to reach the state's goals would drive up costs exponentially, from $49 per megawatt-hour of generation at 50 percent to $1,612 at 100 percent.
And that's assuming lithium-ion batteries will cost roughly a third what they do now.
"The system becomes completely dominated by the cost of storage," says Steve Brick, a senior advisor for the Clean Air Task Force. "You build this enormous storage machine that you fill up by midyear and then just dissipate it. It's a massive capital investment that gets utilized very little."
These forces would dramatically increase electricity costs for consumers.
"You have to pause and ask yourself: 'Is there any way the public would stand for that?'" Brick says.
Similarly, a study earlier this year in Energy & Environmental Science found that meeting 80 percent of US electricity demand with wind and solar would require either a nationwide high-speed transmission system, which can balance renewable generation over hundreds of miles, or 12 hours of electricity storage for the whole system (see "Relying on renewables alone significantly inflates the cost of overhauling energy").
At current prices, a battery storage system of that size would cost more than $2.5 trillion.
A scary price tag
Of course, cheaper and better grid storage is possible, and researchers and startups are exploring various possibilities. Form Energy, which recently secured funding from Bill Gates's Breakthrough Energy Ventures, is trying to develop aqueous sulfur flow batteries with far longer duration, at a fifth the cost where lithium-ion batteries are likely to land.
Ferrara's modeling has found that such a battery could make it possible for renewables to provide 90 percent of electricity needs for most grids, for just marginally higher costs than today's.
But it's dangerous to bank on those kinds of battery breakthroughs—and even if Form Energy or some other company does pull it off, costs would still rise exponentially beyond the 90 percent threshold, Ferrara says.
"The risk," Jenkins says, "is we drive up the cost of deep decarbonization in the power sector to the point where the public decides it's simply unaffordable to continue toward zero carbon."
James Temple, Senior Editor, Energy
MIT Technology Review, July 27, 2018
I am the senior editor for energy at MIT Technology Review. I'm focused on renewable energy and the use of technology to combat climate change. Previously, I was a senior director at the Verge, deputy managing editor at Recode, and columnist at the San Francisco Chronicle. When I'm not writing about energy and climate change, I'm often hiking with my dog or shooting video of California landscapes.
---
Author: Linneman, Thomas; and Vallana, Guido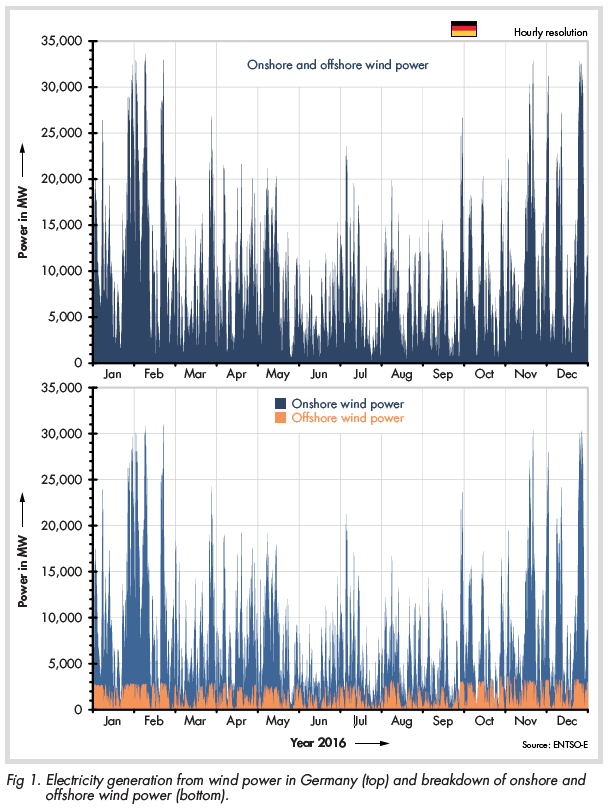 In Germany the installed nominal capacity of all wind turbines has increased eightfold over the last 16 years to 50,000 megawatts today. In the 18 most important European countries using wind energy today, the nominal capacity rose by twelve times to more than 150,000 megawatts. One essential physical property of wind energy is its large spatiotemporal variation due to wind speed fluctuations. From a meteorological point of view, the electrical power output of wind turbines is determined by weather conditions with typical correlation lengths of several hundred kilometres. As a result, the total wind fleet output of 18 European countries extending over several thousand kilometres in north-south and east-west direction is highly volatile and exhibits a strong intermittent character. An intuitively expectable significant smoothing of this wind fleet output to an amount which would allow a reduction of backup power plant capacity, however, does not occur. [emphasis added] In contrast, a highly intermittent wind fleet power output showing significant peaks and minima is observed not only for a single country, but also for the whole of the 18 European countries. Wind energy therefore requires a practically 100% backup. As the (also combined) capacities of all known storage technologies are (and increasingly will be) insignificant in comparison to the required demand, backup must be provided by conventional power plants, with their business cases fundamentally being impaired in the absence of capacity markets.
Windenergie in Deutschland und Europa – Status quo, Potenziale und Herausfor­ derungen in der Grundversorgung mit Elektrizität – Entwicklungen in Deutschlandseit 2010: Die installierte Nennleistung sämtlicher Windenergieanlagen in Deutschland hat sich in den letzten 16 Jahren, von Anfang 2001 bis Ende 2016, auf 50.000 Megawatt (MW) verachtfacht. In 18 betrachteten europäischen Ländern, die Windenergie heute nutzen, erhöhte sich die Nennleistung im gleichen Zeitraum um das Zwölffache auf mehr als 150.000 MW. Eine wesentliche physikalische Eigenschaft der Windenergie ist ihre starke raumzeitliche Variation aufgrund der Fluktuationen der Windgeschwindigkeit. Meteorologisch betrachtet wird die aus Windenergieanlagen eingespeiste elektrische Leistung durch Wetterlagen mit typischen Korrelationslängen von mehreren hundert Kilometern bestimmt. Im Ergebnis ist die aufsummierte eingespeiste Leistung der europaweit über mehrere tausend Kilometer sowohl in Nord-Süd- als auch Ost-West-Richtung verteilten Windenergieanlagen hoch volatil, gekennzeichnet durch ein breites Leistungsspektrum. Die intuitive Erwartung einer deutlichen Glättung der Gesamtleistung in einem Maße, das einen Verzicht auf Backup-Kraftwerksleistung ermöglichen würde, tritt allerdings nicht ein. Das Gegenteil ist der Fall, nicht nur für ein einzelnes Land, sondern auch für die große Leistungsspitzen und -minima zeigende Summenzeitreihe der Windstromproduktion 18 europäischer Länder. Für das Jahr 2016 weist die entsprechende Zeitreihe (Stundenwerte) bei idealisiert verlustfreier Betrach tung einen Mittelwert von 33.000 MW und ein Minimum von weniger als 6.500 MW auf. Dies entspricht trotz der europaweit verteilten Windparkstandorte gerade einmal 4 % der in den betrachteten 18 Ländern insgesamt installierten Nennleistung. Windenergie trägt damit praktisch nicht zur Versorgungssicherheit bei und erfordert 100% planbare Backup-Systeme nach heutigem Stand der Technik. Da das benötigte Speichervolumen aller heute bekannten Speichertechnologien im Vergleich zur Elektrizitätsnachfrage gering ist (auch in Kombination und mit steigender Tendenz bei weiterem Ausbau volatiler, vom Dargebot abhängiger erneuerbarer Energien), müssen konventionelle Kraftwerke diese Backup-Funktion übernehmen. Deren Rentabilität steht ohne Kapazitätsmärkte schon heute in Frage.
Thomas Linnemann and Guido S. Vallana
VGB PowerTech, Essen, Deutschland
June 2017
Download original document in English: "Wind energy in Germany and Europe: Status, potentials and challenges for baseload application"
Auf Deutsch: "Windenergie in Deutschland und Europa: Status quo, Potenziale und Herausfor­ derungen in der Grundversorgung mit Elektrizität"
Präsentation: VGB-Windstudie 2017
---