BENEFITS : LOW ↔ IMPACTS : HIGH
Resource Documents: Economics (211 items)
Unless indicated otherwise, documents presented here are not the product of nor are they necessarily endorsed by National Wind Watch. These resource documents are shared here to assist anyone wishing to research the issue of industrial wind power and the impacts of its development. The information should be evaluated by each reader to come to their own conclusions about the many areas of debate. • The copyrights reside with the sources indicated. As part of its noncommercial effort to present the environmental, social, scientific, and economic issues of large-scale wind power development to a global audience seeking such information, National Wind Watch endeavors to observe "fair use" as provided for in section 107 of U.S. Copyright Law and similar "fair dealing" provisions of the copyright laws of other nations.
---
Date added:
November 13, 2022
Economics
•
Author: Lesser, Jonathan
As this report will demonstrate, the realities of offshore wind planning, development, and construction render the president's goal unachievable. A single offshore wind project can easily take longer than a decade to develop. Although numerous projects scheduled to be built before 2030 have been announced in the last decade, only one—the 800-MW Vineyard Wind project, to be built off the Massachusetts coast south of Martha's Vineyard—has begun preliminary construction. And that project is facing at least three lawsuits that are sure to delay its completion.
Even if the president's goal were physically achievable, it should not be pursued because of offshore wind's dismal economics. Offshore wind is hugely expensive, much more so than solar, onshore wind, hydropower, and geothermal. And despite proponents' claims to the contrary, the costs of installing offshore wind facilities are not decreasing. Furthermore, economic and physical constraints are likely to raise the costs of offshore wind projects, as developers compete for scarce resources. Moreover, because it is inherently intermittent—producing electricity only when the wind blows—offshore wind will require significant investment in backup supply resources, primarily gas- and oil-fired generators, to compensate for the more than 50% of all hours when the wind is not blowing. Although wind and solar proponents claim that battery storage will eliminate the need for fossil-fuel backup generation, the costs, raw-materials requirements, and manufacturing capacity needed to produce the quantity of battery storage that is needed to provide even three or four hours of backup power would be staggering.
February 3, 2022
Download original document: "The Biden Administration's Offshore Wind Fantasy"
---
Date added:
October 27, 2022
Economics
•
Author: Shernikau, Lars; Hayden Smith, William; and Falcon, Rosemary
Abstract
Understanding electricity generation's true cost is paramount to choosing and prioritizing our future energy systems. This paper introduces the full cost of electricity (FCOE) and discusses energy returns (eROI). The authors conclude with suggestions for energy policy considering the new challenges that come with global efforts to "decarbonize".
In 2021, debate started to occur regarding energy security (or rather electricity security) which was driven by an increase in electricity demand, shortage of energy raw material supply, insufficient electricity generation from wind and solar, and geopolitical challenges, which in turn resulted in high prices and volatility in major economies. This was witnessed around the world, for instance in China, India, the US, and of course Europe. Reliable electricity supply is crucial for social and economic stability and growth which in turn leads to eradication of poverty.
The authors explain and quantify the gap between installed energy capacity and actual electricity generation when it comes to variable renewable energy. The main challenges for wind and solar are its intermittency and low energy density, and as a result practically every wind mill or solar panel requires either a backup or storage, which adds to system costs.
Widely used levelized cost of electricity, LCOE, is inadequate to compare intermittent forms of energy generation with dispatchable ones and when making decisions at a country or society level. We introduce and describe the methodology for determining the full cost of electricity (FCOE) or the full cost to society. FCOE explains why wind and solar are not cheaper than conventional fuels and in fact become more expensive the higher their penetration in the energy system. The IEA confirms, "the system value of variable renewables such as wind and solar decreases as their share in the power supply increases". This is illustrated by the high cost of the "green" energy transition.
We conclude with suggestions for a revised energy policy. Energy policy and investors should not favor wind, solar, biomass, geothermal, hydro, nuclear, gas, or coal but should support all energy systems in a manner which avoids energy shortage and energy poverty. All energy always requires taking resources from our planet and processing them, thus negatively impacting the environment. It must be humanity's goal to minimize these negative impacts in a meaningful way through investments – not divestments – by increasing, not decreasing, energy and material efficiencies.
Therefore, the authors suggest energy policy makers to refocus on the three objectives, energy security, energy affordability, and environmental protection. This translates into two pathways for the future of energy:
(1) invest in education and base research to pave the path towards a New Energy Revolution where energy systems can sustainably wean off fossil fuels.
(2) In parallel, energy policy must support investment in conventional energy systems to improve their efficiencies and reduce the environmental burden of generating the energy required for our lives.
Additional research is required to better understand eROI, true cost of energy, material input, and effects of current energy transition pathways on global energy security.
Lars Schernikau, energy economist, entrepreneur, and commodity trader in energy raw materials, Zurich, Switzerland, and Technical University of Berlin, Germany
William Hayden Smith, Professor of Earth and Planetary Sciences, McDonnell Center for Space Sciences, Washington University, St. Louis, Missouri, USA
Rosemary Falcon, retired DSI-NRF SARChI Professor, Engineering Faculty, University of the Witwatersrand, Johannesburg, South Africa
Journal of Management and Sustainability; Vol. 12, No. 1; 2022
doi:10.5539/jms.v12n1p96
Full Cost of Electricity "FCOE" and Energy Returns "eROI"
---
Date added:
September 7, 2022
Economics
,
Emissions
,
Environment
,
Health
,
Noise
,
Property values
•
Author: Gitt, Brian
I love the *idea* of wind power. It sounds natural. Clean. Moral. But in reality, wind power harms the environment & people—especially low-income people. The myths about wind power are fueling bad energy policies & poor investments. The facts make it all look ridiculous.
2/ MYTH: wind power helps the environment.
Wind power requires excessive mining & land use. It industrializes coastline & kills wildlife.
Nuclear & natural gas power plants reduce CO₂ emissions more effectively.
U.S. Energy Information Administration: "Electric power sector CO2 emissions drop as generation mix shifts from coal to natural gas"
3/ Wind turbines are made from minerals, petrochemicals, & fossil fuels.
Building a single 2 MW windmill uses 187 tons of coal—the equivalent of 125 pickup trucks full of coal.
Vaclav Smil: "What I See When I See a Wind Turbine"
4/ Building a 100 MW wind farm requires 30,000 tons of iron ore, 50,000 tons of concrete & 900 tons of non-recyclable plastics for the blades—all mined, transported & produced with hydrocarbons.
5/ Wind farms need 360× more land to produce the same amount of energy as a nuclear power plant.
A 200 MW wind farm spans 13+ sq miles (36 sq km). A natural-gas power plant with the same generating capacity could fit onto a single city block.
Dave Merrill, Bloomberg: "The U.S. Will Need a Lot of Land for a Zero-Carbon Economy"
6/ Wind turbines threaten endangered whales & fisheries, & kill hundreds of thousands of birds every year.
Robert Bryce, Real Clear Energy: "The Sierra Club Loves Wind Turbines, Not Whales"
7/ Each wind turbine blade is over 165 feet (50 meters) long & is made from toxic materials that can't be recycled & that are getting dumped in landfills.
Tens of thousands of these blades will eventually enter the waste stream.
Chris Martin, Bloomberg: "Wind Turbine Blades Can't Be Recycled, So They're Piling Up in Landfills"
8/ There are better ways of reducing climate risk.
The carbon footprint of an offshore wind farm is 3 times larger than the carbon footprint of a nuclear plant.
Building wind farms channels resources away from better ways of reducing climate risk like nuclear power.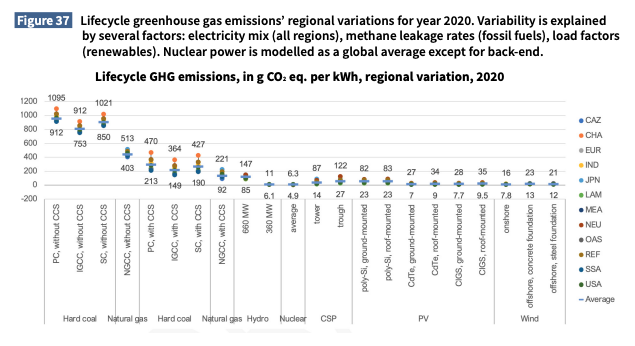 9/ MYTH: Wind power helps people.
Households pay more for electricity where there are wind & solar mandates:
German households saw their energy bills increase by 34% between 2010-2020.
American households in CA pay 80% more, & 11% more in 28 other states with mandates.
10/ Lower-income people subsidize wind-power tax credits for the wealthy.
"We get a tax credit if we build a lot of wind farms. That's the only reason to build them. They don't make sense without the tax credit." —Warren Buffett
11/ The wind industry still needs subsidies even after billions in public handouts.
The US Treasury estimates the wind production tax credit will cost taxpayers ~$34 billion from 2020 to 2029. It's by far the most expensive energy subsidy.
12/ People who live near wind farms report sleep disturbances, headaches, dizziness, vertigo, nausea, blurry vision, irritability, & problems with concentration & memory.
Jeffery, Krogh, and Horner, Canadian Family Physician: "Adverse health effects of industrial wind turbines"
13/ China takes up 7 spots among the world's top 10 wind turbine manufacturers—where weak environmental regulations prevail & lower production costs are fueled by coal & cheap labor.
14/ Goldwind (2nd largest wind manufacturer in the world) has factories in China's Xinjiang province, where hundreds of thousands of Uyghurs are working in slave labor conditions.
Jacob Fromer and Cissy Zhou, South China Morning Post: "As US moves to renewable energy, wind turbines from Xinjiang may get caught in political tempest"
15/ MYTH – We can build enough wind farms to meet our energy needs.
People hate living near wind farms.
The farms are loud & large (each is 400-700 ft tall (122-213 m).
They destroy views & hurt property values.
Robert Bryce, Center of the American Experiment: "Not in Our Backyard: Rural America is fighting back against large-scale renewable energy projects"
16/ Public backlash against wind farms is growing in the US & Europe.
Local governments have rejected over 317 US wind projects since 2015.
Renewable Energy Rejection Database, American Experiment: "US Governmental Entities That Moved to Reject or Restrict Wind Projects"
17/ Offshore wind farms sidestep some community conflicts but have other problems.
Building offshore farms is 3× more expensive than onshore.
They threaten endangered whales, fisheries, ocean views & industrialize the coastline.
18/ Wind turbines generate electricity only ~30% of the time because the wind doesn't always blow.
Every megawatt of wind needs a megawatt of fossil fuel power (usually natural gas) as a backup.
19/ MYTH – Better tech will solve problems with wind power.
The Betz limit in physics caps the maximum efficiency for a wind turbine. At most, only 60% of the kinetic energy from wind can be used to spin the turbine & generate electricity.
20/ Not all tech innovation makes things cheaper.
Offshore wind is getting more expensive. The cost has been increasing by 15% whenever capacity doubles.
Renewable Energy Foundation: "Wind Power Economics – Rhetoric and Reality"
21/ Some people think we'll be able to store surplus wind energy in batteries. But the world's largest battery factory (Tesla's Gigafactory) would need 1,000 years to make enough batteries for 2 days' worth of US electricity demand. And batteries cost 200× more than natural gas.
22/ Wind farms break down often & don't last long.
Equipment failures & declining performance make the cost of operating a 16+ yr old wind turbine prohibitive.
Onshore turbines lose 37% output & offshore turbines lose 50% output at 16 yrs.
Gordon Hughes, Renewable Energy Foundation: "Costs, Performance and Investment Returns for Wind Power"
23/ Myths about wind power are driving bad investments & policy decisions.
Dollars spent on them cause harm & suffering to the poorest among us–a high cost for false moral comfort.
Let's build an energy system that maximizes human flourishing & minimizes environmental harm.
24/ What We Need To Do:
End subsidies & incentives for wind & solar.
Retire the dirtiest coal power plants.
Build new efficient natural gas power plants (and hydro and geothermal where possible).
Reform regulations & build nuclear power plants.
Invest in energy R&D.
Brian Gitt
Feb 15, 2022, Twitter (@BrianGitt)
---
Date added:
July 4, 2021
California
,
Economics
,
New Mexico
,
Technology
,
Texas
,
U.S.
•
Author: Power the Future
On Earth Day, President Biden pledged under the Paris Climate Agreement that the United States would reduce greenhouse gas emissions by 50 percent in ten years (below 2005 levels). This goal is as preposterous as it is impractical. It's clear that the Biden Administration is misleading the American people to impose the Green Agenda which includes stifling bureaucratic manipulation in every sector of the economy. Power The Future's latest study, "Lights Out: How Green Mandates Are Undermining the Affordability and Reliability of Electricity," explores the real costs and benefits of Biden's plan.
Biden's Climate Envoy John Kerry has himself admitted: "Almost 90 percent of all of the planet's global emissions come from outside of U.S. borders. We could go to zero tomorrow and the problem isn't solved."
On this, as in little else, Kerry is right: Even assuming every signatory to the Paris Agreement (the US included, as pledged under President Obama) fulfilled its emissions commitments, the climate impact "is minuscule." In measuring the temperature impact of every nation fulfilling every promise by 2030, the total temperature reduction would be 0.048°C (0.086°F) by 2100. Carry those assumptions out another 70 years, and Paris would reduce temperatures by just 0.17°C by 2100.
So what can we realistically expect from the types of proposals Biden is pushing? PTF looked at the results of renewable mandates in Texas, California, and New Mexico to find out.
Based on data from those states, it is clear that Biden's pledge under the Paris Agreement sets the country on a dangerous trajectory. Green radicals will use it to push their fever dream of a 100 percent "clean" grid, powered by sources that don't work at night or on cloudy days. These policies destroy good-paying jobs and raise energy prices. It's time to wake up to these realities with policies that promote fuel diversity, reliability, and affordability—before it's too late for all of us.
Download original document: "How Green Mandates Are Undermining the Affordability and Reliability of Electricity"
---