Resource Documents: Economics (176 items)
Documents presented here are not the product of nor are they necessarily endorsed by National Wind Watch. These resource documents are provided to assist anyone wishing to research the issue of industrial wind power and the impacts of its development. The information should be evaluated by each reader to come to their own conclusions about the many areas of debate.
---
Author: Clack, Christopher; Qvist, Staffan; Apt, Jay; et al.
[Abstract] A number of analyses, meta-analyses, and assessments, including those performed by the Intergovernmental Panel on Climate Change, the National Oceanic and Atmospheric Administration, the National Renewable Energy Laboratory, and the International Energy Agency, have concluded that deployment of a diverse portfolio of clean energy technologies makes a transition to a low-carbon-emission energy system both more feasible and less costly than other pathways. In contrast, Jacobson et al. [Proc Natl Acad Sci U S A 2015;112(49):15060–5 (ref. 11)] argue that it is feasible to provide "low-cost solutions to the grid reliability problem with 100% penetration of WWS [wind, water and solar power] across all energy sectors in the continental United States between 2050 and 2055", with only electricity and hydrogen as energy carriers. In this paper, we evaluate that study and find significant short- comings in the analysis. In particular, we point out that this work used invalid modeling tools, contained modeling errors, and made implausible and inadequately supported assumptions. Policy makers should treat with caution any visions of a rapid, reliable, and low-cost transition to entire energy systems that relies almost exclusively on wind, solar, and hydroelectric power.
[Introduction] Wind and solar are variable energy sources, and some way must be found to address the issue of how to provide energy if their immediate output cannot continuously meet instantaneous demand. The main options are to (i) curtail load (i.e., modify or fail to satisfy demand) at times when energy is not available, (ii) deploy very large amounts of energy storage, or (iii) provide supplemental energy sources that can be dispatched when needed. It is not yet clear how much it is possible to curtail loads, especially over long durations, without incurring large economic costs. There are no electric storage systems available today that can affordably and dependably store the vast amounts of energy needed over weeks to reliably satisfy demand using expanded wind and solar power generation alone. These facts have led many US and global energy system analyses (1–10) to recognize the importance of a broad portfolio of electricity generation technologies, including sources that can be dispatched when needed.
[Conclusions] The scenarios of ref. 11 can, at best, be described as a poorly executed exploration of an interesting hypothesis. The study's numerous shortcomings and errors render it unreliable as a guide about the likely cost, technical reliability, or feasibility of a 100% wind, solar, and hydroelectric power system.
Christopher T. M. Clack, Staffan A. Qvist, Jay Apt, Morgan Bazilian, Adam R. Brandt, Ken Caldeira, Steven J. Davis, Victor Diakov, Mark A. Handschy, Paul D. H. Hines, Paulina Jaramillo, Daniel M. Kammen, Jane C. S. Long, M. Granger Morgan, Adam Reed, Varun Sivaram, James Sweeney, George R. Tynan, David G. Victor, John P. Weyant, and Jay F. Whitacre
Proceedings of the National Academy of Sciences of the United States of America
Published online June 19, 2017. doi: 10.1073/pnas.1610381114
Download original document: "Evaluation of a proposal for reliable low-cost grid power with 100% wind, water, and solar"
Download Supporting Information Appendix containing the details of this evaluation.
Download Dataset 1 and Dataset 2 containing data and calculations used to produce the figures.
---
Date added:
June 5, 2017
Economics
,
Environment
•
Author: Ridley, Matt
The Global Wind Energy Council recently released its latest report, excitedly boasting that 'the proliferation of wind energy into the global power market continues at a furious pace, after it was revealed that more than 54 gigawatts of clean renewable wind power was installed across the global market last year'.
You may have the impression from announcements like that, and from the obligatory pictures of wind turbines in any New York Times story, that wind power is making a big contribution to world energy today.
You would be wrong. Its contribution is still, after decades – nay centuries – of development, trivial to the point of irrelevance. Even after 30 years of huge subsidies, wind power provides only slightly more than zero energy to the world.
Even put together, wind and photovoltaic solar are supplying less than 1 per cent of global energy demand.
From the International Energy Agency's 2016 Key Renewables Trends, we can see that wind provided 0.46 per cent of global energy consumption in 2014, and solar and tide combined provided 0.35 per cent. Remember this is total energy, not just electricity, which is less than a fifth of all final energy, the rest being the solid, gaseous, and liquid fuels that do the heavy lifting for heat, transport and industry.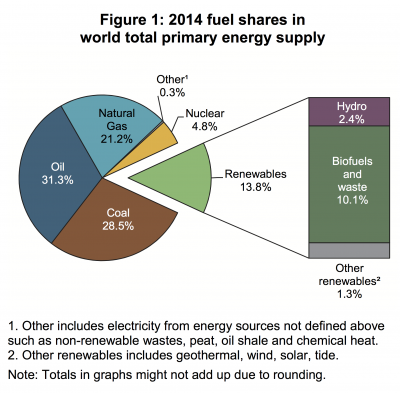 Such numbers are not hard to find, but they don't figure prominently in reports on energy derived from the Unreliables Lobby (solar and wind). Their trick is to hide behind the statement that close to 14 per cent of the world's energy is renewable, with the implication that this is wind and solar.
In fact the vast majority – three quarters – is biomass (mainly wood), and a very large part of that is 'traditional biomass': sticks, logs, charcoal and dung burned by the poor in their homes to cook with. Those people need that energy, but they pay a big price in health problems caused by smoke inhalation.
Even in rich countries playing with subsidized wind and solar, a huge slug of their renewable energy comes from wood and hydro, the reliable renewables.
Meanwhile, world energy demand has been growing at about 2 per cent a year for nearly 40 years. Between 2013 and 2014, again using International Energy Agency data, it grew by just under 2,000 terawatt-hours.
If wind turbines were to supply all of that growth but no more, how many would need to be built each year? The answer is nearly 350,000, since a two-megawatt turbine can produce about 0.005 terawatt-hours per annum. That's one-and-a-half times as many as have been built in the world since governments started pouring taxpayer money into this so-called industry in the early 2000s.
At a density of, very roughly, 50 acres per megawatt, typical for wind farms, that many turbines would require a land area half the size of the British Isles, including Ireland (61,000 sq mi). Every year.
If we kept this up for 50 years, we would have covered every square mile of a land area half the size of Russia with wind farms (3.05 million sq mi).
Remember, this would be just to fulfill the new demand for energy, not to displace the vast existing supply of energy from fossil fuels, which currently supply 80 per cent of global energy needs.
Further, the Unreliables Lobby cannot take refuge in the idea that wind turbines could become more efficient. There is a limit to how much energy you can extract from a moving fluid, the Betz limit, and wind turbines are already close to it.
And more: wind turbine effectiveness (the load factor, to use the engineering term) is determined by the wind that is available, and that varies at its own sweet will from second to second, day to day, year to year.
As machines, wind turbines are pretty good already; the problem is the wind resource itself, and we cannot change that. It's a fluctuating stream of low–density energy. Mankind stopped using it for mission-critical transport and mechanical power long ago, for sound reasons. It's just not very good. How much global cargo is shipped by sailing ships these days?
As for resource consumption and environmental impacts, the direct effects of wind turbines – killing birds and bats, sinking concrete foundations deep into wild lands – is bad enough.
But out of sight and mind is the dirty pollution generated in Inner Mongolia by the mining of rare-earth metals for the magnets in the turbines. This generates toxic and radioactive waste on an epic scale, which is why the phrase 'clean energy' is such a sick joke and greenie politicians should be ashamed every time it passes their lips.
It gets worse.
Wind turbines, apart from the fiberglass blades, are made mostly of steel, with concrete bases. They need about 200 times as much material per unit of capacity as a modern combined cycle gas turbine. Steel is made with coal, not just to provide the heat for smelting ore, but to supply the carbon in the alloy. Cement is also often made using coal. The machinery of 'clean' renewables is the output of the fossil fuel economy, and largely the coal economy.
A two-megawatt wind turbine weighs about 250 metric tons, including the tower, nacelle, rotor and blades. Globally, it takes about half a ton of coal to make a ton of steel. Add another 25 tons of coal for making the cement and you're talking 150 metric tons of coal per turbine.
Now if we are to build 350,000 wind turbines a year (or a smaller number of bigger ones), just to keep up with increasing energy demand, that will require 50 million metric tons of coal a year more than being mined now. That's about half the EU's hard coal–mining output.
The point of running through these numbers is to demonstrate that it is utterly futile, on a priori grounds, even to think that wind power can make any significant contribution to world energy supply, let alone to emissions reductions, without ruining the planet. As the extraordinary polymath Sir David MacKay pointed out, the arithmetic is against such unreliable renewables.
MacKay, former chief scientific adviser to the Department of Energy and Climate Change, said in the final interview before his tragic death last year that the idea that renewable energy could power the UK is an "appalling delusion" – for this reason: that there is not enough land.
The truth is, if you want to power civilization with fewer greenhouse gas emissions, then you should focus on shifting power generation, heat and transport to natural gas, the economically recoverable reserves of which – thanks to horizontal drilling and hydraulic fracturing – are much more abundant than we dreamed they ever could be.
It is also the lowest-emitting of the fossil fuels, so the emissions intensity of our wealth creation can actually fall while our wealth continues to increase.
And let's put some of that burgeoning wealth in nuclear, fission and fusion, so that it can take over from gas in the second half of this century. That is an engineerable, clean future.
Everything else is a political displacement activity, one that is actually counterproductive as a climate policy and, worst of all, shamefully robs the poor to make the taxpayer-subsidized crony-rich even richer.
Matt Ridley
May 2017
Matt Ridley is the author of The Rational Optimist, and as 5th Viscount Ridley is a Member of the British House of Lords. The Utter Complete Total Fraud of Wind Power originally appeared at To The Point News.
(((( o ))))
Additional notes by commenters at http://rodmartin.org/utter-complete-total-fraud-wind-power/
Frank Nova:
[B]ecause a large proportion of the energy coming out of a windmill is coming out in short burst, it requires an inordinately large hook-up power line to be able to carry very high peak capacity while the average capacity is very low. It's akin using a 10 tons truck to go buy a quart of milk. Warmageddonists were the first to rant against using a Hummer as daily transportation. Well, windmills are the Hummers-for-getting-a-quart-of-milk of power generation.
Manley C. Butler Jr.:
AND – it does not even make any allowance for the terrible environmental damage to the sites during construction of each turbine and the continuing eyesore of each power easement.
AND – it makes no allowance for removal of obsolete towers.
BUT – Because the efficiency of any wing device improves with increases in the aspect ratio (L/W) the blades are getting longer and longer. Therefore the use of high-strength, lightweight materials is required; therefore the wind turbine has been a great source money (both R&D and production) for the composites industry.
---
Date added:
May 1, 2017
China
,
Economics
,
Environment
•
Author: Tang, Bijian; et al.
Abstract:
Wind farms (WFs) can affect the local climate, and local climate change may influence underlying vegetation. Some studies have shown that WFs affect certain aspects of the regional climate, such as temperature and rainfall. However, there is still no evidence to demonstrate whether WFs can affect local vegetation growth, a significant part of the overall assessment of WF effects. In this research, based on the moderate-resolution imaging spectroradiometer vegetation index, productivity and other remote-sensing data from 2003 to 2014, the effects of WFs in the Bashang area of Northern China on vegetation growth and productivity in the summer (June–August) were analyzed. The results showed that: (1) WFs had a significant inhibiting effect on vegetation growth, as demonstrated by decreases in the leaf area index, the enhanced vegetation index, and the normalized difference vegetation index of approximately 14.5%, 14.8%, and 8.9%, respectively, in the 2003–2014 summers. There was also an inhibiting effect of 8.9% on summer gross primary production and 4.0% on annual net primary production coupled with WFs; and (2) the major impact factors might be the changes in temperature and soil moisture: WFs suppressed soil moisture and enhanced water stress in the study area. This research provides significant observational evidence that WFs can inhibit the growth and productivity of the underlying vegetation.
Bijian Tang, Donghai Wu, Xiang Zhao, Tao Zhou, Wenqian Zhao, and Hong Wei
State Key Laboratory of Remote Sensing Science, Beijing Engineering Research Center for Global Land Remote Sensing, College of Remote Sensing Science and Engineering, Faculty of Geographical Science, Beijing Normal University; Joint Center for Global Change Studies (JCGCS), Beijing; State Key Laboratory of Earth Surface Processes and Resource Ecology, Beijing Normal University;
Key Laboratory of Environmental Change and Natural Disaster, Ministry of Education, Beijing Normal University; and Shaanxi Jinkong Compass Information Service Co., Xi'an, China
Remote Sensing 2017, 9(4), 332; doi: 10.3390/rs9040332
Download original document: "Observed impacts of wind farms on local vegetation growth in northern China"
Download supplemental figures
---
Date added:
June 15, 2016
Economics
,
Environment
,
Sweden
•
Author: Wagner, Fritz; and Rachlew, Elisabeth
Abstract. The Swedish electricity supply system benefits strongly from the natural conditions which allow a high share of hydroelectricity. A complete supply is, however, not possible. Up to now, nuclear power is the other workhorse to serve the country with electricity. Thus, electricity production of Sweden is basically CO₂-free and Sweden has reached an environmental status which others in Europe plan to reach in 2050. Furthermore, there is an efficient exchange within the Nordic countries, Nordpol, which can ease possible capacity problems during dry cold years. In this study we investigate to what extent and with what consequences the base load supply of nuclear power can be replaced by intermittent wind power. Such a scenario leads unavoidably to high wind power installations. It is shown that hydroelectricity cannot completely smooth out the fluctuations of wind power and an additional back-up system using fossil fuel is necessary. From the operational dynamics, this system has to be based on gas. The back-up system cannot be replaced by a storage using surplus electricity from wind power. The surplus is too little. To overcome this, further strong extension of wind power is necessary which leads, however, to a reduction of the use of hydroelectricity if the annual consumption is kept constant. In this case one fossil-free energy form is replaced by another, however, more complex one. A mix of wind power at 22.3GW plus a gas based back-up system with 8.6GW producing together 64.8TWh would replace the present infrastructure with 9GW nuclear power producing 63.8TWh electricity. The specific CO₂-emission increases to the double in this case. Pumped storage for the exclusive supply of Sweden does not seem to be a meaningful investment.
Fritz Wagner, Max-Planck-Institut für Plasmaphysik, Greifswald, Germany
Elisabeth Rachlew, Department of Physics, Royal Institute of Technology, Stockholm, Sweden
European Physical Journal Plus (2016) 131: 173
DOI 10.1140/epjp/i2016-16173-8
Download original document: "Study on a hypothetical replacement of nuclear electricity by wind power in Sweden"
---