Author: Faint, John; and Morris, Mary | Australia, Environment
For the four cropping seasons from 2011- 2014, a majority of farmers in the Marrabel Valley have experienced unprecedented and widespread frost damage of grain crops on sloping paddocks high above the valley floor. Historically these areas have not been affected by frost as the steep slope of the valley sides ensures that cold air flows towards the lower lying areas where it is normal for frost to form.
The onset of these seasons of atypical and the abnormal frosts and frost damage coincides with the commencement of operation of an 18 km long wind farm which is located on a central ridgeline in the clearly defined catchment area. Four contiguous years of significant production losses have prompted this call for an investigation into whether the wind farm is affecting the near surface meteorology of the Marrabel Catchment. This Catchment covers 21,392 hectares and contains some of the most highly productive and high value cropping land in South Australia, consequently further investigation is justified.
[Submitted to the South Australian Grains Industry Trust (SAGIT), February 2015, as part of a researchapplication, which was not funded. Atypical frosts have continued to occur with millions of dollars worth of damage every year.]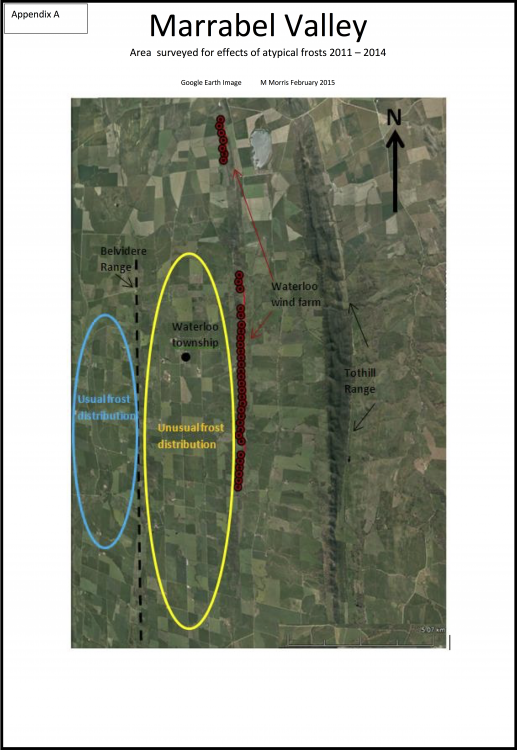 Download original document: "Severe localised grain production losses from atypical frosts in the Marrabel Valley Catchment 2011–2014"
This article is the work of the author(s) indicated. Any opinions expressed in it are not necessarily those of National Wind Watch.
Share:
Tags: Wind power, Wind energy, Weather