Author: Bell, Ken | Environment, Ontario, Photos
Ken Bell, Water Quality Monitoring Coordinator, Rondeau Watershed Coalition, noticed patterned splatters on the top third of the tower of a 1.5-MW GE turbine. Assuming that they indicate spilled oil thrown from the blades (and not, as originally suspected and still possible, collisions of birds and bats), he used to them to estimate the total amount of oil spilled.
Download original document"Richmond Road Turbine Splatters"
View original photos: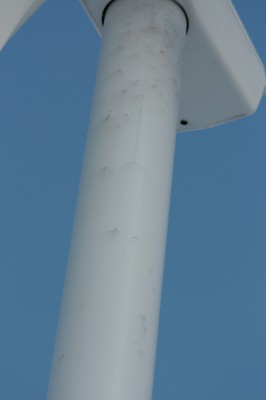 This article is the work of the author(s) indicated. Any opinions expressed in it are not necessarily those of National Wind Watch.
Share:
Tags: Wind power, Wind energy