Author: Bell, Ken | Environment, Ontario, Photos
Ken Bell, Water Quality Monitoring Coordinator, Rondeau Watershed Coalition, noticed patterned splatters on the top third of the tower of a 1.5-MW GE turbine. Assuming that they indicate spilled oil thrown from the blades (and not, as originally suspected and still possible, collisions of birds and bats), he used to them to estimate the total amount of oil spilled.
Download original document"Richmond Road Turbine Splatters"
View original photos: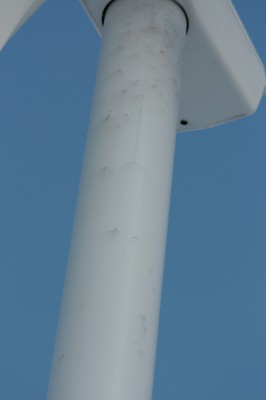 This material is the work of the author(s) indicated. Any opinions expressed in it are not necessarily those of National Wind Watch.

The copyright of this material resides with the author(s). As part of its noncommercial effort to present the environmental, social, scientific, and economic issues of large-scale wind power development to a global audience seeking such information, National Wind Watch endeavors to observe "fair use" as provided for in section 107 of U.S. Copyright Law and similar "fair dealing" provisions of the copyright laws of other nations. Queries e-mail.
Share:
Translate: FROM English | TO English
Translate: FROM English | TO English
Tags: Wind power, Wind energy