BENEFITS : LOW ↔ IMPACTS : HIGH
Resource Documents: Emissions (132 items)
Unless indicated otherwise, documents presented here are not the product of nor are they necessarily endorsed by National Wind Watch. These resource documents are shared here to assist anyone wishing to research the issue of industrial wind power and the impacts of its development. The information should be evaluated by each reader to come to their own conclusions about the many areas of debate. • The copyrights reside with the sources indicated. As part of its noncommercial effort to present the environmental, social, scientific, and economic issues of large-scale wind power development to a global audience seeking such information, National Wind Watch endeavors to observe "fair use" as provided for in section 107 of U.S. Copyright Law and similar "fair dealing" provisions of the copyright laws of other nations.
---
Date added:
October 5, 2018
Emissions
,
Environment
•
Author: Miller, Lee; and Keith, David
Highlights
Wind power reduces emissions while causing climatic impacts such as warmer temperatures
Warming effect strongest at night when temperatures increase with height
Nighttime warming effect observed at 28 operational US wind farms
Wind's warming can exceed avoided warming from reduced emissions for a century
Summary
We find that generating today's US electricity demand (0.5 TWe) with wind power would warm Continental US surface temperatures by 0.24°C. Warming arises, in part, from turbines redistributing heat by mixing the boundary layer. Modeled diurnal and seasonal temperature differences are roughly consistent with recent observations of warming at wind farms, reflecting a coherent mechanistic understanding for how wind turbines alter climate. The warming effect is: small compared with projections of 21st century warming, approximately equivalent to the reduced warming achieved by decarbonizing global electricity generation, and large compared with the reduced warming achieved by decarbonizing US electricity with wind. For the same generation rate, the climatic impacts from solar photovoltaic systems are about ten times smaller than wind systems. Wind's overall environmental impacts are surely less than fossil energy. Yet, as the energy system is decarbonized, decisions between wind and solar should be informed by estimates of their climate impacts.
Lee M. Miller, David W. Keith
School of Engineering and Applied Sciences, Harvard University, Cambridge, Mass.
Joule, Volume 2, Issue 12, P2618-2632, December 19, 2018. DOI: 10.1016/j.joule.2018.09.009
Download original document: "Climatic Impacts of Wind Power"
See also: Observation-based solar and wind power capacity factors and power densities
---
Author: Sepulveda, Nestor; et al.
Highlights
Firm low-carbon resources [e.g., nuclear, natural gas with carbon capture and sequestration, and bioenergy] consistently lower decarbonized electricity system costs
Availability of firm low-carbon resources reduces costs 10%–62% in zero-CO₂ cases
Without these resources, electricity costs rise rapidly as CO₂ limits near zero
Batteries and demand flexibility do not substitute for firm low-carbon resources
Summary
We investigate the role of firm low-carbon resources in decarbonizing power generation in combination with variable renewable resources, battery energy storage, demand flexibility, and long-distance transmission. We evaluate nearly 1,000 cases covering varying CO₂ limits, technological uncertainties, and geographic differences in demand and renewable resource potential. Availability of firm low-carbon technologies, including nuclear, natural gas with carbon capture and sequestration, and bioenergy, reduces electricity costs by 10%–62% across fully decarbonized cases. Below 50 gCO₂/kWh, these resources lower costs in the vast majority of cases. Additionally, as emissions limits decrease, installed capacity of several resources changes non-monotonically. This underscores the need to evaluate near-term policy and investment decisions based on contributions to long-term decarbonization rather than interim goals. Installed capacity for all resources is also strongly affected by uncertain technology parameters. This emphasizes the importance of a broad research portfolio and flexible policy support that expands rather than constrains future options.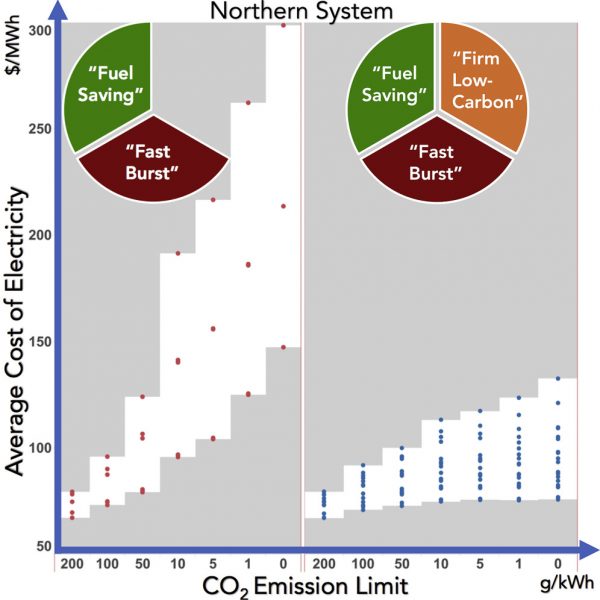 Nestor A. Sepulveda, Department of Nuclear Science and Engineering and Institute for Data, Systems, and Society, Massachusetts Institute of Technology (MIT), Cambridge
Jesse D. Jenkins, Institute for Data, Systems, and Society, MIT
Fernando J. de Sisternes, Center for Energy and Environmental Policy Research, MIT
Richard K. Lester, Department of Nuclear Science and Engineering, MIT
Joule. Published: September 06, 2018
DOI: 10.1016/j.joule.2018.08.006
---
Author: Thind, Maninder; et al.
Abstract.
Environmental consequences of electricity generation are often determined using average emission factors. However, as different interventions are incrementally pursued in electricity systems, the resulting marginal change in emissions may differ from what one would predict based on system-average conditions. Here, we estimate average emission factors and marginal emission factors for CO₂, SO₂, and NOx from fossil and nonfossil generators in the Midcontinent Independent System Operator (MISO) region during years 2007–2016. We analyze multiple spatial scales (all MISO; each of the 11 MISO states; each utility; each generator) and use MISO data to characterize differences between the two emission factors (average; marginal). We also explore temporal trends in emissions factors by hour, day, month, and year, as well as the differences that arise from including only fossil generators versus total generation. We find, for example, that marginal emission factors are generally higher during late-night and early morning compared to afternoons. Overall, in MISO, average emission factors are generally higher than marginal estimates (typical difference: ∼20%). This means that the true environmental benefit of an energy efficiency program may be ∼20% smaller than anticipated if one were to use average emissions factors. Our analysis can usefully be extended to other regions to support effective near-term technical, policy and investment decisions based on marginal rather than only average emission factors.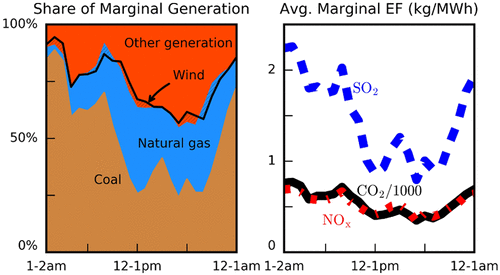 Maninder P. S. Thind and Julian D. Marshall, Department of Civil and Environmental Engineering, University of Washington, Seattle, Washington
Elizabeth J. Wilson, Humphrey School of Public Affairs, University of Minnesota, Minneapolis, and Environmental Studies, Dartmouth College, Hanover, New Hampshire
Inês L. Azevedo, Department of Engineering and Public Policy, Carnegie Mellon University, Pittsburgh, Pennsylvania
Environmental Science and Technology, 2017, 51 (24), pp 14445–14452
DOI: 10.1021/acs.est.7b03047
Download original document: "Marginal Emissions Factors for Electricity Generation in the Midcontinent ISO"
---
Author: Hittinger, Eric; and Azevedo, Inês
Abstract.
Bulk energy storage is generally considered an important contributor for the transition toward a more flexible and sustainable electricity system. Although economically valuable, storage is not fundamentally a "green" technology, leading to reductions in emissions. We model the economic and emissions effects of bulk energy storage providing an energy arbitrage service. We calculate the profits under two scenarios (perfect and imperfect information about future electricity prices), and estimate the effect of bulk storage on net emissions of CO₂, SO₂, and NOx for 20 eGRID subregions in the United States. We find that net system CO₂ emissions resulting from storage operation are nontrivial when compared to the emissions from electricity generation, ranging from 104 to 407 kg/MWh of delivered energy depending on location, storage operation mode, and assumptions regarding carbon intensity. Net NOx emissions range from −0.16 (i.e., producing net savings) to 0.49 kg/MWh, and are generally small when compared to average generation-related emissions. Net SO₂ emissions from storage operation range from −0.01 to 1.7 kg/MWh, depending on location and storage operation mode.
Eric S. Hittinger, Department of Public Policy, Rochester Institute of Technology, Rochester, New York
Inês M. L. Azevedo, Department of Engineering and Public Policy, Carnegie Mellon University, Pittsburgh, Pennsylvania
Environmental Science and Technology, 2015, 49 (5), pp 3203–3210
DOI: 10.1021/es505027p
Download original document: "Bulk Energy Storage Increases United States Electricity System Emissions"
---