Resource Documents: Emissions (125 items)
Documents presented here are not the product of nor are they necessarily endorsed by National Wind Watch. These resource documents are provided to assist anyone wishing to research the issue of industrial wind power and the impacts of its development. The information should be evaluated by each reader to come to their own conclusions about the many areas of debate.
---
Date added:
December 20, 2018
Economics
,
Emissions
,
Property values
•
Author: Swanson, Janna
Dear ——
Usually these turbines are pushed through for two reasons – money and lowering emissions.
The money is a little different in every area and the utility companies play it all close to the chest but this is what we have gathered.
In Iowa MidAmerican has freely admitted that they will receive $10 billion in tax credits. They have built 2200 turbines all told so that averages out to $4,500,000 per turbine in tax credits alone. They get to assess their turbines as well. They have assessed them at about $2,726,500 each.
The utility companies get a big pass on taxes because of the tax structure which allows them to pay 0% the first year increasing by 5% each year until they reach the cap of 30% in year 7, they will pay (very) roughly about $1,000,000 per year in taxes per installation and about $1-2,000,000 in landowner payments per installation. At this point realize that this is only tax credits we are talking about and they will still charge for the electricity the turbines generate. Why are electricity prices not falling if all their capital costs and then some are being paid for? Also, a utility will continue to pay taxes no matter how the energy is generated.
Landowners will receive about $10,000 per turbine. They receive this after signing one of the most ridiculous contracts you have ever read. See the paper "Things Commonly Found in a Wind Contract".
On the other hand, the following are the economic detriments to a community.
Property values drop
The paper I have attached shows study after study that proves property values drop. The wind industry has their own studies but these studies are generally diluted by using assessments done up to 10 miles from the turbines or including farmland values that have had their value artificially raised by turbine payments. Also just the fact that almost no one wants to live in an industrial wind installation is a clear indication of value loss.
Farmland is taken out of commission
About 3 acres per turbine is almost unrecoverable. Farmland is not just dirt, it is soil. It is a living thing full of water, air, microorganisms in organic matter and minerals. Topsoil is the first layer, it is like gold and takes up to 500 years to create one inch of it. Clay or sand is the next layer down but the soil is damaged when they are mixed. Compaction is a huge issue in farming. Compaction ruins farm land by pressing out the air and water. Deep compaction can last for generations and cannot be undone by deep tillage. Wind turbine construction both compacts soil and mixes soil with clay.
The entire county's base economy will be impacted by this loss of farmland for generations especially since decommissioning never includes the bases. Corn and bean roots are very often deeper than the bases.
Tiling issues
Much farmland is drained by extensive tiling infrastructure. The large equipment and especially the large cranes that can easily weigh 500,000 lbs. (or the weight of 125 cars). The compaction they cause moving between turbines can also crush tile 2-6 feet in the ground.
Aerial applications
Farmland is dependent on aerial applications for both weed control and cover crops. The presence of wind turbines increases risk and cost for the aerial operator as well as efficiency. Many refuse to fly within 1/2 mile of an installation. Some farmers will say to use ground rigs but if the conditions are muddy or the crops are leaning this is not a great option.
Bird and bats kills
Yes, in a farming community bird and bat kills certainly figure into the overall economy. They are natural pest control. When they are killed or driven off this impacts the economy so greatly that the US Geological Survey has issued a report on the economic impacts of bats alone.
The USGS report includes a list of the actual dollar amount of bats' impact in each county across the US. MidAmerican just applied to the USFWS for a permit to kill eagles and endangered bats.
Decommissioning
Eventually these things will have to come down. Two decommissioning reports done by expert engineers:
It is generally accepted that each turbine will cost $150,000-$200,000 to decommission. Many companies refuse to put decommissioning agreements in place.
Emissions
Industrial wind energy is one of the most inefficient and ineffective ways to cut CO₂. In 2016 the American Wind Energy Association actually boasted that turbines would avoid 159 million metric tons of CO₂. It seems like a lot until you realize that mankind emits 35-40 billion metric tons of CO₂ every year. So their best boast is that they are avoiding so far less than 1% of emissions that even if they doubled the amount of turbines they had in 2016 that they would not reach past 1% CO₂ avoidance worldwide.
MISO (Midcontinent Independent Systems Operator) puts the cost of avoiding CO₂ with wind energy at $237/per ton – or $37,683,000,000 for 159 million metric tons.
This is just the tip of the iceberg.
Janna Swanson
Coalition for Rural Property Rights president
National Wind Watch board member
---
Date added:
October 5, 2018
Emissions
,
Environment
•
Author: Miller, Lee; and Keith, David
Highlights
Wind power reduces emissions while causing climatic impacts such as warmer temperatures
Warming effect strongest at night when temperatures increase with height
Nighttime warming effect observed at 28 operational US wind farms
Wind's warming can exceed avoided warming from reduced emissions for a century
Summary
We find that generating today's US electricity demand (0.5 TWe) with wind power would warm Continental US surface temperatures by 0.24°C. Warming arises, in part, from turbines redistributing heat by mixing the boundary layer. Modeled diurnal and seasonal temperature differences are roughly consistent with recent observations of warming at wind farms, reflecting a coherent mechanistic understanding for how wind turbines alter climate. The warming effect is: small compared with projections of 21st century warming, approximately equivalent to the reduced warming achieved by decarbonizing global electricity generation, and large compared with the reduced warming achieved by decarbonizing US electricity with wind. For the same generation rate, the climatic impacts from solar photovoltaic systems are about ten times smaller than wind systems. Wind's overall environmental impacts are surely less than fossil energy. Yet, as the energy system is decarbonized, decisions between wind and solar should be informed by estimates of their climate impacts.
Lee M. Miller, David W. Keith
School of Engineering and Applied Sciences, Harvard University, Cambridge, Mass.
Joule, October 04, 2018, DOI: 10.1016/j.joule.2018.09.009
Download original document: "Climatic Impacts of Wind Power"
See also: Observation-based solar and wind power capacity factors and power densities
---
Author: Sepulveda, Nestor; et al.
Highlights
Firm low-carbon resources [e.g., nuclear, natural gas with carbon capture and sequestration, and bioenergy] consistently lower decarbonized electricity system costs
Availability of firm low-carbon resources reduces costs 10%–62% in zero-CO₂ cases
Without these resources, electricity costs rise rapidly as CO₂ limits near zero
Batteries and demand flexibility do not substitute for firm low-carbon resources
Summary
We investigate the role of firm low-carbon resources in decarbonizing power generation in combination with variable renewable resources, battery energy storage, demand flexibility, and long-distance transmission. We evaluate nearly 1,000 cases covering varying CO₂ limits, technological uncertainties, and geographic differences in demand and renewable resource potential. Availability of firm low-carbon technologies, including nuclear, natural gas with carbon capture and sequestration, and bioenergy, reduces electricity costs by 10%–62% across fully decarbonized cases. Below 50 gCO₂/kWh, these resources lower costs in the vast majority of cases. Additionally, as emissions limits decrease, installed capacity of several resources changes non-monotonically. This underscores the need to evaluate near-term policy and investment decisions based on contributions to long-term decarbonization rather than interim goals. Installed capacity for all resources is also strongly affected by uncertain technology parameters. This emphasizes the importance of a broad research portfolio and flexible policy support that expands rather than constrains future options.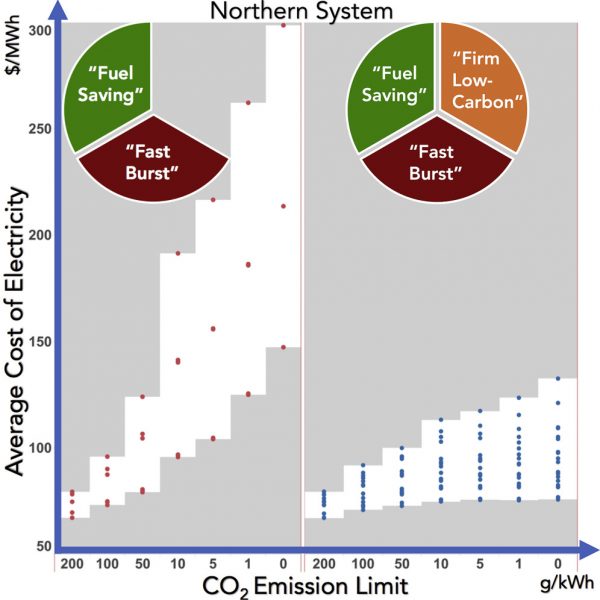 Nestor A. Sepulveda, Department of Nuclear Science and Engineering and Institute for Data, Systems, and Society, Massachusetts Institute of Technology (MIT), Cambridge
Jesse D. Jenkins, Institute for Data, Systems, and Society, MIT
Fernando J. de Sisternes, Center for Energy and Environmental Policy Research, MIT
Richard K. Lester, Department of Nuclear Science and Engineering, MIT
Joule. Published: September 06, 2018
DOI: 10.1016/j.joule.2018.08.006
---
Author: Thind, Maninder; et al.
Abstract.
Environmental consequences of electricity generation are often determined using average emission factors. However, as different interventions are incrementally pursued in electricity systems, the resulting marginal change in emissions may differ from what one would predict based on system-average conditions. Here, we estimate average emission factors and marginal emission factors for CO₂, SO₂, and NOx from fossil and nonfossil generators in the Midcontinent Independent System Operator (MISO) region during years 2007–2016. We analyze multiple spatial scales (all MISO; each of the 11 MISO states; each utility; each generator) and use MISO data to characterize differences between the two emission factors (average; marginal). We also explore temporal trends in emissions factors by hour, day, month, and year, as well as the differences that arise from including only fossil generators versus total generation. We find, for example, that marginal emission factors are generally higher during late-night and early morning compared to afternoons. Overall, in MISO, average emission factors are generally higher than marginal estimates (typical difference: ∼20%). This means that the true environmental benefit of an energy efficiency program may be ∼20% smaller than anticipated if one were to use average emissions factors. Our analysis can usefully be extended to other regions to support effective near-term technical, policy and investment decisions based on marginal rather than only average emission factors.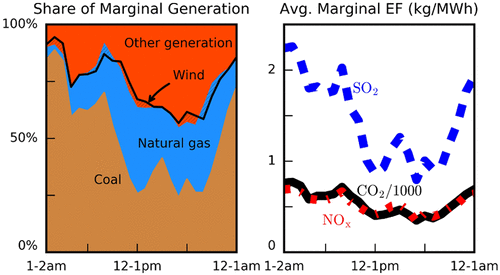 Maninder P. S. Thind and Julian D. Marshall, Department of Civil and Environmental Engineering, University of Washington, Seattle, Washington
Elizabeth J. Wilson, Humphrey School of Public Affairs, University of Minnesota, Minneapolis, and Environmental Studies, Dartmouth College, Hanover, New Hampshire
Inês L. Azevedo, Department of Engineering and Public Policy, Carnegie Mellon University, Pittsburgh, Pennsylvania
Environmental Science and Technology, 2017, 51 (24), pp 14445–14452
DOI: 10.1021/acs.est.7b03047
Download original document: "Marginal Emissions Factors for Electricity Generation in the Midcontinent ISO"
---