Resource Documents: Impacts (122 items)
Also see NWW "costs/benefits" FAQ
Documents presented here are not the product of nor are they necessarily endorsed by National Wind Watch. These resource documents are provided to assist anyone wishing to research the issue of industrial wind power and the impacts of its development. The information should be evaluated by each reader to come to their own conclusions about the many areas of debate.
---
Date added:
May 8, 2018
Wildlife
•
Author: Nabe‐Nielsen, Jacob; et al.
Abstract:
Marine ecosystems are increasingly exposed to anthropogenic disturbances that cause animals to change behavior and move away from potential foraging grounds. Here we present a process‐based modeling framework for assessing population consequences of such sub‐lethal behavioral effects. It builds directly on how disturbances influence animal movements, foraging and energetics, and is therefore applicable to a wide range of species. To demonstrate the model we assess the impact of wind farm construction noise on the North Sea harbor porpoise population. Subsequently, we demonstrate how the model can be used to minimize population impacts of disturbances through spatial planning. Population models that build on the fundamental processes that determine animal fitness have a high predictive power in novel environments, making them ideal for marine management.
Jacob Nabe‐Nielsen, Floris M. van Beest, Jonas Teilmann, Department of Bioscience, Aarhus University, Roskilde, Denmark
Volker Grimm, Helmholtz Centre for Environmental Research – UFZ, Department of Ecological Modelling, Leipzig, Germany
Richard M Sibly, School of Biological Sciences, University of Reading, Berkshire, United Kingdom
Paul M. Thompson, Lighthouse Field Station, Institute of Biological and Environmental Sciences, University of Aberdeen, United Kingdom
Conservation Letters 2018 – published online before print
doi: 10.1111/conl.12563
Download original document: "Predicting the impacts of anthropogenic disturbances on marine populations"
---
Author: Thind, Maninder; et al.
Abstract.
Environmental consequences of electricity generation are often determined using average emission factors. However, as different interventions are incrementally pursued in electricity systems, the resulting marginal change in emissions may differ from what one would predict based on system-average conditions. Here, we estimate average emission factors and marginal emission factors for CO₂, SO₂, and NOx from fossil and nonfossil generators in the Midcontinent Independent System Operator (MISO) region during years 2007–2016. We analyze multiple spatial scales (all MISO; each of the 11 MISO states; each utility; each generator) and use MISO data to characterize differences between the two emission factors (average; marginal). We also explore temporal trends in emissions factors by hour, day, month, and year, as well as the differences that arise from including only fossil generators versus total generation. We find, for example, that marginal emission factors are generally higher during late-night and early morning compared to afternoons. Overall, in MISO, average emission factors are generally higher than marginal estimates (typical difference: ∼20%). This means that the true environmental benefit of an energy efficiency program may be ∼20% smaller than anticipated if one were to use average emissions factors. Our analysis can usefully be extended to other regions to support effective near-term technical, policy and investment decisions based on marginal rather than only average emission factors.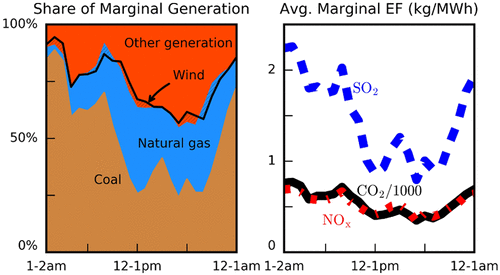 Maninder P. S. Thind and Julian D. Marshall, Department of Civil and Environmental Engineering, University of Washington, Seattle, Washington
Elizabeth J. Wilson, Humphrey School of Public Affairs, University of Minnesota, Minneapolis, and Environmental Studies, Dartmouth College, Hanover, New Hampshire
Inês L. Azevedo, Department of Engineering and Public Policy, Carnegie Mellon University, Pittsburgh, Pennsylvania
Environmental Science and Technology, 2017, 51 (24), pp 14445–14452
DOI: 10.1021/acs.est.7b03047
Download original document: "Marginal Emissions Factors for Electricity Generation in the Midcontinent ISO"
---
Author: Hittinger, Eric; and Azevedo, Inês
Abstract.
Bulk energy storage is generally considered an important contributor for the transition toward a more flexible and sustainable electricity system. Although economically valuable, storage is not fundamentally a "green" technology, leading to reductions in emissions. We model the economic and emissions effects of bulk energy storage providing an energy arbitrage service. We calculate the profits under two scenarios (perfect and imperfect information about future electricity prices), and estimate the effect of bulk storage on net emissions of CO₂, SO₂, and NOx for 20 eGRID subregions in the United States. We find that net system CO₂ emissions resulting from storage operation are nontrivial when compared to the emissions from electricity generation, ranging from 104 to 407 kg/MWh of delivered energy depending on location, storage operation mode, and assumptions regarding carbon intensity. Net NOx emissions range from −0.16 (i.e., producing net savings) to 0.49 kg/MWh, and are generally small when compared to average generation-related emissions. Net SO₂ emissions from storage operation range from −0.01 to 1.7 kg/MWh, depending on location and storage operation mode.
Eric S. Hittinger, Department of Public Policy, Rochester Institute of Technology, Rochester, New York
Inês M. L. Azevedo, Department of Engineering and Public Policy, Carnegie Mellon University, Pittsburgh, Pennsylvania
Environmental Science and Technology, 2015, 49 (5), pp 3203–3210
DOI: 10.1021/es505027p
Download original document: "Bulk Energy Storage Increases United States Electricity System Emissions"
---
Author: Cardoso Marques, António; Alberto Fuinhas, José; and André Pereira, Diogo
Highlights.
• The econometric technique takes into consideration both short- and long-run effects.
• The installed capacity of wind power preserves fossil fuel dependency.
• Natural gas is the main fossil fuel used to back up renewable energy sources.
• The installed capacity of hydropower and solar PV has been substituting fossil fuels.
• Electricity consumption intensity and its peaks have been satisfied by burning fossil fuels.
Abstract.
The electricity mix worldwide has become diversified mainly by exploiting endogenous and green resources. This trend has been spurred on so as to reduce both carbon dioxide emissions and external energy dependency. One would expect the larger penetration of renewable energies to provoke a substitution effect of fossil fuels by renewable sources, in the electricity generation mix. However, this effect is far from evident in the literature. This paper thus contributes to clarifying whether the effect exists and, if so, the characteristics of the effect by source. Three approaches, generation, capacity and demand, were analysed jointly to accomplish the main aim of this study. An autoregressive distributed lag model was estimated using the Driscoll and Kraay estimator with fixed effects, to analyse ten European countries in a time-span from 1990 until 2014. The paper provides evidence for the substitution effect in solar PV and hydropower, but not in wind power sources. Indeed, the generation approach highlights the necessity for flexible and controllable electricity production from natural gas and hydropower to back up renewable sources. Moreover, the results prove that peaks of electricity have been an obstacle to the accommodation of intermittent renewable sources.
António Cardoso Marques, José Alberto Fuinhas, Diogo André Pereira
University of Beira Interior and NECE-UBI Management and Economics Department, Rua Marquês d′Ávila e Bolama, 6201-001 Covilhã, Portugal
Energy Policy, Volume 116, May 2018, Pages 257-265
doi: 10.1016/j.enpol.2018.02.021
Download original document: "Have fossil fuels been substituted by renewables? An empirical assessment for 10 European countries"
---