Resource Documents — latest additions
Documents presented here are not the product of nor are they necessarily endorsed by National Wind Watch. These resource documents are provided to assist anyone wishing to research the issue of industrial wind power and the impacts of its development. The information should be evaluated by each reader to come to their own conclusions about the many areas of debate.
---
Author: Ward, Lyndsey
The sun always seemed to shine in Giggly Glen and the people were always smiling.
It was a very happy to place to live.
But then something happened that made the people very sad.
This is the tale of Tiny the Turbine who lived in Giggly Glen, on a pretty little farm that was rented by Mr Barley from the rich landowner, Sir Snatchit.
Tiny really was tiny. No-one could see or hear him. He had sat on the roof of the cowshed for many years and was completely hidden by the big trees of Giggly Glen Forest. Hardly anyone knew he was there.
Mr Barley used him in the winter to charge a little battery to light his cowshed where he kept his cows in the cold dark months. Tiny could just about do that but nothing else and spent the summer sunbathing and watching the wildlife all
around him. When the wind didn't blow Mr Barley had to use a torch to tend his animals.
Mr Barley had a son, Ally. He was Tiny's friend and would often go and talk to Tiny. Ally didn't have many friends but Tiny was always there to listen when he had problems at school.
One day a wind developer called Mr McWeasel went to see Sir Snatchit.
He said because Sir Snatchit already had Tiny on his land he could get many more turbines, much much bigger ones. It would be called an extension and the man from the Government would say yes.
Mr McWeasel said if he could have permission to build the other turbines he could make Tiny much bigger and make him work harder and bring in lots more money from the Government. They would both be very rich.
He also said he would give the villagers a very small bit of that money the turbines made. It was the same money that the villagers had to pay to the Government in the first place. So really he was just giving the people their own money back. Mr McWeasel didn't tell anyone that though.
Mr Barley didn't want Tiny made bigger. Tiny did all he needed and didn't bother anyone. The big turbines could be a problem for him and his family as they would be very close to their little house.
But because Sir Snatchit owned all the land and said yes to Mr McWeasel, the building of the turbines began.
Tiny was shocked when he saw Mr McWeasel's men at work. They ripped up all the ground with big diggers, they cut down the trees in Giggly Glen Forest and poured big lorry loads of concrete all over the land. The wild animals ran away and the river turned a dirty brown colour and then … the birds stopped singing, the sun stopped shining and dark clouds spread across the sky.
Mr Barley went to see what was happening and sadly shook his head when he saw the mess and destruction made by Mr McWeasel's men.
There were ten huge turbines. Each one taller than ten big trees standing on top of one another.
The biggest turbine was Trasher – Tiny's very distant cousin – so named because he destroyed everything around him wherever he went.
Trasher was a bully. He was the ringleader of the other turbines. They laughed and jeered at Tiny because he was so tiny and rarely worked even though he did all Mr Barley wanted.
Mr McWeasel went to see Tiny. "You are too small. You don't earn any money. I will order some parts and make you bigger and you will work harder for me."
But then something else happened that really upset Tiny. His friends the birds were being hit by the blades of the big turbines. He told Mr McWeasel that he didn't want to get any bigger and if he made him then he would refuse to work. He would go on strike and his blades would never move. He would not harm the birds.
Mr McWeasel was furious and ordered Tiny off Sir Snatchit's land. "No-one disobeys me," he said. Tiny looked to the other turbines for help but they just all stood and laughed at him.
"Go away," shouted Trasher. "There is no place for someone like you here. You are not even big enough to boil a kettle! We need to earn money for Sir Snatchit and Mr McWeasel and if the birds get in the way then that is their hard luck."
So Tiny left and was found by Ally, sitting crying on one of the trees cut down by Mr McWeasel's men.
He listened to Tiny's sadness about the birds and having to leave his home on the cowshed roof, just like Tiny had listened to him so many times when he had been sad.
Then he told Tiny what was happening to his family because of the turbines. He told him how his mother and father couldn't sleep because of all the noise from Trasher and his friends. His father had crashed his tractor into the hen house the other day when he was so tired and had fallen asleep at the wheel.
Ally said he couldn't sleep either and sometimes felt scared when he heard the thumping and swooshing of the turbine blades in the night.
It felt like the whole house was vibrating. The only time they got any peace from the awful noise was when the wind wasn't blowing and the monster turbines weren't turning. His mother often complained of headaches and never smiled any more. The chickens had stopped laying their eggs since the turbines came. Ross the sheep dog had starting hiding in the barn and wouldn't come out and work the sheep.
Tiny jumped up! "This is not right," he said. "We must stop it. Let's go to the village and tell the people what is happening here."
The village hall was crowded. People were shouting and angry.
"I can't sleep and my visitors can't sleep and now they won't come back. How can I earn any money?" said Mrs Bumbly from Giggly Glen's Guest House.
"My children can't do their homework with that terrible din going on," said Mr MacMillan from the bakery.
"The pupils can't concentrate on their lessons any more with the never-ending noise," said the Headmaster of the local school, Mr Knowall.
"My wife feels poorly all the time now. She says she has buzzing in her ears that never stops – not even when the turbines do," said PC Doyle.
"I saw some bits break off one of the turbines – they flew a long way. They nearly hit me," said Stan the Handyman.
"What if they caught fire?" asked the Fire Chief. "We couldn't put a fire out so high up in the air."
"My cat has left home and I have terrible headaches and feel ill every day," said Mrs Miggins from the Post Office.
"I would sell my home and move away from Giggly Glen and those horrible turbines, but nobody will buy my house," said Mr Donald.
"I saw the helicopter from the coastguard fly too close to the turbines when it was misty. There could be a nasty accident," said Mr Foggarty.
"Enough is enough," shouted Mr Barley. "We cannot live like this!
Mr McWeasel and his monsters cannot be allowed to ruin our lives and make us sick. Let's send them away from Giggly Glen."
"But how?" cried the villagers. "They are so big and frightening and dangerous for us to be near."
Tiny turned to Ally and said, "Take the villagers to the turbines and I will meet you there."
And so all the villagers, led by the now brave and confident Ally, marched up to Sir Snatchit's land where they were met by Mr McWeasel standing in front of Trasher and the other turbines.
"We are here to tell you to go. You are making us ill. Living in Giggly Glen has become a nightmare since you arrived," Ally shouted up to them.
"So what?" snarled Mr McWeasel. "What are you going to do about it, little boy?"
Trasher and the other turbines sneered and laughed at him.
The villagers were scared but then Ally pointed to the lane and yelled, "Look who's with Tiny."
There was Tiny sitting on top of his dear old friend Tuska the retired tank, chugging towards the turbines.
That was enough for Mr McWeasel. "Pack up lads we are off; we hated Giggly Glen anyway; not enough wind and not enough money."
With that, Mr McWeasel, Trasher and his terrible friends were seen running off into the distance and as they did the clouds parted, the sun shone, the birds started singing and the deer and the rabbits came back. The hens started clucking as they looked for somewhere to lay their eggs and Ross the sheep dog came out from the barn wagging his tail.
Tiny looked around, smiled at all the happy villagers, winked at his little friend Ally and went back to the cowshed roof where he settled down for an afternoon snooze in the sunshine.
Peace and happiness had returned to Giggly Glen.
(((( o ))))
Written by Lyndsey Ward, with Cartoons by Josh
Download original document: "Tiny the Turbine"
Tiny the Turbine is available as a PDF to download and you may print for personal use or email as you wish and, if you like what we have done or wish to use it in your own campaigning, please make a donation on Josh's website www.cartoonsbyjosh.co.uk/tiny-the-turbine to help fund this and possible future projects. All contributions, large or small, are gratefully accepted and appreciated.
If you would like to buy a printed copy please contact Josh via his website – www.cartoonsbyjosh.co.uk.
For any commercial resale or reuse please email Lyndsey Ward – subsidy.sam@btinternet.com.
See also: Subsidy Sam the Turbine
---
Date added:
August 17, 2016
Siting
,
Technology
•
Author: Archer, Cristina; et al.
Abstract: The marine boundary layer of the northeastern U.S. is studied with focus on wind speed,
atmospheric stability, and turbulent kinetic energy (TKE), the three most relevant properties in the context
of offshore wind power development. Two long-term observational data sets are analyzed. The first one consists
of multilevel meteorological variables measured up to 60m during 2003–2011 at the offshore Cape Wind tower,
located near the center of the Nantucket Sound. The second data set comes from the 2013–2014 IMPOWR
campaign (Improving the Modeling and Prediction of Offshore Wind Resources), in which wind and wave data
were collected with new instruments on the Cape Wind platform, in addition to meteorological data measured
during 19 flight missions offshore of New York, Connecticut, Rhode Island, and Massachusetts. It is found that,
in this region: (1) the offshore wind resource is remarkable, with monthly average wind speeds at 60m
exceeding 7m/s all year round, highest winds in winter (10.1m/s) and lowest in summer (7.1m/s), and a
distinct diurnal modulation, especially in summer; (2) the marine boundary layer is predominantly unstable
(61% unstable vs. 21% neutral vs. 18% stable), meaning that mixing is strong, heat fluxes are positive, and the
wind speed profile is often nonlogarithmic (~40% of the time); and (3) the shape of the wind speed profile
(log versus nonlog) is an effective qualitative proxy for atmospheric stability, whereas TKE alone is not.
Cristina L. Archer, Dana L. Veron, Fabrice Veron, College of Earth, Ocean, and Environment, University of Delaware, Newark, Delaware, USA
Brian A. Colle, Matthew J. Sienkiewicz, School of Marine and Atmospheric Sciences, State University of New York at Stony Brook, Stony Brook, New York, USA
Journal of Geophysical Research: Atmospheres 121. doi: 10.1002/2016JD024896
Download original document: "On the predominance of unstable atmospheric conditions in the marine boundary layer offshore of the U.S. northeastern coast"
---
Date added:
August 10, 2016
Health
•
Author: Jia, Ning; et al.
Abstract
Background. With the increasingly severe energy shortage and climate change problems, developing wind power has become a key energy development strategy and an inevitable choice to protect the ecological environment worldwide. The purpose of this study was to investigate the prevalence of low back pain (LBP) and analyze its risk factors among operation and maintenance personnel in wind farms (OMPWF).
Methods. A cross-sectional survey of 151 OMPWF was performed, and a comprehensive questionnaire, which was modified and combined from Nordic Musculoskeletal Questionnaires (NMQ), Washington State Ergonomics Tool (WSET) and Syndrome Checklist-90 (SCL-90) was used to assess the prevalence and risk factors of LBP among OMPWF.
Results. The prevalence of LBP was 88.74% (134/151) among OMPWF. The multivariable model highlighted four related factors: backrest, somatization, squatting and lifting objects weighing more than 10 lb more than twice per minute.
Conclusions. The prevalence of LBP among OMPWF appears to be high and highlights a major occupational health concern.
BMC Musculoskelet Disord. 2016; 17: 314.
Published online 2016 Jul 26. doi: 10.1186/s12891-016-1180-y
Ning Jia, Tao Li, Yuzhen Li, Xueyan Zhang, Yongen Gu, Zhongxu Wang
Department of Occupational Protection and Ergonomics, National Institute of Occupational Health and Poison Control, Chinese Center for Disease Control and Prevention, Beijing, China
Shuangqiu Hu, Xinhe Zhu, Kang Sun
Labor Health Occupational Disease Prevention and Control Center, Zhuzhou, China
Long Yi, Qiong Zhang
Wind Power Division, Zhuzhou Electric Locomotive Institute Corporation, China South Locomotive and Rolling Stock, Zhuzhou, China
Guilian Luo
Hunan University of Technology, Zhuzhou, China
Download original document: "Prevalence and its risk factors for low back pain among operation and maintenance personnel in wind farms"
---
Date added:
August 7, 2016
Environment
,
Vermont
,
Wildlife
•
Author: Vermonters for a Clean Environment
WATER
1. The "wet" ponds are predominantly dry or are not holding the volume of water necessary to provide water quality treatment as required by the VT Stormwater Management Manual. Further, it is highly probable that instead of flowing through the outlet structure, stormwater is simply passing through the rock berms bypassing the water quality and peak flow attenuation necessary. This seepage is also highly likely causing the iron seeps to form (see below).
Stormwater ponds and level spreaders receive sedimentation that is regularly cleaned out and deposited uphill and seeded.
2. The iron seeps that are being found at the project perimeter, and specifically downslope of stormwater management features is being caused by stormwater or intercepted groundwater flowing over sulfide bearing rock and leaching out metals, and in particular iron.
When this occurs, the seep is comprised of a low pH (acid) floc that will both smother vegetation, wetlands and stream substrates, but also create an environment that will preclude vegetative growth. The preclusion of vegetative growth will lead to more soil instability and subsequent erosion.
See the geologic report prepared by a geologist retained by Princeton Hydro in 2011 and a paper on acid mine drainage and sulfide-bearing rock. The extensive and irreversible changes to the surface and groundwater hydrology of the mountain will continue to cause environmental damage well beyond the perimeter of the area of disturbance of this project.
BEFORE AND AFTER PHOTOS
PHOTO BEFORE – MAY 2011
PHOTO AFTER – JULY 2016
The headwaters of this mountain will be irreparably harmed. The monitoring thousands of feet downstream of the project to comply with the Water Quality Certificate will not detect the impacts to the headwater streams.
3. The photographs also reveal that the level spreaders and the wet ponds are causing erosion of the hillside and, in particular, the "vegetated buffers" that were claimed by KCW to reduce the flow of stormwater and prevent erosion. In fact, downstream of the level spreaders, the opposite is occurring.
The concentration of water in the vegetated buffers and other mountainside areas is exactly what Princeton Hydro stated would happen, not sheet flow down to the receiving wetlands and streams.
This is important for two primary reasons:
A) The concentrated flow means the stormwater model that KCW used to show that they met the stormwater peak flow attenuation requirements of the VSMM is fatally flawed and is not meeting the standards and is increasing stormwater runoff from the KCW site. The Water Quality Certification monitoring thousands of feet downstream of the project will not detect increases in flood waters that could impact downstream properties.
B) The concentrated flow is clearly eroding the forest floor in the vegetated buffers and mountainside receiving areas. This will continue to degrade the hillside and create larger and larger rills and gullies.
EXISTING STREAM CHANNEL
Existing stream channel is being overwhelmed. Sides are eroding.
WETLANDS
In May and October, 2011 we visited this beautiful wetland near turbine 8 which be seen at the end of Energize Vermont's video.
2011
2016
The wetland is mostly dry now, with a die-back of sphagnum moss. This wetland was very special because it flowed both north and south. While parts of Vermont are in drought, this area is experiencing relatively normal rainfall.
INVASIVE SPECIES
The evidence of the extensive use of herbicides on the site shows that the project is promoting the growth of invasive species of plants, which will likely be required to be eradicated in perpetuity. The project is promoting the growth of such invasives that will eventually spread deep into the prior relatively unfragmented forest.
According to the 2015 Invasive Species Report,
"A total of 51.5 gallons of mixture was applied at the designated sites across the entire KCW invasive plant monitoring area including the restored logging roads (see 2015 Invasive Vegetation Monitoring Maps). A two way mix was used for the application: Milestone VM Plus and Rodeo at 4 percent."
Milestone VM Plus contains chemicals that are moderately toxic to aquatic organisms and have very high potential for mobility in soils.
Rather than promoting environmentally friendly manual removal of invasive species, GMP has chosen to use huge quantities of chemicals, including at the edge of water.
WILDLIFE
Wildlife on the Lowell Mountains are being exposed to wind turbine noise at very high levels. Click on these two images to hear what the wildlife are exposed to now.
FORESTS
The areas shown in these two photos have been completely destroyed.
Montane Yellow Birch forest is now turbine 13

Serpentine boulder is now turbine 18
The forest edges around the roads are dying.
ANR's Eric Sorensen testified to the PSB in the GMP Lowell Wind case:
This project will result in the construction of 6.5 miles of 65 to 205 foot wide, mostly rock- blasted road and turbine pads in mature montane forests along a ridgeline in one of the larger blocks of unfragmented habitat in the region.

At the construction site for this Project there will not merely be a change in vegetation type, but instead there will be a complete conversion from mature montane forests to industrial wind farm.

This area will be permanently altered by removal of soil, bedrock blasting, and regrading. We cannot predict what will grow on this disturbed site after decommissioning, but we can be confident that it will not be the mature Montane Spruce-Fir Forest or Montane Yellow Birch-Red Spruce Forest that occurs there now.
Ecologist Sorensen's testimony is proving to be accurate. The Montane Yellow Birch Forest is experiencing group mortality which is not normal.
From ANR's Eric Sorenson's testimony about the Yellow Bird-Red Spruce Forest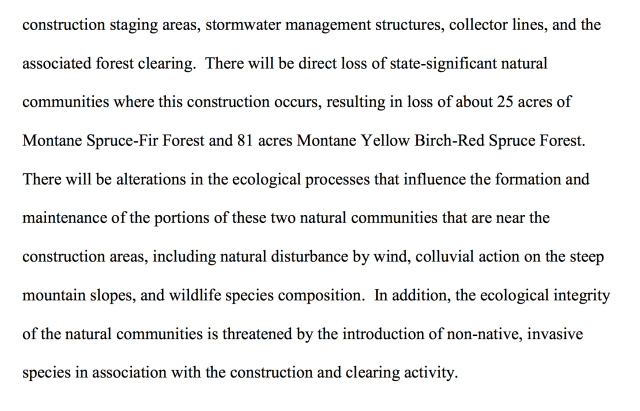 This image from the 2015 invasive species report shows the area of the intersection of the access road with the ridgeline road, along with the chart from the same report that shows that the invasive species are increasing and spreading every year. These invasives will eventually make their way to the interior forest.
WIND PROJECTS IN VERMONT – OPERATING, PROPOSED, DEFEATED
Key:
Red Square: Operating: Georgia Mountain, four 2.5 MW 440 foot tall, Lowell Mountain, twenty one 3 MW 459 foot tall, Sheffield sixteen 2.5 MW 420 foot tall.
Orange Square: Actively Proposed: Swanton Rocky Ridge seven 2.5 MW 490+ foot tall, Irasburg, two 2.5 MW 490+ foot tall, Holland one 2.5 MW 490+ foot tall, Windham/Grafton twenty eight 3.45 MW 490+ foot tall, Searsburg/Windham fifteen 2.0 MW 417 foot tall.
Green Circle: Successfully Defeated: Glebe Mountain, Little Equinox, Ira, Pittsford Ridge, Northfield Ridge, Derby Line, Newark/Brighton/Ferdinand.
This report was compiled by Annette Smith, Executive Director of Vermonters for a Clean Environment. Most of the narrative was written by Princeton Hydro. Photos are by VCE's field investigator, who will be writing more about his findings. Information is from public records.
About Vermonters for a Clean Eenvironment: VCE's mission is to raise the voices of Vermonters and hold corporations accountable for their impacts on our people, our land, our air and our water. We are united in the belief that Vermont's future lies in conserving its clean, rural, small-town environment. We have joined together to pursue the common goals of encouraging economic development with minimal environmental impacts and preserving Vermont's natural beauty. VCE is committed to providing facts and information so that people can make informed decisions. We encourage your participation.
---