Author: Lincoln Electric | Ohio, Photos, Technology
In June 2011, Lincoln Electric erected a wind tower measuring 443 feet tall at its world headquarters and manufacturing campus in Cleveland, Ohio. This installation is the largest known urban wind tower in North America, and is capable of producing 2.5-megawatts of electrical energy, or approximately 10 percent of the requirements for Lincoln Electric's main Cleveland manufacturing facility. Lincoln Electric officially dedicated its wind tower on August 23, 2011.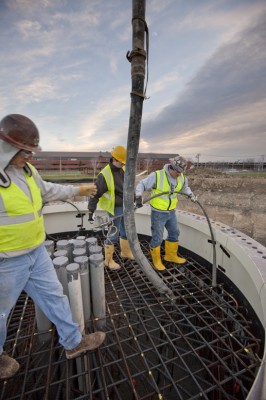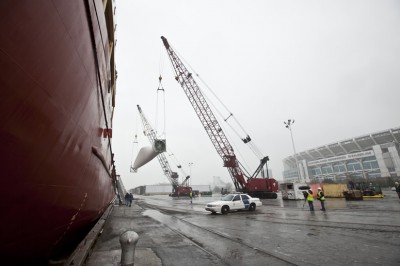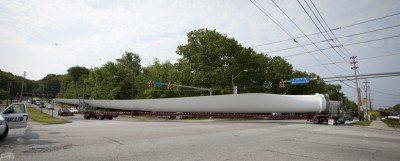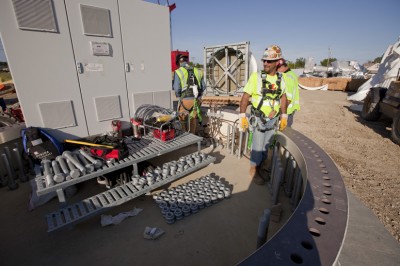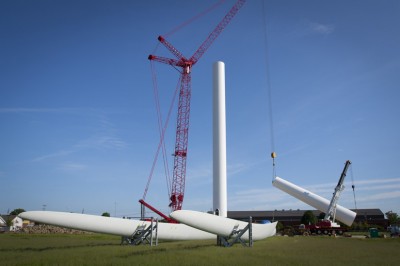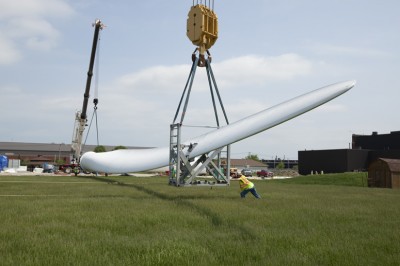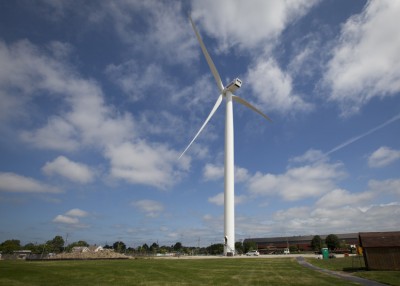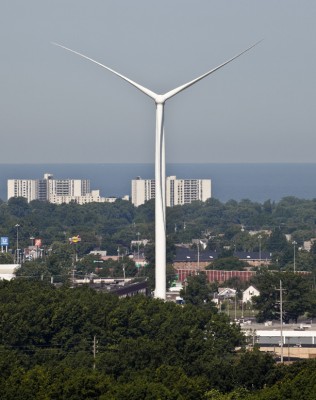 How big is the tower? Measures 443 feet tall from the base to the tip of the blade:
Composed of 4 tubular steel tower sections that weigh a combined 435,000 lbs
Tower diameter is 14.1 feet at the base and 10.2 feet at the top
Tower wall thickness varies from over 2ʺ at the bottom to 1/2ʺ at the top
The 4 tower sections, Foundation Mounting Part, and Nacelle are bolted together with (240) bolts over 1-7/8ʺ in diameter and (384) bolts over 1-3/8ʺ in diameter
Katana-Summit reports that 2951 lbs of L61 Wire and 5878 lbs of WTX Flux was used in the fabrication of the tower
How big are the blades? Features 3 blades:
Each blade is about 164 feet long from center of hub to tip of blade
Weighs over 24,000 lbs each
Blade Rotation: Clockwise
Blade swept area: 84,000 sq feet (almost 1.5 times larger then the area of a football field)
Blade Orientation: Upwind
How fast can the blades travel? Blade tip speed is 165 mph at a hub rotation of 14.1 rpm
What are the dimensions of the base?
2,800 cubic yards of earth was excavated to 12 feet below grade
Foundation is a gravity base that is a 56 foot wide octagon shape
Foundation is 4 feet thick at the edge and 12 feet thick at the center
595 cubic yards of concrete weighing over 2.3 million pounds – enough to make a 4 foot wide sidewalk that is 4 inches thick two and a half miles long
Contains 65 tons of reinforced steel rebar
This material is the work of the author(s) indicated. Any opinions expressed in it are not necessarily those of National Wind Watch.

The copyright of this material resides with the author(s). As part of its noncommercial effort to present the environmental, social, scientific, and economic issues of large-scale wind power development to a global audience seeking such information, National Wind Watch endeavors to observe "fair use" as provided for in section 107 of U.S. Copyright Law and similar "fair dealing" provisions of the copyright laws of other nations. Queries e-mail.
Share:
Translate: FROM English | TO English
Translate: FROM English | TO English
Tags: Wind power, Wind energy