Author: Gotschall, Harold | Emissions, Grid
The following slides are examples of events/conditions associated with "as yet unaccounted" costs of wind integration (click images to enlarge):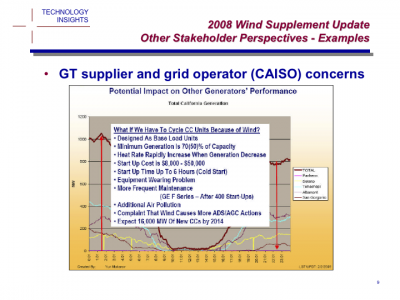 From: "2008 Update to the EPRI-DOE Handbook Supplement of Energy Storage for Grid Connected Wind Generation Applications", by Harold Gotschall, Technology Insights. DOE Peer Review Meeting, September 29, 2008
This material is the work of the author(s) indicated. Any opinions expressed in it are not necessarily those of National Wind Watch.

The copyright of this material resides with the author(s). As part of its noncommercial effort to present the environmental, social, scientific, and economic issues of large-scale wind power development to a global audience seeking such information, National Wind Watch endeavors to observe "fair use" as provided for in section 107 of U.S. Copyright Law and similar "fair dealing" provisions of the copyright laws of other nations. Queries e-mail.
Share:
Tags: Wind power, Wind energy