Resource Documents: Noise (453 items)
Also see NWW press release on noise
Documents presented here are not the product of nor are they necessarily endorsed by National Wind Watch. These resource documents are provided to assist anyone wishing to research the issue of industrial wind power and the impacts of its development. The information should be evaluated by each reader to come to their own conclusions about the many areas of debate.
---
Author: Larsson, Conny; and Öhlund, Olof
Abstract
Wind turbine (WT) sound annoys some people even though the sound levels are relatively low. This could be because of the amplitude modulated "swishing" characteristic of the turbine sound, which is not taken into account by standard procedures for measuring average sound levels. Studies of sound immission from WTs were conducted continually between 19 August 2011 and 19 August 2012 at two sites in Sweden. A method for quantifying the degree and strength of amplitude modulation (AM) is introduced here. The method reveals that AM at the immission points occur under specific meteorological conditions. For WT sound immission, the wind direction and sound speed gradient are crucial for the occurrence of AM. Interference between two or more WTs could probably enhance AM. The mechanisms by which WT sound is amplitude modulated are not fully understood.
Conclusion
Studying AM is very complex due the many factors that govern sound propagation from WTs. For an ideal analysis of how AM is produced and transmitted, emitted sound power, wind direction, temperature gradients, wind gradients, and turbulence would need to be known three dimensionally in small time steps. This is impossible to measure in the field, so simplifications must be made. Furthermore, the interaction of sound from several WTs complicate the analysis.
Higher prevalence of AM is detected when the sun is close to or under the horizon, which corresponds well with when temperature inversions occurs on clear nights. A temperature inversion near the ground changes the angle of incidence of the sound waves and affects the ground attenuation. The reflected sound waves are normally less damped if the sound comes more from the zenith than parallel to the ground. At the Dragaliden site when AM was present, a typical pattern was approximately 15 s of distinct AM followed by a minute of steadier sound levels.
Analyzing approximately 30h of AM measurements recorded simultaneously at both an emission and an immission point shows that enhanced AM at an immission point could not be explained by enhanced AM at the emission point. It is instead an effect of interference between sound from several WTs or of different ray paths of the sound from one turbine. However, this last possibility requires further testing.
The AM detection method works well and does not react to passing cars, birds, or airplanes. During strong masking, the WT signal is lost using the detection method; the sound will of course not be experienced as amplitude modulated, but the signal may still be present in the background noise. We could conclude from our measurements that amplitude modulated sound from WTs is more common under certain meteorological conditions and is observable approximately 20%–30% of the operational time, depending on the distance from the turbines. In future studies, it would be interesting to investigate WT sound annoyance coupled to conditions with and without AM present.
Journal of the Acoustical Society of America 135(1):67–73, January 2014
doi:10.1121/1.4836135
Conny Larsson and Olof Öhlund
Department of Earth Sciences, Uppsala University
Download original document: "Amplitude modulation of sound from wind turbines under various meteorological conditions"
---
Author: Alves-Pereira, Mariana; and Castelo Branco, Nuno
My group has been studying low-frequency noise for 30 years. Initially we began with people working in low-frequency noise [environments].
Low-frequency noise is a little bit like light. You know that there are x-rays that you do not see, but it is light. You know that there is ultraviolet that is bad for your skin and you do not see it. If you use dark glasses for x-rays or ultraviolet, it will not protect you. This is similar to noise.
Over the years, we, the scientific community, have decided that noise only affects your ears. That is why we have the dB(A) unit to measure noise. Because we are interested in only measuring the noise that will causing hearing damage. Low-frequency noise does not cause hearing damage. It will not make you deaf. It is not measured when you use a dB(A) unit.
Compare the light with the noise. On top you have noise, on bottom you have light. Look what we do with the light. We separate UV, infrared, x-ray. We do not do this with acoustics. So how do I know which part is affecting your heart? Or you lungs? It's all in one big bag. This is the problem with measuring the agent of disease.
On top you see what is a noise wave. I am here and the noise that is coming is going to hit my body. What you see on the right is your cells. So when the cell gets the impact of the wave, it will move. Like you see underneath.
Our case with wind turbines began in 2007. As you can see on the left, you have the house and the 4 wind turbines that were put around this house in 2006. This is what it looks like.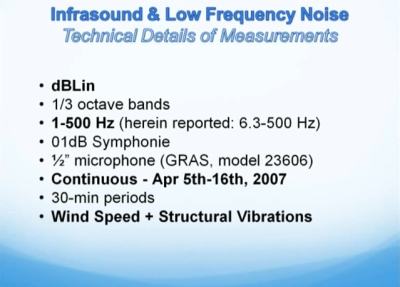 I am a scientist, I can not put up information about the noise that was measured without giving you the technical specifications of how it was measured.
So, the red is the noise in the house without wind turbines working. The black and the grey is with the wind turbines working day and night, night and day. This is measured inside the bedroom – not outside. Do you sleep outside? So if anyone comes to measure the noise because of the wind turbines, and they do not go into your house, you will laugh – yes? So as you can see at least in this house, these wind turbines were responsible for a great increase in the low-frequency noise in the bedroom.
So what happened to this family? The wind turbines began operation in November 2006. Immediately the family recognised that they were waking up tired. The dogs that used to be jumping and always wanting attention were now sleeping. You had to step over them. The horses were lying down in their stable. And ants disappeared. In March 2007 the parents received a letter from the teacher of the boy, of the son, asking why this child was so tired now. He was losing all interest in school, he had no energy for physical education and a very good student was suddenly going down, down, down.
And this is the point [when] that the family contacted us. Unlike the Massachusetts report, and others, we did not give questionnaires to find out how the people's health was developing. It is not through questionnaires. No questionnaires. If you have people with cancer, would you accept a doctor who would attempt to cure the cancer with a questionnaire? Tell me what disease is evaluated just with questionnaires?
We gave this family the tests, the medical (not subjective) tests, that we would give to the workers in low-frequency noise. What you are seeing now is the development of symptoms and signs related to the disease developed by exposure to low-frequency noise. Signs and symptoms associated with the disease that you develop if you are in low-frequency noise. As you see, it is over years that it develops. If you have low-frequency noise in your home on day 1, day 2 it's okay, day 3, day 4 – in a year! In 6 months, a year, 2 years, then it's a problem. Then you realise. Then it is 6 months that you are tired and can not sleep, not a wink.
This is the test that we give to people to see if they have problems with low-frequency noise disease. On the right the test measures the time your brain takes to respond to a stimulus. Normal is 300 milliseconds. In the 12-year-old child in the wind turbine house, he was having in June 2007 352 milliseconds – this is a huge difference. When the child left the house for vacation, in September after being away from the house for 2 months the measurement came closer to normal.
On this side we have a breathing test. This breathing test measures how well your brain is controlling your breathing. Usually, if you have lesions in the brain, you will have problem in the breathing – and this is what this machine measures – not questionnaires. Normal for that examination is above 60%, and as you see the husband and the wife were already showing lower values. The child was not tested.
What is happening with the legal [case]? This man, this family put the wind turbine developer in court. In 2007 as a precautionary measure, the court said, take out wind turbine 2 – as you can see the white arrow, there used to be a wind turbine there. The court said that one has to go. And the other three must be turned off at night. And while this court case was ongoing, the developer continued putting wind turbines all along (red arrows).
Today, the Supreme Court of Portugal decided that all four wind turbines must be removed. Of course it is only those four because the other ones were not covered by this case. The wife and children no longer live in this house since 2007. Only the father is in the house to take care of their horses. Today his health has visibly deteriorated.
This is basically my information to you about what we know about wind turbines. Of course, 30 years of research into low-frequency noise – you can not speak in 10 minutes all the information.
(E-mail: m.alvespereira@gmail.com).
Presented 20 November 2013 at Nieuw Buinen, The Netherlands, by courtesy of Stichting Platform Storm
Transcript and video captures by courtesy of Stop These Things.
---
Author: Morris, Mary
Dear Planning Minister Rau;
I was a participant in the Waterloo wind farm noise study and you would be aware from all my previous correspondence with you over more than two and a half years, that I am personally acquainted with the large number of decent and genuine people in the Waterloo district community who ARE suffering adverse sleep impacts and other health effects from this wind farm.
I feel compelled to write to you and point out that your Ministerial decisions to approve Keyneton and Ceres wind farms, superficially justified by EPA Waterloo Noise study 2013 study are ill-founded and reprehensible.
In October 2012 you in confirming the Interim wind farm DPA, you ignored key recommendations from the DPAC concerning greater setback distances, precautionary approach, cumulative impacts, safety concerns and many others.
You clearly rushed the Keyneton decision through with indecent haste, a mere 10 days after the EPA Waterloo report was released. Insufficient time for through comprehension of the complex and lengthy document and without the benefit of peer reviews by other acoustic experts.
Why did you not wait until thorough peer reviews of the EPA study and reports were forthcoming?
Why did you not wait until the results of independent researchers monitoring side by side with the EPA (Emeritus Professor Colin Hansen and Steven Cooper) were published?
Now it appears that you have repeated the rushed performance with the CERES Project on the Yorke Peninsula, just before your government goes into caretaker mode.
Can you please justify taking the conclusions of the EPA at face value without bothering to wait for independent verification?
The first PUBLICLY AVAILABLE peer review of the document has only just come to light!
My requests for a copy of the NSW EPA peer review cited by the SA EPA have been denied by the SA EPA and the NSW EPA, and seems that this is a confidential document and not available for scrutiny – Why not? What does it say about the EPA study?
And how can you justify ignoring the recently released opinion of acoustic engineers (Cooper and Hansen) with arguably the most experience of monitoring wind farm noise in the local environment at Waterloo?
Last week, after many weeks of examining the EPA report, expert acoustic engineer Emeritus Professor Colin Hansen made public his comments about the study.
Professor Hansen commented:
The EPA found "no evidence linking the noise from the wind farm to adverse impacts on residents" and there are several reasons why this conclusion may have been reached erroneously. These include certain limitations of the current guidelines as well as aspects of the study that could have been improved. In some cases, interpretation of the data has led to generalisations that are not well backed up by the supporting figures.
He concluded:
I do not believe that the EPA study has shown that the noise impact on residents from the Waterloo wind farm is insignificant. More detailed analysis of the data and analysis of the appropriateness of the existing EPA guidelines would in my opinion indicate a significant impact of the wind farm noise on local residents.
As a layman, I too, have spent a significant amount of time in the last couple of months scrutinising the SA EPA's 2013 Waterloo Wind Farm Environmental Noise Report.
Being familiar with the homes and residents where EPA monitoring took place and having been given copies of the diaries submitted to the EPA, I have identified significant issues with methodology, collation of diary entries, microphone placement, inappropriate timing of shutdowns to secure meaningful results, equipment failure, missing data, failure to consider "awakenings" and sleep disturbance as an indicator of noise level, errors in tables, errors in shutdown dates (pdf version lists the last 4 shut downs as occurring in May, when they were in June). The document is large and cumbersome to follow. I am still compiling my complete list of flaws in the document, but just some of them are attached to this email.
It is obvious that you applied no scrutiny to this EPA document, because a mere 10 days after the EPA report was released, with indecent haste, you approved Keyneton wind farm on Friday 6 December 2013.
Your words from your press release and media conference included:
There is no detectable concern based on noise emanating from these proposed installations and for that reason the approval has been given.
and
No evidence was found linking noise from the wind farm to adverse impacts on residents.
However, the SA EPA online report contains the following disclaimer (which apparently was edited from the pdf version of the report):
The conclusions of the study may not be valid for other wind farms, and may only be valid for the Waterloo Wind Farm under the specific conditions (eg weather, wind farm operating conditions, etc) under which the study was undertaken. It also may not necessarily be valid for all residences potentially affected by noise emission from the Waterloo Wind Farm.
The SA EPA stated from the beginning of the study and repeatedly throughout, that their study was not a health study.
The Waterloo study does not and can not support claims that there are no adverse health impacts from the Waterloo wind farm as it was not a health study.
17 of the 28 households involved in the study have provided me with a copy of their noise diary as sent to the EPA over the course of the study, with a view to wider scrutiny of the SA EPA's analysis and conclusions. This process is still a work in progress.
The SA EPA have only considered diary entries relating to audible noise in their report, and neglected other impacts – most notably – sleep disturbance and awakenings.
The consequence of this selectivity is that a large number of adverse impacts and events recorded by the residents specifying time as and dates of disturbance which could be have been compared to noise data have been ignored in the analysis and report.
For example, the following entry has been disregarded; [it] clearly indicates adverse impacts from sleep disturbance and yet the EPA has illogically come to the conclusion that there are no adverse impacts and the guidelines do not need to be reviewed.
8th–10th May Loud whining noise constantly. Had son who works as diesel mechanic 7:30am–5pm daily. Yelling out at night as the windmill noise was keeping him awake 3 nights in a row. Went to work tired
At the time of the EPA study, this family lived 7 km from the turbines, but have since (November 2013) moved to another home further away where their sleep is not disturbed.
The EPA have summarized just over 800 diary entries from the 28 households in a series of tables in the report.
This equates to an average of 80 complaints per week over the 10 week period.
Only diary entries relating to audible noise, vibration and pulsing have been summarized.
In just the 17 noise diaries I have access to, there are well over 900 combined entries (audible noise + symptoms) which pinpoint times and dates of awakenings and other events – ALL of which could have been investigated, but a significant number have not because they were "not audible".
Consequently much useful information which relates to sleep disturbance and health effects seems to have been disregarded by the EPA.
The Waterloo and Districts community reject the EPA's conclusion that the current guidelines are sufficient to protect the residents from adverse impacts and do not need reviewing. Standards that result in residents abandoning their homes full time or partially clearly do not afford the community adequate protection from adverse impacts, are inadequate and must be amended.
WHO Guidelines on Community Noise 1995 are clear that night time noise inside homes exceeding 30dB(A) causes sleep disturbance and extensively documented associated adverse health effects.
Yet SA wind farm noise guidelines do not include a requirement to measure inside houses in the night time. The EPA only requires measurements outside homes and all measurements over a 2 week period are effectively averaged.
It is peak pulsing noise levels that matter – not averages – especially at night time when people are trying to sleep.
The current SA noise guidelines seem to be crafted to ensure that peak levels are hidden in averages and therefore compliance is practically assured. They lag behind international best practice and do not reflect recent independent scientific both locally and in the US.
It seems that the SA wind farm PLANNING, NOISE REGULATION and COMPLIANCE processes are a farce driven by political rather than scientific impetuses.
Justice demands a thorough audit and inquiry.
I await your response with interest
Yours sincerely
Mary Morris
EUDUNDA SA
---
Date added:
February 5, 2014
Australia
,
Health
,
Noise
,
Regulations
•
Author: Hansen, Colin
The following document is an analysis of the recent "Waterloo Wind Farm Environmental Noise Study" conducted by the South Australian Environmental Protection Agency (SA EPA). Overall, the report is well-written and reflects awareness of current international guidelines on low frequency noise and infrasound. The use of specialised low frequency microphones and multi-layered windshields (in some cases) indicates that attempts have been made to ensure that the infrasound and low frequency noise is measured as accurately as possible. The inclusion of local weather station data, indoor measurement data and noise diary entries shows that there has also been an attempt to surpass the baseline requirements of the EPA guidelines. Finally, the large amount of information in the report has been succinctly summarised in tables and figures.
On the other hand, the EPA found "no evidence linking the noise from the wind farm to adverse impacts on residents" and there are several reasons why this conclusion may have been reached erroneously. These include certain limitations of the current guidelines as well as aspects of the study that could have been improved. In some cases, interpretation of the data has led to generalisations that are not well backed up by the supporting figures.
It is clear that the study undertaken by the EPA was comprehensive and complex. There are many ways of analysing and interpreting the data and the comments below are intended only to indicate the areas where I believe the analysis and interpretation could be improved. The intention of my comments is to offer alternative interpretations of the data that I believe are valid and that do not result in the same conclusion of "no significant noise impact" that was reached by the EPA.
Comments on the 2013 SA EPA Waterloo Wind Farm Environmental Noise Study
---