BENEFITS : LOW ↔ IMPACTS : HIGH
Resource Documents: Weather (25 items)
Unless indicated otherwise, documents presented here are not the product of nor are they necessarily endorsed by National Wind Watch. These resource documents are shared here to assist anyone wishing to research the issue of industrial wind power and the impacts of its development. The information should be evaluated by each reader to come to their own conclusions about the many areas of debate. • The copyrights reside with the sources indicated. As part of its noncommercial effort to present the environmental, social, scientific, and economic issues of large-scale wind power development to a global audience seeking such information, National Wind Watch endeavors to observe "fair use" as provided for in section 107 of U.S. Copyright Law and similar "fair dealing" provisions of the copyright laws of other nations.
---
Date added:
November 10, 2019
Siting
•
Author: Haywood, John; et al.
Abstract—
Numerous studies have shown that wind turbine wakes within a large wind farm bring about changes to both the dynamics and thermodynamics of the atmospheric boundary layers (ABL). Previously, we investigated the relative humidity budget within a wind farm via field measurements in the near-wake region and large eddy simulations (LES). The effect of the compounding wakes within a large wind farm on the relative humidity was also investigated by LES. In this study, we investigate how the areas of relative humidity variation, that was observed in the near-wake, develop downstream in the shadow region of a large wind farm. To this end, LES of a wind farm consisting of 8×6 wind turbines with periodic boundary condition in the lateral direction (inferring an infinitely wide farm) interacting with a stable ABL is carried out. Two wind farm layouts, aligned and staggered, are considered in the analysis and the results from both configurations are compared to each other. It is observed that a decrease of relative humidity underneath the hub height and an increase above the hub height build up within the wind farm, and are maintained in the downstream of the farm for long distances. The staggered farm layout is more effective in keeping a more elongated region of low relative humidity underneath the hub, when compared to the aligned layout.
John Stephen Haywood, Adrian Sescu, Department of Aerospace Engineering, Mississippi State University, Starkville
Kevin Allan Adkins, Department of Aeronautical Science, Embry Riddle Aeronautical Engineering, Daytona Beach, Florida
Wind Energy, 2019;1-9. Published online Nov. 8, 2019. DOI: 10.1002/we.2434
Download original document: "Large eddy simulation study of the humidity variation in the shadow of a large wind farm"
---
Date added:
August 27, 2019
Environment
•
Author: Rajewski, Daniel; et al.
Abstract:
Recent wind farm studies have revealed elevated nighttime surface temperatures but have not validated physical mechanisms that create the observed effects. We report measurements of concurrent differences in surface wind speed, temperature, fluxes, and turbulence upwind and downwind of two turbine lines at the windward edge of a utility‐scale wind farm. On the basis of these measurements, we offer a conceptual model based on physical mechanisms of how wind farms affect their own microclimate. Periods of documented curtailment and zero‐power production of the wind farm offer useful opportunities to rigorously evaluate the microclimate impact of both stationary and operating turbines. During an 80 min nighttime wind farm curtailment, we measured abrupt and large changes in turbulent fluxes of momentum and heat leeward of the turbines. At night, wind speed decreases in the near wake when turbines are off but abruptly increases when turbine operation is resumed. Our measurements are compared with Moderate Resolution Imaging Spectroradiometer Terra and Aqua satellite measurements reporting wind farms to have higher nighttime surface temperatures. We demonstrate that turbine wakes modify surface fluxes continuously through the night, with similar magnitudes during the Terra and Aqua transit periods. Cooling occurs in the near wake and warming in the far wake when turbines are on, but cooling is negligible when turbines are off. Wind speed and surface stratification have a regulating effect of enhancing or decreasing the impact on surface microclimate due to turbine wake effects.
Daniel A. Rajewski
Eugene S. Takle
Russell K. Doorenbos
Department of Agronomy, Iowa State University, Ames
John H. Prueger
National Laboratory for Agriculture and the Environment, Ames, Iowa
Journal of Geophysical Research: Atmospheres
Volume 121, Issue 22, 27 November 2016, Pages 13,392–13,414
doi: 10.1002/2016JD025297
Download original document: "Toward understanding the physical link between turbines and microclimate impacts from in situ measurements in a large wind farm"
---
Date added:
August 23, 2019
Environment
•
Author: Baidya Roy, Somnath; and Traiteur, Justin
Abstract:
Utility-scale large wind farms are rapidly growing in size and numbers all over the world. Data from a meteorological field campaign show that such wind farms can significantly affect near-surface air temperatures. These effects result from enhanced vertical mixing due to turbulence generated by wind turbine rotors. The impacts of wind farms on local weather can be minimized by changing rotor design or by siting wind farms in regions with high natural turbulence. Using a 25-y-long climate dataset, we identified such regions in the world. Many of these regions, such as the Midwest and Great Plains in the United States, are also rich in wind resources, making them ideal candidates for low-impact wind farms.
Somnath Baidya Roy and Justin J. Traiteur
Department of Atmospheric Sciences, University of Illinois, Urbana
PNAS October 19, 2010 107 (42) 17899-17904; doi: 10.1073/pnas.1000493107
Download original document: "Impacts of wind farms on surface air temperatures"
---
Date added:
December 1, 2018
Australia
,
Environment
•
Author: Faint, John; and Morris, Mary
For the four cropping seasons from 2011- 2014, a majority of farmers in the Marrabel Valley have experienced unprecedented and widespread frost damage of grain crops on sloping paddocks high above the valley floor. Historically these areas have not been affected by frost as the steep slope of the valley sides ensures that cold air flows towards the lower lying areas where it is normal for frost to form.
The onset of these seasons of atypical and the abnormal frosts and frost damage coincides with the commencement of operation of an 18 km long wind farm which is located on a central ridgeline in the clearly defined catchment area. Four contiguous years of significant production losses have prompted this call for an investigation into whether the wind farm is affecting the near surface meteorology of the Marrabel Catchment. This Catchment covers 21,392 hectares and contains some of the most highly productive and high value cropping land in South Australia, consequently further investigation is justified.
[Submitted to the South Australian Grains Industry Trust (SAGIT), February 2015, as part of a researchapplication, which was not funded. Atypical frosts have continued to occur with millions of dollars worth of damage every year.]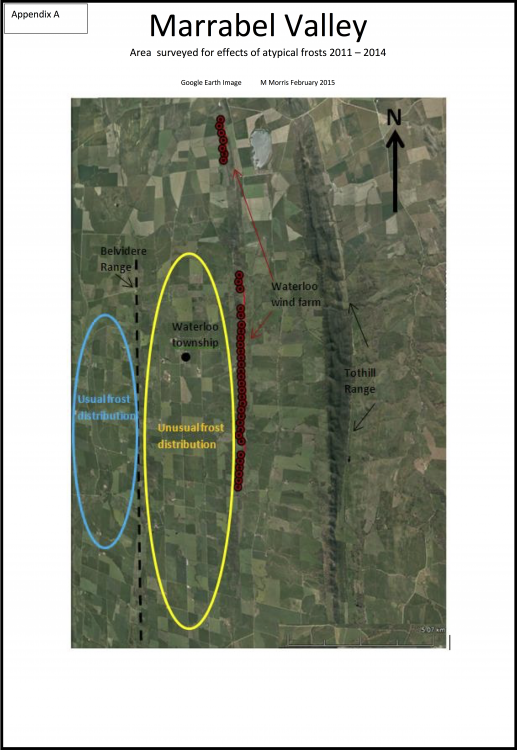 Download original document: "Severe localised grain production losses from atypical frosts in the Marrabel Valley Catchment 2011–2014"
---