Resource Documents: Weather (22 items)
Unless indicated otherwise, documents presented here are not the product of nor are they necessarily endorsed by National Wind Watch. These resource documents are provided to assist anyone wishing to research the issue of industrial wind power and the impacts of its development. The information should be evaluated by each reader to come to their own conclusions about the many areas of debate. • The copyrights reside with the sources indicated. As part of its noncommercial effort to present the environmental, social, scientific, and economic issues of large-scale wind power development to a global audience seeking such information, National Wind Watch endeavors to observe "fair use" as provided for in section 107 of U.S. Copyright Law and similar "fair dealing" provisions of the copyright laws of other nations.
---
Date added:
December 1, 2018
Australia
,
Environment
•
Author: Faint, John; and Morris, Mary
For the four cropping seasons from 2011- 2014, a majority of farmers in the Marrabel Valley have experienced unprecedented and widespread frost damage of grain crops on sloping paddocks high above the valley floor. Historically these areas have not been affected by frost as the steep slope of the valley sides ensures that cold air flows towards the lower lying areas where it is normal for frost to form.
The onset of these seasons of atypical and the abnormal frosts and frost damage coincides with the commencement of operation of an 18 km long wind farm which is located on a central ridgeline in the clearly defined catchment area. Four contiguous years of significant production losses have prompted this call for an investigation into whether the wind farm is affecting the near surface meteorology of the Marrabel Catchment. This Catchment covers 21,392 hectares and contains some of the most highly productive and high value cropping land in South Australia, consequently further investigation is justified.
[Submitted to the South Australian Grains Industry Trust (SAGIT), February 2015, as part of a researchapplication, which was not funded. Atypical frosts have continued to occur with millions of dollars worth of damage every year.]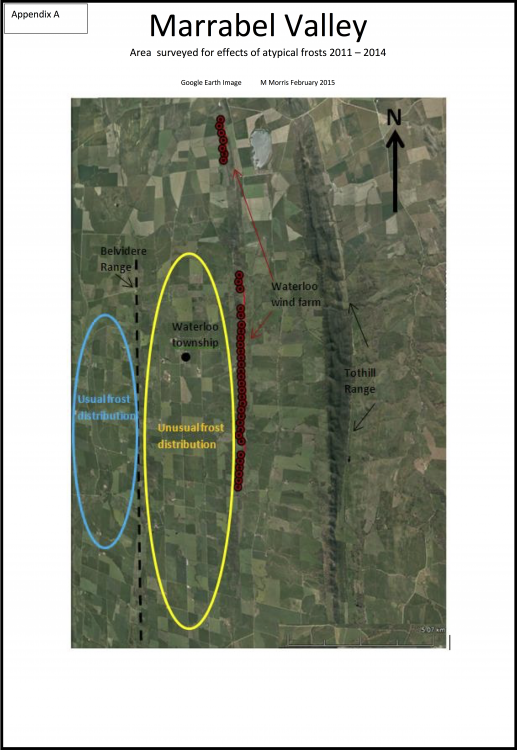 Download original document: "Severe localised grain production losses from atypical frosts in the Marrabel Valley Catchment 2011–2014"
---
Date added:
November 20, 2018
Environment
•
Author: Armstrong, Alona; et al.
Abstract —
The global drive to produce low-carbon energy has resulted in an unprecedented deployment of onshore wind turbines, representing a significant land use change for wind energy generation with uncertain consequences for local climatic conditions and the regulation of ecosystem processes. Here, we present high-resolution data from a wind farm collected during operational and idle periods that shows the wind farm affected several measures of ground-level climate. Specifically, we discovered that operational wind turbines raised air temperature by 0.18°C and absolute humidity (AH) by 0.03 g/m³ during the night, and increased the variability in air, surface and soil temperature throughout the diurnal cycle. Further, the microclimatic influence of turbines on air temperature and AHd ecreased logarithmically with distance from the nearest turbine. These effects on ground-level microclimate, including soil temperature, have uncertain implications for biogeochemical processes and ecosystem carbon cycling, including soil carbon stocks. Consequently, understanding needs to be improved to determine the overall carbon balance of wind energy.
Alona Armstrong, Ralph R. Burton, Susan E. Lee, Stephen Mobbs, Nicholas Ostle, Victoria Smith, Susan Waldron, and Jeanette Whitaker
School of Geographical and Earth Sciences, University of Glasgow
Lancaster Environment Centre and Energy Lancaster, Lancaster University
National Centre for Atmospheric Science, School of Earth and Environment, University of Leeds
Centre for Ecology and Hydrology, Lancaster Environment Centre, Bailrigg
Environmental Research Letters 2016; 11: 044024
doi: 10.1088/1748-9326/11/4/044024
Download original document: "Ground-level climate at a peatland wind farm in Scotland is affected by wind turbine operation"
---
Date added:
October 5, 2018
Emissions
,
Environment
•
Author: Miller, Lee; and Keith, David
Highlights
Wind power reduces emissions while causing climatic impacts such as warmer temperatures
Warming effect strongest at night when temperatures increase with height
Nighttime warming effect observed at 28 operational US wind farms
Wind's warming can exceed avoided warming from reduced emissions for a century
Summary
We find that generating today's US electricity demand (0.5 TWe) with wind power would warm Continental US surface temperatures by 0.24°C. Warming arises, in part, from turbines redistributing heat by mixing the boundary layer. Modeled diurnal and seasonal temperature differences are roughly consistent with recent observations of warming at wind farms, reflecting a coherent mechanistic understanding for how wind turbines alter climate. The warming effect is: small compared with projections of 21st century warming, approximately equivalent to the reduced warming achieved by decarbonizing global electricity generation, and large compared with the reduced warming achieved by decarbonizing US electricity with wind. For the same generation rate, the climatic impacts from solar photovoltaic systems are about ten times smaller than wind systems. Wind's overall environmental impacts are surely less than fossil energy. Yet, as the energy system is decarbonized, decisions between wind and solar should be informed by estimates of their climate impacts.
Lee M. Miller, David W. Keith
School of Engineering and Applied Sciences, Harvard University, Cambridge, Mass.
Joule, October 04, 2018, DOI: 10.1016/j.joule.2018.09.009
Download original document: "Climatic Impacts of Wind Power"
See also: Observation-based solar and wind power capacity factors and power densities
---
Date added:
June 29, 2018
Environment
•
Author: Adkins, Kevin; and Sescu, Adrian
Abstract:
Simulation and modeling have shown that wind farms have an impact on the near‐surface atmospheric boundary layer as turbulent wakes generated by the turbines enhance vertical mixing. While a few observational data sets that focus on near‐surface temperature changes exist, these studies lack high spatial resolution and neglect the combined effect of these temperature changes with an altered humidity profile. With a large portion of wind farms hosted within an agricultural context, changes to relative humidity can potentially have secondary impacts, such as to the productivity of crops. The goal of this study is to gather high‐resolution in situ field measurements in the wake of a single wind turbine in order to differentially map downstream changes to relative humidity. These measurements, obtained by an instrumented unmanned aerial system, are complemented by numerical experiments conducted using large‐eddy simulation. Observations and numerical results are in good general agreement around a single wind turbine and show that downstream relative humidity is differentially altered in all directions, specifically decreased below the turbine hub height. Large‐eddy simulation is then used to determine the effect of a large 7 × 4 turbine array on the relative humidity distribution in compounding wakes. It is found that the region of relative humidity decrease below the turbine hub height and the region of increase above the hub height both intensify, differentially extend in the lateral directions, and moves lightly upward with downstream distance.
Kevin A. Adkins, Department of Aeronautical Science, Embry‐Riddle Aeronautical University, Daytona Beach, Florida
Adrian Sescu, Department of Aerospace Engineering, Mississippi State University, Mississippi State
Wind Energy. DOI: 10.1002/we.2220
Download original document: "Analysis of near‐surface relative humidity in a wind turbine array boundary layer using an instrumented unmanned aerial system and large‐eddy simulation"
---