Author: Hawkins, Kent | Denmark, Grid
Share:
---
Translate: FROM English | TO English
Translate: FROM English | TO English
According to wind proponents, Denmark is a model of wind energy use for electricity generation to be emulated. It is claimed or suggested that:
Denmark gets about 20% of its electricity from wind. [Note: This number is generation, not usage, which is a crucial distinction with negative implications for the wind lobby's argument.]
Reduction in CO2 emissions is due in large part to increased wind electricity production.
These conclusions are superficial at best and invalid at worse. The analysis required to show this, however, is extensive and technical because the Denmark power market is unique and wholly unlike the market in the U.S. or the UK.
Click the links below to read the paper:
Figures: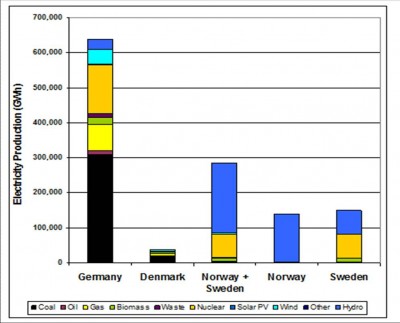 This material is the work of the author(s) indicated. Any opinions expressed in it are not necessarily those of National Wind Watch.

The copyright of this material resides with the author(s). As part of its noncommercial educational effort to present the environmental, social, scientific, and economic issues of large-scale wind power development to a global audience seeking such information, National Wind Watch endeavors to observe "fair use" as provided for in section 107 of U.S. Copyright Law and similar "fair dealing" provisions of the copyright laws of other nations. Queries e-mail.
Tags: Wind power, Wind energy