Author: Danish Wind Industry Association | Denmark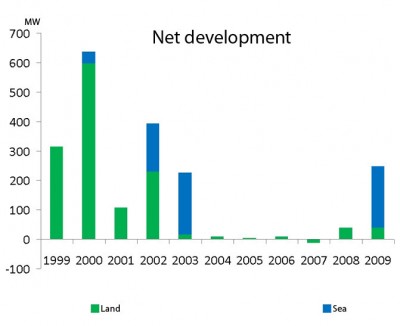 Note that 2002 was the last year that any substantial on-shore wind power was erected in Denmark. The small changes since then have mostly been due to replacing existing machines with larger ones.
Off-shore, after the Horns Rev facility in 2002 and Nysted (Rødsand) in 2003, there was no development until the addition of Horns Rev II in 2009. Rødsand II (200 MW) may be completed in 2010.
This material is the work of the author(s) indicated. Any opinions expressed in it are not necessarily those of National Wind Watch.

The copyright of this material resides with the author(s). As part of its noncommercial effort to present the environmental, social, scientific, and economic issues of large-scale wind power development to a global audience seeking such information, National Wind Watch endeavors to observe "fair use" as provided for in section 107 of U.S. Copyright Law and similar "fair dealing" provisions of the copyright laws of other nations. Queries e-mail.
Share:
Translate: FROM English | TO English
Translate: FROM English | TO English
Tags: Wind power, Wind energy