BENEFITS : LOW ↔ IMPACTS : HIGH
Resource Documents: Spain (11 items)
Unless indicated otherwise, documents presented here are not the product of nor are they necessarily endorsed by National Wind Watch. These resource documents are shared here to assist anyone wishing to research the issue of industrial wind power and the impacts of its development. The information should be evaluated by each reader to come to their own conclusions about the many areas of debate. • The copyrights reside with the sources indicated. As part of its noncommercial effort to present the environmental, social, scientific, and economic issues of large-scale wind power development to a global audience seeking such information, National Wind Watch endeavors to observe "fair use" as provided for in section 107 of U.S. Copyright Law and similar "fair dealing" provisions of the copyright laws of other nations.
---
Author: International Energy Agency (IEA)
From http://www.iea.org/stats/index.asp, graphs of electricity generation by fuel from 1971 to 2007 in Denmark, Spain, Germany, Great Britain, and the United States: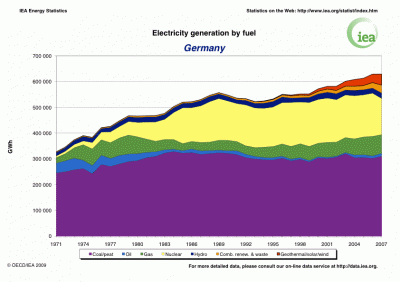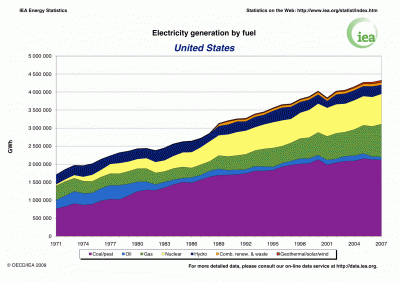 ---
Author: Carrete, Martina; Sánchez-Zapata, José; Benítez, José; Lobón, Manuel; and Donázar, José
A B S T R A C T
Wind-farms receive public and governmental support as an alternative energy source mitigating air pollution. However, they can have adverse effects on wildlife, particularly through collision with turbines. Research on wind-farm effects has focused on estimating mortality rates, behavioural changes or interspecific differences in vulnerability. Studies dealing with their effects on endangered or rare species populations are notably scarce. We tested the hypothesis that wind-farms increase extinction probability of long-lived species through increments in mortality rates. For this purpose, we evaluate potential consequences of wind-farms on the population dynamics of a globally endangered long-lived raptor in an area where the species maintains its greatest stronghold and wind-farms are rapidly increasing. Nearly one-third of all breeding territories of our model species are in wind-farm risk zones. Our intensive survey shows that wind-farms decrease survival rates of this species differently depending on individual breed- ing status. Consistent with population monitoring, population projections showed that all subpopulations and the meta-population are decreasing. However, population sizes and, therefore, time to extinction significantly decreased when wind-farm mortality was included in models. Our results represent a qualitative warning exercise showing how very low reductions in survival of territorial and non-territorial birds associated with wind-farms can strongly impact population viability of long-lived species. This highlights the need for examining long-term impacts of wind-farms rather than focusing on short-term mortality, as is often promoted by power companies and some wildlife agencies. Unlike other non-natural causes of mortality difficult to eradicate or control, wind-farm fatalities can be lowered by powering down or removing risky turbines and/or farms, and by placing them outside areas critical for endangered birds.
Biological Conservation, doi:10.1016/j.biocon.2009.07.027
Martina Carrete and José A. Donázar: Department of Conservation Biology, Estación Biológica de Doñana (CSIC), La Cartuja, Sevilla, Spain; José A. Sánchez-Zapata: Department of Applied Biology, University Miguel Hernández, Orihuela, Alicante, Spain; José R. Benítez and Manuel Lobón: Colectivo Ornitológico Cigüeña Negra, Tarifa, Cádiz, Spain
Download original document: "Large scale risk-assessment of wind-farms on population viability of a globally endangered long-lived raptor"
---
Date added:
September 30, 2009
Alberta
,
Arizona
,
Australia
,
California
,
Connecticut
,
Delaware
,
Denmark
,
Germany
,
Grid
,
Idaho
,
Illinois
,
Indiana
,
Iowa
,
Ireland
,
Italy
,
Latvia
,
Lithuania
,
Maine
,
Manitoba
,
Massachusetts
,
Michigan
,
Minnesota
,
Netherlands
,
New Hampshire
,
New Mexico
,
North Dakota
,
Ontario
,
Oregon
,
Poland
,
Portugal
,
Rhode Island
,
Spain
,
U.K.
,
Washington
•
Author: National Wind Watch

World: Current electricity production and consumption of "low-carbon" and "renewable" electricity – click an area for details

Europe: Quarter-hour load, generation, exchange – click on sample graph for other countries

Nordpool: Current production by source type in the Nordic power system (Norway, Sweden, Finland, Estonia, Latvia, Lithuania, Denmark)
Nordpool: Current power flow in the Nordic power system

West Denmark: Electricity prices, consumption, and production today, every 5 minutes

France: Quarter-hour consumption and production
France: Current, weekly, monthly, yearly demand and production

Germany: Quarter-hour net electricity generation
Germany: Quarter-hour wind production in EnBW control area (Baden-Württemberg)

Great Britain: Last 24 hours of generation by fuel type, every 5 minutes
Great Britain: Current, weekly, monthly, yearly demand and production

Ireland: Daily quarter-hour wind generation and system demand
Ireland: Quarter-hour system demand and fuel mix

Spain: 10-minute demand and generation share

Australia: Australian Energy Market Operator (AEMO, southern and eastern Australia): 5-minute and up to past year regional generation and fuel mix
Australia: AEMO grid (National Electricity Market): 5- and 30-minute aregional generation and fuel mix

Alberta: Monthly wind power forecast vs. actual comparison reports

Ontario: Latest hour of generation
Ontario: Daily hourly generation (scroll to bottom of table for wind plant)
Ontario: Hourly generation and other power data

Northwestern USA: Previous week, real-time 5-minute wind generation, Bonneville Power Administration


California: Daily hourly production, CAISO [click here to download complete report (PDF) from previous day.]


Barnstable, Massachusetts: hourly, daily, weekly, monthly, yearly production and consumption of a 100-kW turbine since June 1, 2011 (100% daily generation would be 2,400 kWh)

Scituate, Massachusetts: hourly, daily, weekly, monthly, yearly production and consumption of a 1.5-MW turbine since March 30, 2012 (100% daily generation would be 36,000 kWh)

Mark Richey Woodworking, Newburyport, Massachusetts: hourly, daily, monthly production of a 600-kW turbine since June 2009 (100% daily generation would be 14,400 kWh)

University of Delaware, Newark: current power output (kW) of 2,000-kW turbine
---
Author: Iberica 2000
They would say that, would they not ?
The windpower lobby, speaking through their international network of wind energy associations, have been claiming that wind farms lower the cost of electricity. They insist on the fact that wind is free, but forget to say that capital costs are so high that the kilowatts produced are three times more expensive than their market price. This is why we pay huge subsidies to windfarm owners. But there is more.
Lobbyists claim that windpower displaces electricity produced at high cost by "low merit", "peaking" plants. What they forget to say is that wind blows more strongly at night, which means that much of the production being displaced by wind farms is that of base load generation, which is mainly cheap coal, or clean and cheap nuclear energy. This would tend to increase the average price of electricity, not reduce it.
And when demand is so low that electricity produced by wind farms at night cannot be used ( or exported ), wind farms are shut off, as it occurred several times in Spain this year. How is that for waste ?
Another hidden cost often overlooked is that of back-up …: When wind is blowing during the day, ideally during peak hours when millions of people arrive at their homes and switch on lights and appliances, the electricity production of expensive "peak load" generating units may be displaced by wind farm production. But the devil is in the detail : if some plants may be shut off entirely, others may be kept spinning in standby, synchronized to the Grid, burning fuel for nothing. They are kept in this mode to be ready to resume production instantly if the wind drops.
And other power plants will see their production only partially displaced : they will operate at part load. In this mode they work less efficiently, burning more fuel per KWh produced. This too increases cost, and causes more emissions of a variety of gasses. They will also have to ramp their production up and down frequently, following the vagaries of the wind. If they didn't "load-follow" this way, there would be blackouts at every variation in wind speed. This frequent ramping causes more fuel to be burned and more gasses to be released, just like a car in city traffic. And there is more wear and tear, which also bears on the overall cost of electricity.
But the main cost of back-up, which consumers will end up paying in the end, is the construction of conventional power plants duplicating the installed capacity of wind farms. For electricity cannot be stored in sufficient quantities at an acceptable cost : it must be produced in real time, dovetailing demand by the minute. So when there is no wind at all, we must rely entirely on conventional generation. It is as if wind farms did not exist.
In effect we must have two plants instead of one : the wind farm, and the fossil fuel plant to take its place when there is no wind. The cost of this duplication of investment is never mentioned by governments or by the wind lobby. In addition, it is wasteful to build power plants that will only generate electricity when there is no wind, or at part load when it blows below optimal speed. Fixed costs cannot be amortized, and the consumer must pick up the bill.
Oh, I forgot : back up plants will also produce electricity when the wind blows too strongly, for wind turbines automatically shut off when wind speed exceeds ~100 km/h. Thermal plants are thus kept spinning in standby, waiting for it to happen on some windy days, burning fuel but not producing any electricity. Another waste, another cost.
So when the wind lobby claims that windpower lowers the cost of electricity, it would be naive to take their word for it. We'd have to forget : 1) – the subsidies that double the market price of wind-produced electricity, 2) – the capital costs of duplicating generation capacity for the days without wind, 3) – the fuel burnt inefficiently or wastefully to back-up the wind farms ( and the emissions of gasses resulting from this activity ), 4) – the added wear and tear of conventional power plants.
And even more fuel will be burned, and more gasses will be emitted during the production and transportation of wind turbines, during the construction and maintenance of wind farms, and during their decommissioning. This will be additional to the fuel burned and the gasses released during the construction of conventional plants, which are needed anyways for the days without wind.
– So much for saving the planet !
Incidentally, the wind lobby is also misrepresenting when it claims that the 10% drop in the market price of Spanish electricity in the early months of 2009 was caused by windpower. The real cause was a drop in electricity consumption due to the recession, a drop that reached 13.5% in April.
Moral of the story :
Goliath ( the wind industry ) has billions in hard cash to produce misleading reports.
David ( Iberica 2000 ) can't compete, relying as it does on benevolent work.
But the truth only needs a keyboard to be told, and as long as the press remains free to publish it, there will be hope.
PRESS RELEASE from IBERICA 2000 , June 8th 2009
Mark Duchamp
Director, Climate Change and Alternative Energies
Iberica 2000
Partida La Sella, 25
03750 Pedreguer, Spain
tel : + 34 679 12 99 97
save.the.eagles@gmail.com
---