Resource Documents: Japan (3 items)
Unless indicated otherwise, documents presented here are not the product of nor are they necessarily endorsed by National Wind Watch. These resource documents are shared here to assist anyone wishing to research the issue of industrial wind power and the impacts of its development. The information should be evaluated by each reader to come to their own conclusions about the many areas of debate. • The copyrights reside with the sources indicated. As part of its noncommercial effort to present the environmental, social, scientific, and economic issues of large-scale wind power development to a global audience seeking such information, National Wind Watch endeavors to observe "fair use" as provided for in section 107 of U.S. Copyright Law and similar "fair dealing" provisions of the copyright laws of other nations.
---
Author: Ishitake, Tatsuya; Norimatsu, Yoshitaka; and Hara, Kunio
ABSTRACT—
We investigated whether long-term exposure to wind turbine noise (WTN) including low-frequency noise generated by wind power facilities is a risk factor of sleep disorders. We performed an epidemiological study of living environment and health effects, surveying 9,000 residents (≥20 years) living in areas with operational wind power facilities. Sleep disorders were assessed using the Athens Insomnia Scale. To assess environmental noise in residential areas near the wind turbines, low-frequency sound exposure levels were measured at 50 community centers of the town. Multiple logistic regression analysis was used for evaluation of a risk factor for several noise exposure indices. Significant relationships between the distance from the nearest WT to dwellings and hearing, annoyance, sleep disorders were observed. By multiple logistic analysis the prevalence rate of sleep disorders was significantly higher for residents who reported subjectively hearing noise being than for those who did not. Moreover, the reported prevalence rate of sleep disorders was significantly higher in residents living at a distance of ≤1,500 m from the nearest wind turbine compared to that for residents living at a distance ≥2,000 m. The attitudes of residents towards wind power facilities and sensitivity to noise strongly affected their responses regarding sleep disorder prevalence.
Tatsuya ISHITAKE, Yoshitaka MORIMATSU, Kurume University, School of Medicine, Japan
Kunio HARA, University of Occupational and Environmental Health, School of Health Science, Japan
Proceedings of the 23rd International Congress on Acoustics, 9–13 September 2019, Aachen, Germany: pages 1455–1462
Download original document: "Epidemiological study on long-term health effects of low-frequency noise produced by wind power stations in Japan"
---
Author: Sugimoto, Takanao; Koyama, Kenji; Kurihara, Yosuke; and Watanabe, Kajiro
Abstract: This paper describes the development of a new sensor which uses a condenser microphone and a new system containing it as an element. The back of the microphone is covered with a seal chamber, which expands the frequency characteristic of the microphone to the infrasonic region. In addition, a windscreen is fitted to the sensor to reduce or eliminate wind noise. We developed a measurement system with this new sensor, installed it at a wind farm, and measured infrasound. The measurement results confirmed that the measurement system worked normally and could measure infrasound generated by wind turbines. Moreover, it was confirmed that the equivalent continuous sound level is highly correlated with the average rotor speed of a wind turbine.
Figure 7 shows the measurement result of October 25, 2007 19:16 as a sample, and Fig. 8 shows the result calculated by Eq. (2) and the calibration result of a G frequency weighting sound pressure level.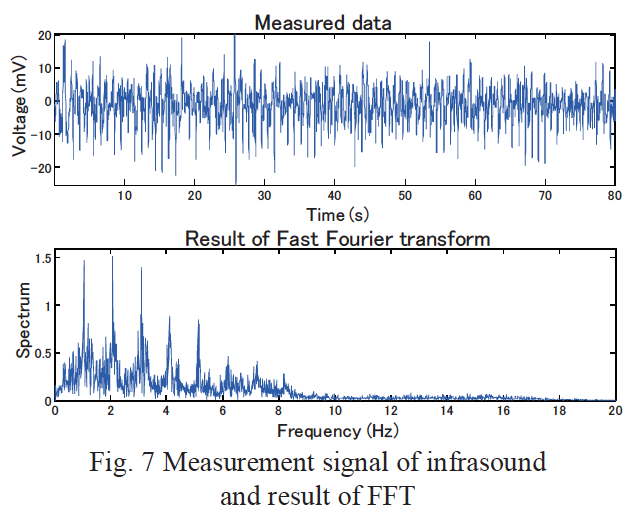 Figure 10 shows the relationship of the equivalent continuous sound level for 80 seconds (calculated from 240 measurement results by using Eq. (3)) and the average rotor speed.
Society of Instrument and Control Engineers Annual Conference 2008
August 20-22, 2008, University of Electro-Communications, Chofu, Tokyo, Japan
Download original document: "Measurement of infrasound generated by wind turbine generator"
---
Author: Kageyama, Takayuki; Yano, Takashi; Kuwano, Sonoko; Sueoka, Shinichi; and Tachibana, Hideki
Abstract: The association of wind turbine noise (WTN) with sleep and physical/mental health has not been fully investigated. To investigate the relationship of WTN with the prevalence of self-reported symptoms of sleep and health problems, a socioacoustic survey of 1079 adult residents was conducted throughout Japan (2010-2012): 747 in 34 areas surrounding wind turbine plants and 332 in 16 control areas. During face-to-face interviews, the respondents were not informed of the purpose of the survey. Questions on symptoms such as sleeplessness and physical/mental complaints were asked without specifying reasons. Insomnia was defined as having one or any combination of the following that occurs three or more times a week and bothers a respondent: Difficulty initiating sleep, difficulty maintaining sleep, premature morning awakening, and feeling of light overnight sleep. Poor health was defined as having high scores for health complaints, as determined using the Total Health Index, exceeding the criteria proposed by the authors of the index. The noise descriptor for WTN was LAeq,n outdoor, estimated from the results of actual measurement at some locations in each site. Multiple logistic analysis was applied to the LAeq,n and insomnia or poor health. The odds ratio (OR) of insomnia was significantly higher when the noise exposure level exceeded 40 dB, whereas the self-reported sensitivity to noise and visual annoyance with wind turbines were also independently associated with insomnia. OR of poor health was not significant for noise exposure, but significant for noise sensitivity and visual annoyance. The above two moderators appear to indicate the features of respondents who are sensitive to stimuli or changes in their homeostasis.
Noise Health. 2016 Mar-Apr;18(81):53-61.
doi: doi: 10.4103/1463-1741.178478
---