Resource Documents: Texas (22 items)
Unless indicated otherwise, documents presented here are not the product of nor are they necessarily endorsed by National Wind Watch. These resource documents are shared here to assist anyone wishing to research the issue of industrial wind power and the impacts of its development. The information should be evaluated by each reader to come to their own conclusions about the many areas of debate. • The copyrights reside with the sources indicated. As part of its noncommercial effort to present the environmental, social, scientific, and economic issues of large-scale wind power development to a global audience seeking such information, National Wind Watch endeavors to observe "fair use" as provided for in section 107 of U.S. Copyright Law and similar "fair dealing" provisions of the copyright laws of other nations.
---
Author: "Wind Company"
In consideration of the payment made by Wind Company to Owner, the mutual promises and covenants of the Parties and other valuable consideration, receipt of which is hereby acknowledged, Owner and Wind Company hereby agree as follows.
1. Non-Disturbance and Waiver. Owner shall not engage in any activity that might disturb or cause interference with the construction and/or operation of the Wind Project and waives any and all claims based on nuisance or similar doctrines arising from the Wind Project or any effects of the Wind Project. Owner agrees during the Term not to build any structure more than sixty feet (60′) in height on that portion of the Property within 1,000 feet of any wind turbine on the Wind Property Property existing as of the date of Completion of Construction (hereinafter defined). The term of this Agreement shall commence upon the Effective Date, and shall terminate on the date that the Wind Project is no longer producing and delivering electricity to a third party purchaser of said electricity.
2. Setback from Residences. Wind Company warrants that no wind turbines shall be located within 1,000 feet of any habitable residence, church or school building, io the extent the foregoing exist as of the Effective Date and are in usable condition (provided, however, that the foregoing restrictions shall not apply to seasonally used residences such as hunting shacks or to derelict structures no longer being used by Owner.)
3. Fee. Owner and Wind Company acknowledge that during construction of the Wind Project there may be noise related to construction and other such as traffic inconvenience, dust and dirt on cars and other effects. Tn order to compensate Wind Company [sic] for such construction impacts and the other rights and waivers granted herein, Wind Company shall pay Owner a fee in accordance with the side letter dated of even date herewith (the "Payment"), one-half of which is payable thirty (30) days after the Commencement of Construction and the other half payable thirty (30) days after the Completion of Construction. "Completion of Construction" shall mean the date when all of the generating units and the related equipment for the Wind Project on the Wind Project Property have been installed in their entirety.
4. Default. If Wind Company fails to pay the Payment by the date specified in Section 2 or 3 above, and such failure continues for thirty (30) business days after Wind Company's receipt of notice thereof from Owner, this Agreement shall terminate, and Wind Company shall have no further rights and remedies hereunder.
5. Mortgages and Assignments. Wind Company may, without need to obtain Owner's consent or approval, (i) mortgage, collaterally assign, hypothecate, pledge or otherwise encumber and grant security interests in all or any part of its interest in this Agreement; and (ii) assign, transfer or otherwise convey all or part of its interest in this Agreement. Owner may sell, mortgage, assign or convey the Property without consent of Wind Company, but any conveyance shall be subject to the terms of this Agreement. In the event of a transfer of the Property by Owner, Owner shall obtain a covenant from the transferee of such rights that such transferee is subject to the terms and conditions of this Agreement and such transferee is entitled to receive the Payment (provided, however, that if the transfer is of less than all of the Property, the Payment will be divided pro rata among the owners of the Property.)
6. Covenants Running With the Land. The Parties hereby agree that all of the covenants and agreements contained in this Agreement touch and concern the real estate described in this Agreement aod are expressly intended to, and shall, be covenants running with the land and shall be binding and a burden upon the Property and Owner's heirs, administrators, executors, legal representatives, renters, successors and assigns as holders of an estate or interest in the Property and shall benefit Wind Company [emphasis added] and its respective heirs, administrators, executors, legal representatives, successors and assigns and the Wind Project Property. To the extent any of the provisions of this Agreement are not enforceable as covenants running with !;he land the Parties agree that they shall be enforceable as assignable and alienable casements in gross. …
Side Letter to the Neighbor Agreement CONFIDENTIAL
This letter agreement is to set forth the agreement between [ ] and yourselves ("Grantor") (each a "Party" and collectively the "Parties"), regarding the compensation for that certain Neighbor Agreement (the "Agreement") between the Parties, dated of even date herewith, and to be recorded in the Official Public Records of [ ]. All capitalized terms not defined herein shall be given the meaning assigned to such terms in the Agreement.
The Parties hereby agree that the amount of the Payment referenced in the Agreement will be $10,000.00 USD, payable as set forth in the Agreement.
You agree that you shall keep this letter agreement confidential and that you shall not disclose the terms hereof, provided however, that you may disclose the terms of this agreement to your lenders, attorneys, accountants and other personal financial advisors, any prospective purchaser of the Property subject to the Agreement, or where required by law or pursuant to lawful process, subpoena or court order; provided that in making such disclosure you advise the party receiving such information of the confidentiality thereof and obtains [sic] the agreement of said party not to disclose such information. …
Download original document: "Neighbor Agreement"
---
Author: Electric Reliability Council of Texas
The Electric Reliability Council of Texas (ERCOT) is the independent system operator (ISO) for the Texas Interconnection, encompassing approximately 90% of electric load in Texas. ERCOT is the independent organization established by the Texas Legislature to be responsible for the reliable planning and operation of the electric grid for the ERCOT interconnection. Under the North American Electric Reliability Corporation (NERC) reliability construct, ERCOT is designated as the Reliability Coordinator, the Balancing Authority, and as a Transmission Operator for the ERCOT region. ERCOT is also registered for several other functions, including the Planning Authority function.
In June 2014, the U.S. Environmental Protection Agency (EPA) proposed the Clean Power Plan, which calls for reductions in the carbon intensity of the electric sector. The Clean Power Plan would set limits on the carbon dioxide (CO₂) emissions from existing fossil fuel-fired power plants, calculated as state emissions rate goals. For Texas, EPA has proposed an interim goal of 853 lb CO₂/MWh to be met on average during 2020-2029, and a final goal of 791 lb CO₂/MWh to be met from 2030 onward. EPA calculated the state-specific goals using a set of assumptions about coal plant efficiency improvements, increased production from natural gas combined cycle units, growth in renewables generation, preservation of existing nuclear generation, and growth in energy efficiency.
ERCOT has evaluated the potential implications of the proposed Clean Power Plan for grid reliability and conducted a modeling analysis of the impacts to generation resources and electricity costs in the ERCOT region. Based on this analysis, ERCOT anticipates that implementation of the proposed Clean Power Plan will have a significant impact on the planning and operation of the ERCOT grid. ERCOT estimates that the proposed CO₂ emissions limitations will result in the retirement of between 3,300 MW and 8,700 MW of coal generation capacity, could result in transmission reliability issues due to the loss of generation resources in and around major urban centers, and will strain ERCOT's ability to integrate new intermittent renewable generation resources. The Clean Power Plan will also result in increased energy costs for consumers in the ERCOT region by up to 20% in 2020, without accounting for the costs of transmission upgrades, procurement of additional ancillary services, energy efficiency investments, capital costs of new capacity, and other costs associated with the retirement or decreased operation of coal-fired capacity in ERCOT. This summary report describes the results of ERCOT's analyses.
Summary of ERCOT Concerns with the Clean Power Plan
ERCOT approaches this analysis from the perspective of an independent grid operator in a competitive market which has achieved significant success in using competition to drive efficient outcomes. Existing market policies and investments in transmission in ERCOT have incentivized market participants to maximize the efficiency of the generating fleet and develop new technologies including renewable generation. With recent investments in transmission, more than 11 GW of wind capacity have been successfully integrated into the ERCOT grid. The ERCOT region maintains a forward-looking open market and provides affordable and reliable electricity to consumers in Texas.
ERCOT's primary concern with the Clean Power Plan is that, given the ERCOT region's market design and existing transmission infrastructure, the timing and scale of the expected changes needed to reach the CO₂ emission goals could have a harmful impact on reliability. Specifically, implementation of the Clean Power Plan in the ERCOT region, particularly to meet the Plan's interim goal, is likely to lead to reduced grid reliability for certain periods and an increase in localized grid challenges. There is a natural pace of change in grid resources due to advancing cost effective technologies and changing market conditions.
This pace can be accelerated, but there is a limit to how fast this change can occur within acceptable reliability constraints. It is unknown based on the information currently available whether compliance with the proposed rule can be achieved within applicable reliability criteria and with the current market design. Nevertheless, there are certain grid reliability and management challenges that ERCOT will face as a result of the resource mix changes that the proposed rule will induce:
The anticipated retirement of up to half of the existing coal capacity in the ERCOT region will pose challenges to reliable operation of the grid in replacing the dispatchable generation capacity and reliability services provided by these resources.
Integrating new wind and solar resources will increase the challenges of reliably operating all resources, and pose costs to procure additional regulating services, improve forecast accuracy, and address system inertia issues.
Accelerated resource mix changes will require major improvements to ERCOT's transmission system, posing significant costs not considered in EPA's Regulatory Impact Analysis.
Download original document: "ERCOT Analysis of the Impacts of the Clean Power Plan"
---
Date added:
October 2, 2014
Economics
,
Technology
,
Texas
•
Author: Combs, Susan
Natural gas generation contributes the largest share of Texas electricity, particularly during peak demand. During off-peak times, when demand can be a half or two-thirds of the daily peak, many power plants stand idle; operating reserves are needed, however, when demand increases again, or to react to sudden losses of generation or transmission problems caused by equipment failure or bad weather.
On days when temperatures peak in the 60s, non-residential customers use more than two-thirds of the power generated in the ERCOT region. On the hottest Texas summer days, electricity demand by residential customers quadruples to more than half of the state's total load, peaking in the late afternoon. This requires thousands of megawatts of natural gas generation to be fired up, a flexibility not available with wind generation that is dependent on weather conditions.
Renewables need conventional power backup
Diversifying Texas' energy portfolio has put wind and solar generation on the grid but has created a new quandary for grid managers: where can power be obtained quickly when the wind stops or clouds reduce solar yields?
When wind turbines produce less electricity than predicted, grid operators must compensate by relying on dispatchable power plants that can ramp up production quickly to meet demand, and ramp down due to rapid increases in wind generation.
Daily forecasts can give a general expectation of renewable output, but quick-ramping gas turbines have to be on standby to backstop renewables that are expected to produce only a fraction of their full operational capacity.
For summer 2014, even though Texas had more than 11,000 MW of total wind capacity, ERCOT counted on just 963 MW of wind generation being available. The lack of wind generation during summer peak demand means that energy planners, such as ERCOT, have to ensure that a lot of flexible natural gas generation is available to meet the reserve margin.
Wind producers occasionally have to curtail their operations during high generation due to localized transmission infrastructure constraints; this could be alleviated if economical local energy storage technologies existed.
Although peak solar energy production tends to coincide with peak demand, Texas' limited solar capacity leaves CREZ transmission lines underutilized when the West Texas wind typically is lowest in early afternoon.
The reserve margin ordinarily meets the needs of the electricity market because grid operators can dispatch flexible generation to meet higher- than-expected demand or unexpected supply loss. When the operating reserves are insufficient, customers are asked to reduce consumption through demand response programs that reduce the load. In a worst-case scenario, forced rolling outages would be implemented.
Wind generation is lowest during the summer months when energy demand is highest.
The proportion of electricity generated from wind during the hottest summer day of 2013:
4 A.M. – Wind generation peaks when overall demand for electricity is lowest.
4 P.M. – Wind generation is near its lowest when overall demand is at its highest.
Wind has reliability challenges
Renewable energy poses reliability challenges. The leading concern is whether it can provide electric power every second of every day. Major renewable energy sources are fundamentally limited in how, where and when they can be used; the sun doesn't always shine and the wind doesn't always blow, so natural gas backup generation is needed.
Variability and intermittency
Wind power is tied to weather and thus produces variable energy output. Wind variability creates complications for grid operators working to integrate wind power into a grid not historically designed for fluctuations.
Historical wind generation data reveal that the peak production for the majority of Texas wind generation is at night and does not align well with the peak electricity demand during summer afternoons.
Non-coastal wind turbines generated only about 20 percent of their installed capacity during summer peak-demand hours, while coastal wind production was more than 50 percent of capacity in 2013.
Non-coastal wind represents 85 percent of both total installed wind capacity and annual wind generation in the ERCOT region.
Transmission lines for wind
The 2005 Texas Legislature approved a major transmission project, the Competitive Renewable Energy Zones (CREZ), to carry mostly wind energy generated in West Texas and the Panhandle to high-demand cities. The project was forecast to cost less than $5 billion but ballooned to more than $6.9 billion to build nearly 3,600 miles of transmission lines and dozens of substations.
The completed project has capacity to transmit about 18,500 MW of electricity to major load centers in ERCOT – that would serve more than 4 million Texas homes.
Consumers will pay for CREZ lines carrying wind energy for 15 to 20 years. The PUC estimates residential customers will pay roughly $5 to $7 per 1,000 kWh used. Based on the average household's electricity use, that will cost $70 to $100 per year. An ERCOT official told the PUC in August 2014 that further expansion of the West Texas transmission grid could cost an additional $2 billion.
An ERCOT study is under way to provide new and improved transmission from Panhandle wind generation that extends outside its service area. The Panhandle Renewable Energy Zone could provide transmission lines (expanded from the existing CREZ) that would transport electricity to the populated areas of Texas where demand is increasing. No price tag has been identified for these new transmission lines.
The PUC has begun to study whether future transmission infrastructure costs should continue to be paid by all ratepayers or whether electricity generators – specifically renewables that are located far from where the energy is used – should be required to fund any of the costs.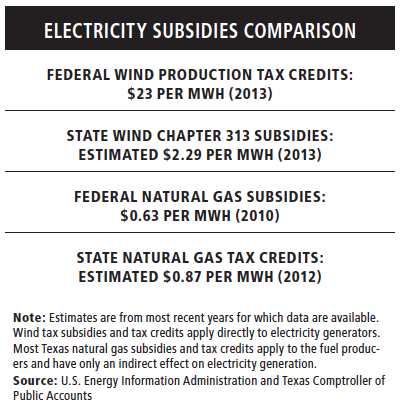 September 23, 2014
Susan Combs
Texas Comptroller of Public Accounts
Download original document: "Texas Power Challenge: Getting the Most from Your Energy Dollars"
---
Date added:
February 18, 2014
Environment
,
Texas
•
Author: Zhou, Liming; et al.
Abstract: This paper analyzes seasonal and diurnal variations of MODerate resolution Imaging Spectroradiometer (MODIS) land surface temperature (LST) data at ~1.1 km for the period of 2003–2011 over a region in West-Central Texas, where four of the world's largest wind farms are located. Seasonal anomalies are created from MODIS Terra (~10:30 a.m. and 10:30 p.m. local solar time) and Aqua (~1:30 a.m. and 1:30 p.m. local solar time) LSTs, and their spatiotemporal variability is analyzed by comparing the LST changes between wind farm pixels (WFPs) and nearby non wind farm pixels (NNWFPs) using different methods under different quality controls. Our analyses show consistently that there is a warming effect of 0.31–0.70 °C at nighttime for the nine-year period during which data was collected over WFPs relative to NNWFPs, in all seasons for both Terra and Aqua measurements, while the changes at daytime are much noisier. The nighttime warming effect is much larger in summer than winter and at ~10:30 p.m. than ~1:30 a.m. and hence the largest warming effect is observed at ~10:30 p.m. in summer. The spatial pattern and magnitude of this warming effect couple very well with the geographic distribution of wind turbines and such coupling is stronger at nighttime than daytime and in summer than winter. Together, these results suggest that the warming effect observed in MODIS over wind farms are very likely attributable to the development of wind farms. This inference is consistent with the increasing number of operational wind turbines with time during the study period, the diurnal and seasonal variations in the frequency of wind speed and direction distribution, and the changes in near-surface atmospheric boundary layer (ABL) conditions due to wind farm operations. The nocturnal ABL is typically stable and much thinner than the daytime ABL and hence the turbine enhanced vertical mixing produces a stronger nighttime effect. The stronger wind speed and the higher frequency of the wind speed within the optimal power generation range in summer than winter and at nighttime than daytime likely drives wind turbines to generate more electricity and turbulence and consequently results in the strongest warming effect at nighttime in summer. Similarly, the stronger wind speed and the higher frequency of optimal wind speed at ~10:30 p.m. than that at ~1:30 a.m. might help explain, to some extent, why the nighttime LST warming effect is slightly larger at ~10:30 p.m. than ~1:30 a.m. The nighttime warming effect seen in spring and fall are smaller than that in summer and can be explained similarly.
Climate Dynamics, July 2013, Volume 41, Issue 2, pp 307-326
doi: 10.1007/s00382-012-1485-y
Liming Zhou, Yuhong Tian, Somnath Baidya Roy, Yongjiu Dai, and Haishan Chen
Diurnal and seasonal variations of wind farm impacts on land surface temperature over western Texas
---