Resource Documents: Ohio (12 items)
Unless indicated otherwise, documents presented here are not the product of nor are they necessarily endorsed by National Wind Watch. These resource documents are shared here to assist anyone wishing to research the issue of industrial wind power and the impacts of its development. The information should be evaluated by each reader to come to their own conclusions about the many areas of debate. • The copyrights reside with the sources indicated. As part of its noncommercial effort to present the environmental, social, scientific, and economic issues of large-scale wind power development to a global audience seeking such information, National Wind Watch endeavors to observe "fair use" as provided for in section 107 of U.S. Copyright Law and similar "fair dealing" provisions of the copyright laws of other nations.
---
Date added:
November 21, 2012
Health
,
Impacts
,
Noise
,
Ohio
,
Property values
,
Technology
•
Author: James, Richard; Punch, Jerry; McCann, Michael; Schaffner, Milo; and Palmer, William
For all case documents and public comments, go to: dis.puc.state.oh.us/CaseRecord.aspx?Caseno=12-0160&link=DIVA
Download original documents:
Richard James, acoustical engineer
Jerry Punch, audiologist
Michael McCann, real estate appraiser and consultant
Milo Schaffner, farmer and trustee, Hoaglin Township
William Palmer, engineer
Exhibits B-K (Palmer)
Exhibits L-Z (Palmer)
---
Date added:
September 11, 2011
Ohio
,
Photos
,
Technology
•
Author: Lincoln Electric
In June 2011, Lincoln Electric erected a wind tower measuring 443 feet tall at its world headquarters and manufacturing campus in Cleveland, Ohio. This installation is the largest known urban wind tower in North America, and is capable of producing 2.5-megawatts of electrical energy, or approximately 10 percent of the requirements for Lincoln Electric's main Cleveland manufacturing facility. Lincoln Electric officially dedicated its wind tower on August 23, 2011.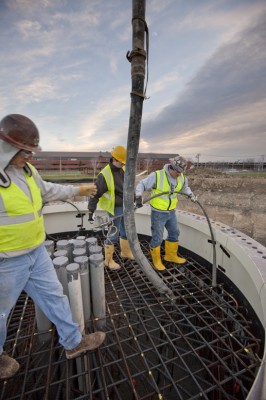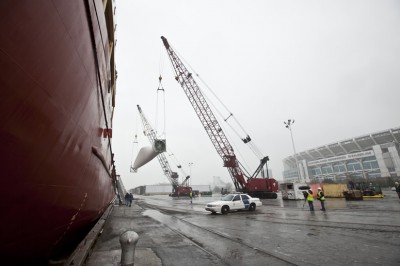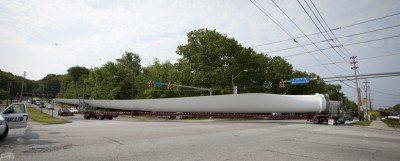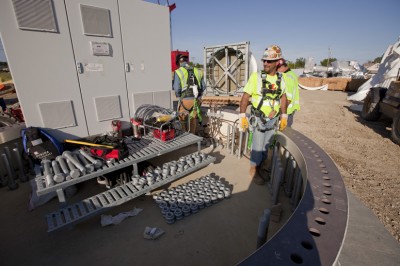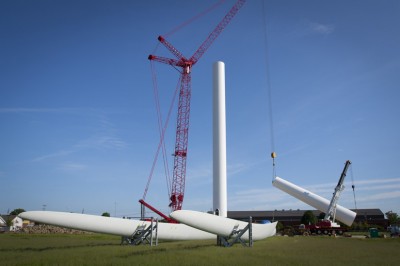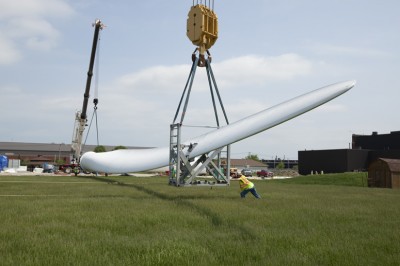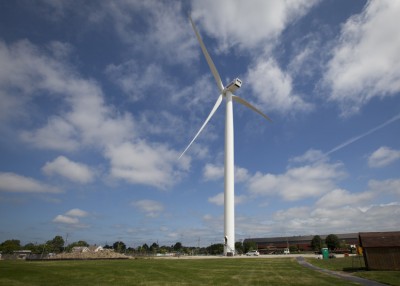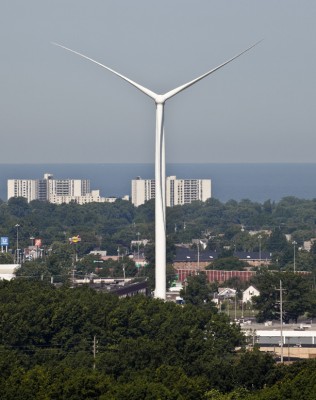 How big is the tower? Measures 443 feet tall from the base to the tip of the blade:
Composed of 4 tubular steel tower sections that weigh a combined 435,000 lbs
Tower diameter is 14.1 feet at the base and 10.2 feet at the top
Tower wall thickness varies from over 2ʺ at the bottom to 1/2ʺ at the top
The 4 tower sections, Foundation Mounting Part, and Nacelle are bolted together with (240) bolts over 1-7/8ʺ in diameter and (384) bolts over 1-3/8ʺ in diameter
Katana-Summit reports that 2951 lbs of L61 Wire and 5878 lbs of WTX Flux was used in the fabrication of the tower
How big are the blades? Features 3 blades:
Each blade is about 164 feet long from center of hub to tip of blade
Weighs over 24,000 lbs each
Blade Rotation: Clockwise
Blade swept area: 84,000 sq feet (almost 1.5 times larger then the area of a football field)
Blade Orientation: Upwind
How fast can the blades travel? Blade tip speed is 165 mph at a hub rotation of 14.1 rpm
What are the dimensions of the base?
2,800 cubic yards of earth was excavated to 12 feet below grade
Foundation is a gravity base that is a 56 foot wide octagon shape
Foundation is 4 feet thick at the edge and 12 feet thick at the center
595 cubic yards of concrete weighing over 2.3 million pounds – enough to make a 4 foot wide sidewalk that is 4 inches thick two and a half miles long
Contains 65 tons of reinforced steel rebar
---
Date added:
June 6, 2011
Aesthetics
,
Economics
,
Environment
,
New York
,
Ohio
•
Author: Isselhard, Al
Hello, Ohio Yachting and Boating Clubs –
You may not be aware of an ambitious project underway that could affect Ohio recreational boating, fishing and watersports in a largely negative manner. Lake Erie Energy Development Corporation (LEEDCo), an economic development corporation, is a private, nonprofit enterprise representing Northern Ohio's public interests in offshore wind. LEEDCo is leading Northern Ohio's regional efforts to build, install, and deploy an initial 20-megawatt (MW) offshore wind pilot project near Cleveland in Lake Erie. LEEDCo hopes to place 5 to 8 industrial offshore wind turbines in Lake Erie beginning in 2012. If this happens – the camel's head is in the tent. Should their trial pilot project be deemed successful – the next step would, of course, be to develop a much larger scale wind factory(s) consisting of dozens, perhaps thousands of offshore turbines in Lake Erie and this will have a tremendous negative impact on water recreation activities. Ohio's offshore wind energy development must be stopped before this takes place! LEEDCo is not telling you about the many negatives involved as they are aware that an adverse reaction will soon take place – we are helping that along – please read on. The sales pitch and ultimate goal of their efforts is mainly to produce jobs for Ohio – a noble and worthwhile ambition except for the numerous negatives that will accompany this sideshow technology. Wind advocates will not share the downside story but instead magnify the benefits hyped by wind energy supporters. What is now happening in the Cleveland area with LEEDCo is the beginning of the exploitation of beautiful Lake Erie. And since Lake Erie is a very shallow lake – bathymetry is not a factor limiting offshore turbine placement throughout the lake. This treatise will reveal the many negatives LEEDCO is hiding from those who enjoy water recreation in Lake Erie and deserve to know the truth – read on..
At an offshore wind conference in April 2011 at the Rochester Institute of Technology (NY) – a LEEDCo representative, Drew Pierson, presented this information. He said Lake Erie had the offshore capacity for 68,00Mw of power. Assuming each offshore turbine generates 4 Mw – he's indicating that 17,000 turbines could be placed in the lake – and that of course would not include Ontario, Canada. Now think about how 17,000 turbines would affect boating in Lake Erie off Ohio's coast to the Canadian border in the middle of the lake! Is this acceptable?
Now consider this quote from the Cleveland's WKYC TV website on May 25, 2011: Lorain (Ohio) Commissioner Ted Kalo, a LEEDCo Board Member who has been involved with this project before the creation of LEEDCo, has always stated "this is not about installing wind turbines in Lake Erie, it is about creating new industry and jobs for Lorain County and Northern Ohio." Kalo is right – this whole process isn't to promote wind energy because wind doesn't work or deliver as promoted and promised. The whole LEEDCo effort exists to create jobs for Ohio folks – at the expense of beautiful Lake Erie. LEEDCo is going to destroy Lake Erie for these jobs and the LEEDCo 8-turbine pilot project is merely the beginning of 17,000 turbines in Lake Erie. Imagine what Lake Erie would look like with 17,000 turbines in the lake for the rest of your life. Ohio is now taking the first steps toward that end and NOBODY knows this is happening!!!!!!! If there's a need to find "green" jobs for thousands of Ohio people let them build electric cars people can afford to buy.
BEWARE – THE FUTURE OF BOATING & YACHTING IN LAKE ERIE, AS YOU HAVE KNOWN IT, IS AT GREAT RISK!
There is not one company presently manufacturing offshore turbines in America. There is only ONE operating freshwater offshore wind plant in the world – in Sweden. If the LEEDCo project does move forward it will boost the economy of wherever the turbines are built – Denmark, Germany, Spain or the Asian community – NOT Ohio. The turbines being used in the Cleveland project are NOT made in America. Are you aware of the recent huge world-wide job losses by people employed in the terrestrial wind turbine business as a result of diminished wind farm interest and the subsidies cut backs? Are you aware that low natural gas prices have dealt a severe blow to wind development and the gas prices are expected to remain low for years? Are you aware of the debacle the onshore Lackawanna Steel Winds project, near Buffalo (on Lake Erie's shore), has been with constant rotor blade failures and gearbox breakdowns on their Clipper Liberty 2.5mw turbines? Less than half of these Steel Winds turbines have run early this year. The Steel Winds II wind factory was supposed to be completed in 2010 and has never even begun – the honeymoon is over!
The most valuable and desirable property in most any community is waterfront property. Waterfront property is usually taxed the highest in any town for obvious reasons. Does your waterfront community have any idea what impact the erection of dozens of offshore turbines will have on their waterscape? Are the Lake Erie lakefront property owners even aware of the ambitious plans of LEEDCo to promote this current obsession with wind power to the point where the renewable revolution could cause thousands of offshore turbines to be planted well within sight of their lovely lakeshore homes and forever devastate the value of their investment? Much less their peace of mind or even their health? What LEEDCo, with support from the state of Ohio, is proposing is economically and technological reckless. Politicos have been sold a false bill of goods based on misleading representation by greed stricken wind charlatans who have one goal amongst themselves – money and more money and nothing else. What LEEDCo is proposing is a statewide assault on residential health, drinking water, natural resources and the environment. It is time to end the half-truths, lies, and exaggerations by those embracing this junk science. Do you want your community lakeshore to look like this?
In New York State during the past fifteen months – seven lakeshore counties passed resolutions indicating they didn't want the Great Lakes Offshore Wind (GLOW) project offshore from their county – a 166 offshore turbine project currently being promoted by the New York Power Authority. These decisions came after each county individually studied all the issues surrounding the pros and cons of an industrial offshore wind project and its potential benefit to the county. Our committee assisted by presenting literally dozens of negatives the elected officials never knew about or thought of. In addition to the seven counties that rejected GLOW offshore wind – numerous lakeshore towns also passed resolutions against GLOW. In February this year the province of Ontario, Canada passed a moratorium against offshore wind development in the Great Lakes ending any further offshore wind progress in four Great Lakes that border Ontario including Lake Erie. If just one wind factory is permitted to exist in any of the Great Lakes – the lakes will fall victim to thousands of these 450?+ tall behemoths and transform the lakes into a steel forest for the rest of our lives. WE cannot let this happen.
Industrial wind energy (IWE) is not clean. Industrial wind turbines (IWTs) require oil and other fluids (lubricants, hydraulics fluids, coolants, etc) in the nacelles, up to 200 plus gallons each, oil that must be changed periodically and disposed of, oil that leaks and is released into the environment when IWTs collapse or catch on fire. IWTs also require a rare earth mineral for their powerful magnets called neodymium, currently mined primarily in China. Other than small amounts of rare earths being mined recently in California, rare earths are mined in China – processing the material is a toxic process that is harmful to humans and animals. We don't seem to mind destroying the lives and health of Chinese citizens for our own selfish needs, but be sure, it is primarily mined in China because human rights are disregarded there. Also regarding "clean", the life expectancy of offshore IWTs is about 20 years, and once they have failed and are no longer maintained, have been left to rust in other places, like Hawaii and California, leaving vast metal and mineral junkyards to litter the viewshed for decades. Is that the future of our precious Great Lakes?
Also, what is clean about disturbing the lake bottom and decades of accumulated toxins on the lake bottom by driving a turbine monopile deep into the lake floor for each turbine placement and then trenching miles of the lake bottom for transmission cable placement? How is that clean for drinking water, beaches, and marine life? What is clean about noise from turbine foghorns and the whooshing sounds of 166 turbine rotors, as well as maintenance helicopters creating noise pollution? What is clean about the visual disturbances and loss of darkness created by FAA mandated flashing red strobe lights atop the nacelles and Coast Guard mandated navigation lights mounted on the towers for boater safety? Wind is intermittent, and the existing coal fired power plants will not only be required to keep running and polluting, but the frequent ramping up and down (called "cycling") that will occur to accommodate IWE is known to cause even more CO2 than they currently produce.
What are the benefits of offshore wind development?
IWE is not low-cost. Recent lowering of natural gas prices, along with nuclear, account for far less expensive electricity than IWE. After solar, wind is the most expensive. GLOW is projected to cost up to $1.5 billion to develop. If you review other IWE projects in the U.S. and around the world, you will see that projected costs NEVER, anywhere in the world, meet original projections. A recent example is the Deepwater Wind farm proposed offshore from Block Island, R.I. Originally pegged at $390 million, it is most recently expected to cost about $415 million (Providence Business News, 4/25/2011). As a result, two large plastic manufacturers have already brought lawsuits against Deepwater Wind and National Grid, stating this would add millions to their annual electric bills. The R.I. Supreme Court agrees, and has allowed the lawsuit to continue. Cape Wind is another good example; increasing original projected costs three fold within one year. Examples are endless, but that is just the beginning. The cost of transmitting this power is three to four times more costly than traditional sources, all costs that are passed on to ratepayers. Taxpayers will pay for IWE forever, as it is not sustainable without government subsidies and tax breaks. As a result, IWT manufacturers and developers from around the world are hiring the best, highest paid lobbyists they can find to help siphon government subsidies and take advantage of "renewable" energy tax breaks. The responsibility for this whole mess rests on the shoulders of legislators, yes state and federal legislators who have mandated that electricity must obtain a percentage of its energy from "renewable" sources, called a Renewable Portfolio Standard. Being seen "green" these days in critical to re-election. Therefore, our own government has allowed, if not forced, this scamming industry to flourish. As a result, businesses will be forced out of existence and ratepayers will have to change their spending habits to pay for electricity. Finally, there are no offshore IWTs or transmission cables manufactured in the U.S., so the billions of dollars needed to purchase these monstrosities will go directly from U.S. pockets to Europe and China. Most people boosting IWE are those who have a financial interest or something tangible to gain. Property values have already been mentioned. And let's not forget about tourism, waterfront businesses, boating, tourism, commercial fishing, and other businesses that rely on recreational use of the lake and shore, all significant contributors to the regional economy. Power purchased through a power purchase agreement with the developer will be several times more costly than current conventionally generated electricity, yet another financial burden for local businesses. Taxpayer will finance 50% to 60% of a wind factory and the financial benefit could be enjoyed by foreigners to boot.
IWE is not reliable. It is intermittent, unreliable, low quality, volatile and unpredictable. IWE works 30% of the time, at best. No one can predict or plan around wind. It blows at the right speed to produce energy when it does. Recently in Lackawanna, N.Y., the eight IWTs along the shore of Lake Erie were shut down during high winds to prevent damage. In recent months, many have been idle due to mechanical failures that have plagued this project since the beginning. Last year in the U.K., the John Muir Trust found that Britain's wind farms produced just 21% energy most of the time. In December and January, IWTs froze, and Britain was forced to purchase nuclear power from France and pay to have it transmitted, while still paying for its own IWTs. Steve Holliday, CEO of National Grid, Britain's grid operator (with a presence in NYS as well!), said families would "have to get used to only using power when it was available rather than constantly" because of a six-fold increase in wind energy generation. He told BBC's Radio 4, "We keep thinking that we want it to be there and provide power when we need it…. We are going to change our own behavior and consume it when it is available and available cheaply". THAT IS OUR ENERGY FUTURE UNLESS WE STOP THIS NONSENSE NOW.
"Commitment to the environment and safety"? The Great Lakes provide the largest fresh water source in the U.S. Drinking water is now safer than it has been in decades, thanks to the efforts of the IJC, DEC, and federal and state governments that jointly started clean-up efforts in 1980. Until then, multiple toxins including PCBs, dioxin, mercury, cadmium, lead, arsenic, and others were filtering into the lakes from agriculture and industry, largely unregulated, and poisoning lake users and the environment. Much of this toxic soup is now believed to be encapsulated, buried beneath years of cleaner sediment and sand. The LEEDCO project and future offshore wind development will cause tremendous sediment displacement. Potential exposure of these toxins could take us back to the pollution and devastation of decades past, when fish deformities and tumors were the norm, when there were restrictions on fish and wildlife consumption, beaches were closed, and there were drinking water problems. Further, in many places, like Wolfe Island, Canada (eastern Lake Ontario region), where 600 birds and 1,200 bats were slaughtered by IWT blades in the first six months of operation alone, IWTs are referred to as "avian cuisinarts". The Wall Street Journal published an article on 9/7/09 called "Windmills Are Killing Our Birds", citing the Altamont Pass wind farm east of Oakland, CA. The article complains that IWTs slaughter 100 times as many birds EVERY YEAR as Exxon Mobil's oil tanks, and Exxon paid $600,000 in fines in one year alone (in accordance with the Migratory Bird Treaty Act of 1918), while the wind farm owners pay nothing. Michael Fry of the American Bird Conservancy estimates that U.S. turbines kill between 75,000 and 275,000 birds per year, yet the Justice Department is not bringing cases against the wind companies.
As mentioned, no offshore IWTs are currently manufactured in the U.S., and neither is underwater transmission cable linking the turbines together electronically. As noted from the Rhode Island lawsuit, businesses will be unable to meet escalated electricity costs, and other than lawyers profiting from lawsuits against wind developers, jobs will be lost. Throughout Europe, where wind farms are more prevalent, job loss reports are well documented. Italy reports 5 job losses for every job created by IWE, and remaining countries report between 2-4 jobs lost for every job created. Would the Ohio's project be the only wind project in the world to create more jobs than losses? Doubtful! Ohio's projects would, on the other hand, boost the economy of wherever the transmission cables & turbines are built – Denmark, Germany, Spain, or in Asia – NOT Ohio. You should also be aware of the recent huge job losses by employees of the terrestrial wind turbine industry as a result of diminished IWE interest and subsidy cutbacks and low natural gas prices.
How will the LEEDCo project affect Lake Erie boating and yachting?
Lake Erie seascape aesthetics will forever be lost & instead be replaced by offshore wind turbines – the dreams of self- serving, politically driven wind advocates who view Lake Erie as the perfect site for this sideshow technology. Municipality rejection of this hit 'n' miss nightmare is now avoided.
Navigation over Lake Erie will become limited. Go-nogo boating zones may be created
Foghorns will become an annoyance during foggy weather
Offshore turbines, obstacles, will be a danger during foggy or stormy weather
Offshore turbines attract lightening
Offshore turbines will leak fluids (oils, coolants, hydraulics, lubricants) – into the lake that will contaminate the water and harm marine life
Water will become filthy during and after wind factory development as a result of sediment displacement caused by driving the turbine monopiles into the lakebed and the trenching of miles of the lakebed for transmission cable burial. The same thing will happen again IF the turbines are ever decommissioned and removed from the lake long after you're gone
Nighttime darkness will instead be replaced by bright red flashing strobe lights atop offshore turbines – due to FAA requirements
Coast Guard requirements will likely mandate lighting of the turbines from top to bottom for boating safety.
There is the potential for your anchor to pierce a transmission cable
Stray voltage (also known as dirty electricity) can have an impact on marine life as it has on farm animals
The beautiful views mariners have taken for granted since day one will become a remembrance and replaced by 450' tall behemoths that generate noise, reflect the sunlight from their rotor blades and cause annoying shadowing from rotor blades
Turbines will be abandoned after 15 years because all the tax benefits had been captured, performance has deteriorated, newer more efficient technology has replaced the steel forests, or maintenance & repair costs become prohibitive. Have a look at the Altamont wind project in California for reference.
Offshore turbines will affect weather radar, GPS units, and boating communication and this has already been proven and well documented
Will turbines topple as a result of Lake Erie spring ice movement? Time will tell.
Time is the enemy of the wind developers, because as more people learn the bitter truth about offshore wind, its high cost, intermittency, low quality, volatility, complete lack of electric base-load, environmental treachery – people will no longer believe the half-truths, exaggerations, and lies of those promoting this inefficient technology. The wind junk science will drive America into fuel poverty, cause a massive transfer of wealth to the foreigners that manufacture and install offshore turbines and prevent directing US investment money into more promising electrical generating technology.
To commence this project is contrary to Ohio's Public Trust Doctrine
LEEDCo's project is incongruous with the Ohio's State Public Trust Doctrine established in 1803. Ohio, as sovereign, has an obligation to protect the public trust held waters and land beneath Lake Erie for the public good and minimize the occupation of public trust lands for private benefit. The state should not grant LEEDCo, a private corporation, the right to take control of the lake bottom or pass that right on to another private corporation for industrial wind farm construction. This would be a breach of the trust that Ohio has been given the responsibility to uphold. Certainly, the legality of such a decision would be vigorously challenged. Could LEEDCo sell the lease to China or some other foreign entity and endanger the infrastructure like has happened in NYS with Iberdrola?
Offshore wind is not about the need for quality electricity, or to help halt global warming, reduce the carbon footprint, smog, or eliminate nitrogen oxide (NOx) and sulfur dioxide (SO2) – wind is about greed and money and nothing more! LEEDCO with Ohio's blessing has begun a statewide assault on residents health, property values, drinking water quality, waterscape aesthetics. The sacrifice of Lake Erie by Ohio is environmental treachery by opportunist politicians and their clients to promote a junk science that is proven to be economically and technologically reckless. A moneywaster!
Please share this with your club directors and staff, post this letter on your club bulletin board, put it onto your club website, tell other Lake Erie boaters & fishermen about this – pass the word as best possible as few people really know and understand how the LEEDCo project will haunt them. Ohio boaters – you must take action against this right now!
Sincerely,
Alan Isselhard
Member Great Lakes Concerned Citizens
Member Great Lakes Wind Truth
speedway2742@gmail.com
---
Date added:
November 22, 2010
Ohio
,
Regulations
,
Wildlife
•
Author: Kaufman, Kenn
The first time you see a Blackburnian Warbler, you might think that you have dreamed it. This is a tiny bird, less than five inches long and weighing less than half an ounce, and it flits about the treetops with an incredible show of energy for its diminutive size. It wears incredible colors, too, its throat and chest and face a brilliant flame orange, set off by velvety black with trim of cream and white. It looks like a tropical bird, and for half the year, it is: from October to March, at least, it lives in cloud forest and rain forest along the slopes of the Andes in South America. But every spring, driven by ancient rhythms, the Blackburnian Warbler will leave its tropical paradise to fly many thousands of miles northward, heading for the spruce forests of Canada and the northeastern United States.
The journey undertaken by this small migrant may seem staggering to us. To the bird, it's both a matter-of-fact necessity and a matter of life and death. The warbler migrates mostly at night, navigating by the stars. It takes off just after dusk, flies through the hours of darkness, and comes down in the dim light of pre-dawn, traveling perhaps a couple of hundred miles in a night. Between long flights it may rest and feed for several days, building up its strength and its fat reserves to fuel another long red-eye flight. Moving north through Central America, it may fly straight across the Gulf of Mexico from the Yucatan Peninsula to the southern United States, in an overwater flight that begins at dusk but may last well into the following afternoon; but most of its flights are shorter. Over a period of a few weeks, if it survives all the hazards of migration, the Blackburnian Warbler makes its way from the equator up to the northern United States.
Migrating songbirds such as the Blackburnian Warbler may stop over practically anyplace where they can find a few trees or other appropriate habitat. But there are a few favored spots where these migrants stop over in tremendous concentrations. One such place is the south shore of Lake Erie in northwest Ohio.
Geography is the cause for this concentration point. In the flat reach of land between the Gulf Coast and the Great Lakes, there are innumerable places for a migrating Blackburnian Warbler to touch down. But then as the bird moves north across Ohio, it approaches the broad expanse of Lake Erie. Not the largest of the Great Lakes, Erie is still wide enough to loom as an obstacle for a half-ounce bird that already has been flying for hours. Even on a moonless night, the reflections from the water will look different from the blackness of land. If the warbler approaches the lake shore in the hours just before dawn, it is likely to come down rather than continuing across the water.
Much of the lake shore in northwest Ohio has been cleared for development, but some key tracts of woodland have been protected, and migrating songbirds crowd into these stopover habitats in unbelievable numbers. Besides the Blackburnian Warblers coming from the Andes, there are Black-throated Green and Wilson's Warblers coming from Mexico, Golden-winged and Chestnut-sided Warblers coming from Central America, Black-throated Blue and Cape May Warblers coming from the Caribbean, and more than thirty other kinds of warblers, in every color of the rainbow. There are brilliant Scarlet Tanagers and shy Gray-cheeked Thrushes coming from the jungles of the Amazon Basin, flashy Rose-breasted Grosbeaks and Baltimore Orioles coming from the forests of Central America, Blue-headed Vireos and Indigo Buntings coming from Mexico, and dozens more species, represented by hundreds of thousands of individuals. Arriving from literally all over the American tropics, they will pause here for a time before moving on to points all over the northern states, Canada, and Alaska. For a few weeks in April and May, these woods are alive with a revolving cavalcade of colorful, tuneful world travelers.
No doubt the birds have been relying on this crossroads refuge for millennia, but humans have noticed only in recent years. Now every spring, thousands of bird watchers come to northwest Ohio from all over the United States, and even from other countries, to witness this spectacle. Birders are notoriously independent, difficult to classify or count, but state agencies have estimated the numbers of visiting birders at about fifty thousand just during the first two weeks of May. Not surprisingly, these human visitors have a major positive impact on the local economy, filling up the hotels and restaurants and stores during the weeks before the summer crowds come to the lake.
This might seem an ideal situation, with the stopover habitat providing a boon to birds, birders, and businesses. Unfortunately, this silver lining has a cloud attached. The Lake Erie shoreline is often a very windy place, and major forces are now working to capitalize on the potential for wind power there. As I write this in November 2010, efforts are under way to put up wind turbines – tall towers with long, rapidly spinning blades – all along the lake shore, even in sites immediately adjacent to stopover habitat for vast numbers of birds.
The most frightening thing about this invasion of the bird slicers is that it is being carried out quietly, almost in secret. Amazingly, there are almost no regulations at all on the placement of wind turbines. Even the large, commercial-grade turbines are affected mainly by voluntary guidelines. Mid-sized turbines (which can still be over 300 feet tall) apparently can be put up anywhere, except in the rare cases where zoning ordinances prevent them. Private energy companies have been moving into northwest Ohio, talking to schools, small businesses, and landowners, trying to cut deals to put up wind turbines on their properties, and trying to get the projects going as quickly as possible.
Why the rush? Ironically, it isn't even about the expectation of big profits from the electricity that will be generated. The rush now is to cash in on government incentives for "green" energy. Maybe the turbines will generate significant amounts of electricity, maybe they won't, but that's down the road. Right now the focus is on getting the deals signed, taking advantage of the grants and tax breaks before they expire.
In these efforts to bring wind power to the shoreline in northwest Ohio, impacts on birdlife are being essentially ignored and legitimate concerns are being pushed aside. The state's Division of Wildlife had produced maps of "avian concern zones" for wind power many months ago, with a three-mile band along the lake shore being included among the areas of highest concern for potential bird kills, but these maps have received little attention. High-ranking officials of the Ohio Department of Natural Resources, in recent statements, have managed to imply that no such maps exist. One local business owner was being courted by an energy company that wanted to put up a large turbine on his property. When he asked about potential harm to migrating birds, the company representative looked him in the eye: "Don't worry," he said. "Our turbines have been proven not to kill birds."
That statement is nonsense, of course, but it's shorthand for a common argument being made by the wind industry. The usual claim is that the typical wind turbine kills only a few birds per year. Consultants have pointed out that night-migrating birds usually fly more than 500 feet above the ground, high enough that they naturally avoid the blades of even the large turbines. And that is true. For the most part, nocturnal migrants will pass safely above wind farms. But it becomes a spurious argument when we start talking about stopover habitats, where birds are actively taking off and landing. Commercial jetliners may cruise at thirty thousand feet, but no one would use that as an excuse to put up a wind turbine at the end of an airport runway.
The stopover habitat in northwest Ohio is like a major airport for migrating birds, like the world's busiest airports rolled into one – except that these vast numbers of birds are mostly landing or taking off in the dim light of dusk or pre-dawn, when visibility is at its poorest. A badly placed turbine adjacent to such a zone could be smashing birds out of the air by the thousands.
Who am I to be writing about this? Opinion pieces on this topic (especially those with pro-industry angles) often are written anonymously, but I believe the players should identify themselves: My name is Kenn Kaufman. I'm a lifelong birder and naturalist, author of the Kaufman Field Guide to Birds of North America, Lives of North American Birds, and ten other books. I'm listed as a field editor or contributing editor for four magazines that deal with birds or conservation. Currently I serve on the boards of directors of five organizations concerned with the same subjects. But in this essay I am speaking only for myself as an individual.
Why am I not speaking for one of the organizations or publications with which I'm associated? Because there are sure to be negative responses to this essay. Big money is involved, and companies that stand to profit are not going to sit idle under criticism. We're past the days when big companies would hire thugs to beat up the opposition, but even in this more civilized age, a certain amount of verbal thuggery is almost inevitable. Canadian novelist (and birder) Margaret Atwood spoke out against the placement of a wind farm adjacent to Point Pelee, the famous stopover habitat on the opposite shore of Lake Erie, and she was savaged in the press. And there have been serious attempts to discredit other people who have spoken out against other wind power projects.
With the expectation that I'll be targeted as well, I should make my position clear. I'm aware of the problems associated with the accumulation of greenhouse gases in the atmosphere, and with the urgent need to do something about it. I fully support efforts to move, in a responsible way, away from the burning of coal and petroleum and toward energy sources that are renewable, sustainable, and non-polluting. In principle I'm in favor of wind, solar, geothermal, and other forms of "green" energy, with the stipulation that each project should be reviewed to see if it is, in fact, environmentally sound. It would be fair to say that I have a moderately favorable view of the potential for wind power. There are legitimate questions about its efficiency and consistency, and about the actual amount of power generated, but if these can be answered, I am pro-wind. The sticking point is the site selection for wind projects.
Opponents of specific wind power projects are often portrayed as hypocritical NIMBYs (Not In My Back Yard) who won't sacrifice their local scenery for the sake of the environment. I can't be tarred with that brush, because I can honestly say that I wouldn't object so much to having turbines literally in my back yard. I live more than seven miles south of the lake shore. I know from direct observation that the numbers of migrant birds stopping over in the trees of my town are a mere fraction of the numbers using the woods along the lake. Wind turbines in my town undoubtedly would kill a few birds, but they probably wouldn't kill thousands.
Or would they? We really don't know. We don't have enough research results yet. When migrating birds are arriving at a stopover habitat, what is their angle of descent? Do they drop straight down from a great height, or do they start descending several miles away? We don't know. When they take off to resume their journey, do they aim straight for the stars, or do they climb gradually? We don't know. If we establish a protective buffer zone around a major stopover habitat, should it be a mile wide, or three miles, or five? We don't know. The research has not been completed. Careful radar studies could provide a lot of answers, and such studies are just beginning in northwest Ohio. Within a few years, we may know a lot more about this subject. But the pressure is on to start erecting wind turbines right now, as quickly as possible, without waiting for any such studies.
People who express concern about bird mortality at wind turbines are usually treated with condescension at best (with phrases like "Bird-lovers are all a-flutter at the thought that Tweetie Bird might get hurt"). I've seen a dozen wind industry fact sheets pointing out, rather patronizingly, that wild birds are killed by many things, including window strikes, automobiles, and roaming cats. This is true. But the birds most often killed by cars and house cats are the birds that live around roads and houses – abundant, widespread species, with populations large enough to sustain the losses. If ten million House Sparrows are hit by cars every year, it won't make a dent in their total population. But when you place hazards around stopover habitats for migratory birds, you are turning this equation upside down. Such hazards have their worst impact on the long-distance migrants, the species that are already most at risk.
As the threats of planned wind turbines loom all along the lake shore, northwest Ohio may become a test case: a test to see whether stopover habitat can ever be protected, to see whether we birders will ever stand up for the creatures that we watch. This is one region where the birds and their habitats should have the beginnings of a broad-based constituency. Here, the hotel owners, restaurant owners, store owners and others have realized that visiting birders are important to their business. Here, the local chambers of commerce and visitors' bureaus have embraced the annual influx of birders. Here, the birders keep coming, more and more, from all over the midwest, all over the U.S. and farther afield. Local place names like Magee Marsh, Crane Creek, Ottawa Refuge, and Maumee Bay are becoming household words among birders continentwide. Here, for once, the ecological and economic benefits of protecting stopover habitat should work hand in hand. But will it turn out that way?
Right now, in November 2010, several entities are pushing forward to try to get wind turbine projects approved before some government incentives run out at the end of the year. As I write this, they face very little opposition. A small local organization, the Black Swamp Bird Observatory, is trying to raise local public awareness of stopover habitat, but they are working almost alone. Can they turn the tide of public opinion and policy? This could be the place where the birders and their business allies finally make a stand and insist on bare-minimum protections: no wind turbines within three miles of a major migratory stopover habitat. This could be where we draw our line in the sand. But the wind industry threatens to blow away the sand and obliterate the line.
The timing of this is bad from the birding viewpoint: spring is the high season here, half a year ago or half a year in the future, and now the birders are elsewhere and thinking about other things. The traveling birders who gathered here last May, celebrating the "Biggest Week in American Birding" and calling this "the Warbler Capital of the World," are somewhere else now, looking at other birds. Few are aware of the struggle unfolding in northwest Ohio. Maybe they will come back next spring, maybe they won't. But the birds will come back every spring, as long as they survive. And what they find when they arrive may depend on efforts that we make right now.
The long-distance migrants that stop over in northwest Ohio are arguably the most inspiring birds in the world: impressive for their numbers, for their sheer variety, for their colors and songs, for the remarkable scope of their travels. They make up a major element of the ecosystems of northern forests in summer and of tropical forests in winter, and in between they undertake vast journeys, employing navigational powers and strength and stamina that we can hardly imagine. But these impressive birds are increasingly at risk. Their nesting habitats in the north and their wintering habitats in the tropics are becoming more fragmented, crucial stopover habitats are vanishing, obstacles and threats along the way are proliferating, as it becomes more and more of a challenge for these small wayfarers to retrace their ancestral routes.
A Blackburnian Warbler arriving in northwest Ohio in spring is already a veteran traveler. Hatched in the northern forest during some previous summer, it has already flown to South America and back at least once. Navigating by the stars at night, evading predators by day, it has paused at a score of stopover sites, found a winter home in mountain forests near the equator, then initiated the return flight to the north. By the time it reaches Ohio, it has made it most of the way back. Flying north across Ohio, buoyed up by a south wind in the hour before first light, the bird may see a hint of the open waters of Lake Erie stretching out ahead. Rather than continue on across the water with daylight approaching, the bird drops lower and lower. Ahead in the darkness of predawn, a darker shadow suggests a line of trees, and the warbler aims for this shelter . . .
But it is never going to make it. The same south wind that carries the tiny migrant is also turning a gigantic steel blade, and in a moment the two will collide with such shattering force as to splinter the bird's skull and crush its lungs, stop its heartbeat in an instant, and hurl its broken and lifeless body to the ground.
Then the blades strike another bird. And another. And another. And another.
This could be reality if we stand mute while turbines rise along the edges of the last, best stopover habitat. Are we really going to let this happen?
Click here to read the rest of this piece at the original source (along with photos of some of the birds mentioned).
Kenn Kaufman is a lifelong birder and naturalist, author of the Kaufman Field Guide to Birds of North America, Lives of North American Birds, and ten other books. He is listed as a field editor or contributing editor for four magazines that deal with birds or conservation. Currently he serves on the boards of directors of five organizations concerned with the same subjects.
If, after reading this, you're willing to take action, please consider signing a petition asking for a three-year moratorium on building wind turbines in the most critical areas of stopover habitat in northwest Ohio. Click here to go to the petition.
---