BENEFITS : LOW ↔ IMPACTS : HIGH
Resource Documents: Massachusetts (47 items)
Unless indicated otherwise, documents presented here are not the product of nor are they necessarily endorsed by National Wind Watch. These resource documents are shared here to assist anyone wishing to research the issue of industrial wind power and the impacts of its development. The information should be evaluated by each reader to come to their own conclusions about the many areas of debate. • The copyrights reside with the sources indicated. As part of its noncommercial effort to present the environmental, social, scientific, and economic issues of large-scale wind power development to a global audience seeking such information, National Wind Watch endeavors to observe "fair use" as provided for in section 107 of U.S. Copyright Law and similar "fair dealing" provisions of the copyright laws of other nations.
---
Date added:
March 1, 2012
Emissions
,
Environment
,
General
,
Maine
,
Massachusetts
,
Photos
,
Vermont
•
Author: Luce, Ben
I was a strong advocate of utility-scale wind and other renewables in New Mexico, and expected to support some level of utility scale wind development in the Northeast prior to studying the issue of wind in this region in detail.
I also believe that very aggressive action to reduce emissions and mitigate climate change is needed.
Given that I am a strong advocate of renewables, I will not address the larger debate of renewables versus other non-renewable energy approaches such as nuclear power and clean coal in this presentation.
I will be focusing mainly on wind and solar in this presentation, because I do not believe that small wind, small hydro, or biomass-fired generation represent significant renewable electricity options for the Eastern US, simply because of their very small resource potentials.
Number of "Mountain Systems" Required for 1 GW of Peak Capacity in MA (333 3-MW turbines):
• 5 turbines/mile
• ~70 miles of ridge, not counting access roads
• 10 turbines/project on average:
• ~33 Mountain Systems
Is it worth developing 33 mountain systems in MA to provide just 5% of MA electricity?
– Environmental impacts?
– Impact on people?
– Impacts on the local economy?
– Cost relative to alternatives?
– Despite impacts, would this still be "doing our part" to encourage significant regional wind development?
Note that fairly wide and fully developed road beds and wide, level clearings (of roughly equal area to the swept area of the rotors) are needed for this type of development, due to the enormous weight and length of the trucks and their loads involved. Extensive blasting and bulldozing of the mountaintop is required, which incurs extensive impacts to streams, wetlands, bedrock, and of course plant and animal life.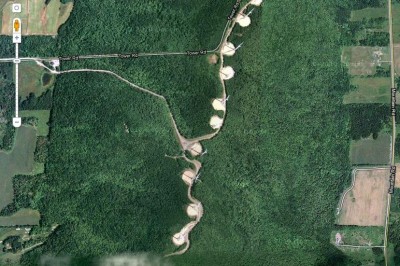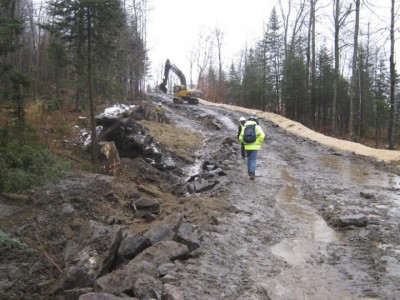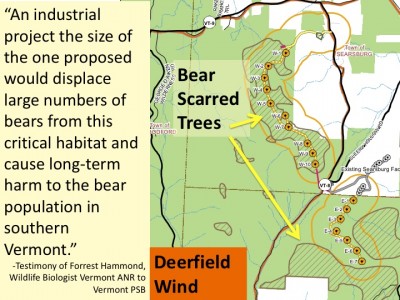 The impacts to ecotourism (meaning economic benefits in general related to the scenic beauty of the area) are potentially endangered by ridgeline wind development.
Many people genuinely feel the experience of seeing a project the first few times to be enjoyable, which is understandable given what these projects represent to them, the sheer scale of the turbines, and the novelty of the experience.
It's a different question entirely whether people will like to vacation or maintain second homes in an area in the long run with extensive ridge line wind development. The study referenced on the following slides shows that, for example, vacationers in Vermont greatly value the unspoiled nature of the state.
Although the impact of low-frequency noise from wind turbines is not fully understood in physiological terms, there is peer-reviewed research indicating that low-frequency noise can couple physically to the cochlea. http://oto2.wustl.edu/cochlea/windmill.html
The following slide shows the "spectrum" of wind turbine noise. The graph shows that wind turbines created prodigious levels of infrasonic (subsonic) noise, which places them in a somewhat different category from many other noise sources.
Unfortunately, set-backs for wind projects today do not yet take into account potential impacts due to infrasonic noise.
There is also a growing body of literature suggesting that impacts to health are occurring, in particular impacts associated with loss of sleep.
Human Hearing is Logarithmic
• Quietest sound we can hear: 1 trillionth of a watt per square meter.
• Our ears are super-sensitive vibration sensors.
• It potentially doesn't take a great deal of noise to create problems.
• Even though many do live in noisy environments already, this does not imply that noise is not a problem, and that it's perfectly ok to increase noise in the few remaining quiet regions left.
There are serious issues with respect to the impact on species such as birds and bats.
While its true that large numbers of birds are killed by other means, this does not imply that killing more with wind turbines is acceptable. Moreover, the number of birds and bats killed by turbines could potentially rise to very significant levels if significant levels of wind generation is eventually installed. The number of birds and bats killed by wind turbines currently may be statistically insignificant, but the amount of wind power generation is also currently essentially statistically insignificant.
What if?
• Some of the billions being invested in wind were invested into weatherization and efficiency? – A true "Manhattan Project" of conservation?
• Some of the billions being invested in wind were used to help bring solar down in price, locating good sites, empowering the public?
It is, in fact, typical for our culture to quickly develop a new energy source (or any new resource for that matter), with little regard for the consequences, and then only later attempt to undo or correct for unforeseen consequences.
With the issue of inappropriate wind development, however, we have a chance this time to avoid the worst, and get renewable energy development focused back on a truly sustainable path towards a bright future.
Download original document: "The Science of Industrial Wind in Massachusetts and the Eastern United States"
---
Date added:
February 20, 2012
Massachusetts
,
Property values
•
Author: McCann Appraisal
Zoning Evaluation & Property Value Impact Study of Proposed Wind Turbine Madaket Landfill Nantucket, Massachusetts
Requested by Common Sense Nantucket
Submitted to Town of Nantucket Zoning Board of Appeals
Zoning Evaluation Conclusions
The proposed Madaket Turbine use does not comply with the applicable Nantucket Bylaw for either a height variance (Zoning Board of Appeals) or a Major Site Application (Planning Board). The Madaket Landfill Turbine also meets the Bylaw criteria of a Prohibited Use.
Basis of Opinions
1. The adverse effects on area property values outweigh the financial benefit to the Town of Nantucket. Many homes would be significantly impacted, consistent with the percentage value loss range documented in the McCann property value study and review of other studies. A total loss of homeowner equity is projected to be from $135 million to $270 million. Clearly, this degree of probable impact is far in excess of any economic benefit anticipated by the Town of Nantucket to be derived from the sale of electricity from the Madaket Landfill Turbine.
2. The fiscal impact and impact on local property tax base can be expected to undergo significant and justified pressure for assessment reductions on Nantucket residences, again, within distance ranges studied that reflect significant value losses. The Project will be detrimental to the economic welfare of the community, as measured in fiscal impact of potential assessed valuation appeals and by reason of millions of dollars in property value diminution.
3. The Project is not compatible with the character of the natural open space and marsh land, nor the residential properties with impaired vistas, etc. The Project use will change the essential character of the area in which it is proposed.
4. The project has inadequate setbacks to prevent the Turbine from being disturbing to existing or future permitted uses in the same general vicinity and in the community as a whole.
5. The applicant has not agreed to implement any reasonable measures to mitigate the aesthetic and other impacts of the Project that result in value loss. Property Value Guarantees are effective tools, if carefully designed to leave property owners "whole", and even the LBNL author now recognizes the validity of a PVG.
6. The turbine height of 325 feet and the spinning, blade flicker and reflection will NOT be in harmony with the visual character of the neighborhood, including views and vistas and the character of the neighborhood. There is nothing built in Nantucket to my knowledge that is the height of a 30+ story building, and the turbine will become the dominant presence within at least a mile or two of any other land use. Views and vistas create value for property, and impairment of vistas with non-compatible, immense, spinning machines simply cannot blend in to any mixed residential area or recreational based community.
7. The turbine's architectural design will not be compatible with the character and scale of the adjacent and surrounding neighborhoods. Turbines are not architecturally designed but, rather, utilitarian by design. Large steel poles and the spinning (or still) blades are completely disproportionate in scale and contrary to the character of small towns and rural neighborhoods. Despite the denial of wind industry spokespeople of low-frequency or sub-audible noise impacts, the fact remains that a significant number of people are highly disturbed by this type of turbine impact, which clearly demonstrates a lack of compatibility for turbines to be placed in close proximity to residential uses. The design of large scale turbines cannot avoid the noise impacts, including sub-audible, amplitude modulation noise.
8. Liability issues for the Town of Nantucket, as land owner/lessor and owner of the project, are likely to begin if the turbine is developed, as nuisance, health and property value damage claims are litigated. The fiscal impact to the Town could very well suffer in the long-term, despite short term jobs, revenue and benefits anticipated by the Town/Applicant.
Download original document: "Zoning Evaluation and Property Value Impact Study"
---
Date added:
January 29, 2012
Health
,
Massachusetts
,
Noise
•
Author: Krogh, Carmen
The purpose of this letter is to respond to the Wind Turbine Health Impact Study: Report of Independent Expert Panel of January 2012 that was prepared for the Massachusetts Department of Environmental Protection, Massachusetts Department of Public Health.
I would like to share excerpts from Ontario, Canada experiences regarding the serious risks to health that can occur when industrial wind turbines are sited in close proximity to residents.
As background, I have held senior executive positions at a teaching hospital, a professional organization and Health Canada (PMRA). I am a former Director of Publications and Editor in Chief of the Compendium of Pharmaceuticals and Specialties (CPS), the book used by physicians, nurses, and health professionals for prescribing information in Canada.
Contact with those experiencing adverse health effects which correlated with the onset of industrial wind turbine operations, inspired my research on the topic.
I volunteer my time and expenses, self support research and other activities such as education regarding the science related to wind turbine health effects. Some of my activities include meeting with authorities, locally, provincially and federally.
A colleague and I initiated a self reporting health survey in March 2009. WindVOiCe (Wind Vigilance for Ontario Communities) follows the principles for Health Canada's Canada Vigilance Programs for self reporting suspected adverse events for prescription and consumer products, vaccines and other. The results of this research have been published in a special edition of a peer reviewed scientific journal. [1]
I have also researched societal impacts relating to this topic. This article has also been published in a peer reviewed journal. [2]
Based on several years of investigation: "My research demonstrates that IWTs were initially welcomed into communities. The reported adverse impacts were unexpected …" and "In addition to physiological and psychological symptoms there are individuals reporting adverse impacts, including reduced well-being, degraded living conditions, and adverse societal and economic impacts. These adverse impacts culminate in expressions of a loss of fairness and social justice." [3]
Several months after the publication of my article, Shepherd et al noted:
"… wind turbines were initially welcomed by many communities due to their environmental credentials …"

"… residents living within 2 km of a turbine installation reporting lower overall quality of life, physical quality of life, and environmental quality of life. Those exposed to turbine noise also reported significantly lower sleep quality …" [4]
Quality of life and social well being are important health considerations. I have found the stressors occurring within the home and community environment as the result of a change in the environment, e.g. industrial wind turbines, are contributing to adverse health effects. To date, there is no mitigation available to those suffering.
There is ample evidence regarding the health risks associated with industrial wind turbines.
In 2009 The American Wind Energy Association and Canadian Wind Energy Association funded experts to conduct a literature review which explicitly identifies a causal link (through annoyance) to the reported adverse health effects.
The authors of the industry convened report determined the documented "wind turbine syndrome" symptoms (sleep disturbance, headache, tinnitus, ear pressure, dizziness, vertigo, nausea, visual blurring, tachycardia, irritability, problems with concentration and memory, and panic episodes associated with sensations of internal pulsation or quivering when awake or asleep are symptoms) "are not new and have been published previously in the context of "annoyance"" and are the "well-known stress effects of exposure to noise". [5]
This acknowledgement cannot be ignored.
Peer reviewed studies consistently acknowledge wind turbine noise is perceived to be more annoying than transportation noise or industrial noise at comparable sound pressure levels. [6]
Now that the experts funded by members of the wind industry have identified a causal link steps must be taken to ensure these health outcomes are avoided.
Three of the authors of this industry report testified at an Ontario Environmental Review Tribunal which was conducted under oath. 26 expert witnesses from around the world testified (10 Appellants, 16 Respondents – Ministry of Environment and Suncor Inc developer). The evidence and testimony of this tribunal is further evidence that wind turbines can harm human health.
An Ontario Freedom of Information request and peer reviewed articles published during 2011 should also be considered.
I have attached legal opinions and citations regarding the evidence including a summary which I presented to the Standing Senate Committee on Energy, the Environment and Natural Resources, October 18, 2011.
The Ontario Environmental Review Tribunal Decision, July 18, 2011, stated:
"This case has successfully shown that the debate should not be simplified to one about whether wind turbines can cause harm to humans. The evidence presented to the Tribunal demonstrates that they can, if facilities are placed too close to residents. The debate has now evolved to one of degree." [7]
A Freedom of Information request from the Ontario Ministry of Environment notes:
"It appears compliance with the minimum setbacks and the noise study approach currently being used to approve the siting of WTGs will result or likely result in adverse effects …" [MOE memorandum, Ontario Senior Environmental Officer, April 9, 2010]
The Ontario Ministry of Environment documents are available at www.windyleaks.com
I note that the Wind Turbine Sound and Health Effects – An Expert Panel Review – December 2009 states that: wind turbine sound/noise may cause annoyance (p. 5-3), stress (p. 4-3, 4-10) and sleep disturbance (p. 4-3), which may have other consequences (p. 4-3, 4-10) [8] Annoyance may seem of little consequence in everyday language; however, in clinical terms it has negative health consequences. The term annoyance is acknowledged as an adverse health effect.
The indirect pathway is often given a low priority regarding this topic. The Environmental Review Tribunal expressed concerns with respect to The Potential Health Impact of Wind Turbines (Chief Medical Officer of Health (CMOH) Ontario Report) – May 2010.
"… about the Director's apparent lack of consideration of indirect health effects and the need for further work on the MOE's practice of precaution …" [9]
To better understand the importance of the indirect pathway, please note the World Health Organization noise schema below. Symptoms being reported are through the indirect pathway. Testimony under oath during the Environmental Review Tribunal acknowledged that the indirect pathway was not considered by the CMOH. [10]
Statements indicating there is no evidence of a "direct" causal link may be accurate but is also an incomplete assessment of the health risks. The indirect pathway of noise annoyance, sleep disturbance and stress leads to consequences (cardiac). When one focuses on "direct" effect one omits consideration of an equally significant part of the health equation ie indirect effects.
Some have referenced that World Health Organization Noise Guidelines (2009) recommend a 40 dB noise level for industrial wind turbines; however, this is an incorrect interpretation of these guidelines. The WHO guidelines are based on road, rail and air craft noise, not on industrial wind turbine noise. Peer reviewed research has shown wind turbine noise is more annoying than these three types of noise at comparable sound levels. Therefore the premise of 40 dB applying to wind turbines is not justified – research [11] and MOE field officer [12] propose 30 to 32 dB.
To conclude, a December 2010 report commissioned by the Ontario Ministry of Environment and submitted as evidence during the Environmental Review Tribunal and just recently released by the Ministry notes:
"The audible sound from wind turbines, at the levels experienced at typical receptor distances in Ontario, is nonetheless expected to result in a non-trivial percentage of persons being highly annoyed. As with sounds from many sources, research has shown that annoyance associated with sound from wind turbines can be expected to contribute to stress related health impacts in some persons." [13]
This report also states
"Stress symptoms associated with noise annoyance, and in particular low frequency annoyance, include sleep interference, headaches, poor concentration, mood swings …" [14]
During 2011, there has been significant progress in acknowledging the harm that can occur when industrial wind turbines are sited too close to residents.
Consideration should be given to recent Australian movements towards a minimum 2 km setback (see Senate slides attached for references). Furthermore in January 2012 the National Health and Medical Research Council reaffirmed their position that authorities are instructed to maintain a precautionary approach for this issue.
Social well-being is acknowledged to be a determinant of health: "Health is a state of complete physical, mental and social well-being and not merely the absence of disease or infirmity" (World Health Organization [WHO], 1948). Many jurisdictions, including the Canadian federal, provincial, and territorial governments and health officials have accepted WHO's definition of health (Health Canada, 2004, vol. 1, p. 1-1)." [15]
I am not certain whether jurisdictions in the United States of America have accepted the WHO definition; however, it is widely accepted that social, physical and mental health should be evaluated when assessing adverse health effects.
The symptoms have been acknowledged through testimony under oath, and / or disclosure evidence and/or witness statements and through other references as briefly provided in this letter.
There are some research gaps regarding the mechanism and the siting distances and noise levels that will protect human health.
To conclude: "In all cases, noise should be reduced to the lowest level achievable in a particular situation. Where there is a reasonable possibility that public health will be damaged, action should be taken to protect public health without awaiting full scientific proof." [16]
I believe we are at the stage where public health officials must acknowledge there are some suffering from exposure to industrial wind turbines. Furthermore it is time to move beyond repetitive literature reviews. There is an urgent need to conduct the research to determine the siting parameters including setback distances and noise levels to ensure protection of health.
~~~
January 19, 2012
Ms Carmen Krogh, BScPharm
Ontario, Canada
krogh/email.toast.net
[1] Krogh, CME, Gillis, L, Kouwen, N, and Aramini, J, (2011), WindVOiCe, a Self-Reporting Survey: Adverse Health Effects, Industrial Wind Turbines, and the Need for Vigilance Monitoring, Bulletin of Science Technology & Society 2011 31: 334, DOI: 10.1177/0270467611412551, http://bst.sagepub.com/content/31/4/334
[2] Krogh, CME, (2011), Industrial Wind Turbine Development and Loss of Social Justice? Bulletin of Science Technology & Society 2011 31: 321, DOI: 10.1177/0270467611412550, http://bst.sagepub.com/content/31/4/321
[3] Krogh, CME, (2011), Industrial Wind Turbine Development and Loss of Social Justice? Bulletin of Science Technology & Society 2011 31: 321, DOI: 10.1177/0270467611412550, http://bst.sagepub.com/content/31/4/321
[4] Evaluating the impact of wind turbine noise on health-related quality of life by Daniel Shepherd, David McBride, David Welch, Kim N. Dirks, Erin M. Hill. Noise & Health, September-October 2011, 13:54,333-9
[5] Colby, W. D., Dobie, R., Leventhall, G., Lipscomb, D. M., McCunney, R. J., Seilo, M. T., & Søndergaard, B. (2009). Wind turbine sound and health effects: An expert panel review 2009. Prepared for American Wind Energy Association and Canadian Wind Energy Association. http://www.canwea .ca/pdf/talkwind/Wind_Turbine_Sound_and_Health_Effects.pdf
[6] Pedersen, E., Bakker, R., Bouma, J., & van den Berg, F. (2009), Response to noise from modern wind farms in the Netherlands, Journal of the Acoustical Society of America, 126, 634-643
[7] Case Nos.: 10-121/10-122 Erickson v. Director, Ministry of the Environment Environmental Review Tribunal, Decision, p 207
[8] Colby, W. D., Dobie, R., Leventhall, G., Lipscomb, D. M., McCunney, R. J., Seilo, M. T., & Søndergaard, B. (2009). Wind turbine sound and health effects: An expert panel review 2009. Prepared for American Wind Energy Association and Canadian Wind Energy Association. http://www.canwea .ca/pdf/talkwind/Wind_Turbine_Sound_and_Health_Effects.pdf
[9] Case Nos.: 10-121/10-122 Erickson v. Director, Ministry of the Environment Environmental Review Tribunal, Decision, p 206
[10] Case Nos.: 10-121/10-122 Erickson v. Director, Ministry of the Environment Transcript of Dr. G. Rachamin, Mar, 4, 2011 [1] p. 211, [2] p. 216
[11] Thorne, B, (2011), The Problems With "Noise Numbers" for Wind Farm Noise Assessment, Bulletin of Science Technology & Society 2011 31: 262, DOI: 10.1177/0270467611412557, http://bst.sagepub.com/content/31/4/262
[12] MOE memorandum, Ontario Senior Environmental Officer, April 9, 2010
[13] HGC (2010) Low frequency Noise and Infrasound Associated with Wind Turbine Generation Systems, A Literature Review, Ontario Ministry of Environment RFP December 2010
[14] HGC (2010) Low frequency Noise and Infrasound Associated with Wind Turbine Generation Systems, A Literature Review, Ontario Ministry of Environment RFP December 2010
[15] World Health Organization. (1948). Preamble to the constitution of the World Health Organization as adopted by the InternationalHealth Conference, New York, 19-22 June, 1946; signed on 22July 1946 by the representatives of 61 States (Official records of theWorld Health Organization, no. 2, p. 100) and entered into force on7 April 1948. Cited Krogh, CME, (2011), Industrial Wind Turbine Development and Loss of Social Justice? Bulletin of Science Technology & Society 2011 31: 321, DOI: 10.1177/0270467611412550, http://bst.sagepub.com/content/31/4/321
[16] World Health Organization. (1999). Guidelines for community noise. Geneva; OMS, 1999, p 94. Ilus, Berglund, B., Lindvall, T., and Schwela, D. H.
Download original document: "Re: Wind Turbine Health Impact Study: Report of Independent Expert Panel, January 2012"
To:
Jeffrey M. Ellenbogen, MD; MMSc Assistant Professor of Neurology, Harvard Medical School Division Chief, Sleep Medicine, Massachusetts General Hospital jeffrey_ellenbogen@hms.harvard.edu
Sheryl Grace, PhD; MS Aerospace & Mechanical Engineering Associate Professor of Mechanical Engineering, Boston University sgrace@bu.edu
Wendy J Heiger-Bernays, PhD Associate Professor of Environmental Health, Department of Environmental Health, Boston University School of Public Health Chair, Lexington Board of Health Email unavailable
James F. Manwell, PhD Mechanical Engineering; MS Electrical & Computer Engineering; BA Biophysics Professor and Director of the Wind Energy Center, Department of Mechanical & Industrial Engineering University of Massachusetts, Amherst manwell@ecs.umass.edu
Dora Anne Mills, MD, MPH, FAAP State Health Officer, Maine 1996–2011 Vice President for Clinical Affairs, University of New England Email unavailable
Kimberly A. Sullivan, PhD Research Assistant Professor of Environmental Health, Department of Environmental Health, Boston University School of Public Health Email unavailable
Marc G. Weisskopf, ScD Epidemiology; PhD Neuroscience Associate Professor of Environmental Health and Epidemiology Department of Environmental Health & Epidemiology, Harvard School of Public Health mweissko@hsph.harvard.edu
Copy:
Susan L. Santos, PhD, FOCUS GROUP Risk Communication and Environmental Management Consultants info@focusgroupconsulting.com
---
Date added:
January 28, 2012
Health
,
Massachusetts
,
Noise
•
Author: Hartman, Raymond
[Wind Turbine Health Impact Study: Report of Independent Expert Panel, January 2012, prepared for: Massachusetts Department of Environmental Protection, Massachusetts Department of Public Health]
Junk Science: What Is It?
"Junk science is faulty scientific data and analysis used to advance special interests and hidden agendas."
General Examples
"Government regulators may use junk science to expand their regulatory authority, increase their budgets or advance the political agenda of elected officials."
"Businesses may use junk science to bad-mouth competitors' products, make bogus claims about their own products, or to promote political or social change that would increase sales and profits."
"Politicians may use junk science to curry favor with special interest groups, to be politically correct or to advance their own personal political beliefs."
Specific Real-World Examples
The Tobacco Research Institute
It was funded by the big tobacco companies.
It produced "scientific research" for 50 years or more "demonstrating" that smoking was good, or at least not bad, for people.
Over time, as doctors and patients complained that smoking caused lung cancers and cardiovascular diseases, the Tobacco Research Institute produced more "scientific research" demonstrating that something else caused the disease.
→ The "research" was Junk Science.
→ It was untrue, manipulated and unreliable.
→ The "research" caused disease and death.
Asbestos Manufacturers
Asbestos was used for decades in shipbuilding, construction and a variety of other trades.
Those workers installing and working with asbestos were told for decades that research demonstrated that the workers were safe.
Workers were not safe.
Asbestos caused innumerable cases of cancer – mesothelioma.
The asbestos manufacturers put forward research "demonstrating" that the cancers were not caused by the asbestos.
→ The "research" was Junk Science.
→ It was untrue, manipulated and unreliable.
Manufacturers of DDT
DDT was first used as a pesticide in the 1940s.
It was claimed to be a successful and safe pesticide.
The US government began banning DDT for particular uses in the 1960s.
It was banned outright in 1972.
→ The original "research" was Junk Science.
→ It ignored the health and environmental risks of DDT.
The Wind Turbine Health Impact Study Is Junk Science
Deval Patrick sponsored and defends the study which "found no scientific evidence or medical studies to prove that living near a wind turbine has adverse impacts on people's health, though it acknowledged further study is needed to look at health impacts stemming from 'annoyance' for residents who live near turbines." [State Capitol Briefs, Afternoon Edition, Thursday, January 19, 2012, State House News Service]
The conclusions reached by the study are utterly and profoundly dishonest.
The study is labeled a "Report of Independent Expert Panel."
The panel was not independent.
Several "experts" have pro-wind industry connections. [For one important example, I understand that Dr. James Manwell's Wind Energy Center is heavily funded by the Commonwealth. I believe that it is therefore impossible for him to offer a neutral opinion on the health effects of industrial wind turbine installations, given the Commonwealth's obvious infatuation with wind energy.]
The Panel is no more qualified or expert than the substantial number of opponents, including Dr. Pierpont and myself.
[NWW: Perhaps much less so – see this Jan. 28 letter running down the members of the panel.]
The Panel relies primarily on an inexplicably small number (4) of published research papers, out of 100s that are available.
Two Swedish research papers, one Dutch research paper and one New Zealand Research paper.
The Panel dismisses for unsupported reasons all the other studies.
In statistical modeling, this is called "cherry picking" – choosing only those studies that support a desired conclusion.
The sizes of the wind turbines studied are quite small.
The turbines studied were only 164-213 feet tall.
These are much smaller than those proposed for Mount Massaemet which are nearly 500 feet tall.
Noise effects increase with the size of the turbine blades.
The data, models and statistical analyses in these papers are flawed, in ways explicitly noted by the Panel.
The Panel notes: "The peer-reviewed papers have weaknesses, including the cross sectional designs and sometimes quite low response rates (p. 28)."
The Panel further notes: "The model from which this conclusion was drawn, however, imposed a linear relation on the association between noise level category and annoyance. But … it appeared that the relation might not be linear (p. 18)."
In statistical modeling, the imposition of a linear relationship when it is invalid is called specification bias.
→ When present, the model and analysis are wrong.
→ The studies introduce a multiplicity of other possible factors, all of which interfere with properly analyzing and estimating the impact of the primary factor upon health – turbine noise.
The Panel mentions but ignores the findings of the most recent analysis by the authors of two of their chosen studies (the Swedish studies). This most recent study contradicts the Panel's conclusions as follows [as noted explicitly by the Panel at page 19]:
"A more intricate statistical model of the association between turbine noise levels and annoyance that used the data from both Swedish studies … suggested a significant association between noise levels and annoyance even after considering other factors."
Why didn't the Panel consider this third study by the same authors, which used better analytic and statistical methods?
→ This exclusion is unprofessional, unscientific and outright dishonest.
→ This is Junk Science.
The Panel identifies the preferred type of study – time-series analyses, looking at families and households before and after the industrial turbines are put into operation → "A Before-and-After Study."
The Panel notes "Cross-sectional studies [which the Panel uses] lack the ability to determine the temporality of cause and effect; in the case of these kinds of studies, we cannot know whether the annoyance level was present before the wind turbines were operational from a cross sectional study design."
Why didn't the Panel look at time-series experiences that have occurred in New England – Maine, Vermont, and Massachusetts? [I understand that the ISO-NE seasonal-claimed capability spreadsheet identifies the following industrial wind turbine (IWT) sites which could have been used for "Before-and-After" studies: 19 IWT projects in Massachusetts; 9 IWT projects in Maine, including Mars Hill which is outside the ISO-NE area and so is not listed on the ISO's spreadsheet; 3 IWT projects in Rhode Island; 2 IWT projects in New Hampshire; and 2 IWT projects in Vermont.]
This is the most natural set of experiments to be done and is easily available.
Is the reason because they knew what such experiments would find – that Industrial Wind Turbines cause sleep problems and severe annoyance, leading to health problems?
The Panel does admit to finding the following:
"Wind turbines can produce unwanted sound (referred to as noise) during operation (p. ES-4)"
"The whooshing that is heard is NOT infrasound … [It] is at higher frequency … It is important to note then that when a complaint is tied to the thumping or whooshing that is being heard, the complaint may not be about ILFN at all even if the complaint mentions low frequency noise. Kamperman et al. (2008) state that, 'It is not clear to us whether the complaints about 'low frequency' noise are about the audible low frequency part of the 'swoosh-boom' sound, the once-per-second amplitude modulation … of the 'swoosh-boom' sound, or some combination of the two (p. 13)." [Emphasis added. These are precisely the sounds described by Neil Anderson from Falmouth.]
"Most epidemiologic literature on human response to wind turbines relates to self-reported 'annoyance' … (p. ES-5)."
"A very loud wind turbine could cause disrupted sleep, particularly in vulnerable populations, at a certain distance, while a very quiet wind turbine would not likely disrupt even the lightest of sleepers at that same distance (p. ES-6)."
The Panel however concludes that there is insufficient evidence that industrial wind turbines will have any effects upon residents near the installation. It states:
"There is limited evidence from epidemiologic studies suggesting an association between noise from wind turbines and sleep disruption. In other words, it is possible that noise from some wind turbines can cause sleep disruption. … But there is not enough evidence to provide particular sound-pressure thresholds at which wind turbines cause sleep disruption (p. ES-5 and ES-6)."
"Whether annoyance from wind turbines leads to sleep issues or stress has not been sufficiently quantified. While not based on evidence of wind turbines, there is evidence that sleep disruption can adversely affect mood, cognitive functioning, and overall sense of health and well-being (p. ES-6)."
"There is insufficient evidence that the noise from wind turbines is directly (i.e., independent from an effect on annoyance or sleep) causing health problems or disease (p. ES-6)."
Reflect closely on this language.
Noise causes annoyance and disrupts sleep.
Annoyance and sleep disruption causes stress and disease states.
While the evidence demonstrates that industrial wind turbines cause annoyance and disrupt sleep, the Panel finds it is insufficient or an indirect cause.
Do you believe that assertion?
The Panel's report and conclusions are JUNK SCIENCE.
What does this mean for Shelburne?
There will be wind turbine noise.
Prepare yourself for the "'swoosh-boom' sound, the once-per-second amplitude modulation … of the 'swoosh-boom' sound, or some combination of the two." [See the Impact Study, p. 13, cited above.]
This noise will disrupt the sleep of an unknown number of Shelburne and Buckland residents.
This noise will cause low-to-severe cases of "annoyance," every day, every hour, every minute for an unknown number of residents.
The non-stop annoyance and sleep disruption will cause stress and disease states for an unknown number of residents.
This noise will affect many Shelburne residents in precisely the same fashion as has been found in Falmouth, Vinalhaven and across New England.
Are you ready to be guinea pigs for an experiment in which we suffer the possible consequences while outside developers make hundreds of millions of dollars in subsidies, and then leave town?
Raymond S. Hartman is a Shelburne resident, living in the Patten District: 'I have a BA from Princeton University and a Masters and PhD from MIT. All of my degrees are in mathematical economics. I have been a member (Associate Professor) of the faculties of MIT, Boston University, and University of California, Berkeley. I have published more than 100 peer-reviewed articles and contract research using statistical and mathematical models, methods, and data. I am currently President and Director of Greylock McKinnon Associates, an economic consulting firm specializing in analysis in support of litigation. Indeed, I regularly have testified as an expert witness on behalf of the Massachusetts Attorney General's office in a variety of matters, including the 1995-1996 tobacco litigation (the result of which the Commonwealth received billions of dollars in settlement from "Big Tobacco"); litigation against large drug companies for defrauding the Massachusetts Medicaid program (2008-2011); the restructuring of the electric power industry (1990s); and a variety of utility rate cases (2000s). Over the past 40 years, I have reviewed and responded to hundreds of "Expert Reports" like "The Wind Turbine Health Impact Study."'
Download original document: "The Wind Turbine Health Impact Study Is Junk Science"
---