BENEFITS : LOW ↔ IMPACTS : HIGH
Resource Documents: Massachusetts (47 items)
Unless indicated otherwise, documents presented here are not the product of nor are they necessarily endorsed by National Wind Watch. These resource documents are shared here to assist anyone wishing to research the issue of industrial wind power and the impacts of its development. The information should be evaluated by each reader to come to their own conclusions about the many areas of debate. • The copyrights reside with the sources indicated. As part of its noncommercial effort to present the environmental, social, scientific, and economic issues of large-scale wind power development to a global audience seeking such information, National Wind Watch endeavors to observe "fair use" as provided for in section 107 of U.S. Copyright Law and similar "fair dealing" provisions of the copyright laws of other nations.
---
Date added:
July 18, 2012
Health
,
Massachusetts
•
Author: Falmouth (Mass.) Board of Health
The Falmouth Board of Health requests that Mass DPH immediately initiate a health assessment of the impacts of the operation of wind turbines in Falmouth. This appeal is compelled by two years of consistent and persistent complaints of health impacts during turbine operation.
We realize that this is an atypical health assessment study. The suspected agent of harm is not a food borne, waterborne, or airborne contaminant. Yet, the Wind Turbine Health Impact Study recently completed by the State suggests certain elements of wind turbine operation propagate to health impacts potentially as harmful as those caused by organic agents.
To assist Mass DPH in the identification of health effects and potential study subjects, the Falmouth Board of Health held a hearing on May 24th, 2012, at which we accepted further testimony from those individuals in our community who believe they are experiencing negative health impacts from the operation of three turbines in Falmouth. We have attached a summary [below], received testimony, and a map of respondents. We are appealing to the Mass DPH to conduct this study due to its ability to collect and analyze confidential health information.
Due to the increasing intensity of the reported health impacts, the Board is considering emergency actions. To determine the appropriateness of such actions, the Board requests immediate guidance on interim measures to protect the health of affected individuals while the complete health assessment is being conducted.
We look to your Department, as that which holds the highest duty to protect the health of the citizens of the Commonwealth, to assist us in this matter. Accordingly, we request a meeting at the earliest possible time with you or your staff We are certain that once you have read the attached testimony that we received, you will appreciate the urgency and need for such a meeting. That meeting can be coordinated through our Health Agent, David Carignan.
Falmouth Board of Health
Gail Harkness, Chairman
Jared Goldstone
Stephen Rafferty
George Heufelder
John Waterbury
To:
Ms. Suzanne Condon
Associate Commissioner
Massachusetts Department of Public Health
250 Washington Street, 7th Floor
Boston, MA 02108
June 11, 2012
Cc:
Falmouth Board of Selectmen
Mr. Julian Suso, Falmouth Town Manager
The Honorable Therese Murray, The State Senate, Boston, Massachusetts
The Honorable David Vieira, Massachusetts House of Representatives
The Honorable Timothy Madden, Massachusetts House of Representatives
Download original document: "Falmouth Board of Health letter to Massachusetts Department of Public Health"
(((( ))))
Oral and written testimony on wind turbine effects were submitted to the Board at a public hearing on May 24th, 2012, and further written testimony was accepted during the following week (until May 31st, 2012). Additional complaint reporting has been ongoing since April 2011, and is summarized separately. The testimony from May 2012 represents 63 individuals, and includes 47 individuals with self-reported health effects. Only written testimony is included in the following analysis.
The submitted written testimony is included in this package of data, and summarized in the tables below. Table 1 describes the number and type of testimony submitted; Table 2 summarizes the health effects; and Table 3 defines the health effects categories. The summary data is derived from a spreadsheet analysis of the written testimony, also attached.
The major health effect reported was sleep deprivation (85%) with attendant stress (53%), mental health problems (45%), hearing problems (32%), cognitive difficulties (25%), and other effects, summarized in Table 2 below.
Table 1. Number and type of testimony submitted
| | |
| --- | --- |
| Total number of testimonies submitted | 58 |
| Testimonies not meeting criteria for hearing | 1 |
| Total number of valid testimonies | 57 |
| Number of people represented | 63 |
| Testimonies with health effects | 41 |
| People with health effects | 47 |
| Testimonies with no health effects | 15 |
| – People employed at Technology Park | 12 |
| – People who live near Wind 1, Wind 2 | 3 |
Table 2. Number and percent of people with health effects by specific category of health effect
| Category | Number (Percent) |
| --- | --- |
| Sleep deprivation/fatigue | 40 (85.1%) |
| Stress | 25 (53.2%) |
| Cognitive difficulty; Decreased memory, concentration | 12 (25.5%) |
| Hearing problems; Pressure, tinnitus, pain | 15 (31.9%) |
| Headache | 11 (23.4%) |
| Mental health problems; Depression, mood disorders, anxiety | 21 (44.7%) |
| Systemic symptoms; Increased BP, P, palpitations | 10 (21.3%) |
| Difficulty with spatial relationships; Vertigo, loss of balance | 6 (12.8%) |
| Eye problems | 3 (6.4%) |
| Difficult interpersonal relationships | 2 (4.3%) |
| Thoughts of or attempted suicide | 2 (4.3%) |
| Have symptoms; requested interview | 6 (12.8%) |
| Total number with health effects | 47 |
Table 3. Spreadsheet category definitions
Self-reported symptoms from attached testimony were categorized using the following definitions to produce Table 2.
| Category | Definitions |
| --- | --- |
| Effects | (yes/no) |
| Sleep | Disturbance, deprivation, waking up at night |
| Stress | Mentioned stress in dialog |
| Cognitive | Decreased memory, decreased concentration, confusion |
| Ear symptoms | Pressure, tinnitus, throbbing |
| Fatigue | Tiredness (combined with sleep) |
| Headache | Pressure in head, headache |
| Anxiety | (combined with mental health) |
| Spatial relationships | Clumsiness, vertigo, balance problems |
| Eye | Burning, dry |
| Mental health | Depression, mood disorders, (anxiety) |
| Inter-personal relationships (IPR) | Separation, difficulty with people |
| Suicide | Thoughts, attempted |
| Nausea | Vomiting (combined with systemic symptoms) |
| Better | Better when out of geographical area |
| Interview | Have health effects, requested DPH confidential interview |
| Other | Decreased property values, need to leave home, need to sleep in basement or elsewhere, inability to enjoy property |
Download original document: "Falmouth Board of Health – Health Effects of Wind Turbines – Hearing Summary"
Falmouth (Mass.) Board of Health Turbine Hearing, May 24, 2012
Also see: Nina Pierpont interviews Falmouth, Mass., wind turbine syndrome victims – September 2011
---
Date added:
July 16, 2012
Aesthetics
,
Alaska
,
Environment
,
Massachusetts
,
New Brunswick
,
New York
,
Oklahoma
,
Pennsylvania
,
Photos
,
Wyoming
•
Author: Tetratech Construction

Altona, NY

Bellmont, NY

Cohocton, NY
access roads, access road entrances, turbine erection areas, crane pads, staging areas, compacted crane paths, drainage improvements, foundation excavation and backfill, erosion and sedimentation control, dust control, and site restoration

Falmouth, MA

Fire Island, AK

Hardscrabble, NY
34.5kV to 115kV Substation
115kV Switchyard

High Sheldon, NY

Howard, NY
10 miles of access roads
10 miles of collection lines

Lameque, NB
Roads and collection systems have to travel through sensative areas such as wetlands and forests on the island

Maple Ridge, NY
Project featured 400 acres of clearing and grubbing, more than 40 miles of access roads and more than 300 acres of restoration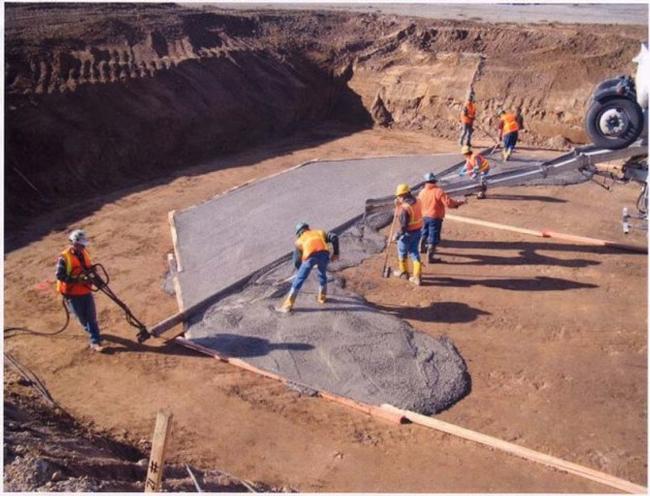 OU Spirit, OK
44 Siemens 2.3 MW Wind Turbine Generators (WTGs)
44 WTG Foundations – Spread-foot type 380+ CYD of 5000 psi concrete and structural steel, epoxy grouting of the WTG base to the foundation pedestal and tensioning/post tensioning anchor bolts
53,000 LF of Access Roads and 4 miles of County Road Upgrades
44 Engineered Crane Pads
88,500 LF of 34.5 Underground Collection System (including 44 pad mounted transformers, fiber optic system, junction boxes and Potential Discharge Testing)
138kV Substation construction and energization 7 miles of 138 kV overhead Transmission Line
80 meter Meteorological Tower
O&M Building – Including parking, storm shelter, shop and office facilities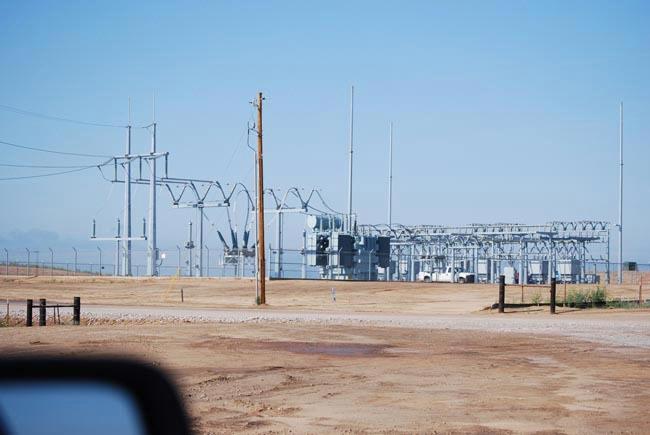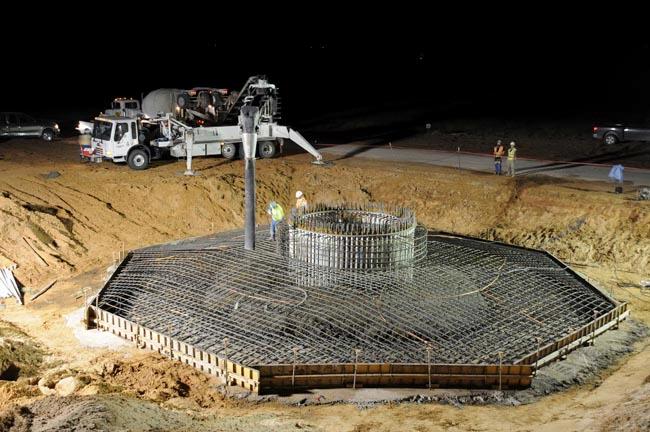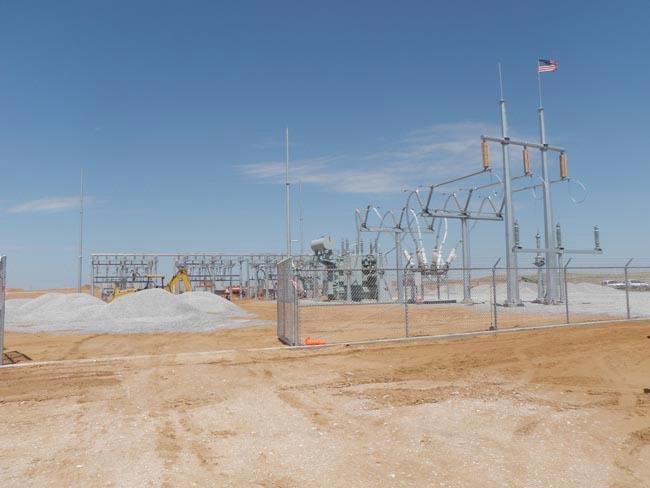 Pillar Mountain, AK
The site was located on a mountain rising 1300 vertical feet on a remote island. The existing gravel road to the top of the mountain passed near various wetlands and waterways and was too narrow and tortuous to facilitate easy access travel. The road required significant rerouting and reconstruction to accommodate transport of the long, heavy construction components and equipment to the site. The road upgrade design required careful consideration of horizontal and vertical allowable radii of curvature coupled with the steep terrain. In places the existing road could be widened and re-graded smooth, but in other locations the road alignment had to be changed to allow passage of vehicles ranging up to 170 feet in length.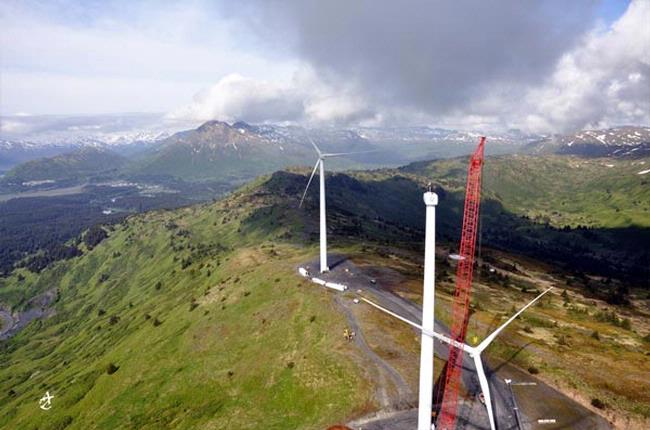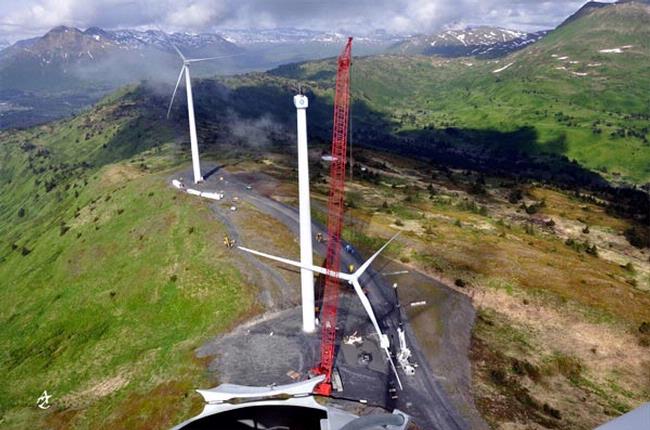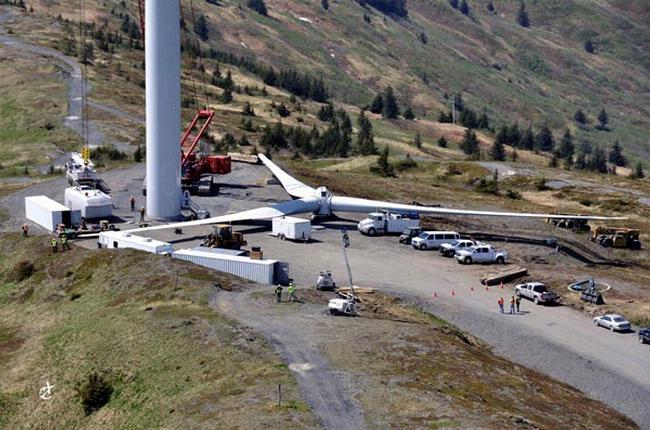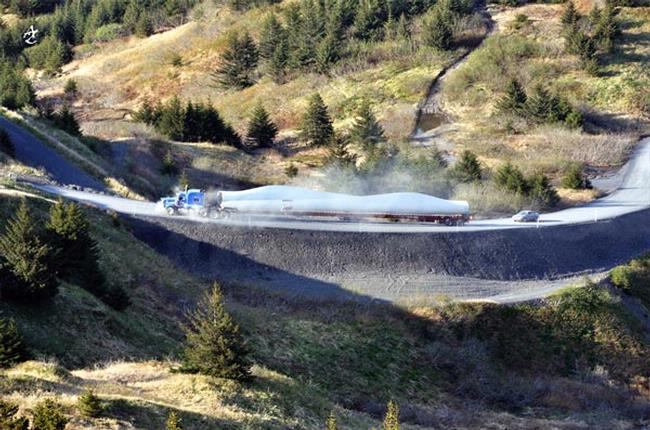 Rolling Hills, Seven Mile Hill, and Glenrock, WY
Erect and install 237 GE 1.5 MW wind turbine generators, their associated underground and overhead collection systems, and six meteorological towers
Construction of approximately 60 miles of access and site roads, laydown areas, and the modification, repair, and maintenance of all existing public roads at project boundary;
Constructed project and interconnection substation facilities, which include an office, warehouse, maintenance, and associated control buildings
Designed and constructed multiple foundations types (Spreadfooting, H-Pile, Micropile, and Deep Dynamic Compaction), structures, and building refurbishment

South Chestnut, PA
Size of foundations range up to 700 cubic yards of concrete

---
Date added:
July 8, 2012
Health
,
Massachusetts
,
Noise
•
Author: Hanning, Chris; Alves-Pereira, Mariana; Shepherd, Daniel; Hartman, Raymond; and Green, Lilli-Ann
Chris Hanning
An objective review of the evidence, using the brief provided, would have noted:
1. The large numbers of anecdotal reports and simple surveys which together provide good evidence that wind turbine noise harms health at distances currently permitted in most jurisdictions.
2. The published evidence of research examining the effects on wind turbine noise on annoyance, sleep and health. All five main studies show objective evidence of adverse effects at distances currently permitted in most jurisdictions as do a number of lesser studies.
3. The probability of sensitive receptors and the need to give them due consideration.
4. The published opinions on setback distances of a number of acousticians and researchers with considerably more experience of wind turbine noise than the panel.
5. The lack of objective evidence that wind turbine noise does not have adverse effects at distances currently permitted in most jurisdictions.
6. The lack of objective evidence behind the guidelines in many other jurisdictions.
Mariana Alves-Pereira
The Panel's charge is not an enviable one since it is nearly impossible to carry out. The health impacts on populations living in the vicinity of WT are, simply put, not documented.
Health impacts are not scientifically evaluated through questionnaires and surveys. Instead, objective clinical data are required which, in this case, do not exist.
The authorities who requested this Report (MassDEP and MDPH) will most likely not find it very useful if their priority is the health of populations living near WT. However, if other agendas exist, this Report may become relevant.
Daniel Shepherd
This report says nothing definitive about industrial wind turbine noise and health. As uch, this report is of no intrinsic value to guardians of public health.
Raymond Hartman
This DEP Report on Wind Turbine Health Impacts does NOT present the facts; it presents a contorted and fallacious summary aimed at drawing false conclusions. Indeed, the Commonwealth's ill-informed support of proposals to site industrial wind turbines under the setback and noise limits put forward by the Panel's Report will cause illness and loss of property values, impacts for which the Commonwealth may find itself liable. … If the Commonwealth wants to sacrifice the health and homes of a subset of its residents in the name of Big Wind, just say so. The guidelines proposed in the DEP Report do just that. However, the Commonwealth should keep in mind that current and continuing research into the negative health effects and lost property values caused by improper siting of industrial wind turbines will demonstrate that the Commonwealth and Big Wind are liable for ruining the health and lives of many of its citizens and destroying the values of the single most important asset of many Commonwealth families – their homes.
Attachments
The Wind Turbine Health Impact Study Is Junk Science
Moratorium initiatives in Canada, Wisconsin, Connecticut
'County commissioners approve new wind power rules' [2-mile setback, Oregon]
'Pound … pound … pound – My experience with wind turbines' – Neil Anderson, Falmouth, Mass.
Lilli-Ann Green
MA DEP released a document that is far less than honest. The DEP panel review of a small amount of literature that was cherry picked by the biased pro-wind panel of so-called 'independent experts' from the hundreds of documents that were submitted.
This 'review of literature' must not stand. From 'a to z' it is fundamentally wrong. From the first word in the report, 'independent', it is false.
---
Date added:
May 17, 2012
Massachusetts
,
Noise
•
Author: Mass. Department of Environmental Protection
Executive Summary
This report presents the results of attended sound sampling of Falmouth's Wind Turbine #1 located at the Waste Water Treatment Facility on Service Road in East Falmouth. In September, 2011 the town of Falmouth requested the Department of Environmental Protection (MassDEP) to conduct sound sampling of Falmouth's Wind #1 turbine in response to numerous noise complaints from neighbors. This sampling augments the unattended sound study conducted by the Town's consultants in the summer of 2010.
In order to quantify the impact of the turbine under the worst-case scenario operating· conditions, MassDEP technicians took samples from five separate residential locations during nighttime hours (when ambient noise is quietest). The sampling protocol was designed to try to capture sound for the "worst case" conditions in the area of Wind #1 while monitoring sound that could be directly attributable to Wind #1. This approach is typical of what MassDEP .does when conducting a sound survey for purposes of determining compliance with the MassDEP noise policy.
Over the course of four nights, MassDEP conducted sound sampling with Wind #1 operational at five residential locations close to the wind turbine. Data was also collected for background sound without turbine operations. Because the sampling was attended, the study was able to focus directly on sound from the wind turbine without interference from other sound sources.
The results of the field sampling indicate that Wind #1 exceeds 10 decibels above background sound levels during nighttime hours, which is the limit above which MassDEP considers a noise a nuisance regulated by MassDEP's noise regulation (31 0 CMR 7.1 0) and MassDEP's noise policy. The noise exceedance was found at one location under both high and low wind conditions.
Based upon the same sampling data, this report indicates that octave band analysis for pure tone is inconclusive.
Attended Sampling of Sound from Wind Turbine #1, Falmouth, MA
---