Resource Documents: Massachusetts (47 items)
Unless indicated otherwise, documents presented here are not the product of nor are they necessarily endorsed by National Wind Watch. These resource documents are shared here to assist anyone wishing to research the issue of industrial wind power and the impacts of its development. The information should be evaluated by each reader to come to their own conclusions about the many areas of debate. • The copyrights reside with the sources indicated. As part of its noncommercial effort to present the environmental, social, scientific, and economic issues of large-scale wind power development to a global audience seeking such information, National Wind Watch endeavors to observe "fair use" as provided for in section 107 of U.S. Copyright Law and similar "fair dealing" provisions of the copyright laws of other nations.
---
Date added:
November 9, 2013
Health
,
Massachusetts
,
Noise
•
Author: Schomer, Paul; and Pamidighantam, Pranav
The "Wind Turbine Health Impact Study: Report of Independent Expert Panel" study, herein the "Massachusetts study," says: "The Massachusetts Department of Environmental Protection (MassDEP) in collaboration with the Massachusetts Department of Public Health (MDPH) convened a panel of independent experts to identify any documented or potential health impacts of risks that may be associated with exposure to wind turbines, and, specifically, to facilitate discussion of wind turbines and public health based on scientific findings." It continues to say: "The scope of the Panel's effort was focused on health impacts of wind turbines per se." The Massachusetts study treats health affects broadly in accordance with WHO and includes direct health effects, annoyance, and sleep disruption. In many ways, the Massachusetts study is a critique of the literature relating to wind farm acoustic emissions and health effects. This paper is a critique of the critics. In particular, this critique examines some of the physical acoustic findings and some of the social survey findings. The Massachusetts study employed very strict standards to what they deemed to be quality, acceptable studies, and it is only fair that they be judged by their own criteria. It is the judgment of this reviewer that they failed.
J Acoust Soc Am. 2013 Nov;134(5):4096
doi: 10.1121/1.4830962
---
Date added:
October 26, 2013
Massachusetts
,
Noise
,
Regulations
•
Author: Ambrose, Stephen; and Rand, Robert
Presented at the 2nd Falmouth Conference on Human Rights, Oct. 19, 2013.
Back to the Future … This is a true story, depicted by Marty and Doc. Their mission: identify the ignored warnings in the Falmouth wind turbine studies. Only then can Marty and Doc correct significant warnings in history that opened rifts into an alternate universe, where noisy wind turbines were permitted to invade homes. The wayback clock is set to: NOV 21 2003 …
First study: November 21, 2003
Renewable Energy Research Laboratory (new name; UMass Wind Energy Center)
University of Massachusetts Department of Mechanical Engineering
Support from Massachusetts Technology Collaborative
Noise:
Massachusetts state law does not allow a rise of greater than 10 dB above existing background levels at a property boundary … due to new activities at the site. This sound level is unlikely to be reached in any case at any of the sites we examined. Furthermore, any eventual turbine will most likely be inaudible or minimally audible at the nearest residences. … Possible noise levels can be examined in more detail when a site is chosen. A baseline measurement of the ambient sound level should be measured eventually so that this study can be done.
Geez, they wrote this … with no measurements, no calculations …
Second & Third Studies: April 19, 2003, & November 2005
KEMA, Inc., & Ecology and Environment, Inc.
(now part of DNV, an international risk management company)
Support from Massachusetts Technology Collaborative
Noise Impact
While noise levels from wind turbines can easily be measured, the public's perception fo the noise impacts can also be quite subjective. This subjectivity stems largely from the wide variations of individual tolerances for noise and the inability to precisely predict corresponding reactions of annoyance and/or dissatisfaction. However, with continued advances in wind energy technology, noise produced from modern wind turbines has significantly decreased and is often masked by ambient or background noise of the wind itself. [added November: For reference, a 1 MW Fuhrlander wind tubine can be heard at 42 decibels (dBa) at a point 300 feet away and ten feet from the ground. Forty decibels is the equivalent of noise heard from inside in an urban environment.]
They're saying public noise reaction is unpredictable?
Marty, it's INCREDIBLE!! They ignored reliable methods to assess community noise reaction!
Doc, is 42 dBA true, for a 1 MW turbine at 300 feet?
NO!!
Falmouth's property line noise limit is 40 dbA.
Is Falmouth an urban environment?
No!!
"Falmouth's quietest nighttime measurement is 27 dBA. HMMH's chart identifies area as 'Quiet Rural Nighttime'" —Christopher Menge, Senior Vice President and Principal Consultant, Harris Miller Miller & Hanson, Inc., Burlington, Mass.
[Town of Falmouth Community Wind Project Feasibility Study, November 2005] The following figures estimate the maximum noise impact for a GE 1.5 MW and a GE 2.5 MW turbine. In both cases, the estimated maximum impact is about 42 to 44 dB(A) at the property line of residences to the west or the south. … Consistent with the Town Ordinance, there should not be excessive noise from the wind turbine above 40 dB(A) at the property line of the site.
There were no plans for the Mass. DEP to review Wind 1 reports.
Yikes! How could this be missed? EVERYONE who replied was CONCERNED about NOISE!
These reports were done by groups that promote wind turbines!
Marty, they're unable to admit that WIND 1 IS TOO LOUD!
Fourth study: September 2010
Harris Miller Miller & Hansen, Inc.
The study was prompted by concerns and complaints about noise from the Wind 1 turbine from a few nearby residents … and by the Town's interest in understanding the noise implications of the Wind 2 turbine in the surrounding community prior to the erection of that turbine. The purpose of this study was twofold.

The first purpose was to conduct a noise measurement program at some of the closest community locations during times when the turbine was operating and when it was turned off for maintenance, to establish background noise levels. …

The second purpose of the study was to model the noise levels int eh surrounding community that would be expected from the operation of both the Wind 1 and Wind 2 turbines.
Why measure noise levels, and then model for compliance?
Measurements should be used for compliance.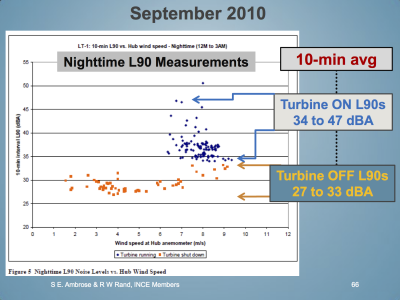 Marty! This is INCREDIBLE! Measured Wind 1 L90s are 9-10 dB higher than Mass. DEP's Lmax limit.
How'd they get a L90 37.5 dBA for background with Wind 1 OFF?
Doc, This MAKES NO SENSE!!! Model data conflicts with measurements.
What's going on? Can't anyone read, … where's the comprehension?
IMPOSSIBLE!! Don't they understand? WIND 1 IS TOO LOUD!
Fifth study: June 6, 2011
Noise Control Engineering, Inc.
Aerodynamic Amplitude Modulation (AAM) Is Important for the Evaluation of Wind Turbine Noise
Wind 1 noise levels are 9 dB above the Mass. DEP Lmax noise limit.
Sixth study: March 15, 2012
DNV KEMA Services for Managing Risk (DNV KEMA Energy & Sustainability)
Review of the Falmouth, MA, Wind-1 and Wind-2 Mitigation Report
What's going on? These are the same agencies that did the first site assessment in 2003!
[A] characterization of ambient sound levels based on only one condition understates the range of possible ambient noise levels at receptors and when problematic conditions might occur. … DNV suggests that additiional measurements be made to understand better under what conditions neighbors of the Falmouth wind turbines experience which noise levels and when state or local noise guidelines might be exceeded.
Nine years after the first study, they are still asking for more noise measurements [to understand why there are complaints]??
Seventh study: November 29, 2012
Massachusetts Department of Environmental Protection
MassDEP's sampling results conclude that during the day time period, the combined sound levels from the two wind turbines do not exceed the 10 dBA threshold established in MassDEP's Noise Policy.
Daytime makes NO SENSE! Complaints occur at NIGHT!
Download original document: "Falmouth Wind Turbine Noise Studies: Back to the Future"
---
Date added:
July 10, 2013
Health
,
Massachusetts
,
Noise
•
July 9, 2013, Joint Committee on Public Health, Boston, Massachusetts
My name is Mark McKeever and I live at 151 Driftway in Scituate, Massachusetts. The Scituate industrial size turbine sits 640 feet from my home. I wish I could say it has been a positive experience living next to the turbine, but I can't. My family's quality of life has changed and it is not for the better.
My grandmother has owned property on the Driftway since 1950s. My parents both were raised in Scituate. I have lived on the Driftway for the past 16 years. My wife has for the past 14. In 2006 we purchased a piece of land from my grandmother. In 2008 we moved into our home at 151 Driftway with our two young children. My wife and I believed the town of Scituate would be a great place for our children to grow. I have to say we don't believe that anymore.
In 2010 we were the only ones opposed to the turbine. We were alone. The industrial turbine was going to be constructed even after we expressed our concerns on numerous occasions to town officials.
The fact is since the Industrial wind turbine started operating last year we have been continually sick and our children are sick. We had no idea how massive the turbine would be next to our home. The day the turbine blades rolled into town is the day we learned it was bigger than we could have ever imagined. While others celebrated its arrival we were worried, but hopeful everything would be ok. We soon realized after it became operational it wasn't. We struggle to fall asleep. It often sounds as if a jet plane is hovering over our home. My wife has to take medication to sleep, help with anxiety and headaches.
We turned to the Scituate Board of Health for their help. We documented our sleepless nights, headaches, ringing in ears and strobe like flicker in our home. They turned their backs on us. They decided not to shut down the wind turbine. We brought a suit in December of 2012 because we felt the BOH wasn't acting fast enough to protect our children. The courts decided our appeal of the BOH decision was premature and are following the courts guidance to wait for the BOH to review all the evidence and make a final determination as to whether the industrial turbine should be shut down. However, the noise compliance testing was approved by the BOH in March and we are still waiting for it to begin.
From October through March we have experienced about of 85 hours of flicker on our property and home. The actual hours are much higher however we were not home to document on some sunny days. We believe the estimated time of expected flicker was stated to be 30 hours per year. We have certainly exceeded that number. We are not the only ones to endure shadow flicker from the turbine. As the seasons change more members of our community will be affected.
Try to imagine a strobe light it in your bedroom, living room, kitchen, bathroom and hallways. Now imagine it in all of those rooms at once. It is overwhelming. We have sent numerous videos to the board of health so they could understand the severity of the flicker. No one from the board of health or any other town official has come to our home to experience it. Watching flicker on a video is one way to experience it, but seeing it in person is awful. We have experienced headaches and dizziness. As my daughter would say on numerous occasions "It hurts". I believe it would make anyone feel glad they don't live in our home. We do not wish this upon anyone.
The flicker starts in our front yard. It then moves into our home. Within minutes it has engulfed our entire property. You can see the blades rotation in our side yard furthest away from the turbine. We have nowhere to go. We cannot have guests over during this time. Our children cannot play outside. We cannot enjoy our home. We have to leave because this strobe like flicker gives us headaches when we do stay. It is in every room.
I was recently asked why we don't use blinds to reduce the flicker. My response… Why should I have to do that? Even if we tried the strobe like flicker takes control over our entire home and yard. It is impossible to get away from no matter what we do.
Our main concern is and always has been the health of our children. We have headaches, we have ringing in our ears, we do not sleep. We are scared about how our children's continued exposure to adverse effects of the Wind turbine will affect their physical cognitive growth and development. Our children never had a history of headaches. They certainly do now. Our son on numerous occasions has felt as if he was being stabbed in in head for 30 seconds at a time. He now has to take prenative headache and sleep medication every night. Our children should not have to go to school tired. They should not be dismissed from school because they have headaches. They should not have to wait to do their homework until flicker has stopped in their home. Everyone deserves a safe environment to live in. Our children deserve it.
We as a community are unfortunate to be experiencing the effects of this industrial wind turbine. Our family is not alone anymore. We stand together as a community to protect our families from the harm that has been brought upon us. We hope our elected officials will start to understand that by placing an industrial sized turbine in a community will destroy ones quality of life. Laws need to be developed immediately to protect the health and safety of its residents.
Mark McKeever
Scituate, MA
(((( o ))))
The Alliance for Responsible Siting of Alternative Energy Installations support all forms of alternative energy as it represents an important component of the overall energy mix in this country and makes a positive contribution toward our energy security, energy supply, air quality and climate change. However, to inappropriately site these industrial wind turbines in close proximity to residential neighborhoods is dangerous and irresponsible.
In attempting to protect the health and safety of our families, neighbors, children and seniors, the Alliance for Responsible Siting of Alternative Energy Installations continues to provide accurate information and perspective on the issue of wind turbine noise, its impact on health and safety, and why traditional sound monitoring techniques are not appropriate to accurately analyze noise emanating from industrial wind turbines. People need to better understand the health impacts of the strobe effect from industrial wind turbines. And individuals need to understand that there is a direct correlation between industrial wind turbine noise and shadow flicker, and sleep deprivation and its impacts on human health.
How did we get here? We have fallen victim to legislation that provides as-of-right siting in designated locations for alternative energy generation facilities that allows communities to adopt expedited application and permit processes for as-of-right alternative energy facilities. An alternative energy development may proceed without the need for a special permit, variance, amendment, waiver, or other discretionary approval and these installations cannot be prohibited, regardless of proximity to residential areas, or the impacts on citizen's health and safety. So hypothetically, a 400 foot tall, industrial wind turbine can be sited within 650 feet of a residential home, which is outrageous. But that is exactly what has happened in the Town of Scituate, Massachusetts.
And as was the case here in Scituate, this legislation allows wind developers and their engineering supporters to proceed with these developments using modeling that grossly understates the levels of noise and strobe light generated by these industrial wind turbines. In fact, working closely with the Neighbors of the Scituate Industrial Wind Turbine, we believe that the Town of Scituate has a legitimate argument that the Special Permit has been breached, due to the misrepresented modeling utilized during permitting versus the actual noise and strobe effect being experienced by residents of this Town.
Since the summer of 2012, residents in our community have documented the negative noise and health impacts experienced since the commissioning of the industrial wind turbine and consistently submitted this evidence to the Scituate Board of Health.
In October 2012, a group of impacted neighbors of the Scituate industrial wind turbine asked for the industrial wind turbine to be shut down by the Scituate Board of Health by the middle of November, in recognition of the documented negative health related impacts to residents of the Town of Scituate since the industrial wind turbine became operational.
On November 14, 2012, the Scituate Board of Health, in lieu of making a decision to protect the health and safety of the residents that, by statute, it is obligated to protect, instead resolved to create a steering committee to develop a scope of work for a study to presumably analyze and better understand the issue.
In response to this resolution, and in consideration of the fact that the Board of Health is empowered by the Town of Scituate Charter and the Commonwealth of Massachusetts General Laws to review and take direct action on any issues of public health, the impacted neighbors of the Scituate industrial wind turbine argued during the steering committee process that this study should be a complete acoustical, strobe effect and health impact analysis that accurately reflects the noise and strobe effect intensity experienced by members of this community and its impacts on community health and safety.
Unfortunately, on January 28, 2013, the Scituate Board of Health took a different path focused not on issues of health and safety, but on allowing the Scituate industrial wind turbine operator to draft and design its own RFP to attempt to prove compliance with Massachusetts Department of Environmental noise guidelines; an absolutely astonishing decision. In lieu of protecting the health and safety of the residents that it is mandated to protect, the Scituate Board of Health has consistently chosen to protect the wind developer and their financial partners, and continues to do so today.
The impacted neighbors of the Scituate industrial wind turbine have directed numerous pieces of correspondence to the Scituate Board of Selectmen, the Scituate Board of Health and other Town Officials requesting answers to a number of outstanding issues. However, these officials continue to refuse to address questions raised in various pieces of correspondence regarding the Scituate industrial wind turbine, until such time as "the noise study is completed". With no pressure placed on the wind developer by the Town or Board of Health to conduct, let alone complete, a wind study since its approval March of this year, and with the recent lightning storm and resulting, indefinite inability to operate the Scituate Industrial Wind Turbine, impacted neighbors contine to have concerns specific to the health and safety of our families, friends and neighbors, including our children and senior citizens.
Update – Wind Study Dialogue Between the Community and Scituate Wind LLC
Since its approval in March 2013, the noise compliance testing of Scituate Wind LLC has not commenced. The Scituate community adversely affected by the operation of the industrial wind turbine has attempted to stay in close contact with Palmer Capital, its acoustical consultant Tech Environmental and members of the Scituate Board of Health to encourage a testing date and reasonable notice of same, to provide the neighbors' consultant, E-Coustics, with sufficient time to mobilize and test simultaneously with Tech Environmental.
On or about May 28th we were advised that Tech Environmental was considering Thursday night / Friday morning (May 30th and 31st) for testing. However, on the morning of May 30th we were advised that this test schedule was scrubbed because the forecast had been changed to light southwest winds of less than seven miles per hour. We were surprised at this last minute change because our own experiences, documented and presented as evidence to the Scituate Board of Health, has consistently demonstrated that these would have been optimal conditions for acoustical testing for elevated disturbances of industrial wind turbine noise output. We asked for E-Coustics opinion and here is what we believe to be true.
Many of us in the neighborhood have found that the most disruptive evenings are when there is almost a dead calm outside our windows, but the turbine still turns and we hear it distinctly while we are attempting to sleep. In fact, I am aware of a number of folks who had a very disruptive night on May 30th with these exact conditions, some of whom have already written to Mr. Deane of Palmer Capital and Scituate Board of Health Director, Jennifer Sullivan, to advise accordingly. These nighttime conditions are defined as temperature inversion, otherwise known as a stable atmosphere. The temperature inversion boundary layer disconnects the upper level winds from the surface level winds resulting in calm or very low winds at the surface and high winds at the hub (the reason the blades can still spin). From our documented experiences over the past 16 months, this would appear to be the optimum test conditions for the sort of acoustical test to be conducted by Tech Environmental and E-Coustics to determine whether or not the Scituate industrial wind turbine was in compliance.
Neighbors in this community have been very transparent in describing and documenting the conditions, which have caused them noise and strobe related problems. Tech Environmental was clearly able to predict wind speeds of seven miles per hour with winds coming from the south west, which we can now confirm, based on our experience on those evenings, were optimum acoustical testing conditions to capture elevated noise output and perhaps demonstrate that the Scituate industrial wind turbine does not comply with MassDEP noise guidelines. Yet certain stakeholders would make it appear that predicting 'optimum' test conditions is a difficult procedure and have made no effort to organize a subsequent test date, certainly not between May 31st and June 24th when the turbine was struck by lightning and rendered useless.
The events of and after the evening of June 24th are also quite interesting. Despite earlier denials by the wind developer and supporters, what we now know is that the turbine was struck by lightning at approximately 9:00 p.m. on June 24th and it has been inoperable ever since. In fact, one can see on Powerdash that this industrial wind turbine is consuming power, not producing power ever since. We wonder if there has been significant damage to the interior workings of the turbine, which may make it difficult to repair. We wonder if the already weak financial position of Lumus Construction and probably its subsidiaries makes their ability to finance these repairs difficult. We also wonder if Force Majeure allows insurance companies to avoid financially supporting this repair and we are concerned that turbine manufacturer's (Sinovel) weakened financial position and the fact that they are closing all of their North American offices puts this community in a position of significant disadvantage both financially and from the perspective of community health and safety.
As residents and taxpayers of the Town of Scituate, we have respectfully requested full transparency from Town officials, including the Scituate Board of Selectmen and The Scituate Board of Health, which has been met with a consistent refusal to address the specific areas of concern. We are entitled to the full answers to these very well considered questions and concerns.
On July 8, 2013, and in a continuing effort to protect the health and safety of families, neighbors and friends, we formally requested formal standing on the agenda for a July 2013 Board of Selectmen meeting to discuss the execution plan around the timely dismantling of the Scituate Industrial Wind Turbine.
This is the Scituate case study, indicative of the health and safety issues being experienced by communities along the South Coast, throughout the Commonwealth of Massachusetts and sadly throughout the Nation, resulting from industrial wind turbines inappropriately sited in close proximity to residential areas.
T.S. (Tom) Thompson
Executive Director
www.altenergysiting.org
---
Date added:
June 10, 2013
Health
,
Massachusetts
•
Author: Hartman, Raymond
Presented to the Zoning Board of Charlestown, Rhode Island, June 5, 2013, and to the Massachusetts Joint Committee on Public Health, July 9, 2013 —
MAJOR FLAWS OF THE HEALTH IMPACT STUDY
The Panel who authored the Study was not independent.
The Panel who authored the Study is no more expert than the many scientists whose research the Panel peremptorily dismissed.
The research design of the Panel is fatally flawed.
The Panel failed to implement the appropriate statistical methods to test for the occurrence of IWT-induced adverse health effects.
The Panel failed to use readily available and most relevant data for experimental sites in New England.
The Panel cherry picked 5 research studies and ignored countless others.
The Panel failed to fully report the findings of the limited number of articles upon which it did rely. A more complete reading of these articles reveals scientific findings of adverse health effects.
Summary:
Having carefully reviewed the Health Impact Study, I find that it fails to rise to the level of reliable scientific research. It is incomplete, biased, distorted and without scientific merit. It should not be used as the basis for public policy.
Its major flaws include the following:
The "Independent Expert Panel" convened to conduct the study was not independent. This fact alone is enough to disqualify it as a source of unbiased objective scientific opinion.
The Panel conducted NO primary research of its own, even though it identified an appropriate research methodology (a "before-and-after" dose-response model) and had many sample populations for estimating such models. The candidate sample populations
include the populations near IWTs being erected or having been erected in Massachusetts and New England generally. For a public policy decision of this magnitude, the fact that it conducted no primary research disqualifies it as a source of unbiased reliable scientific opinion.
The Panel did a simple literature review, identifying many research efforts.

It peremptorily and arbitrarily dismissed most existing research, research which contradicts the findings of the Panel. The research that was dismissed was conducted by experts as qualified, or more qualified, than the members of the Panel.
The Panel cherry-picked 5 research analyses that it deemed reliable.

Based upon this paucity of studies, the Panel came to some very strong conclusions.
However, their conclusions are contradicted by the very research they cite as reliable.

The studies they cite find adverse impacts of IWT noise upon annoyance and sleep disruption for substantial percentages of nearby populations.
The studies find IWT noise much more annoying than most other forms of industrial noise – e.g., air traffic (think Logan Airport), railroads and highways.
The studies find IWT noise more annoying and insidious because it never stops. Other industrial noises cease at the end of the day; those subjected to such other noises can recover. However, IWT noise can be worse at night and can continue all night, preventing any recovery.
To make this last point more strongly, I selectively quote (and paraphrase when necessary) from the five studies that the Panel deems reliable:
"A statistically significant dose–response relationship was found, showing a higher proportion of people reporting perception and annoyance than expected from the present dose–response relationships for transportation noise."
The percentage of the population highly annoyed increased much more rapidly before the other forms of transportation noise (even aircraft at airports) even register annoyance. "At sound category 37.5–40.0 dBA, "20% of the 40 respondents living within this exposure were very annoyed and above 40 dBA, 36% of the 25 respondents."
"Annoyance was associated with … lowered sleep quality and negative emotions" … which could "lead to hindrance of human restoration." This, together with reduced restoration possibilities may adversely affect health.
"[C]ommunity noise is an increasing environmental problem known to cause adverse health effects."
"In contemporary medicine, annoyance exists as a precise technical term describing a mental state characterized by distress and aversion, which if maintained, can lead to a deterioration of health and well-being. … For respondents who were annoyed by wind turbine noise, feelings of resignation, violation, strain, and fatigue were statistically greater than for respondents not annoyed by turbine noise. … We also observed lower sleep satisfaction in the turbine group than in the comparison group, a finding which is consistent with previous research."
Download original document: 'Critique of the Massachusetts Department of Environmental Planning (DEP) "Wind Turbine Health Impact Study, Report of Independent Expert Panel", Presented to the Zoning Board of Charlestown, Rhode Island'
Download original document: 'Critique of the Massachusetts Department of Environmental Planning (DEP) "Wind Turbine Health Impact Study, Report of Independent Expert Panel", Presented to the Massachusetts Joint Committee on Public Health'
Download original document: "Summary"
---