Resource Documents: Massachusetts (47 items)
Unless indicated otherwise, documents presented here are not the product of nor are they necessarily endorsed by National Wind Watch. These resource documents are shared here to assist anyone wishing to research the issue of industrial wind power and the impacts of its development. The information should be evaluated by each reader to come to their own conclusions about the many areas of debate. • The copyrights reside with the sources indicated. As part of its noncommercial effort to present the environmental, social, scientific, and economic issues of large-scale wind power development to a global audience seeking such information, National Wind Watch endeavors to observe "fair use" as provided for in section 107 of U.S. Copyright Law and similar "fair dealing" provisions of the copyright laws of other nations.
---
Date added:
April 18, 2014
General
,
Impacts
,
Massachusetts
,
Ordinances
•
Author: Shelburne Falls, Mass., Wind Advisory Committee
Wind Turbine Systems for Premises Use: "Any system of turbines, whether located on the building or the ground, designed primarily to generate heat or electricity for the principal home or business located on the lot; such systems may generate a limited amount of excess electricity for resale to an electrical utility provided the system is designed principally to supply the electrical needs of the home or business on the lot."
As written, the bylaw requires more detailed and specific interpretations for the Special Permitting Authority (now the Zoning Board of Appeals) to review, accept, or reject specific proposals for premises-use only wind turbine systems.
The WAC has been tasked by the PB to develop factual and educational material upon which it can draw when developing a more detailed premises use only bylaw. This Report summarizes that factual and educational material. When useful, the Report cites and paraphrases scientific research articles, research reported on web sites, investigations made by committee members and anecdotal evidence. Where useful, the Report makes recommendations to the PB, based upon the information that it has gathered and analyzed.
Date: October 7, 2013
Table of Contents
Part I. Operational and Technical Matters
Section 1: Technology – what devices are for sale now, what defines wind turbine?
Section 2: Small wind definition and efficiency studies
Section 3: Setbacks & height of wind turbines.
Section 4: Anticipated size of premises-use wind turbine systems
Part II. Impacts
Section 5: Impacts to climate, energy security, and economics
Section 6: Impacts to health (noise – infrasound, sound; flicker)
Section 7: Impacts to ecology (birds, bats)
Section 8: Visual nuisance impacts
Section 9: Safety considerations (ice, falling, blade throw, lightning etc.)
Part III. Legal considerations
Section 10: Robust ordinances – what are the elements of a good ordinance or bylaw?
Section 11: Complaint forms, how to manage subsequent problems if they arise
Section 12: Litigation that has arisen with premises-use turbines. Outcomes?
Section 13: Recommendations
Height Limit: The Wind Advisory Committee recommends that any premises-use turbine does not exceed 120 feet from grade to the tip of the blade.
Capacity: The Wind Advisory Committee recommends that the output of nameplate capacity be limited to 10 KW for residential and 30 KW for agricultural/business use.
Excess: In order to comply with the intent that the output be primarily for premises use, the Wind Advisory Committee recommends that the rated name capacity be restricted to the smallest unit available to cover the intended premises use.
Noise: The Wind Advisory Committee recommends that the noise limit of any wind turbine shall not exceed 5 dB above ambient at any lot line and the nearest inhabited residence. The ambient level shall be established by the applicant prior to the submission of an application by a protocol to be determined.
Flicker: The Wind Advisory Committee recommends that the By-law shall not allow any flicker affecting occupied buildings.
Aesthetics: The Wind Advisory Committee recommends to the Planning Board that they take visual impacts and property values considerations into account in the permitting process.
Setback: The Wind Advisory Committee recommends that the setback be double the height of the blade tip from any roadway, structure, or property line.
Certification: The Wind Advisory Committee recommends that any premises-use wind turbine must be an approved turbine on the list certified by the Small Wind Certification Council or other certification agency as approved by the State of Massachusetts.
One turbine per premise: The Wind Advisory Committee recommends that only one turbine be allowed per premises.
Download original document: "Report of the Wind Advisory Committee to the Shelburne Falls Planning Board"
---
Date added:
March 26, 2014
Health
,
Massachusetts
,
Noise
•
Author: Schomer, Paul; and Pamidighantam, Pranav
Abstract. The "Wind Turbine Health Impact Study: Report of Independent Expert Panel" study says: "The Massachusetts Department of Environmental Protection (MassDEP) in collaboration with the Massachusetts Department of Public Health (MDPH) convened a panel of independent experts to identify any documented or potential health impacts of risks that may be associated with exposure to wind turbines, and, specifically, to facilitate discussion of wind turbines and public health based on scientific findings." It continues, saying: "The scope of the Panel's effort was focused on health impacts of wind turbines per se." The Massachusetts study treats health affects broadly in accordance with WHO and includes direct health effects, annoyance, and sleep disruption. In many ways the Massachusetts study is a critique of the literature relating to wind farm acoustic emissions and health effects. This paper is a critique of the critics. In particular, this critique examines some of the physical acoustic findings and some of the social survey findings. The Massachusetts study reveals itself to have problems similar to those that it criticizes in other reports.
Presented at the 166th Meeting of the Acoustical Society of America San Francisco, California, 2–6 December 2013
Proceedings of Meetings on Acoustics 20, 040008 (2014)
Published online 26 March 2014
Download original document: "A critical analysis of: Wind turbine health impact study: report of independent expert panel"
---
Date added:
March 24, 2014
Massachusetts
,
Noise
•
Author: Ambrose, Stephen; and Rand, Robert
Notus Wind Turbine: HARM REAL – NOT HIDDEN
Initiated when operation began.
Easily Observed Symptoms:

Physical or mental damage or injury.
Impairs, hurts, devalues, weakens, etc.
Diminished enjoyment for living.
Home abandonment and financial loss.
Rejection by community members.
Question: Is There Public Harm?
Answer: Yes … Public Harm Is Real!
Where Is Harm Hiding?
Wind Shear
Wind Speed
Ambient Background
Power Output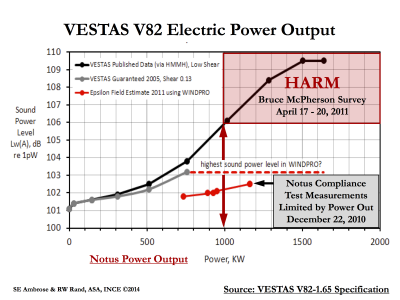 2014 – Harm is … ?
Wind Speed – Misleads
Ambient Background – Hides
Wind Shear – Exacerbates
2014 – Harm Is Power Output!
Must Test Near Full Power Output
Stephen E. Ambrose, ASA, INCE Board Certified
Robert W. Rand, ASA, INCE
Principal Consultants, Acoustics, Environmental Sound & Industrial Noise Control
March 1, 2014
Download original document: "Wind Turbine Harm: Bruce McPherson Study 2014 Epilogue"
Also see: "Bruce McPherson Infrasound and Low Frequency Noise Study"
Presented to Falmouth Zoning Board of Appeals, March 6, 2014, and submitted to MassDEP Wind Turbine and Noise Technical Advisory Group. By courtesy of Wind Wise Massachusetts.
---
Date added:
December 30, 2013
Massachusetts
,
Noise
,
Regulations
•
Author: Ambrose, Stephen; and Rand, Robert
Back to the Future II … This is a true story, depicted by Marty and Doc. Their mission: Identify the ignored warnings in the Hoosac wind turbine studies. That opened rifts into an alternate universe, where noisy wind turbines were permitted to invade homes. The wayback clock is set to: OCT 06 2003 …
First study: October 6, 2003
Special permit application for Enxco Incorporated, Hoosac Wind Project, Florida/Monroe, Mass.
Compiled by: Hill Engineers, Architects, Planners, Inc., Dalton, Mass.
Florida and Monroe are rural, so how quiet?
There are no busy roads or commercial activity. This chart shows a "Quite Rural Nighttime" at 25 dBA and even less.
Does Massachusetts have noise limits for large wind turbines?
Yes, look at the MassDEP noise policy:
Noise is a public health concern that falls withing the scope of Massachusetts Department of environmental Protectin authority as a form of regulated air pollution. …

Noise is a type of air pollution that results from sounds that cause a nuisance, are or could injure public health, or unreasonably interfere with the comfortable enjoyment of life, propert, or the conduct of business. …

A noise source will be considered to be violating the Department's noise regulation if the souce … increases the broadband sound level by more than 10 dB(A) above ambient. … These criteria are measured both at the property line and at the nearest inhabited residence. "Ambient" is defined as the background A-weighted sound level that is exceeded 90% of the time.
Will neighbors complain?
ISO has a simple table:
We need to read the report …
Results of the study indicate that the highest average noise level at an occupied residence will be 42.6 dBA. The lowest level of the eight homes in the study was 36.6 dBA.
They wrote this without knowing how quiet the area is?
Let's look at the noise data they used in appendix E.
Maximum noise level allowable for each receptor location: 55 dBA
The existing ambient noise level is 55 [or 45] dBA?
This is a BIG mistake! "Quiet Rural Nighttime" is less than 30 dBA. 55 dBA is TOO LOUD.
Second Study:
Decision on application for special permit
Town of Florida Board of Selectmen
Special Permit Conditions:
The turbines shall be operated so that sounds generated by the turbines shall not exceed 65 dBA at any property line that is not a part of the Hoosac Wind Project by more than 20 dBA at any time, or by more than 10 dBA for more than ten minutes in any hour, or at all for more than thirty minutes in any hour.
This Florida Board decision makes no sense.
A peer review by a community noise expert would have predicted "Very Strong" reaction.
Widespread Complaints!!
MassDEP recognizes this: Turbine max noise no more than 10 dB above ambient (L90).
Plus 20 dB is the HIGHEST REACTION!!!
Third Study:
Hoosac Wind sound level monitoring
Resource Systems Group
19 1.5-MW GE 1.5sle turbines: 10 on Bakke Mountain, 9 on Crum Hill
Fig. 2: Common sounds in A-weighted decibels
Quiet rural area, no wind, insects or traffic: 30 dBA
Quiet winter night, wilderness area, no insects, traffic or wind: 20 dBA
How can a "Quiet rural area" be ignored?
Increase background ambient with wind?
Measure wind noise?
Look at the Hoosac measurement pictures: Sound level meters are too close to trees.
Can wind turbine noise measurements mislead?
Yes, when the turbine is not operating normally. GE 1.5-MW turbines produce an "acoustic fingerprint", a tone at 160 Hz. Fig. 28 shows that fingerprint at 125 Hz, indicating an RPM slower than normal. Fig. 30 shows the fingerprint at 100 Hz.
How else?
Chris Kapsambelis plotted the turbine power output vs. wind speed given in the Hoosac sound study and the published GE 1.5sle data:
In comparing the recorded power output to the published power curve data, it is clear that the wind turbines were not operating normally. The power output was as much as 33% less than normal, which would mean that the sound power level was also substantially reduced.
These graphs raise questions about their noise measurements.
The maximum monitored sound levels from the wind turbines, with background subtracted, ranged from 29 dBA at Tilda Hill North to 43 dBA at Moores Road North. [no nearby residences identified]
They confirmed Hoosac turbines over 10 dB!
43 dBA is too loud by their own data tables.
Hoosac's artificially low noise levels are above the MassDEP noise limit.
Again, measurements show Hoosac is too loud! Even at lowered power output!
Download original document: "Hoosac Wind Turbine Noise Studies: Back to the Future II"
---