Resource Documents: Americas (4 items)
Documents presented here are not the product of nor are they necessarily endorsed by National Wind Watch. These resource documents are provided to assist anyone wishing to research the issue of industrial wind power and the impacts of its development. The information should be evaluated by each reader to come to their own conclusions about the many areas of debate.
---
Author: Mele, Christopher
A persistent noise of unknown origin, sometimes compared to a truck idling or distant thunder, has bedeviled a Canadian city for years, damaging people's health and quality of life, numerous residents say.
Those who hear it have compared it to a fleet of diesel engines idling next to your home or the pulsation of a subwoofer at a concert. Others report it rattling their windows and spooking their pets.
Known as the Windsor Hum, this sound in Windsor, Ontario, near Detroit, is unpredictable in its duration, timing and intensity, making it all the more maddening for those affected.
"You know how you hear of people who have gone out to secluded places to get away from certain sounds or noises and the like?" Sabrina Wiese posted in a private Facebook group dedicated to finding the source of the noise.
"I've wanted to do that many times in the past year or so because it has gotten so bad," she wrote. "Imagine having to flee all you know and love just to have a chance to hear nothing humming in your head for hours on end."
Since reports of it surfaced in 2011, the hum has been studied by the Canadian government, the University of Western Ontario and the University of Windsor.
Activists have done their own sleuthing.
Over six years, Mike Provost of Windsor, who helps run the Facebook page, has amassed more than 4,000 pages of daily observations about the duration, intensity and characteristics of the sound and the weather conditions at the time.
He has had to fend off skeptics and theorists who believe that the hum is related to secret tunneling, U.F.O.s or covert government operations, he said.
Mr. Provost, a retired insurance salesman, said his work was a blend of obsession and hobby. "I've got to keep going," he said in a phone interview. "I'm not going to quit this."
The hum is not limited to Windsor, a city of about 220,000 people on the Detroit River. Mr. Provost said he had received reports from McGregor, Ontario, 20 miles to the south, and from east of Cleveland, about 90 miles away.
Tracey Ramsey, a member of the Canadian House of Commons, said in a phone interview that she regularly gets calls from constituents about the health effects of the hum. Residents have complained of headaches, sleeplessness, irritability and depression, among other symptoms.
"It's something they are desperate for an answer to," she said.
Tracing the noise's origins is complicated by who hears it, and when and where.
Tim Carpenter, a retired consulting engineer who specialized in geotechnical engineering and machine vibrations and is an administrator of the Facebook page, says not everyone can hear it.
"It's as if you had a fire hose moving back and forth and the people who have the water falling on them hear the noise, and if you're outside that stream, you don't hear the noise," he said.
Researchers have found no trends related to gender or age for the "hearers."
Dr. Darius Kohan, the director of otology and neurotology at Lenox Hill Hospital and Manhattan Eye, Ear and Throat Hospital, said that the low-frequency hum was unlikely to cause long-term hearing damage but that it could be as debilitating as tinnitus, a persistent ringing in the ears.
Scott Barton, an assistant professor of music at Worcester Polytechnic Institute in Massachusetts, said in a phone interview that infrasound, which is below 20 hertz, can create a sense of unease because it is unintelligible to human hearing but still detectable. While it is possible to be accustomed to certain noises (the hum of an air-conditioner, for example), this low-frequency noise is challenging because it has been so inconsistent, he said.
Seeking intervention by government regulators for the hum is difficult because regulations typically address decibel levels that can lead to hearing loss or damage, not those that can affect quality of life, Rebecca Smith, a sound engineer and doctoral student at the University of Michigan in Ann Arbor, who researches urban noise, wrote in an email.
"Think about the sound of a dog barking," she said. "It doesn't need to be loud enough to physically damage you to be really annoying and distracting."
The University of Windsor report said the hum's likely source was blast furnace operations on Zug Island on the Detroit River, which is densely packed with manufacturing. Activists complained that United States Steel, which operates the furnaces, has been uncooperative and secretive. A company spokeswoman did not respond to requests for comment.
A principal investigator on the study, Professor Colin Novak, told CBC News in 2014 that researchers needed more time and cooperation from the American authorities to pinpoint the source. "It's like chasing a ghost," he said.
Hums similar to Windsor's have been reported in at least a dozen communities worldwide, including in Australia, England and Scotland, the study said. In the United States, high-profile hums have been reported in Taos, N.M., and Kokomo, Ind.
Researchers studied the Taos hum in 1993 but did not pinpoint a source. Karina Armijo, the town's director of marketing and tourism, said in a telephone interview that complaints had subsided.
"I have never heard the Taos hum, but I've heard stories of the Taos hum," she said. "There's not been a lot of buzz about it in the last few years."
A 2003 study in Kokomo by the acoustics and vibration consulting company Acentech prompted two industrial plants to install silencing equipment, providing relief to some residents but not all, a 2008 paper about the study said.
"In fact, one affected resident had become so disturbed that she moved more than 700 miles away to relieve her symptoms," it said.
Mr. Carpenter said it was possible a major source of the Windsor hum could be eliminated and other mechanical sources would replace it, entering the "heard spectrum."
"It's possible that no matter what is done to relieve or attenuate the noise, it might never be enough," he said.
—Christopher Meele, New York Times, Feb. 19, 2018
[NWW note: This story is reproduced here because the complaints are the same that many neighbors of large wind turbines make, and here they – as well as the physiologic effects of infrasound and low-frequency noise and the intrusive nature of pulsing noise (amplitude modulation), even at relatively low levels – are taken seriously. It might also be noted that across Lake St. Clair from Windsor there are hundreds of large wind turbines.]
---
Date added:
November 22, 2017
Aesthetics
,
Environment
,
New Hampshire
,
Photos
,
Videos
•
Author: Hemmel, William
Photos by William Hemmel, Aerial Photo NH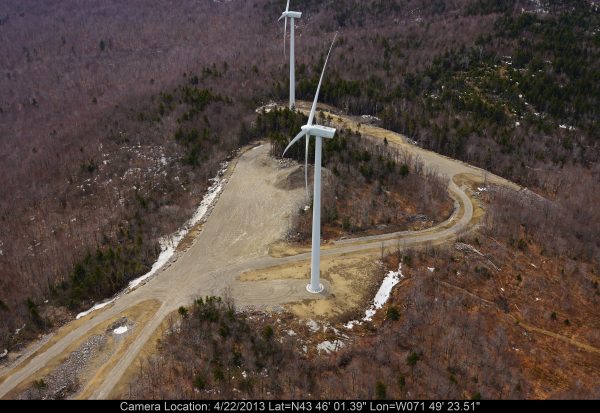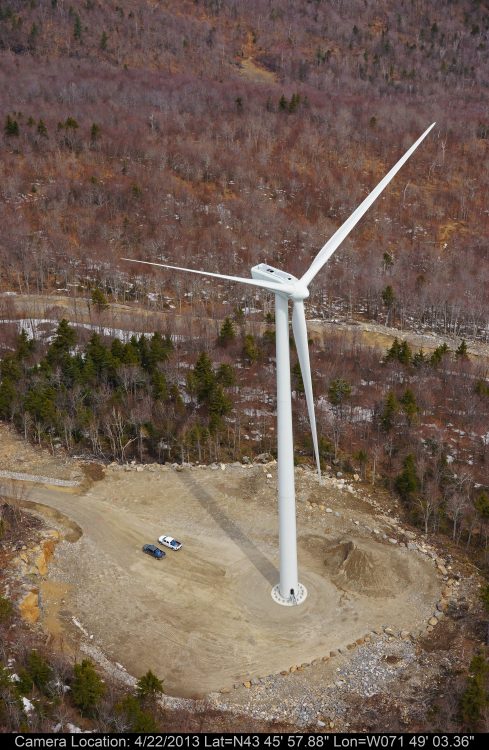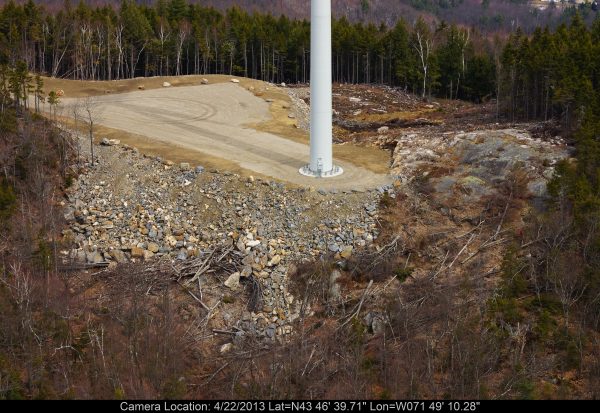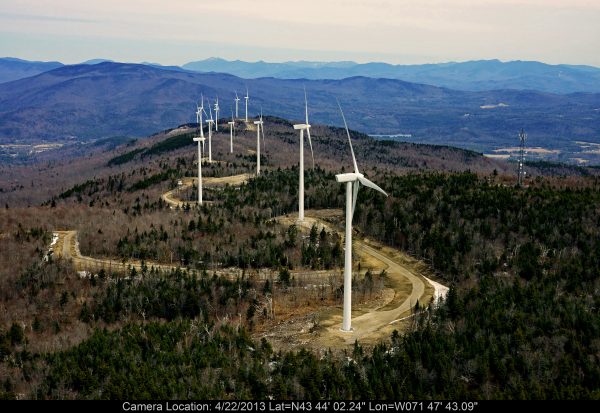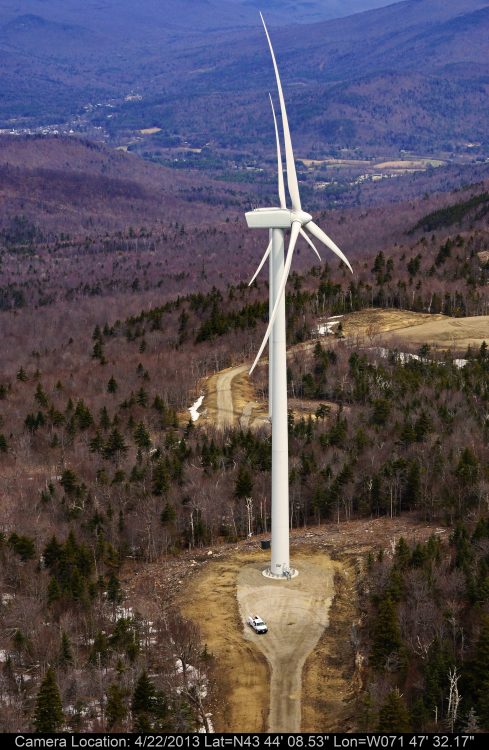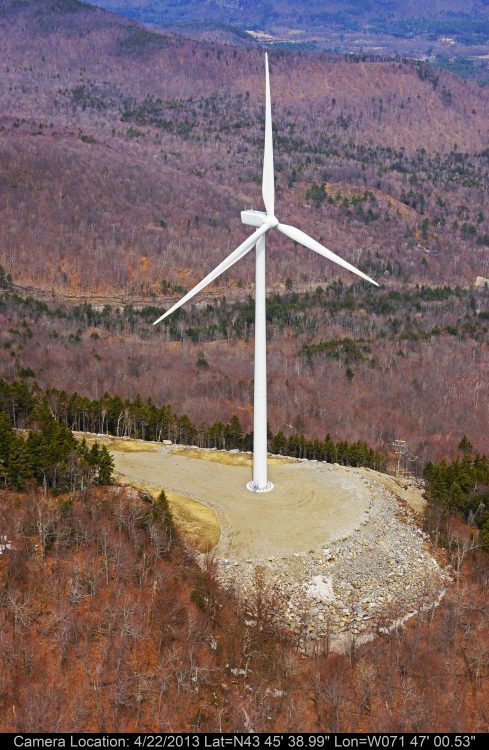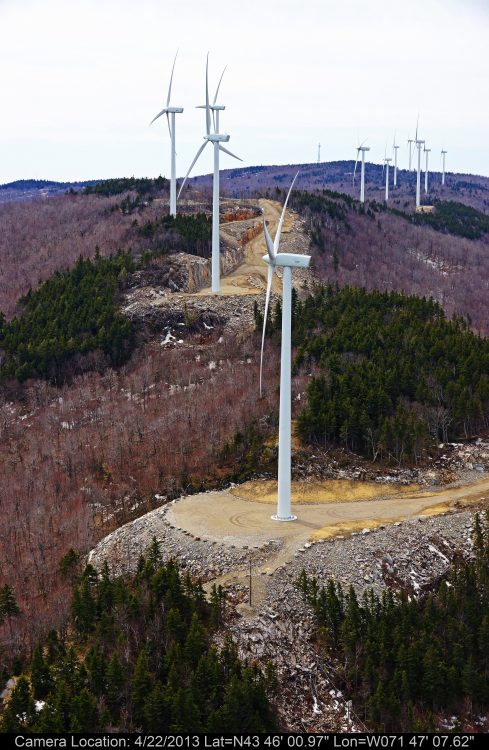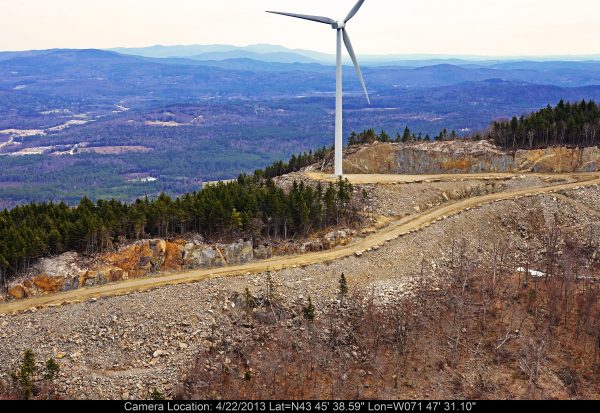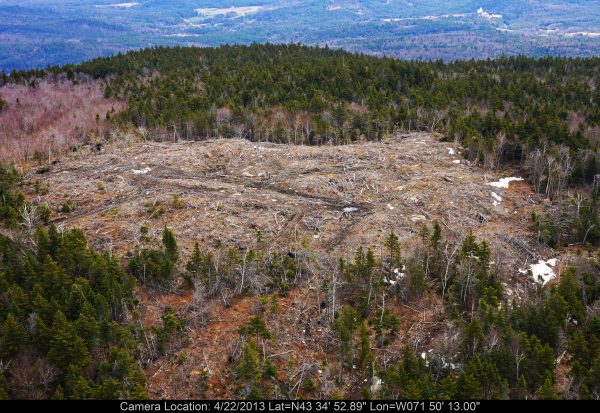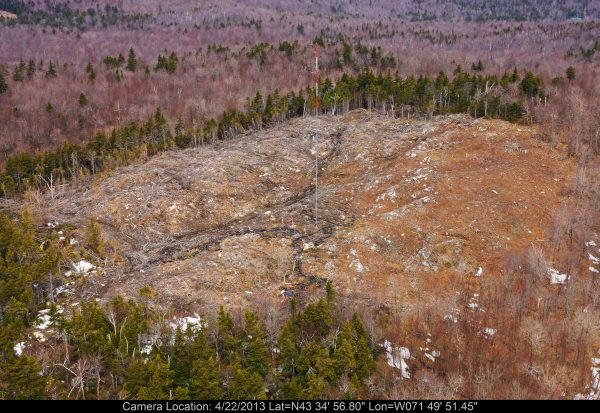 ---
Author: Hammerson, Geoffrey; et al.
Abstract —
Conservationists are increasingly concerned about North American bats due to the arrival and spread of the White-nose Syndrome (WNS) disease and mortality associated with wind turbine strikes. To place these novel threats in context for a group of mammals that provides important ecosystem services, we performed the first comprehensive conservation status assessment focusing exclusively on the 45 species occurring in North America north of Mexico. Although most North American bats have large range sizes and large populations, as of 2015, 18–31% of the species were at risk (categorized as having vulnerable, imperiled, or critically imperiled NatureServe conservation statuses) and therefore among the most imperiled terrestrial vertebrates on the continent [emphasis added]. Species richness is greatest in the Southwest, but at-risk species were more concentrated in the East, and northern faunas had the highest proportion of at-risk species. Most ecological traits considered, including those characterizing body size, roosting habits, migratory behavior, range size, home range size, population density, and tendency to hibernate, were not strongly associated with conservation status. However, nectarivorous bats tended to be more at risk. The conservation status of bats improved from 1985 to 2000 as human disturbances to roosting sites were reduced, but then declined sharply (7%) by 2015 due principally to threats from WNS and wind energy. Although uncertainty about threats from pollution and climate change remain, past experience shows that when threats are clearly identified and management actions taken, populations can recover.
G.A. Hammerson, NatureServe, Port Townsend, Washington
M. Kling, Dept. of Integrative Biology, University of California, Berkeley, California
M. Harkness, NatureServe, Boulder, Colorado
M. Ormes, NatureServe, c/o Biology Department, University of Massachusetts, Boston, Massachusetts
B.E. Young, NatureServe, Escazu, Costa Rica
Biological Conservation, Volume 212, Part A, August 2017, Pages 144-152
doi: 10.1016/j.biocon.2017.05.025
Download original document: "Strong geographic and temporal patterns in conservation status of North American bats"
---
Date added:
November 6, 2017
Law
,
Michigan
,
Noise
,
Ordinances
•
Author: Ludington, Thomas
On February 15, 2017, Plaintiff Tuscola Wind III, LLC, ("Tuscola") filed a complaint naming the Almer Charter Township and that Township's Board of Trustees as Defendants. Count One of the Complaint is the "Claim of Appeal." Tuscola Wind's claims arise out of Defendants' denial of a Special Land Use Permit ("SLUP") that would have permitted Tuscola Wind to construct the "Tuscola III Wind Energy Center" in Tuscola County, Michigan. Oral argument on the claim of appeal was held on October 5, 2017. For the following reasons, the Board of Trustee's denial of the SLUP will be affirmed. …
The Zoning Ordinance addresses noise emissions from the turbines:
Noise emissions from the operations of a [Wind Energy Conversion System] shall not exceed forty-five (45) decibels on the dBA scale as measured at the nearest property line of a non-participating property owner or road. A baseline noise emission study of the proposed site and impact upon all areas within one mile of the proposed WECS location must be done (at the applicant's cost) prior to any placement of a WECS and submitted to the Township. The applicant must also provide estimated noise levels to property lines at the time of a Special Use application.
Similarly, "[a]ll efforts shall be made not to affect any resident with any strobe effect or shadow flicker." And the Zoning Ordinance provides the general admonishment that "[t]he wind energy conversion system shall not be unreasonably injurious to the public health and safety or to the health and safety of occupants of nearby properties."
On September 23, 2016, Tuscola submitted its SLUP application to the Almer Township Planning Commission. …
To assist in its consideration of the application, the Township retained the Spicer Group, Inc., an engineering consulting firm. On October 25, 2016, the Spicer Group sent Tuscola an email requesting clarification and/or additional information regarding several aspects of the application. Three of the Spicer Group's concerns are relevant. First, Spicer questioned several aspects of the sound emissions report, including how Tuscola chose the 1-hour LEQ as the proper metric. The Spicer Group further asked when Tuscola would be submitting an economic impact study, indicating concern that "the property value information provided on pages 10 through 11 of the TW3 SUP Application is not local and not pertinent to Almer Township." Finally, the Spicer Group indicated that Tuscola's proposal to place the power lines above the ground did not conform with the Zoning Ordinance requirement that all electrical connection systems and lines from a wind farm be placed underground. The Spicer Group acknowledged that the Planning Commission has discretion to waive that requirement, but suggested that Tuscola had not yet sought that waiver.
Tuscola responded to the Spicer Group's inquiries on October 31, 2016. …
On November 8, 2016, the Spicer Group submitted a report to the Planning Commission analyzing Tuscola's SLUP application. In the report, the Spicer Group concluded that Tuscola had complied with many, indeed most, of the Zoning Ordinance's requirements. But the Spicer Group did identify a number of outstanding issues. …
On November 10, 2016, the Planning Commission held a public hearing to discuss the SLUP application. At the hearing, a representative from Tuscola discussed the project. … For the rest of the hearing, members of the community expressed their opinions on the proposals. Most speakers communicated objections to various aspects of the application (if not the project as a whole), but some expressed support for the wind energy project. Two sound engineers testified at the hearing. The first engineer, Rick James, is an employee of e-Coustic Solutions and was hired by concerned citizens. First, Mr. James opined that Tuscola's noise emissions report likely understated the dBA level at several property lines. Second, Mr. James challenged Tuscola's assertion that the noise emissions provision in the Zoning Ordinance allowed for an averaged sound level measurement, as opposed to a maximum level: "[T]he words are very explicit, they say, 'Shall not exceed 45 dBA.' When you read law you can't read into it when the words aren't there. It doesn't say 45 dBA Leq, it does not say 45 dBA average, it says not exceed 45 dBA." Id. at 109. Ms. Kerrie Standlee, the principle engineer for Acoustics by Design [Acoustics by Design was retained by the Township to assist in reviewing the application], also testified. Ms. Standlee concurred with Mr. James's interpretation of the ordinance:
[T]he limit is stated in there that the level shall not exceed 45 dBA. It doesn't give any descriptor, is it supposed to be the Lmax or – and as was mentioned, an L90 or an L10 at 50, an Leq, it doesn't specify. Mr. James is correct in that when something is not specified, you take the normal interpretation, which would be Lmax. I'm with – I'm on the City of Portland Noise Review Board and we have an Lmax standard. It's not specified as the Lmax it's just – like yours it says it shall not exceed this level. And that is an absolute level, not – not an equivalent energy level.
Ultimately, the Planning Commission concluded that additional information was necessary before the SLUP application could be ruled upon. …
The day after the public hearing, Tuscola sent the Planning Commission a response addressing several of the concerns raised by the Spicer Group. …
Several days later, Tuscola sent another communication to the Planning Commission further addressing several of the issues identified by the Spicer Group. …
On November 17, 2016, the Almer Township Board approved a "Wind Energy Conversion Systems Moratorium Ordinance." … Thus, the Board enacted a
moratorium, on a temporary basis, on the establishment, placement, construction, enlargement, and/or erection of Wind Energy Conversion Systems within the Township and on the issuance of any and all permits, licenses or approvals for any property subject to the Township's Zoning Ordinance for the establishment or use of Wind Energy Conversion Systems. … [T]his Ordinance shall apply to any applications pending before any Township board or commission, including the Township Board, Planning Commission or Zoning Board of Appeals.
… On December 7, 2016, the Planning Commission held a second public hearing. … In large part, the Tuscola representative summarized the company's November 15, 2016, submission to the Planning Commission. … The Planning Commission discussed the outstanding issues, and … [t]he Township's attorney summarized the requested information as follows: "[Y]ou want to request information from NextEra on property values, noise, sound models based on Lmax and if there is the justification you just referenced regarding the cost estimate on the decommissioning of the individual towers."
On December 22, 2016, Tuscola provided the supplemental information which the Planning Commission had requested. … On December 29, 2016, the Spicer Group responded to Tuscola's supplemental memorandum. … On January 3, 2017, Tuscola's representative sent a letter to the Planning Commission addressing the Spicer Group's memorandum. …
On January 4, 2017, the Planning Commission held its third and final public hearing on the SLUP application. … Planning Commission member Daniels moved to recommend denial of the SLUP application. … He asserted that "[t]he ordinance does not allow for the averaging varying levels of sound. We, as a Planning Commission, are not here to rewrite the ordinance, but to enforce the ordinance as written. And it mandates a maximum sound level of 45 decibels." …
Ultimately, the Planning Commission voted 3 to 1 to recommend denial of the SLUP application (two members did not vote because of a conflict of interest).
On January 17, 2017, the Almer Township Board held a public meeting to review the Planning Commission's recommendation regarding the SLUP application. … The Board simultaneously issued a Resolution articulating its rationale for denying the SLUP application. In the Resolution, the Board identified five areas in which the SLUP application did not comply with the Zoning Ordinance. … Finally, the Board noted that it had previously approved a moratorium on wind energy projects in the Township and thus was precluded from approving the SLUP application even if it had complied with the Zoning Ordinance. …
---
Tuscola argues each of the Board's purported reasons for denying the SLUP application were contrary to Michigan law and not supported by substantial evidence. Tuscola further argues that the Board did not have the authority to enact a moratorium on wind energy projects in the did not appeal from a final decision of the Township. For its part, the Township argues that Tuscola's appeal is not ripe because the company did not appeal from a final decision of the Township. Next, the Township argues that each of the Board's expressed reasons for denying the SLUP application were reasonable and permitted by law. And, finally, the Township argues that the temporary moratorium on wind energy project permits was valid. …
A. The denial of the SLUP application is ripe for review.
(Although the moratorium on wind energy projects was enacted after Tuscola's SLUP application was submitted (but before it was rejected), the Planning Commission and Township Board proceeded to consider the SLUP application on its merits. At most, the Township Board relied upon the moratorium as an alternative (and secondary) basis for denying the SLUP application. Because the Board's denial of the application was supported by substantial evidence and was not contrary to law, the legitimacy of the moratorium need not be resolved.)
B. Michigan Courts have repeatedly confirmed that courts should defer to municipal interpretations of zoning ordinances. … Thus, this Court does not sit in de novo review of the Zoning Ordinance provision regarding noise emission levels (assuming that the ordinance is ambiguous). Rather, the question is whether the Township Board's interpretation of the ordinance was "reasonable." … The "[s]hall not exceed" language in § 1522(C)(14) is facially indistinguishable from a Lmax standard. … Even if the Court were to conclude that § 1522(C)(14) is ambiguous regarding how to measure sound emissions (and not just ambiguous regarding the length of time over which to measure them), Tuscola's argument still falls short. …
Tuscola's final argument regarding § 1522(C)(14) is that the Township Board's interpretation would result in exclusionary zoning,* which is prohibited by Michigan law. Specifically, Tuscola argues that "[u]sing an Lmax metric would make development of commercial wind energy in the Township impossible because a single wind turbine could not be sited within at least a half-mile of a nonparticipating line." This conclusory argument has no merit. Under Michigan, "a zoning ordinance may not totally exclude a land use where (1) there is a demonstrated need for that land use in the township or surrounding area, (2) the use is appropriate for the location, and (3) the use is lawful." Even assuming that the Township Board's interpretation of the ordinance completely excludes wind energy development in the Township, Tuscola cannot prevail.
(*And that assumption is questionable. Tuscola asserts that application of an Lmax standard would prevent the company from siting a turbine within 2,775 feet from a nonparticipating property line. See Dec. 22, 2016, Supp. Info. at 1. Thus, Tuscola would be forced to reach agreements with a significantly larger number of property owners in order to build the turbines as currently planned. But it seems plausible that Tuscola might be able to enter into more land use contracts with property owners and/or site a fewer number of turbines in Almer Township. Both of those alternatives would undoubtedly impact the profitability of the project, but Tuscola has not demonstrated that it is entitled to deferential or economically favorable conditions. Perhaps application of an Lmax standard creates such an economic hardship that it constitutes de facto exclusionary zoning. But Tuscola's conclusory briefing on this point falls far short of showing that to be true.)
Tuscola has made no attempt to show that there is a "demonstrated public need" for wind turbines in Almer Township, and the Court cannot comprehend why such a need would exist. "Presumably any entrepreneur seeking to use land for a particular purpose does so because of its perception that a demand exists for that use. To equate such a self-serving demand analysis with the 'demonstrated need' required by the statute would render that language mere surplusage or nugatory, in contravention of usual principles of construction." Outdoor Sys., Inc. v. City of Clawson. Further, "the public need must be more than mere convenience to the residents of the community." DF Land Dev., LLC v. Charter Twp. of Ann Arbor.
Wind turbines produce energy, which is, of course, needed by the Almer Township community. But Tuscola cannot reasonably argue that the Township will have inadequate access to energy absent the wind energy project. The Michigan Court of Appeals has explained that, to show demonstrated public need, the plaintiff must do more than show that "residents of the township would benefit from" the excluded use. Tuscola has not carried that burden here.
C. The Township Board reasonably interpreted its Zoning Ordinance and, under that reasonable interpretation, Tuscola was undisputedly in noncompliance with the Zoning Ordinance. Because at least one of the bases on which the Board premised its denial was lawful, the remaining four bases need not be examined. The Township Board's denial will be affirmed.
Accordingly, it is ORDERED that Defendant Almer Township Board's denial of Plaintiff Tuscola Wind III, LLC's, SLUP application is AFFIRMED.
Dated: November 3, 2017
THOMAS L. LUDINGTON
United States District Judge
Case No. 17-cv-10497
United States District Court
Eastern District of Michigan
Northern Division
Download original document: "Tuscola Wind III, LLC,, Plaintiffs, v Almer Charter Township, et al, Defendants"
---