Author: Meyer, Gerry | Health, Noise, Photos, Wisconsin
Translate: FROM English | TO English
Translate: FROM English | TO English
Entries of a noise log kept by a Brownsville family who live 3/4 mile east of South Byron in Fond Du Lac County, Wisconsin. The new wind turbines had just gone on line there.
Download original document: "Brownsville noise log, March 3 to October 20, 2008"
Download original document: "Turbine Layout Map, Brownsville, Wis."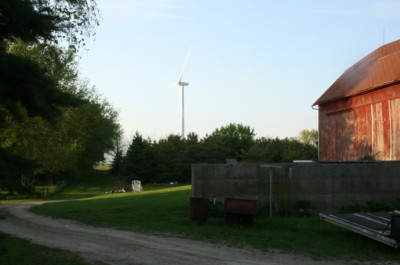 This material is the work of the author(s) indicated. Any opinions expressed in it are not necessarily those of National Wind Watch.

The copyright of this material resides with the author(s). As part of its noncommercial educational effort to present the environmental, social, scientific, and economic issues of large-scale wind power development to a global audience seeking such information, National Wind Watch endeavors to observe "fair use" as provided for in section 107 of U.S. Copyright Law and similar "fair dealing" provisions of the copyright laws of other nations. Queries e-mail.
Share:
Tags: Wind power, Wind energy