Resource Documents: Videos (61 items)
Documents presented here are not the product of nor are they necessarily endorsed by National Wind Watch. These resource documents are provided to assist anyone wishing to research the issue of industrial wind power and the impacts of its development. The information should be evaluated by each reader to come to their own conclusions about the many areas of debate.
---
Author: Cryan, Paul; et al.
Significance:
Bats are dying in unprecedented numbers at wind turbines, but causes of their susceptibility are unknown. Fatalities peak during low-wind conditions in late summer and autumn and primarily involve species that evolved to roost in trees. Common behaviors of "tree bats" might put them at risk, yet the difficulty of observing high-flying nocturnal animals has limited our understanding of their behaviors around tall structures. We used thermal surveillance cameras for, to our knowledge, the first time to observe behaviors of bats at experimentally manipulated wind turbines over several months. We discovered previously undescribed patterns in the ways bats approach and interact with turbines, suggesting behaviors that evolved at tall trees might be the reason why many bats die at wind turbines.
Abstract:
Wind turbines are causing unprecedented numbers of bat fatalities. Many fatalities involve tree-roosting bats, but reasons for this higher susceptibility remain unknown. To better understand behaviors associated with risk, we monitored bats at three experimentally manipulated wind turbines in Indiana, United States, from July 29 to October 1, 2012, using thermal cameras and other methods. We observed bats on 993 occasions and saw many behaviors, including close approaches, flight loops and dives, hovering, and chases. Most bats altered course toward turbines during observation. Based on these new observations, we tested the hypotheses that wind speed and blade rotation speed influenced the way that bats interacted with turbines. We found that bats were detected more frequently at lower wind speeds and typically approached turbines on the leeward (downwind) side. The proportion of leeward approaches increased with wind speed when blades were prevented from turning, yet decreased when blades could turn. Bats were observed more frequently at turbines on moonlit nights. Taken together, these observations suggest that bats may orient toward turbines by sensing air currents and using vision, and that air turbulence caused by fast-moving blades creates conditions that are less attractive to bats passing in close proximity. Tree bats may respond to streams of air flowing downwind from trees at night while searching for roosts, conspecifics, and nocturnal insect prey that could accumulate in such flows. Fatalities of tree bats at turbines may be the consequence of behaviors that evolved to provide selective advantages when elicited by tall trees, but are now maladaptive when elicited by wind turbines.
Paul. M. Cryan
Fort Collins Science Center, United States Geological Survey (USGS), Fort Collins, CO
P. Marcos Gorresen
Hawaii Cooperative Studies Unit, University of Hawaii, Hilo, HI
Cris D. Hein
Michael R. Schirmacher
Bat Conservation International, Austin, TX
Robert H. Diehl
Northern Rocky Mountain Science Center, USGS, Bozeman, MT
Manuela M. Huso
Forest and Rangeland Ecosystem Science Center, USGS, Corvallis, OR
David T. S. Hayman
Department of Biology, Colorado State University, Fort Collins, CO
Department of Biology, University of Florida, Gainesville, FL
Paul D. Fricker
MathWorks, Natick, MA
Frank J. Bonaccorso
Pacific Island Ecosystems Research Center, USGS, Hawaii National Park, HI
Douglas H. Johnson
Northern Prairie Wildlife Research Center, USGS, Saint Paul, MN
Kevin Heist
Conservation Biology Graduate Program, University of Minnesota, Saint Paul, MN 55108
David C. Dalton
Wildlife Engineering, Tucson, AZ 85745
PNAS (Proceedings of the National Academy of Sciences of the United States of America) 2014; published ahead of print September 29, 2014; doi: 10.1073/pnas.1406672111
Download original document: "Behavior of bats at wind turbines"
Download "Supporting Information"

Movie S1. Bat making a single directed approach toward a turbine before changing course and flying away at ∼0530 hours on September 9, 2012. Blade rotation 14 rpm, wind out of the southwest (225°) at 4.4 m/s, and 44% moon illumination.

Movie S2. Bat making repeated looping approaches to leeward side of wind turbine at ∼0109 hours on August 29, 2012. Blade rotation <1 rpm, wind out of the east-northeast (58°) at 5.4 m/s, and 93% moon illumination.
Movie S3. A hoary bat (Lasiurus cinereus; identified acoustically) air-brakes, hovers, and then makes repeated approaches after flying downwind past a wind turbine with curtailed blades at ∼0100 hours on August 25, 2012. Blade rotation <1 rpm, wind out of the southeast (131°) at 7.2 m/s, and no moon illumination.
Movie S4. Near-infrared, close-up video of a bat closely approaching and investigating the upper parts of a turbine at ∼0430 hours on September 19, 2013. Blade rotation <1 rpm, wind out of the west-southwest (257°) at 2.7 m/s, and no moon illumination.
Movie S5. Bat making repeated close approaches to a turbine monopole at ∼2150 hours on August 19, 2012. No blade rotation, wind out of the north-northwest (330°) at 0.4 m/s, and no moon illumination.

Movie S6. Near-infrared, close-up video of a bat closely following a slow moving turbine blade (shadowed on far side of monopole) at ∼0240 hours on July 19, 2013 (before monitoring with thermal cameras began). Blade rotation <1 rpm, wind out of the east-northeast (70°) at 7.5 m/s, and no moon illumination.
Movie S7. Two bats chasing each other near wind turbine at ∼2320 hours on August 5, 2012. No blade rotation, wind out of the north-northwest (321°) at 4.6 m/s, and no moon illumination.

Movie S8. Bat repeatedly returning to turbine after close encounters with spinning blades at ∼0150 hours on August 22, 2012. Blade rotation 14 rpm, wind out of the east (93°) at 8.0 m/s, and no moon illumination.

Movie S9. Bat exhibiting serpentine flight in lee of wind turbine monopole and blades at ∼0500 hours on September 29, 2012. No blade rotation, wind out of the northeast (315°) at 5.8 m/s, and 96% moon illumination.

Movie S10. Two hoary bats (Lasiurus cinereus) interacting in midair on the leeward side of a wind turbine at ∼0200 hours on August 25, 2012. The species identification was made from concurrent acoustic calls recorded from the turbine nacelle, in which navigation and social calls characteristic of this species were heard during the close midair approaches. No blade rotation, wind out of the south-southeast (157°) at 8.3 m/s, and no moon illumination.

Movie S11. Bat flying upwind to investigate leeward areas of a wind turbine with blades rotating at full speed at ∼0350 hours on July 31, 2012. Bat makes several upwind passes through the moving blades of the turbine without clear indication that it perceives and avoids the fast-moving blades before moving through their plane of motion. Blade rotation speed 14 rpm, wind out of the southwest (228°) at 7.2 m/s, and 95% moon illumination.

Movie S12. Bat flying upwind toward moving turbine blades at ∼0600 hours on August 17, 2012 and repeatedly returning to investigate after close encounters with blades. Blade rotation speed 14 rpm, wind out of the north-northwest (324°) at 7.6 m/s, and no moon illumination.

---
Author: Various
On Tuesday 7 June 2011 NHMRC [National Health and Medical Research Council, Australia] conducted a scientific forum on the possible health effects of wind turbines. The forum provided an opportunity for NHMRC to hear the latest international scientific evidence and to engage with stakeholders over the range of issues for which there is public concern.
Panel One: current evidence on health impacts
Professor Geoffrey Leventhall
Professor Mariana Alves-Pereira

Download presentation (PDF): Wind Farms and Human Health – Geoff Leventhall
Download presentation (PDF): Low Frequency Noise and Health Effects – Mariana Alves-Pereira
Panel Two
Dr Bob Thorne – human perception and infrasound
Dr Simon Chapman – psycho-social factors

Download presentation (PDF): Wind Farm Noise : Assessment and Management – Bob Thorne
Download presentation (DOC): Psycho-social mediators of reported annoyance and putative health-related symptoms associated with wind turbines: a discussion starter – Simon Chapman
Panel Three: personal stories
Dr Sarah Laurie (Chair)
Ms Bernie Janssen
Mr Donald Thomas
Mr David Page

---
Author: Madigan, John
Tonight I rise to speak on the relationship between a community and their doctors and how that relationship has been bastardised. But first I will give the chamber some background. In January 2012, researchers at the renowned Stanford School of Medicine published a report that found tobacco companies had conducted a carefully crafted, decades-long campaign to manipulate throat doctors. The aim was to calm concerns among an increasingly worried public that smoking might be bad for their health.
The campaign by the tobacco industry, beginning in the 1920s, continued for over half a century. I repeat, it continued for more than 50 years. Tobacco companies successfully influenced physicians to not only promote the notion that smoking was healthy but actually to recommend it as a treatment for throat irritation. The tobacco industry did this by schmoozing doctors and by bribing them, and for a long period of time it was a widespread and successful campaign. So it is clear that the medical profession is not immune to outside pressure, to financial inducements, and to the lure of research grants and corporate donations. It happens, it is real and it impacts members of our community in devastating ways.
Australia is not exempt from this. A 2006 University of NSW paper by Susan Engel and Brian Martin says companies have a range of techniques to devalue, demonise, discredit or vilify victims of corporate activities. Companies can label victims as misguided, ignorant, complainers, self-seeking, vindictive, pawns in the hands of anti-corporate manipulators, or even as criminals. The paper quotes the CEO of CSR in the late 1980s, who referred to asbestos claimants as 'malingerers'. The asbestos industry in Australia hid medical evidence of the health impacts of asbestos dust from at least the mid-1930s through to the late 1970s. As late as 1976 a pamphlet from James Hardie denied outright any risk to consumers of asbestos products. And parts of the medical industry—and I use the word 'industry' deliberately—were complicit in this.
With the benefit of hindsight, we look back at such practices—such corruption and venality—with appropriate horror. And we hope it would not happen in this country again. But this brings me to a current example of a major Australian company—a household name—that has attempted to influence and intervene in people's relationships with their doctors. I have in my possession a letter written by one of our power generation companies, AGL—a household name in Australia and, for many, a trusted name. In November 2012, AGL wrote to doctors at 12 clinics across western Victoria about one of its power generation facilities, the Macarthur wind farm. These medical practices span an area of several hundred kilometres, from Hamilton in the north to Portland and Warrnambool in the south.
In short, the letter aims to discredit and discount any patient visiting any doctor with any claims of ill health brought about by living near the Macarthur wind farm. It is an outrageous and pre-emptive example of corporate propaganda and was directed straight into the consulting rooms of rural and regional doctors. It suggested that anyone presenting to their doctor with symptoms of wind turbine syndrome should be directed by that doctor to visit the AGL Macarthur wind farm website or to ring the Macarthur wind farm community engagement team! If a similar letter had come from a coalmine or a coal seam gas company, I am sure Senator Di Natale and the Greens would be howling in selective moral outrage. This letter categorically denies any health impacts from living near wind turbines.
This is a blatant lie. It is now on the public record that many residents near Macarthur wind farm have experienced serious health effects and repetitive sleep disturbance since the beginning of operation of merely 15 of the 140 turbines at the beginning of October 2012. In 2013, when the turbines had been operating for not even a year, a preliminary health survey was carried out, anonymously, in this district—and the results were astounding. Around 23 families responded to this survey, indicating around 66 people living out to eight kilometres were already experiencing detrimental impacts from the turbines. Once again, AGL has totally denied responsibility. It is extraordinary and sobering that so many families who have lived in this district happily and healthily for between 30 and 50 years suddenly all began to experience serious health symptoms at the same time when the turbines began operation. And it is on the public record that rural and regional communities living near turbines around the world are suffering similar symptoms.
In support of its propaganda, in that letter to local doctors dated 13 November 2012 AGL quoted an organisation called the Climate and Health Alliance. The CAHA includes a coterie of known public health pro-wind supporters such as Fiona Armstrong, Liz Hanna, Peter Taft, Suzie Bourke, Michael Moore and Simon Chapman. The CAHA is not an independent health body by any stretch of the imagination. It is a pro-wind health lobby group whose clinical members ignore their professional ethics and the known science. And did this letter from AGL to doctors across Victoria work? I have in front of me a statement from one local resident, Janet Hetherington, who said her doctor's reaction to her symptoms changed remarkably after he received the AGL letter. Janet said she felt violated by the experience. And she was forced to seek medical help elsewhere.
This is unprofessional and dishonest behaviour by a major Australian company. Like the tobacco and asbestos industries, the wind power generation sector has long known its products make people sick. I call on the government to move as quickly as possible towards independent eminent health research into wind farms.
Monday, 17 March 2014, by authority of the Senate
Download original document: "Wind Farms: Health Effects"
---
Author: Alves-Pereira, Mariana; and Castelo Branco, Nuno
My group has been studying low-frequency noise for 30 years. Initially we began with people working in low-frequency noise [environments].
Low-frequency noise is a little bit like light. You know that there are x-rays that you do not see, but it is light. You know that there is ultraviolet that is bad for your skin and you do not see it. If you use dark glasses for x-rays or ultraviolet, it will not protect you. This is similar to noise.
Over the years, we, the scientific community, have decided that noise only affects your ears. That is why we have the dB(A) unit to measure noise. Because we are interested in only measuring the noise that will causing hearing damage. Low-frequency noise does not cause hearing damage. It will not make you deaf. It is not measured when you use a dB(A) unit.
Compare the light with the noise. On top you have noise, on bottom you have light. Look what we do with the light. We separate UV, infrared, x-ray. We do not do this with acoustics. So how do I know which part is affecting your heart? Or you lungs? It's all in one big bag. This is the problem with measuring the agent of disease.
On top you see what is a noise wave. I am here and the noise that is coming is going to hit my body. What you see on the right is your cells. So when the cell gets the impact of the wave, it will move. Like you see underneath.
Our case with wind turbines began in 2007. As you can see on the left, you have the house and the 4 wind turbines that were put around this house in 2006. This is what it looks like.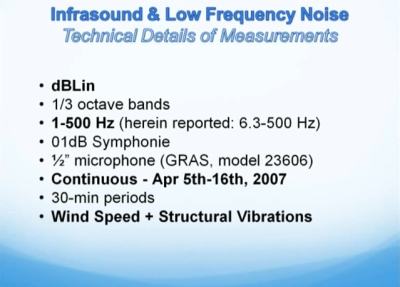 I am a scientist, I can not put up information about the noise that was measured without giving you the technical specifications of how it was measured.
So, the red is the noise in the house without wind turbines working. The black and the grey is with the wind turbines working day and night, night and day. This is measured inside the bedroom – not outside. Do you sleep outside? So if anyone comes to measure the noise because of the wind turbines, and they do not go into your house, you will laugh – yes? So as you can see at least in this house, these wind turbines were responsible for a great increase in the low-frequency noise in the bedroom.
So what happened to this family? The wind turbines began operation in November 2006. Immediately the family recognised that they were waking up tired. The dogs that used to be jumping and always wanting attention were now sleeping. You had to step over them. The horses were lying down in their stable. And ants disappeared. In March 2007 the parents received a letter from the teacher of the boy, of the son, asking why this child was so tired now. He was losing all interest in school, he had no energy for physical education and a very good student was suddenly going down, down, down.
And this is the point [when] that the family contacted us. Unlike the Massachusetts report, and others, we did not give questionnaires to find out how the people's health was developing. It is not through questionnaires. No questionnaires. If you have people with cancer, would you accept a doctor who would attempt to cure the cancer with a questionnaire? Tell me what disease is evaluated just with questionnaires?
We gave this family the tests, the medical (not subjective) tests, that we would give to the workers in low-frequency noise. What you are seeing now is the development of symptoms and signs related to the disease developed by exposure to low-frequency noise. Signs and symptoms associated with the disease that you develop if you are in low-frequency noise. As you see, it is over years that it develops. If you have low-frequency noise in your home on day 1, day 2 it's okay, day 3, day 4 – in a year! In 6 months, a year, 2 years, then it's a problem. Then you realise. Then it is 6 months that you are tired and can not sleep, not a wink.
This is the test that we give to people to see if they have problems with low-frequency noise disease. On the right the test measures the time your brain takes to respond to a stimulus. Normal is 300 milliseconds. In the 12-year-old child in the wind turbine house, he was having in June 2007 352 milliseconds – this is a huge difference. When the child left the house for vacation, in September after being away from the house for 2 months the measurement came closer to normal.
On this side we have a breathing test. This breathing test measures how well your brain is controlling your breathing. Usually, if you have lesions in the brain, you will have problem in the breathing – and this is what this machine measures – not questionnaires. Normal for that examination is above 60%, and as you see the husband and the wife were already showing lower values. The child was not tested.
What is happening with the legal [case]? This man, this family put the wind turbine developer in court. In 2007 as a precautionary measure, the court said, take out wind turbine 2 – as you can see the white arrow, there used to be a wind turbine there. The court said that one has to go. And the other three must be turned off at night. And while this court case was ongoing, the developer continued putting wind turbines all along (red arrows).
Today, the Supreme Court of Portugal decided that all four wind turbines must be removed. Of course it is only those four because the other ones were not covered by this case. The wife and children no longer live in this house since 2007. Only the father is in the house to take care of their horses. Today his health has visibly deteriorated.
This is basically my information to you about what we know about wind turbines. Of course, 30 years of research into low-frequency noise – you can not speak in 10 minutes all the information.
(E-mail: m.alvespereira@gmail.com).
Presented 20 November 2013 at Nieuw Buinen, The Netherlands, by courtesy of Stichting Platform Storm
Transcript and video captures by courtesy of Stop These Things.
---